by Tom Gaylord
Writing as B.B. Pelletier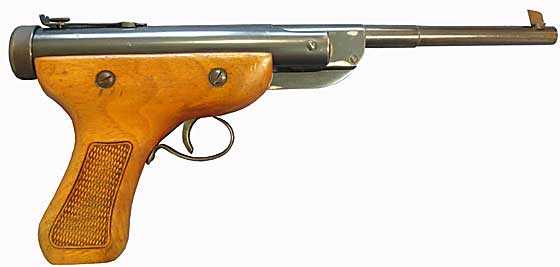 Diana model 5V pellet pistol.
This report covers:
Update on the Hakim
The Diana 5V air pistol
The test
Sig Sauer Match Ballistic Alloy pellets
JSB Exact RS
RWS Hobby
A different hold
Summary
Update on the Hakim
On Friday I took the Hakim to the range to shoot it again. This time I listened to my own advice about adjusting the gas port and was able to begin with the rifle not ejecting the spent cases. It kicks like a 98 Mauser that way, but the cartridges are reloadable.
Then, with the gas port open as small as it would go, the rifle extracted and ejected factory rounds softly enough to be reloadable. I caught them in a cartridge trap I use for a lot of my semiautomatic arms. The cases were still dented, but not so much that they wouldn't fit in a resizing die, so this fixes the problem I told you about last Friday.
Accuracy was so-so (two inches at 50 yards) but the recoil was reduced to that of a .250 Savage, which I find very mild. If I wanted to I could reload even softer loads and work up one for accuracy. Okay, let's look at today's airgun.
The Diana 5V air pistol
Following the trigger fix I was eager to return to the Diana 5V pellet pistol for this accuracy test. I knew that, as light and crisp as the trigger had become, I could do my best.
A reader asked a question about the proper way to hold a spring-piston air pistol. My answer was — there are several ways to hold one. You have to experiment to find the best hold for each pistol. I won't do that today, but I will show you the difference a hold can make.
The test
I shot from a rest at 10 meters. I rested my right arm in the long channel of a sandbag and held the pistol firm but not tight with both hands for the first three targets. After that, I took what I thought was the best pellet of the three and shot another group, holding it differently.
Sig Sauer Match Ballistic Alloy pellets
First to be tested were Sig Match Ballistic Alloy pellets. The first pellet hit high in the 8 ring, even with the center of the bull, and I thought I was on my way to a remarkable group. Unfortunately, this pellet strung 10 in a vertical group that measures 2.334-inches between centers.

Ten Sig Match Ballistic Alloy pellets landed in a vertical 2.334-inch group at 10 meters.
JSB Exact RS
JSB Exact RS pellets were the next to be tested. Ten of these landed in 1.275-inches at 10 meters and looked a lot better than the last group! It's still vertical, but not nearly as much.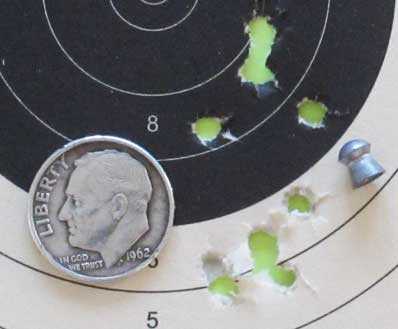 This is more like it! Ten JSB Exact RS pellets are in 1.275-inches at 10 meters. For an air pistol, this is not too bad.
RWS Hobby
Last to be tested were RWS Hobby pellets. Ten went into 1.267-inches at 10 meters, landing in a group that's well-centered on the bull, left and right. This group appeared to me to be larger than the RS group because the wadcutter pellets cut larger holes in the target.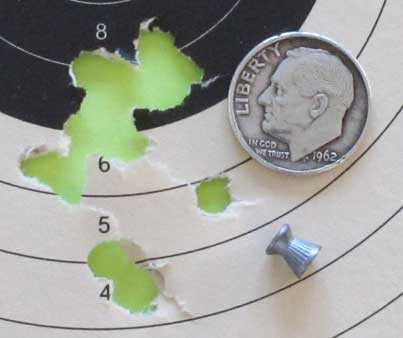 Ten RWS Hobbys went into 1.267-inches at 10 meters. This is the best group of the test, though it's too close to the group made by RS pellets to differentiate between the two.
A different hold
I had been resting my right hand and arm in the long groove of the sandbag for the last three targets. Now it was time to try something different. This might be either better or worse, but it would most likely be different.
This time I rested just my forearm on the bag that was lying crossways. My shooting hand was extended past the bag and I still held the pistol with two hands.
I chose the JSB Exact RS pellet because I hadn't measured the groups and believed it was the best. This time 10 JSB Exact RS pellets went into a very vertical 2.723-inch group that was the worst of the test. Obviously this is not the way this pistol likes to be held.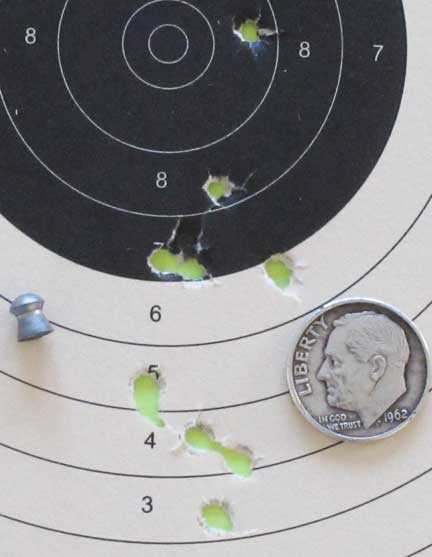 Ten JSB Exact RS pellets went into a vertical 2.723-inch group at 10 meters as the result of the changed hold.
Summary
This was a pleasant pistol to test in all ways. I was able to fix the trigger with very little effort and it turned out fine in the end.
The Diana 5V air pistol is a lot of fun. It's exactly what an air pistol should be — easy to cock, good trigger and reasonable accuracy without a lot of raw power to contend with.