by Tom Gaylord
Writing as B.B. Pelletier


Gamo Swarm Maxxim repeating breakbarrel air rifle.
This report covers:
The issues
Things I like
Recoil Reducing Rail
The scope
Sight in
First group
Second group
Third group
The best hold
Evaluation and summary
2017 Texas Airgun Show
Pyramyd AIR Cup
Big day, today. We learn whether the .177 Gamo Swarm Maxxim multi-shot rifle I'm testing is accurate, or not. You may recall in the last test that the scope was the big issue. The one that comes with the rifle isn't very clear and I attributed at least half the group size in the last test to that.
The issues
There are two issues to examine today. This first is that scope I just mentioned. The second is what kind of hold the Swarm likes. Several owners have said their Swarms like to be held firm — not with the artillery hold. A couple say it doesn't seem to matter which hold you use. I will try holding the rifle firmly today and we will see how that affects things.
I may not find the very best pellet today, but at least we should get a good idea of what to expect from this air rifle. The scope and the hold will no longer be issues when this test is finished.
Things I like
I told you already that I like the Swarm's light cocking effort. It combines with the 10-shot magazine to make rapid fire possible.
I also like the trigger. You can feel it move through the second stage pull, but there is absolutely no creep (hesitations in the pull — jerkiness). It's very much like a good single-stage trigger
And finally, I like the magazine. It works just as it should and makes shooting so much faster.
Recoil Reducing Rail
Someone asked me about the Recoil Reducing Rail. I have seen this same thing over the past 20 years — first with Theoben rifles and then with BSA. It's a synthetic-cushioned rail, if I'm not mistaken. I guess it works, but you can't see it move. The animation on the PA website shows how it works, but in reality it doesn't move far enough to see. To me it's not that big a deal, because the Swarm doesn't recoil very much.
The scope
The Gamo scope I had to replace is fairly short, so I found an obsolete Centerpoint 3-9X40 with AO. It was made by Leapers and is still very clear. It was only a half-inch longer than the Gamo scope. I shimmed the rear ring under the scope tube, even though the Gamo scope didn't need a shim, just for insurance. Whenever I see a breakbarrel I think "drooper," though as far as I can tell, the Swarm does not droop.
Sight in
I spent some time sighting in and discovering the best was to hold the rifle. Sight-in went quick, but I had to discover a hold that worked. Several readers said to hold it firm, so that's what I did. Not super-tight, but firmly in control. I played with my off hand grasping the stock back by the triggerguard, out by the start of the cocking slot and finally I settled on my off hand extended as far out as I could comfortably hold it. That seemed to work best.
I shot a 10-shot group of JSB Exact RS pellets just refining the hold. That group is very vertical and measures very close to 2 inches between centers. Since the best groups in the last test measure 1.3-inches between centers, I guess that isn't half bad. But I wanted better.
First group
Once I got the hold figured I shot the first group of RS pellets. Boy, what a teaser! Nine pellets are in 0.868-inches, but the 10th shot dropped low to open the group to 1.447 inches. It was actually the 5th or 6th shot in the string that did it and I couldn't detect any difference in my hold to account for it.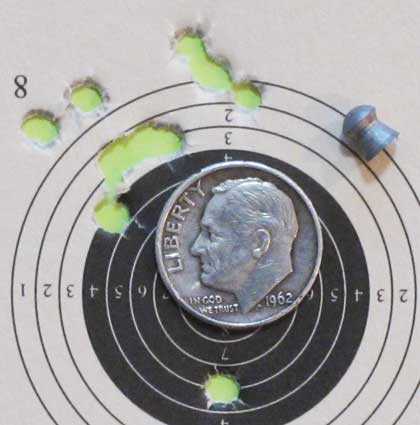 Nine of 10 JSB Exact RS pellets went into 0.868-inches at 25 yards, but a 10th shot opened the group to 1.447-inches.
Second group
By this time in the test I had already shot the rifle 30 times. I knew pretty well how the JSB RS pellets would do, so I tried something different yet similar — the Air Arms Falcon. Wouldn't you know it — I got a similar result. Nine are in 1.225-inches and a tenth opens the group to 2.022-inches. Once again, the wild shot came in the middle of the string.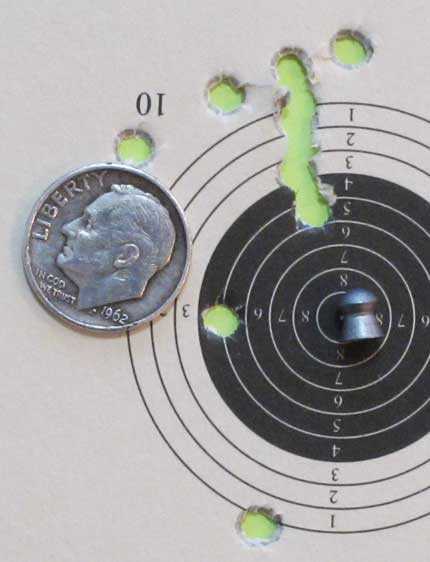 Nine Falcon pellets are in 1.225-inches at 25 yards, but that one wild shot opened it to 2.022-inches.
Third group
For this group I was still holding the Swarm tight with my off hand extended out as far as it would go, while shooting the RWS Superdome. Ten Superdomes went into 3.047-inches at 25 yards. This is not the pellet for this rifle!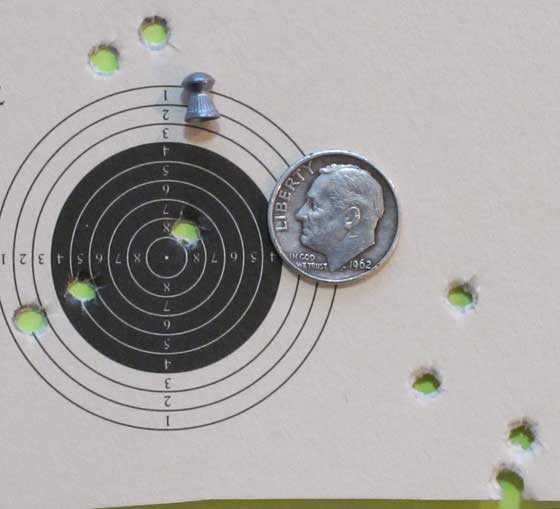 Okay — at 3.047-inches for 10 shots, RWS Superdomes are off the list!
The best hold
Okay, remember those wild shots in each of the first two groups? I have seen that before, when the rifle didn't like how it was being held. I wanted to see if that was what was causing the shot to land wild, so I shot a group of Air Arms Falcons with the rifle rested directly on the sandbag. I meant to shoot the RS pellets, but I opened the wrong tin. The results were still very good though. Ten shots went into 1.159-inches at 25 yards — the smallest group of the test. There are no wild shots in this group.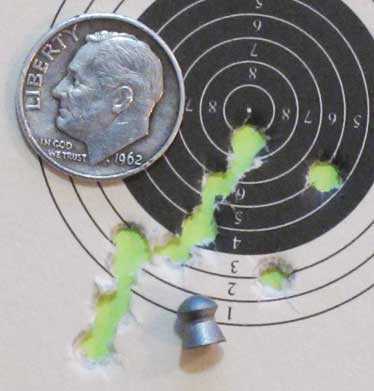 Ten Falcons went into 1.159-inches at 25 yards when the Swarm was rested directly on the sandbag.
Evaluation and summary
The Gamo Swarm Maxxim is a fine air rifle. It's a breakbarrel repeater that works as advertised. It may not be a tackdriver in the same class as the Diana 34, but for the money I think it leads the market — at least of the air rifles I've tested so far. I have no qualms recommending this rifle to a newcomer, as long as he understands that he has to buy a different scope.
I like the trigger, the easy cocking and the reliable operation of the magazine. The accuracy is acceptable — especially when you realize most people will shoot 5-shot groups and get around 0.8-inches at 25 yards.
I think you can hold this rifle any way you want. Maybe there is a small advantage when using the artillery hold, but it isn't much. That alone makes it a good airgun for the beginner.
2017 Texas Airgun Show
This show is coming up fast — less than 3 weeks. It's on Saturday, August 26 and here is the website with full information.
There will be a door prize that all ticket holders are automatically qualified for. This year the door prize will be an AirForce Texan rifle in .308 caliber. Just be present at the drawing at the end of the show and, if you purchased a ticket to enter the show, you could win!
There will also be hourly raffles with major prizes. This year Pyramyd AIR has donated a $4,000 Limited Edition Air Arms RSN70 PCP rifle! That is just one of many major prizes that will be raffled off all day long.
Come and meet your airgun manufacturers and retailers like Airgun Depot, AirForce Airguns, Hatsan USA, Umarex USA, Crosman, Sig Sauer, Sun Optics, and Hawke Optics. And of course you won't want to miss all the private dealers who are bringing who knows what! I will have a couple tables with many of the vintage airguns you have read about in this blog, and I will also have my book for sale. If you already have one, bring it by and I'll autograph it.
Speaking of autographs, many of you follow Rick Ward, the Urban Airgunner. He is on the cover of the current Airgun Hobbyist magazine, and if you will bring that copy to the show, he will sign it for you. Rick, who is a professional rodeo announcer, will also be announcing all the drawings!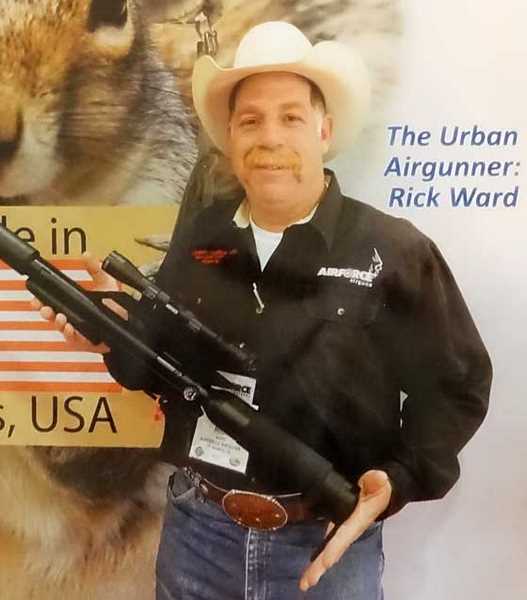 Rick Ward, the Urban Airgunner.
And finally, Iraqveteran8888 will be at the show with his film crew! He has over 1.4 million subscribers to his You Tube channel, and he will be filming our show! He has a huge draw and will no doubt attract many visitors who want to meet him, so this year's show will set new attendance records!
This year's show will be major and not one to be missed!
Pyramyd AIR Cup
This is also a reminder that the 2017 Pyramyd AIR Cup will run from August 25 to 27 at the Tusco Rifle Club in New Philadelphia, Ohio. Those of you who live in the Ohio, West Virginia, Pennsylvania, Indiana and Kentucky region and want to see a wonderful show and shoot, be sure to attend.