by Tom Gaylord
Writing as B.B. Pelletier
This report covers:
What we know
Say hello to my little friend!
Today's test
JSB Exact RS
Rested on the bag
Was this a fluke?
Air Arms Falcons
Trigger report
RWS Superdomes
H&N Baracuda Match 4.50mm heads
Evaluation
HOWEVER
Today we begin seeing how accurate the Umarex Forge is. Many of us are holding a lot of hope for this air rifle, because so far it seems to have the stuff of greatness. Wouldn't it be wonderful if there was a fine air rifle priced where this one is?
What we know
To this point we have discovered several things. The power ranges from 12.8 to 14.5 foot-pounds. So it's probably a solid 14 foot pound gun with the right pellet.
The trigger is 2-stage and breaks very heavy. I will discover more about the trigger when I shoot the rifle for accuracy today.
We know that the cocking effort is 26 lbs., which is light for a gas spring. It's entirely suitable for the power this gun puts out.
We know that the barrel pivot is a bolt, which means the barrel can be tightened for no slop. I did that to the test rifle when I examined it. That's good for accuracy and for consistency. We also know that the forearm screws come from the factory with blue Loctite on them. That tells us that whoever built the Forge cares about the details. Too bad they couldn't influence the trigger a little, but at least they are trying.
Finally there is the overall appearance of the rifle. It has style at a time when the stocks on most budget airguns appear to have been made from the same bland pallet wood. Clearly, somebody cares about this Forge. Let's find out if we should be included in that group.
Say hello to my little friend!
For years I've been putting an American dime in my pictures of shot groups, to use as a reference. For those to whom this coin is unknown, a check on the internet reveals that it is nominally 17.9mm (0.705-inches) in diameter.
A dime is a small coin, but is there anything smaller? Yes, there is. The silver three cent piece, colloquially known among coin collectors as the "trime", is 14mm (0.551-inches) in diameter, and also thinner than the dime. It's the smallest silver coin ever issued by the United States. I have long wanted to show you groups so small that I had to use a silver three cent piece instead of the dime as a reference, but I thought that would have to wait for a 10-meter target rifle report.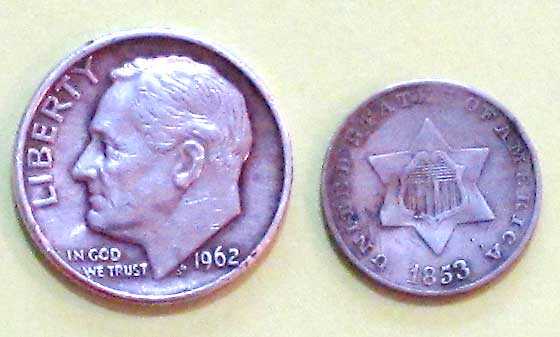 The U.S. silver three cent piece (right) is the smallest silver coin ever officially issued by the U.S. mint.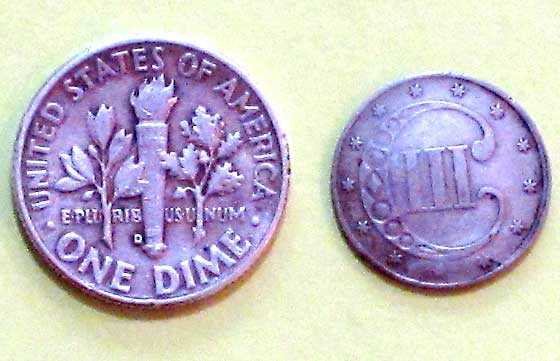 Nowhere on the silver three cent piece does it say what the coin is worth. People had to know some stuff, back in those days!
We snicker at a three cent piece today. Who cares about such a small amount of money? Apparently not the millennial cashier at the restaurant I went to last week, who asked me if I wanted my 27 cents change from my purchase! I thought there was a charity box at her register and she was asking if I wanted to donate, but she just couldn't be bothered to pull that many coins from her cash drawer. Girl, if you want to see an old man do deep knee bends, drop a penny on the floor!
Some people have never heard of the two-bit beggar who would not accept a five dollar gold coin when his other choice was a shiny silver quarter. He may never have had a million dollars, but he had more money when he died a century ago than most people today will ever see! He was a popular attraction at a great many bars, where patrons could not wait to show their friends his strange begging interests.
The point? Money is money.
Okay, enough stories. Back to today's report. Why would BB show you a coin that's even smaller than a dime? [At this point in the report I can hear the Umarex USA marketing team running up and down the halls of their headquarters in Fort Smith shouting, "We got one!"]
Today's test
The Forge has open sights (hurrah!). I decided to use them to make my life easier, so today I shot 5-shot groups from 10 meters with the rifle rested. That's right — FIVE shot groups! Why? To find some pellets that seem to be accurate, so when I mount the scope and move back to 25 yards I won't have to waste my time.
JSB Exact RS
For no reason other than something had to be first, I selected 5 JSB Exact RS pellets. I shot these at 10 meters, using the artillery hold with my off hand rested on the sandbag and out as far under the forearm as I could comfortably reach. The pellets landed below the bull so I could see the hole in the white target paper (that's right — I said the HOLE — as in singular). It seemed to grow slowly as I shot. At the end I looked through my spotting scope that careful readers now know is a pair of high-quality Zeiss binoculars. I saw what looked like a cloverleaf in the paper. It measures 0.245-inches between the two holes farthest apart! Ft. Smith, you may now pop the cork on that bottle of champaign you have been chilling. I am not yet ready to make my pronouncement about the Forge, but if I did it would rhyme with "world-beater."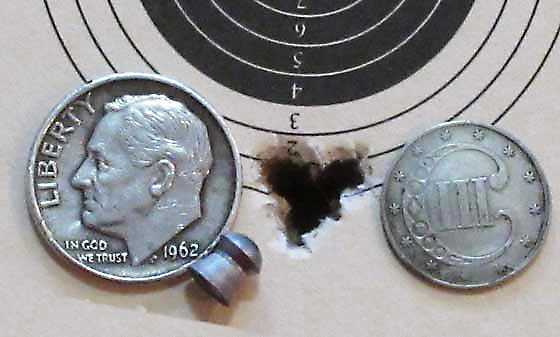 Five JSB Exact RS pellets landed in 0.245-inches at 10 meters. The dime and silver three cent piece are both shown for comparison.
Rested on the bag
Okay, we have a live one! What's next? Well, somebody will want to know if you can just rest the rifle directly on the bag, so that was what I did.
I shot the same JSB Exact RS pellets and again, just 5 shots. The rifle was rested directly on the sandbag. The five pellets landed in a vertical group that measures 0.604-inches. I guess the Forge does not like to be rested. Listen to me — I'm criticizing a 0.6-inch group! But it did raise the question of whether the first group was just an anomaly. Could I do it again?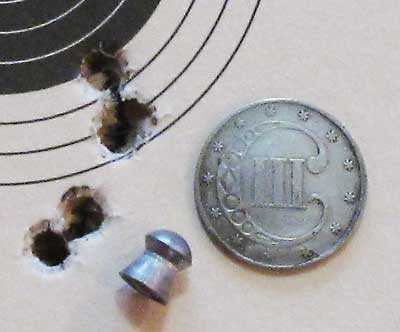 Resting the Forge on the sandbag gave this vertical 0.604-inch 5-shot group at 10 meters.
Was this a fluke?
I settled down for a second go at shooting a group with the JSB pellets. I adjusted the rear sight higher and shot a second group of JSB RS pellets with the same artillery hold as before. This time 5 pellets went into 0.407-inches at 10 meters. I guess the Forge can really shoot! From this point on, all groups are shot with the artillery hold described in the beginning. Let's try it with a different pellet.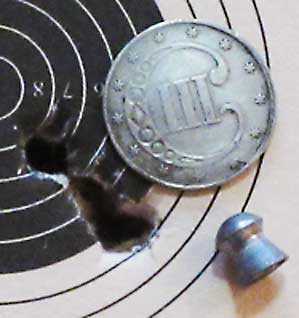 Yep, the Forge is still accurate! Five JSB Exact RS pellets in 0.407-inches at 10 meters.
Air Arms Falcons
The second pellet I tried was the Falcon from Air Arms. Five landed in a 0.344-inch group. Oh, my! The Forge likes two pellets! Better open another bottle, Ft. Smith.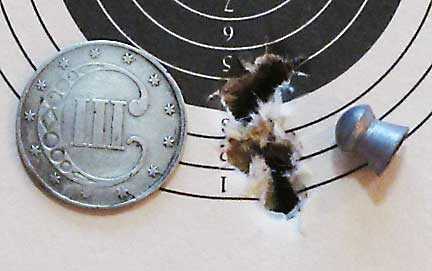 Five Falcon pellets went into 0.344-inches at 10 meters. The Forge likes two pellets.
Trigger report
I said I would tell you more about the trigger today. Well, it is still too heavy. Nothing can change that. But it does break cleanly and I don't think it's a hinderance to accuracy. I would like a lighter trigger, of course. I just don't think it would help the accuracy.
RWS Superdomes
The next pellet I tried was the RWS Superdome. You will notice that the group is mostly on the cardboard backer, because it hit the target lower than the first two pellets. Five Superdomes went into 0.528-inches at 10 meters, so the Forge is still doing well, though I probably won't recommend Superdomes as a first choice.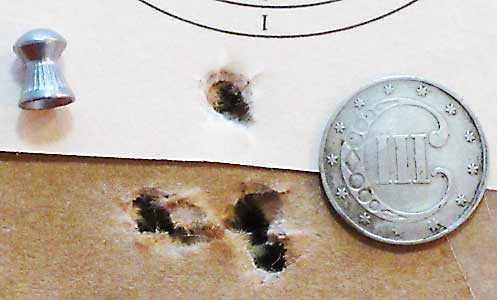 Five RWS Superdomes went into 0.528-inches at 10 meters. This heavier pellet landed lower than the first two.
H&N Baracuda Match 4.50mm heads
The final pellets I tested were H&N Baracuda Match with 4.50mm heads. They landed even lower on the backer board, because they are even heavier. This was the first pellet I would not recommend in the Forge, as 5 went into 1.149-inches at 10 meters.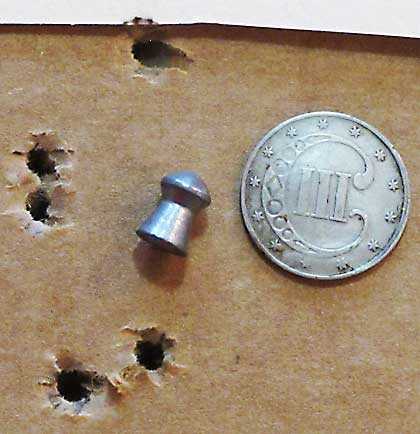 Five H&N Baracuda Match pellets with 4.50mm heads went into1.149-inches at 10 meters. This is not the pellet for the Forge.
Evaluation
I didn't expect accuracy of this level from the Forge. Of course I always hope something like this will happen, and apparently it just did.
HOWEVER
Remember — these were only 5-shot groups today. They will grow in size when the next 5 pellets are shot.
There is also still a scope to mount and a 25-yard accuracy test to conduct. The scope that comes with the Forge is a 4X32, so it may not do all that we hope. If I feel that is the case, I will follow up with an additional accuracy test using a better scope.
I will reserve final judgement on the Forge until after seeing what it can do at 25 yards. Today's test fills me with a lot of hope. The Forge offers a lot of features at a price that is so reasonable there can be no objection. The stunning accuracy we see here is the crowning glory for any airgun and I am so glad we saw it with this rifle.