by Tom Gaylord
Writing as B.B. Pelletier
This report covers:
Crosman Premier 7.9-grain
Baracuda Match with 4.50mm heads
Evaluation so far
Air Arms Falcons
Gamo Raptor
Cocking effort
Trigger pull
Barrel pivot
Trigger
Still good
Lots of interest in the Forge from Umarex. Many of you like the styling, as do I. Today we discover just how powerful it is. It says 1250 f.p.s. on the box, but the Pyramyd AIR website says 1050 f.p.s. We are going to discover which is right and how the Forge performs today.
Crosman Premier 7.9-grain
I started with the Crosman Premier 7.9-grain pellet. The first shot out of the barrel went 1236 f.p.s., but it was obviously an explosive detonation. Shot number 2 went out at 880 f.p.s. Already the rifle had settled down to normal.
I think some gun companies see these artificially high velocities like the first shot and rate their guns there, without realizing that's just an anomaly of the break-in. I think they believe such velocity will help sell the gun, and to the uninitiated, it no doubt will. But it is a complete turnoff to the growing crowd of educated airgunners.
This pellet averaged 879 f.p.s. for 10 shots, disregarding that first shot. The range went from a low of 872 to a high of 883 f.p.s., so a spread of only 11 f.p.s. For a gas spring gun that's just out of the box that is a very credible spread! At the average velocity this pellet developed 13.56 foot-pounds. That's a little less that I expected, but still promising.
This pellet fit the breech very tight. That may be a factor in the test.
Baracuda Match with 4.50mm heads
Next I tried 10 H&N Baracuda Match 4.50mm heads. They averaged 735 f.p.s., with a spread that went from 721 to 750 f.p.s. That's a somewhat large 29 f.p.s. At the average velocity this heavy domed pellet generated 12.78 foot-pounds of energy at the muzzle.
These pellets fit the breech snug but not tight. In other words, they fit the way we like pellets to fit.
Evaluation so far
Well, the velocity on the box seems too high. I think Pyramyd AIR has tested an actual rifle and published the velocity they saw. I think it's obvious that the top velocity was achieved with lead-free pellets, so I will try some. But first, a final go with a pellet I might actually shoot.
Air Arms Falcons
The last lead pellet I tested was the Falcon pellet from Air Arms. This one is sometimes surprisingly accurate in .177 caliber! In the Forge these averaged 922 f.p.s. The spread ranged from a low of 910 to a high of 935, so a difference of 25 f.p.s. At the average velocity they produced 13.84 foot-pounds of energy at the muzzle. Falcons fit the breech a little loose.
Gamo Raptor
Now it was time to see what this Forge could do with a lightweight lead-free pellet. I chose Gamo Raptors that weigh 5.4 grains. In the forge they averaged 1098 f.p.s. The spread went from 1061 to 1131 f.p.s., which is a difference of 70 f.p.s. These pellets fit the breech all over the place — from very tight to so loose I was afraid they were going to fall though the bore! The tighter ones went the fastest. At the average velocity they generated 14.46 foot pounds of muzzle energy.
Because they fit so sloppily, I would not shoot the Raptors in the Forge. But perhaps I'll try a different lead-free pellet when I test the accuracy, just for grins.
Cocking effort
The Forge I am testing cocks with 26 lbs. of effort. It's efficient for a gas spring rifle, because that is a light effort.
Trigger pull
The two-stage trigger breaks at between 7 lbs. 15 oz and 8 lbs. 14 oz. It's a little too heavy for good work. It is very crisp, though, and shooters who are used to military triggers may be able to  do fine with this one. I like military triggers, and I will report on how it feels in the accuracy test.
Barrel pivot
I removed the action from the stock and slid the Nucleus Integrated Rail Platform back (with a soft hammer — it's on tight!) to see the barrel pivot. It is a bolt with a washer! You can tighten the pivot if needed, which I had to do because this one was a bit loose. That is a sales feature that ought to be announced on the box and in the ads! It affects the accuracy potential of the rifle.
I also noted that the 2 screws in the forearm have Loctite on them from the factory. So, the manufacturer cares about this rifle. This is something an owner would normally have to do even on a much more expensive springer.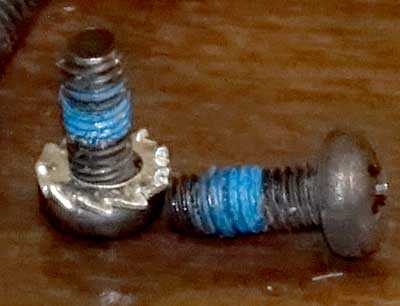 The Forge forearm screws come with Loctite from the factory!
I looked at the trigger and saw that it was a complex lawyerly design. Safety over everything. Well, I may have more to say about it in the accuracy test that comes next.
Still good
I am still impressed by the Forge. The velocity and power are both lower than expected, but they are not bad. They are where I would ask for them to be, if anyone asked.
I think at the heart of this rifle there is a champion waiting to show itself. I sure hope so! If the Forge is accurate, it will be over one-hundred dollars less than a Diana 34P. The Diana has the edge in power and a better trigger, but the Forge cocks easier, and, if this one is accurate, it will be a world-beater in its own right.