by Tom Gaylord
Writing as B.B. Pelletier
This report covers:
Hatsan on the range
Raffles
Other goodies at the show
Dealer sales
The private dealers
Grand prizes
The end
I plan for this report to be the final one on the 2017 Texas airgun show.
Hatsan on the range
We have already seen AirForce Airguns, Crosman, Sig Sauer and Umarex USA. What I didn't show you was the new Umarex Gauntlet being shot by the public. The rifle has not been released yet, but we expect it very soon. This was a rare chance for the public to test an airgun before release, just like I get to do at the SHOT Show sometimes. I also didn't get any pictures of Crosman demonstrating their Pioneer airbow on the big bore range. But they were out there with it in the afternoon.
I did get to the Hatsan range, though, and saw the new Sortie pistol I'm now testing for you. I also got to shoot the Hercules big bore in .45 caliber.  Hatsan sent one for me to test for you and that will start soon, so I wanted to try it out with a Hatsan tech person at my side.
The other gun they were shooting that I didn't get to try was the new Hatsan Barrage semiautomatic rifle. I didn't get to shoot it because the line to try it out was too long. But I also have a Hatsan Bullmaster semiauto to test after I finish with the Sortie, so we will get to see a Hatsan semiauto rifle in action, too.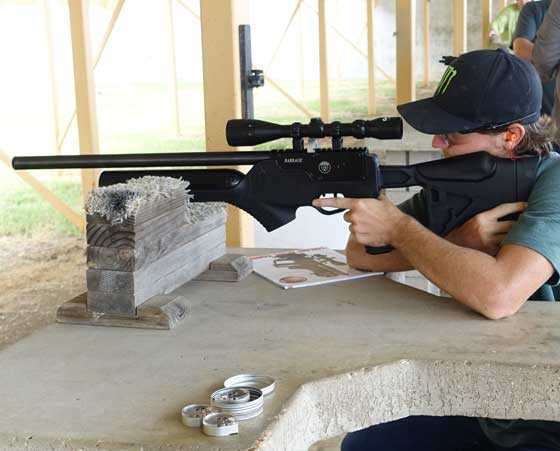 The line to shoot the Hatsan Barrage was too long for me to wait!
Raffles
All day long there were raffles for fantastic prizes. Because of hurricane Harvey, attendance was down this year (we estimate 250 attendees, down from 400 last year), so the chances to win one of the prizes was greatly increased. Raffle prizes were donated by:
Airgun Depot
Crosman
Hatsan
Hawke Sport Optics
Pyramyd Air
Sig Sauer
Sun Optics
Umarex USA
The drawings were held inside the show hall every hour, beginning at 12:30. If there was no immediate claimant, they went out and announced the ticket numbers outside on the ranges, as well. Throughout the entire day I only saw one raffle prize that was not claimed when drawn.
Sig and Crosman also gave away the guns they shot on their respective ranges. The host club 4H members charged a dollar to shoot, and 2-part tickets were given with each purchase. Those tickets were then entered into a raffle drawing for the guns being shot on the range, as well as some additional guns that were donated, over and above those that were shot. These drawings were held right on the ranges.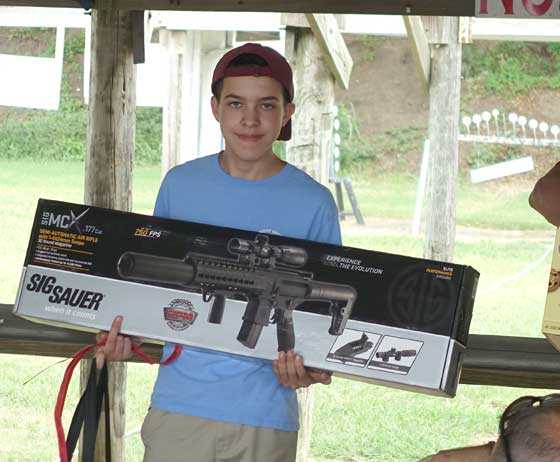 Sig Sauer donated the guns they shot on the range that day. They also donated the P320 pistol I tested for you earlier this year.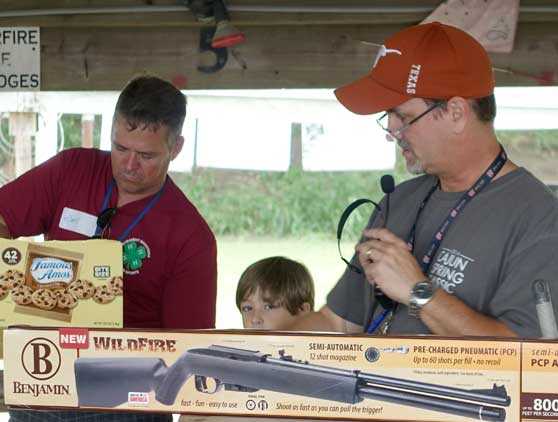 Show organizer, Jeff Cloud, conducts the drawing for a Benjamin Wildfire — one of three given away!
What the public didn't know was iraqveteran8888 also donated $400 cash to the 4H volunteers on the ranges. AirForce Airguns matched his donation with another $400. At the end of the show, the Arlington Sportsman Club 4H chapter had made their entire year's budget from the work they did, ticket sales, the food they sold and these generous donations!
Other goodies at the show
Let's go back inside now and look at some of the other nice airguns that were there.
Dealer sales
I read on a forum that there weren't many dealers of modern airguns at this show, but that's not the case. In fact there were more retailers at this show than at any other airgun show that has ever been held in the U.S. You just had to take the time to look for them. Airgun Depot, the show sponsor, was able to sell anything from their website right at their table! I have already shown AirForce Airguns and the mountain of guns they brought and Sun Optics, who was right next to them. My tables inside the show hall were next to Hawke Sport Optics, who was also selling directly.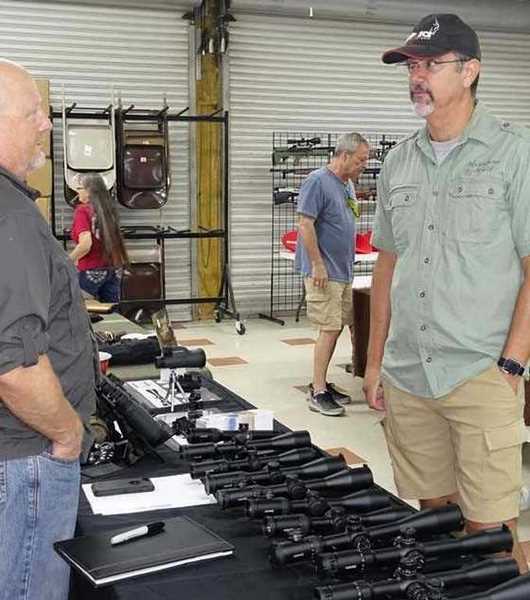 The Hawke representative chats with Eric Henderson.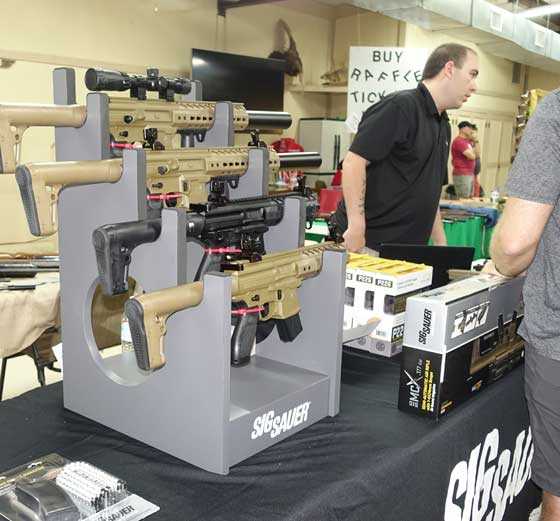 Sig had two sales tables in the show.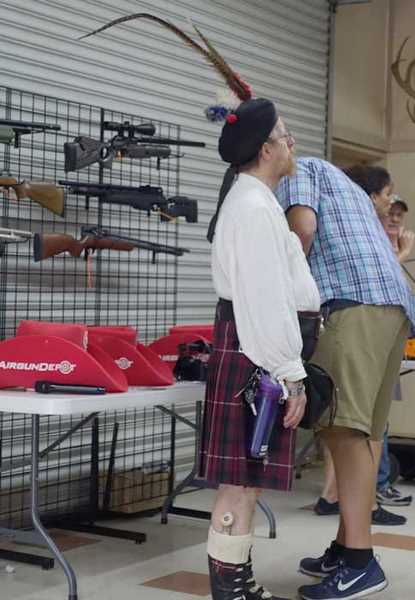 Airgun Depot, the show's sponsor, had sales tables, too. They were also selling those large red cowboy hats. The kilt and sporran, however, were not part of the deal!
The private dealers
I haven't shown all the private dealers yet, either. While the number of tables was down from last year, the quality of airguns on them was up.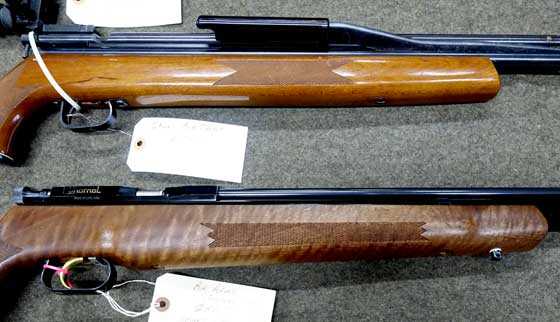 That's an Air Arms Shamal with 100 percent barred walnut — like curly maple only rarer! Above it is a Sharp Ace Target. Find another one for sale! Yes, this is my table.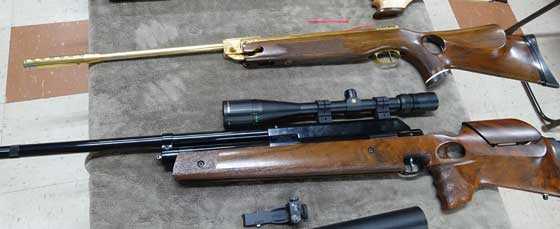 That's an engraved, gold-plated HW35 in a beautiful walnut stock above that Whiscombe!
I also saw something I have been needing ever since acquiring the 98 cubic foot carbon fiber tank from Pyramyd Air. A carrier! It's made by airguntailor.com and there is a wide spectrum of choices. I'll show it to you when I get it.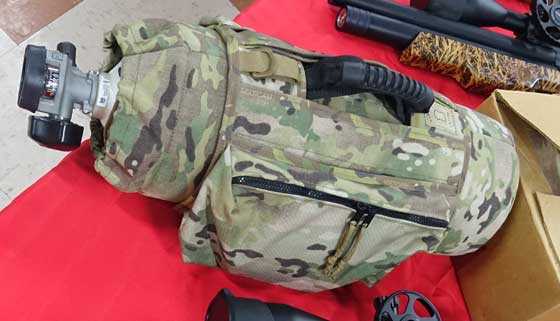 This carrier will fit a 98-cubic foot air tank. It has saddlebags to carry tools, adaptors and stuff
Grand prizes
The day ended with two major drawings. One was for the grand prize in the raffle — an Air Arms RSN70 Limited Edition precharged rifle that was donated by Pyramyd Air. This $4,000 air rifle was going to make somebody's day, and people talked about it all day! In a finish that sounds like Hollywood wrote it, the winner was a young man who was celebrating his birthday that day!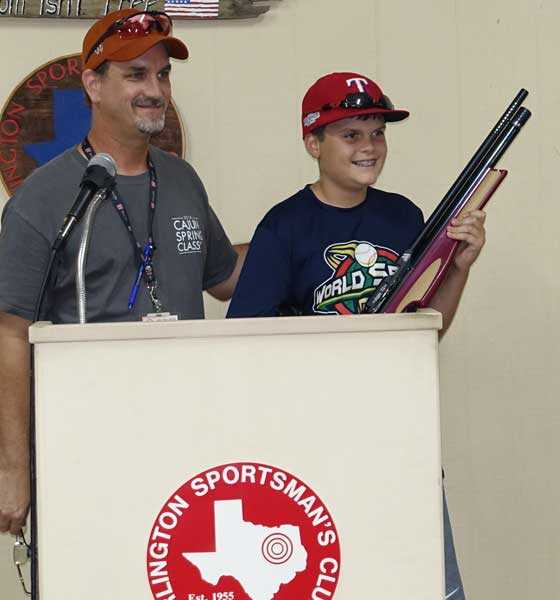 This lucky young man won the $4,000 Air Arms RSN70 Limited PCP donated by Pyramyd Air. And, it was his birthday!
Following the last raffle prize, the door prize was given. All it took was your stub from the admission ticket. This year AirForce Airguns donated a decked-out Texan .308, and I know a lot of people wanted it. In the end it was won by a woman
who is the mom of one lucky airgunner. I heard him telling people about it in the parking lot after the show.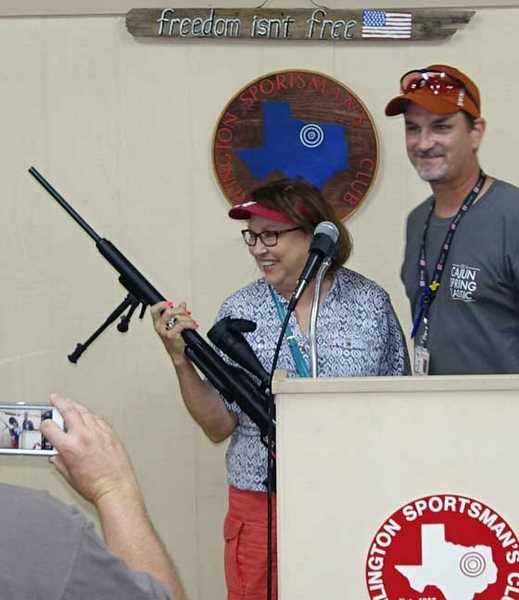 Mom won the .308 Texan door prize. Perfect end to a great show!
The end
That was the end of this year's show. There were more prizes than I have ever seen at one show, and more things for people to do, as well. We will be televised on iraqveteran8888's You Tube channel in a few weeks, so you can watch it yourselves.
This year's show suffered because of the weather, so I decided to let the club pick the date next year. I tried to avoid the other airgun shows this year and ran smack dab into the Pyramyd Air Cup. Best-laid plans…