by Tom Gaylord
Writing as B.B. Pelletier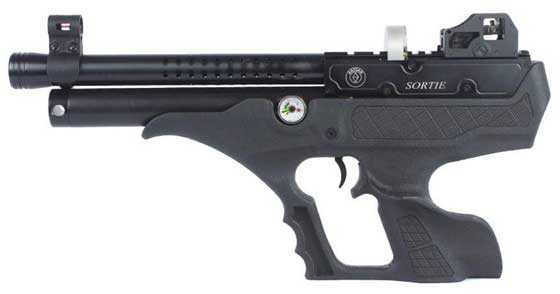 Hatsan Sortie semiautomatic pistol.
This report covers:
Shooting with a scope
Sight-in
The test
RWS Superdomes
H&N Field Target Trophy with 5.53mm head
H&N Sniper Light
Last pellet — Baracuda with 5.50mm head
Summary and evaluation
Today we see how accurate the new Hatsan Sortie pistol is at 25 yards. Remember, this is a true semiautomatic .22-caliber air pistol that looks ideal for hunting.
Shooting with a scope
Several readers wondered how the pistol could be held to shoot with a rifle scope attached. I said I didn't want to try a pistol scope and readers know the eye relief with a rifle scope is about three inches or less, so how can that work? I promised to show you in this report, so let's do that now.
I mounted a UTG 10X44 Mini SWAT scope on the Sortie. That scope is either discontinued or out of stock, but it looks quite similar to the UTG 10X50 SWAT scope. All the features are identical.
To attach it to the pistol I initially used BKL 301MB rings, but I needed to cancel some droop so I switched to the Weaver rings that come with the scope and attached them to a BKL 4-inch 11mm dovetail-to-Weaver Cantilever Base that cancelled droop and clamped to the 11 dovetail base on the pistol's receiver. If you remember, the Sortie magazine sticks up above the top of the receiver, and this base allowed me to extend the scope rings behind it.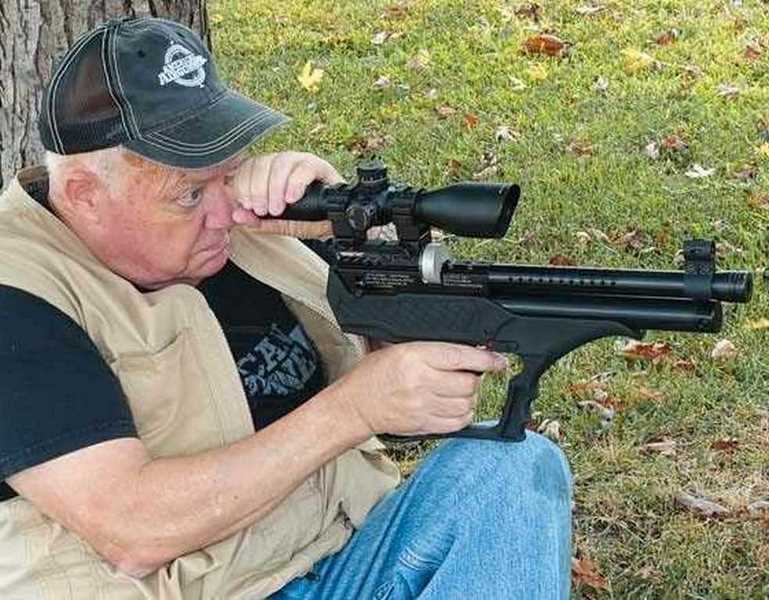 I'm resting my back against a tree. Notice I am using the scope to steady the pistol. This puts no strain on the scope, and allows the pistol to be held about as steady as a rifle.
I learned how to hold a scoped pistol this way back when I had a Crosman Mark I that had been modified by Mac-1. It had a 12-inch barrel and a 3.5-ounce CO2 bottle hanging below the grip and holding the scope was the only way to hold the pistol steady.
Sight-in
I had already sighted in the pistol last time so all I had to do was fill it and load the magazine. I will note that the scope base is a little out of alignment, and the pistol shot to the left with the scope adjusted as far to the right as it could be adjusted. If this was my gun I would need to find an adjustable scope mount to replace the UTG rings.
The test
I shot at 25 yards, with the Sortie rested directly on a sandbag. I filled after each 10-shot group.
RWS Superdomes
The first pellet I tested was the RWS Superdome. They did poorly, spreading 10 pellets out in a 2.14-inch group. Obviously not the pellet for the Sortie.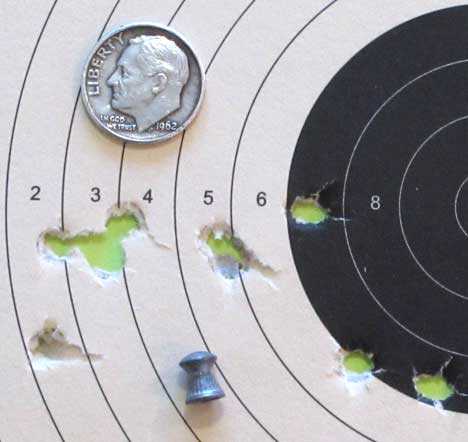 Ten RWS Superdome pellets made this wide 2.14-inch group at 25 yards.
Okay, that didn't work! At this point I decided to use only those pellets Hatsan sent me for this test.
H&N Field Target Trophy with 5.53mm head
First up were 10 H&N Field Target Trophy pellets with 5.53mm heads. These started out okay, but shot number 7 jammed in the barrel. I re-cocked the pistol and shot it out. The next shot went okay, then shot 9 jammed in the barrel and I stopped shooting. I rodded the pellet out of the breech and resolved not to test this pellet further, as it clearly has problems in this Sortie. The 8 pellets I did shoot went into 1.595-inches at 25 yards.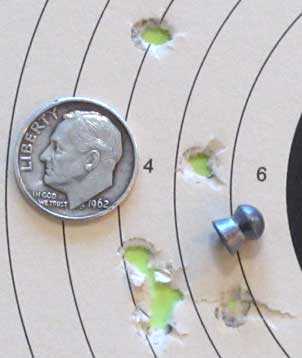 Eight Field Target Special pellets with 5.53mm heads made this 1.595-inch group. Two pellets got stuck in the barrel.
H&N Sniper Light
Here's a pellet I don't think I've tested before — the H&N Sniper Light. They fed well through the magazine and 10 went into 0.952-inches at 25 yards. Finally! A pellet I can use! I was becoming concerned that I had forgotten how to shoot an air pistol before trying these.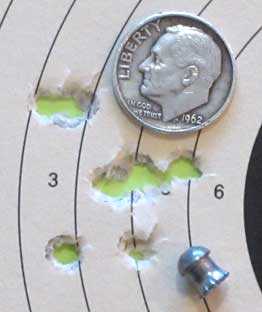 Ten Sniper Lights went into 0.952-inches at 25 yards. The Sortie can shoot!
Last pellet — Baracuda with 5.50mm head
The final pellet I tested was the last one Hatsan sent me — the H&N Baracuda with 5.50mm head. On the third shot I knew this was going to be a winner, because they were all going into the same hole. Ten shots went into 0.681-inches at 25 yards. I guess this is the pellet for the Sortie!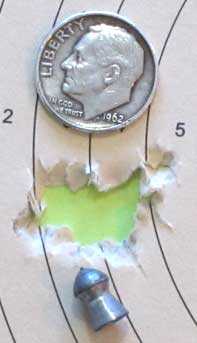 Ten H&N Baracudas with 5.50mm heads went into a tight 0.681-inch group at 25 yards.
Summary and evaluation
Well, this was an interesting test! The Hatsan Sortie semiautomatic pistol is both powerful and accurate. The open sights don't do much for it, but when scoped with a rifle scope it's a small rifle.
The trigger is long and takes getting used to, but it's worth the effort. The pistol fills to 2900 psi with a proprietary probe and you get about 15 good shots per fill. The discharge sound is loud but not annoying.
There aren't many air pistols in this power class, and certainly not any semiautomatics. If that's your cup of tea, this one's for you.