by Tom Gaylord
Writing as B.B. Pelletier
This report covers:
The Gauntlet
Test 1 — shot count and the power curve
Power
Impressions
Frequent pellet jams
Test 2 — different pellets
H&N Baracuda Match
JSB Exact Heavy
Air Arms Falcon
Discharge sound
Evaluation
Today we will look at the Umarex Gauntlet's velocity and shot count, but before we start I have to tell you something. Yesterday I started shooting the Sub-1 crossbow. It was fantastic! I wanted to report on it this week, but I can't allow the week to pass without doing the Gauntlet. So many readers are awaiting my findings. And, as I told you on Monday, we have two guest blogs this week, so the Sub-1 report will wait until next week.
The Gauntlet
The Gauntlet accepts a fill to 3000 psi, which makes it sort of friendly to hand pumps. The manual doesn't mention cocking the rifle before starting to fill, so I filled it from empty to 1000 psi with a prototype Hill hand pump. The rifle was uncocked at the start and filled immediately. I stopped at 1000 psi because this pump has no pressure gauge and it was too difficult to tell where I was. The fill nipple is opposite the pressure gauge, so I had to pick the rifle up and turn it over to see the pressure. Too much bother!
Reader GunFun1 took a filled tank off his rifle to demonstrate that it is possible. So, even though partial disassembly of the rifle is needed to remove the air tank, it is possible to install a filled one. That was a question we had last week.
I completed the fill to 3000 with a carbon fiber tank.
Loading
The Gauntlet receiver has a notch in back for the bolt to be held out of the way. This is for removing and installing the magazine. You need it because the bolt probe is long and narrow and will get in the way if the bolt isn't locked back.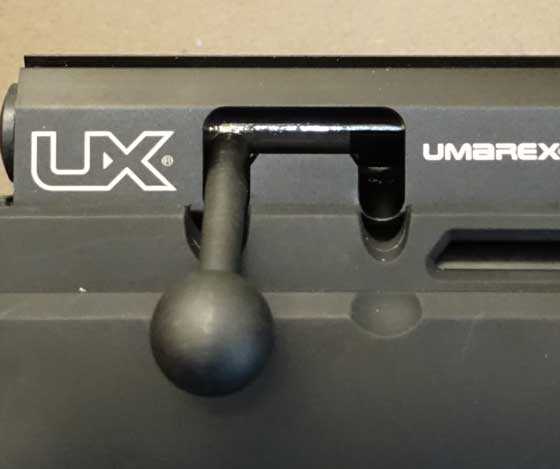 To install or remove the Gauntlet magazine, the bolt has to be pulled back out of the way like this.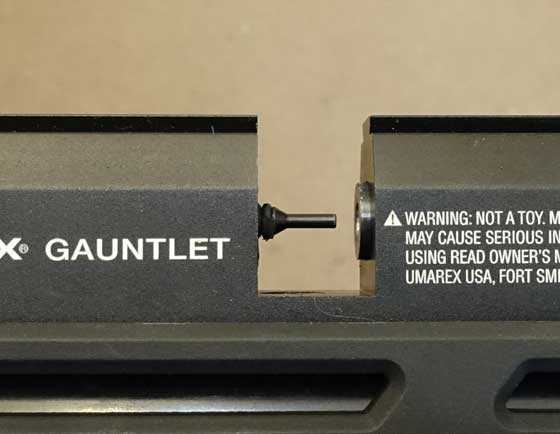 The Gauntlet bolt nose is long and thin — a tuner's trick for better airflow. It does get in the way of the magazine unless the bolt is locked back.
Test 1 — shot count and the power curve
The Gauntlet has a regulator. That means that all the shots should be within a small variation for the entire power curve. At the end of the curve, when the pressure inside the reservoir drops below the pressure at which the reg is set, the velocity should drop suddenly as the regulator is no longer able to do its job. We call that "falling off the regulator."
I conducted this test with the Crosman Premier Light pellet. Other pellets will give similar results at different velocities, of course.
Shot……….Velocity
1…………….951
2…………….958
3…………….943
4…………….936
5…………….935
6…………….941
7…………….936
8…………….938
9…………….940
10….………..943
11….………..939
12….………..943
13….………..937
14….………..933
15….………..936
16….………..928
17….………..935
18….………..933
19….………..938
20….………..939
21….………..934
22….………..931
23….………..930
24….………..936
25….………..938
26….………..938
27….………..941
28….………..937
28….………..934
30….………..928
31….………..937
32….………..931
33….………..944
34….………..934
35….………..937
36….………..929
37….………..930
38….………..929
39….………..928
40….………..936
41………….. 939
42………….. 934
43………….. 931
44………….. 929
45………….. 930
46………….. 936
47………….. 936
48………….. 930
49………….. 933
50………….. 930
51………….. 932
52………….. 931
53………….. 928
54………….. 927
55………….. 932
56………….. 929
57………….. 928
58………….. 924
59………….. 930
60………….. 925
61………….. 936
62………….. 935
63………….. 928
64………….. 926
65………….. DNR
66………….. 918
67………….. 934
68………….. 925
69………….. 923
70………….. 927
71………….. 925
72………….. 942
73………….. 930
74………….. 937
75………….. 922
76………….. 937
77………….. 934
78………….. 936
79………….. 931
80………….. 928
81………….. 925
82………….. 927
83………….. 924
84………….. 924
85………….. 929
86………….. 932
87………….. 920
88………….. 922 fell off reg (valve fluttered)
89………….. 928
90………….. 910
91………….. 907
92………….. 910
93………….. 902
94………….. 890
95………….. 889
96………….. 881
97………….. 886
THAT is a comprehensive string! The average velocity will depend on which shots in this string you are willing to accept. In the first 20 shots the velocity varies by 30 f.p.s (958 high, 928 low). That's a big spread for a regulated rifle. It is usually down around 10 f.p.s.
However, the spread remains within that range until shot 54, when it increases by one. After that the spread grows to as much as 36 f.p.s. across the first 89 shots. I note in the string that the rifle falls off the power curve at shot 88, when I heard the valve flutter. But shot 89 was still within the range. After that, though, the rifle is clearly off the reg. Velocities keep dropping in a more or less straight line.
What this means for you will depend on the kind of shooting you do. If you hunt or shoot groups at long range, better stop after the 6th magazine. If you are plinking at cans, there are at least another two full magazines to go.
Power
I'm not giving an average speed, because it depends on where you draw the line. Instead of a mean velocity I'll go with the mode, which is the most frequent velocity recorded. I think it's 936 f.p.s. which occurs 9 times in the 89 shots. At that speed the Premier pellet develops 15.37 foot-pounds at the muzzle. Heavier pellets will generate even more.
Impressions
I was expecting a tighter velocity spread than this. But I wasn't expecting to see a shot count this high! The valve in the Gauntlet seems to wring every last bit of energy out of the air it has to work with.
Frequent pellet jams
I had in excess of 10 pellets jam in the magazine during this test. One was a double feed that I shot out of the rifle. That probably just means the Premier Light is not right for the Gauntlet mag! Let's try something else.
Test 2 — different pellets
Now I will test the rifle with several different pellets to learn the Gauntlet's potential. The rifle was filled to 3000 psi again.
H&N Baracuda Match
I tried 10 H&N Baracuda Match with 4.50mm heads. They averaged 866 f.p.s and ranged from 851 to 875 — a spread of 24 f.p.s. At the average velocity they produce 17.74 foot-pounds.
JSB Exact Heavy
Next I tried 10 JSB Exact Jumbo Heavy pellets. They averaged 878 f.p.s. with a spread from 872 to 884 f.p.s. That's just 12 f.p.s. At the average velocity this pellet generates 17.70 foot pounds at the muzzle.
Air Arms Falcon
The last pellet I tested was the Air Arms Falcon pellet. At just 7.33 grains you know it's not going to generate much energy. These averaged 977 f.p.s. The spread went from 964 to 991 f.p.s., which is a  27 f.p.s. spread. At the average velocity this pellet generates 15.54 foot pounds at the muzzle.
None of these three pure lead pellets had a single jam or misfeed. That means I was probably right about Premiers not being good in this rifle.
Discharge sound
The Gauntlet is quiet enough for larger backyards. It's not the quietest PCP around, but it's not noisy, either.
Evaluation
So far so good. I think it comes down to accuracy, which has always been true. Now I will mount the Bug Buster scope with sidewheel and start testing!