by Tom Gaylord
Writing as B.B. Pelletier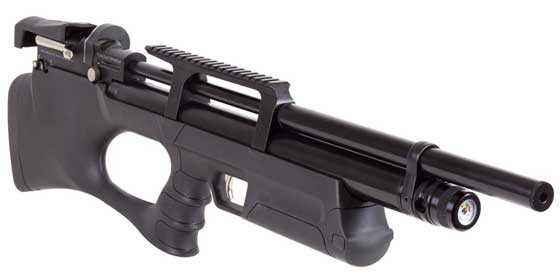 Kral Puncher Breaker bullpup with synthetic stock.
This report covers:
The test
The day
JSB Exact Heavy
Magazine is easy
H&N Baracuda Match 4.50mm heads
Trigger
Wind picked up
Crosman Premier heavies
Evaluation
Today we will finish the report on the .177 caliber Kral Puncher Breaker bullpup PCP. I have taken longer to write this report because of the weather here in Texas. We have had a cold wet winter that has kept me off the outdoor range, and today's test is the one at 50 yards. I learned a lot about the rifle in this test and when you see the results I think you will agree.
The test
I shot the rifle off a bench with a sandbag rest. The targets were 50 yards away and I shot 10-shot groups. Not only will I describe how the rifle shot, I'll also give you a lot more detail on things like the trigger pull.
One of the nice things about this air rifle is its conservative use of air. The rifle was set just above the midpoint on the power adjustment and I knew there were at least 60 good shots at that setting.
The rifle was already sighted for 25 yards. All I had to do was make a few adjustments to get on target at 50 yards. Like always I did not shoot for the center of the bull, because I didn't want to destroy the aimpoint.
I shot off that new benchrest I bought at the SHOT Show this year. I'm also learning about it, so I can write a report for you. It has taken me several times using it before I finally figured it all out, but I have now and can talk about it better.
The day
I wasn't at my usual outdoor range. I went to Otho's house, where he has a berm for shooting. I didn't go there because of this rifle, but because I also tested the Hatsan Hercules that wasn't sighted in yet. I wanted complete control of the range, so I could start shooting at 10 yards and back up as I adjusted the scope. I'll talk more about that when I do that report.
The day started out calm with a breeze from behind me at a steady 5 m.p.h. As the test progressed the wind picked up and by the final group it was gusting to 10 mph and had shifted over to the left.
JSB Exact Heavy
The first pellet I tried was the JSB Exact Heavy that gave us a 0.494-inch ten-shot group at 25 yards. At 50 yards 10 pellets went into 1.369-inches between centers. It's not a bad group, but it is a little horizontal.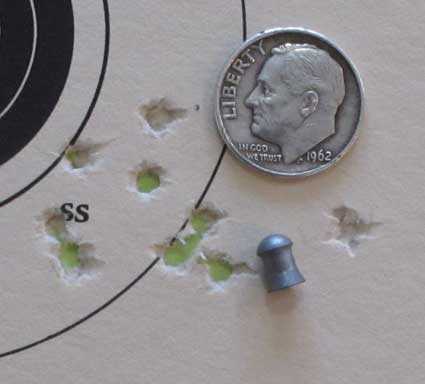 Ten JSB Exact Heavy pellets made this 1.369-inch group at 50 yards.
Magazine is easy
I have had problems loading Kral magazines in past tests, but this time I found it easy. It was easy to load 10 pellets into the 14-shot mag and the magazine was also easy to install in the rifle's receiver.
H&H Baracuda Match 4.50mm heads
Next to be tried was the H&N Baracuda Match pellet with a 4.50mm head. At 25 yards ten grouped in 0.43-inches. At 50 yards they spread out horizontally into a 1.739-inch group. That tells us that this isn't the pellet for this rifle. At 25 yards it looked okay, but at 50 yards it broke down. Maybe a Baracuda with a larger head size would group tighter.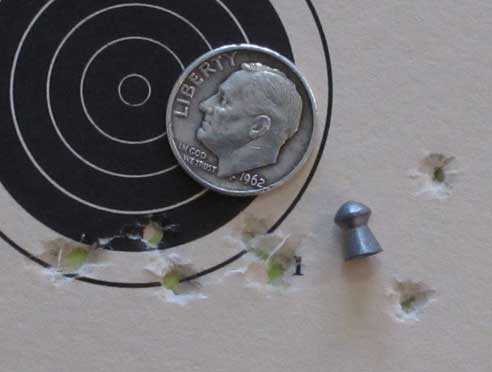 Ten H&N Baracuda Match pellets with 4.50mm heads went into 1.739-inches at 50 yards.
Trigger
I found the Kral's trigger more difficult than I remembered. The pull is heavy but I can live with it. However, the bottom of the trigger slants too far forward for comfort. I would like blade to be straighter.
Wind picked up
At this point the wind started to gust faster. I waited out the gusts and shot when it was calmest, which was still about 5 m.p.h. and still from my back.
Crosman Premier heavies
The next pellet I tried was the Crosman's Premier 10.5-grain dome. At 25 yards they gave us a 10-shot group measuring 0.429-inches that was the best of the test. A second 25-yard group measured 0.504 inches between centers. At 50 yards they fell apart — putting 10 pellets into 1.883-inches between centers.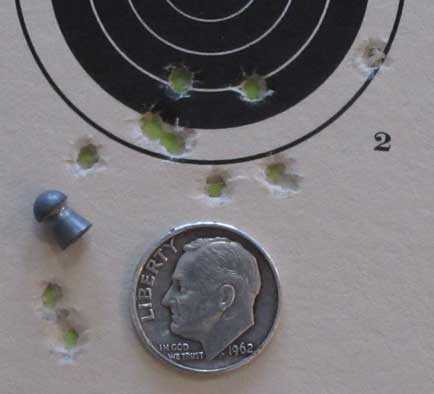 Ten Premier heavy pellets made this 1.833-inch group at 50 yards.
Okay — by this time I was getting frustrated. Clearly the JSB Exacts were the best pellet so far, and I thought that first group was less than an inch. That's how it looked to me. The wind was now gusting harder and also shifting to my left.
The Puncher Breaker had done so well at 25 yards with all three pellets that I had to give it one more chance at 50. I had to try it with the JSB pellets once more. The wind was gusting, but I waited for the gusts to grow calm for every shot.
This time 10 shots went into 1.128-inches. Is that the Puncher Breaker's best? I doubt it. I have only tested a few pellets, and all of them at a single power level. I think with the right pellet and the right power setting the Puncher Breaker will put 10 into an inch or less at 50 yards.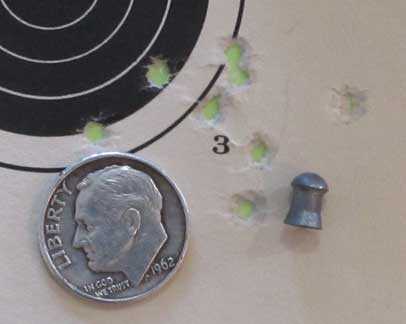 This second group of JSB Exact Heavy pellets was the best of the 50-yard test. Ten pellets are in 1.128-inches.
Evaluation
I'm ending the test today. I have enjoyed testing the Kral Puncher Breaker and I feel that .177 caliber was the right choice to make. We have talked about the new price-point PCPs a lot in the past few weeks. This one isn't that much more and offers a lot for the price. How the world of airguns has changed in the past 10 years!
I would also note the big difference in group sizes between 25 and 50 yards. That's why a longer range test is always more revealing. Not only does it show which pellets not to choose, it also shows the pellet that stands out.
The Kral Puncher Breaker is heavy, so get a sling if you plan to hunt with it. And scope it with a compact scope — both to save weight and also to keep the overall package small.
If I wanted a powerful PCP repeater, the Kral Puncher Breaker would be on my short list.