by Tom Gaylord
Writing as B.B. Pelletier
This is Part 14 of the Hiveseeker guest blog on the Crosman 2400KT. Today is titled Modding the Crosman 2400 family — Primer 3.
This is the most popular guest blog series we have ever published. Hiveseeker says it is the last in the series, but I think it might not be. You readers will help him decide.
If you'd like to write a guest post for this blog, please email me. Now, over to you, Hiveseeker.
Crosman 2400KT CO2 Air Rifle – Part 14
Modding the Crosman 2400 family — Primer 3
By Hiveseeker
Part 1
Part 2
Part 3
Part 4
Part 5
Part 6
Part 7
Part 8
Part 9
Part 10
Part 11
Part 12
Part 13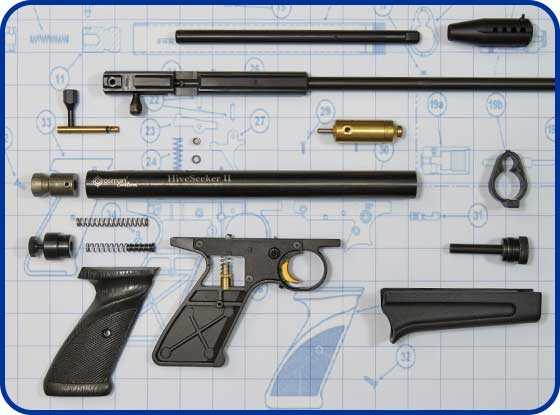 The 2400KT CO2 Air Rifle that I modded for this report is only available directly from the Crosman Custom Shop. It is shown here disassembled with a mix of stock and modded parts. For scale, the background grid on all photos is one inch square.
WARNING: These modifications can change the operation of a gun in ways it was not designed for. Non-factory or modified parts can fail, especially if subjected to higher pressures than originally intended. Pyramyd Air advises against making such modifications or conversions. This report is for information, only.
This report covers:
The mods (continued):
(5) Extended or hollow bolt probe
(6) Barrel
(7) Trigger
(8) Sound moderator
(9) Grips and stocks
(10) Conversion to air
Conclusion
In Part 12 we provided an introduction to modding the Crosman Crosman 2240 family of CO2 guns, and in Part 13 covered several of those mods which we will be concluding today. I've ranked the difficulty of these mods from easiest (*) to hardest (*****). All velocity testing was completed with 14.3 grain Benjamin Discovery Hollow Points.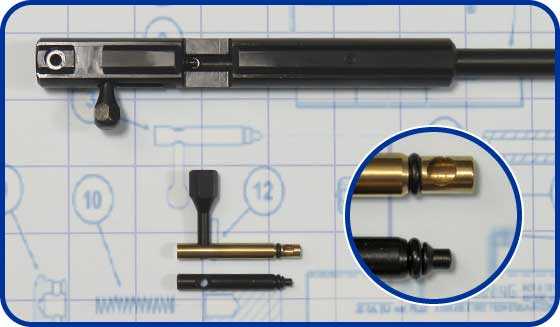 Here are the Extended Hollow Probe from GMAC Custom Parts (top) and stock Crosman bolt shaft (bottom). Inset shows both the added length of the extended probe, and the hollow opening that facilitates CO2 flow.
(5) Extended or hollow bolt probe
Difficulty ***
Cost: $15-$35
An extended bolt probe (bolt tip) is supposed to increase accuracy by deep-seating the pellet further into the barrel rifling than the standard bolt. This can also increase velocity by pushing a pellet completely past the transfer port hole in the barrel, allowing the CO2 free flow behind the pellet skirt.
A hollow probe maximizes CO2 flow past the bolt by lining up an opening in the hollow bolt tip with the transfer port hole in the barrel, allowing CO2 to actually flow freely through the bolt itself. Other probes provide a similar advantage via a very narrow bolt tip that facilitates unobstructed CO2 flow into the barrel. This is another free lunch mod with no cost, outside of dollars!
On fellow reader Kevan's recommendation, I purchased a bolt that incorporates both these upgrades, the Extended Hollow Probe from GMAC Custom Parts in the UK. Kevan reports a 14 f.p.s. velocity increase and improved accuracy with this mod. Unfortunately my 2400KT took a major cold-weather hit by the time I was ready to test this bolt, which was actually the last mod I completed. All other testing had been at temperatures of 84 to 88 degrees F, but the highest I could muster for this test was 76 to 78 degrees F due to cold weather. My average velocity plummeted from 525 f.p.s. to a new baseline of 457 f.p.s., a drop of 68 f.p.s.! When I retested with the new bolt I was pleasantly surprised with an average velocity of 481 f.p.s — a 24 f.p.s. increase. I noticed that the report seemed slightly louder with the mod, which makes sense since CO2 flow was obviously increased. The bolt fit is quite tight, though it smoothed out a little during testing. There is exactly enough room for loading the Benjamin Discovery Hollow Points. Longer pellets can be fit nose-first into the breech past the extended bolt, though loading definitely requires more attention and finesse now.
For evaluating accuracy with the extended bolt, I felt that repeating my 20-yard accuracy test from Part 9 would be the most revealing. Out of 5 pellets, however, only 2 shot smaller groups with the extended bolt. I would call my results inconclusive, but a couple interesting points to note about the extended bolt are that those groups averaged slightly smaller, and while none of those groups were especially tight all except one were very consistently in the half-inch range which is not bad. The accuracy improvement afforded by the extended bolt might depend on the pellet.


Accuracy results at 20 yards with the Crosman bolt and the Extended Hollow Probe from GMAC Custom Parts. Smaller groups are shaded in green.
Pro tip: This mod is more work than it initially appears. You will need to remove the steel breech in order clear the hammer pin so that you can slide the bolt shaft (minus bolt handle) into the steel breech. There was exactly enough room for the extended bolt between the hammer pin and breech screw for reassembly. If you are installing a hollow probe, make sure that the opening in the hollow bolt tip is down toward the valve opening instead of up when you install the bolt handle.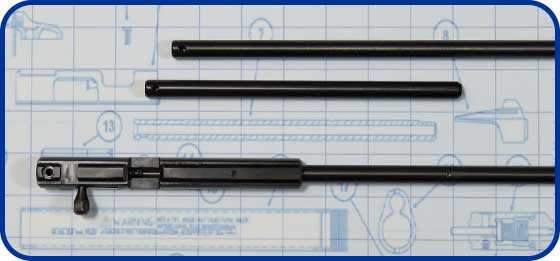 Velocity increases with barrel length for a CO2 gun. If you are after maximum speed, go with the longest barrel practical for you.
(6) Barrel
Difficulty **
Cost: $15-$65
Most of what you need to know about barrels was covered in Part 10 and Part 11 of this blog. For a CO2 gun, velocity increases with barrel length. We found that by changing the barrel from 7.5 inches to 24 inches velocity could be increased up to 153 f.p.s. with no other modifications. All of these Crosman CO2 barrels are interchangeable, and it's being reported that the 26.25 inch Benjamin Maximus barrel is also compatible.
Pro tip: Remember what we mentioned under valves — if you want a Lothar Walther barrel, order it with your Custom Shop gun even though that means you will not get a Crosman power valve. After your purchase, a commercial power valve will be easier to find than a Lothar Walther barrel.
Let me mention here that having put a lot of pellets through almost a half dozen different 2400KTs and even more barrels, several emerged as consistently accurate across the board in both .177 and .22. These were the boxed Crosman Premier (though sadly no longer available in .22), the Air Arms Falcon, and the RWS Hobby. Others worth trying include all the JSB pellets such as the JSB Diabolo Exact Jmbo, and the H&N Field Target Trophy which is available in different head sizes. Based on my success with the Air Arms Falcons I just recently tried two new pellets in this gun with excellent results, the Air Arms Diabolo Field and Air Arms Diabolo FieldHeavy.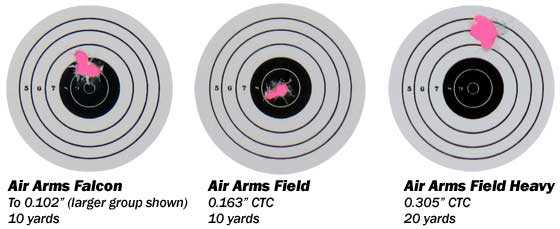 My Lothar Walther 14.6 inch barrel just loves Air Arms pellets! Left to right are groups from the Air Arms Falcon (10 yards), Air Arms Diabolo Field (10 yards), and Air Arms Diabolo Field Heavy (20 yards).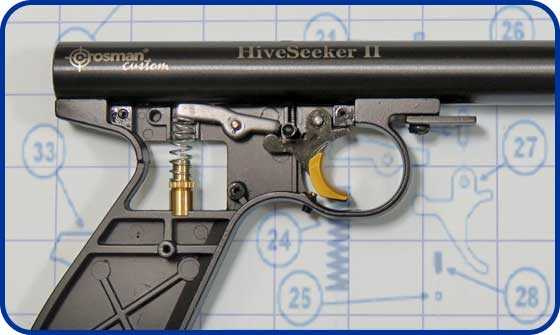 Yes — the 2400KT comes with an adjustable trigger, hidden away under the pistol grip!
(7) Trigger
Difficulty ***
Cost: $10-$100
I did not modify the trigger because I found the stock trigger to be quite acceptable. While not documented anywhere in the Custom Shop website or owner's manual, the 2400KT has an adjustable trigger as you can see above; Part 2 provides details and adjustment suggestions. I also recommend the trigger shoe in the Crosman Custom Shop, which reduces the perceived trigger pull. Mods range from deburred and polished trigger and sear replacements for $10-$20 (or you can do your own polishing), to full 2-stage adjustable trigger kits for $100.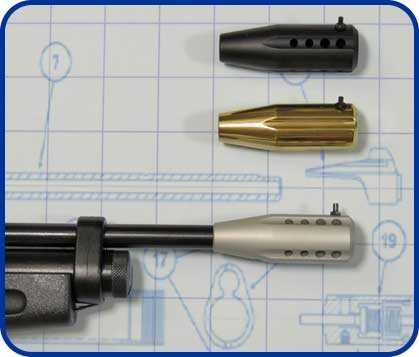 The black and silver Crosman muzzle brakes are ported, while the brass is not.
(8) Muzzle Brake
Difficulty *
Cost: $15+
The ported Crosman muzzle brakes in the Custom Shop do seem to reduce the volume of the discharge slightly, though I did not have a decibel meter to confirm this. Other than that, they primarily add bling and muzzle protection to your Custom Shop purchase. There are also third party sound moderators available, and I'm going to mention them briefly only because they are so widely available. They work but be aware that the legality of a removable moderator is not clear and I cannot recommend them.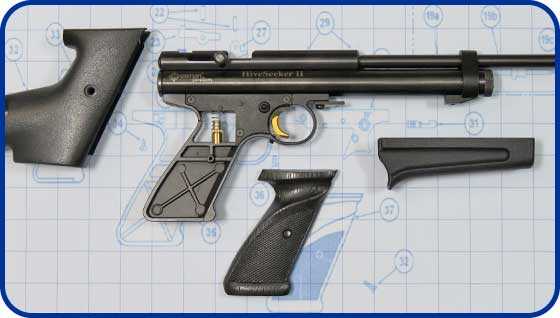 Although the most economical Custom Shop grips and shoulder stock are shown here, a wide range of grips and stocks are available within the Shop and from third party sellers.
(9) Grips and stocks
Difficulty *
Cost: $3-$60+
The Crosman Custom Shop offers a wide variety of grips and stocks, from standard black 2240 pistol grips for the 2300KT at only $2.95 to zebrawood target grips for $59.94 — the price of a 2240 itself! There are also dozens of shops and vendors offering all sorts of custom grips and stocks, including adapters that will let you install military folding stocks like the UTG PRO 6-Position Mil-Spec Stock Assembly.
Pro tip: A common complaint is how low the Crosman shoulder stock is. Many shooters add a section of pipe insulation or other padding for a custom cheekpiece riser.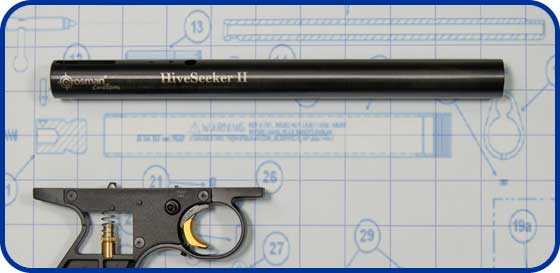 Conversion to air is the most powerful mod you can make, but was one that I did not attempt.
(10) Conversion to high pressure air or HPA
Difficulty *****
Cost: $75-$95+
This section will be brief because I did not perform this modification myself. Instead, I will refer you to B.B.'s Crosman 2240 Conversion to Air where he achieved velocities surpassing any of the mods I've presented to you here. The PowerMax HiPAC that B.B. used in that blog continues to be one of the easiest and most popular kits available. Difficulty is moderate if you are only filling to 1,800 PSI. However, higher fill pressures up to 3,000 PSI require reinforcing the valve and stronger seals. A diverse array of other HPA mods with various fill tanks or bottles are also available.
Conclusion
As you can see, excluding a conversion to air, if you order a 2400KT that includes a long barrel and the Crosman power valve your gun will arrive mostly pre-modded! Crosman really knows its hardware, and they are squeezing some amazing performance from that little CO2 cartridge. Other shooters report that all of these mods will work on some guns, including the power adjuster and max flow transfer port from which I saw no velocity gains. Despite a couple of unsuccessful mods, I still felt that I'd learned a lot. I hope that this blog has provided some helpful information, whether you are simply curious about the subject or are actually ready to take the plunge into modding!
I was browsing a popular modding site and came across a photo of a highly modified 2240. It was so tricked out I wasn't sure if any of the original gun was left in there! "Wouldn't it have been cheaper to just buy a Marauder Pistol?" I asked. The response was "That's not the point!" And for some, it's not. The process of customizing a gun to make it more powerful or better suited for your own purposes can be just as important as the end product. Others — a bit more like me — may be quite content to just buy that Marauder pistol outright. And that's okay, too!
A last word on the 2400KT
Interestingly, when I first read B.B.'s 2240 Conversion to Air I realized that my search for a gun like the one he created — but without the need for modding — was what had originally led me to the 2400KT. As I write these words about modding that gun, I feel that this now brings this entire blog series on the Crosman 2400KT CO2 Air Rifle full circle.
The face of airgunning has changed dramatically since B.B. posted my first blog on the 2400KT back in 2014. Until just recently, I considered this gun to be a poor man's PCP. But I have now seen an entry level PCP on sale for less than a 2400KT! Obviously, many modders will rather start with a gun that's a PCP straight out of the box like the Benjamin Wildfire or Beeman QB Chief, rather than going to the trouble of converting a Crosman CO2 gun. We are truly living in the Golden Age of Airgunning, and whether you want to use a stock product off the shelf or customize a gun with your own two hands, the options are getting better all the time!
Finally, during this blog series we've thrown a lot of numbers and technical information around, but I want to wrap up by reminding you that the most important factor is one you can't put a number on. Are you having fun? In the midst of all these recent changes, I see the Crosman 2400KT CO2 Air Rifle upholding its role as a fairly powerful, accurate gun that is very simple to shoot with no pumping or filling. Yes, I am having fun! And, if I've helped any of you have a bit more fun and appreciation for this gun, then B.B. and I have accomplished our goal.
Acknowledgments
I'd like to wrap up this series — which ran much longer than any of us expected — by thanking B.B. first and foremost for letting me write it, and for his time and patience in posting it. It has been my privilege and my pleasure to work with him. I'd also like to thank a very encouraging and supportive community here at the Pyramyd Airgun Blog, from whom I have learned more than I have taught. Finally, I would like to thank the folks at Crosman, both for so many fine products — especially the totally unique Custom Shop — and for their patient Customer Service team.