by Tom Gaylord
Writing as B.B. Pelletier


Beeman QB Chief precharged pneumatic air rifle.
This report covers:
The test
Sight-in
Baracuda Match
JSB Exact Heavy
JSB Beasts
Conclusion
What now?
Happy birthday, United States of America!
Today I am testing the Beeman QB Chief precharged pneumatic air rifle for accuracy at 25 yards. I mounted the UTG 3-12X32 Bug Buster scope, which looks and feels ideal for this rifle. I can't think of a better match. It comes with Weaver/Picatinny rings, but since the Chief has 11mm dovetails, and since I had the scope already installed in UTG Accu-Sync 11mm rings for the Dragonfly test, I just switched the scope to the QB Chief.
The test
Today's test will be at 25 yards off a rest. The trigger was adjusted in Part 4, so the rifle should be ready to go.
Sight-in
I took one shot to sight in. It landed at 9 o'clock —  in line with the center of the bull for elevation at 12 feet and to the left. So the first shot at 25 yards would be high and left, which it was.
Baracuda Match
It took 4 shots to get on target and I know the rifle has about 15 good shots per 2000 psi fill, so I shot the first group without filling after sight-in. The first pellet tested was the H&N Baracuda Match with 4.50mm head. It was also the sight-in pellet. I tried to keep from shooting out the center of the bull, which was the aim point, so I accepted a group to the left of center.
Ten shots landed in the group measuring 0.334-inches between centers. That's a screamer — especially when you consider the low cost of the rifle that did it! This doesn't happen a lot, but when it does I celebrate it.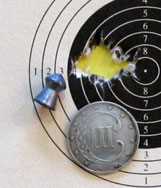 At 25 yards the Beeman QB Chief put 10 H&N Baracuda Match pellets into a group that measures 0.334-inches between the two widest centers. If ever a group deserved the trime, this is it!
I wondered whether this trend would continue. The next pellet might tell.
JSB Exact Heavy
The next pellet to be tested was the 10.34-grain JSB Exact Heavy. At 10 meters they gave me the best group of the test, so I had high hopes for them here. Unfortunately, this was not their day. I held tight on the target and watched as 10 pellets scattered around into a 0.84-inch group. I was amazed to see them moving around so much on target, but the fact is, they did. This is not a pellet for this rifle.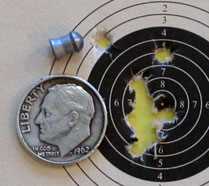 Ten JSB Exact Heavy pellets made this 0.84-inch group at 25 yards.
JSB Beasts
Okay, I only had one pellet left. I had tested 10.5-grain Crosman Premier Heavy pellets at 10 yards, but they gave me the largest group that was also elongated vertically. So I didn't have any hope for them. But JSB Exact Beasts did good enough to warrant a test at 25 yards.
And they proved out! Ten Beasts went into 0.36-inches at 25 yards. The Beasts are great because they deliver almost 23 foot-pounds in the QB Chief in .177 caliber. That's smokin' hot! If I owned this rifle, this is the pellet I would have it sighted for.
0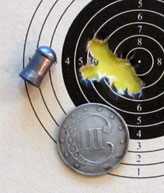 Ten JSB Beasts went into 0.36-inches at 25 yards. This is the pellet to trust.
Conclusion
Well, this day was an eye opener for me! I never expected an inexpensive air rifle to shoot this well. Adjusting the trigger did help me enjoy the experience more, though it didn't make the rifle any more accurate.
What now?
I was prepared to end this report at this point, but I can't. Not with the accuracy we see here. The Beeman QB Chief PCP will be going out to 50 yards next.