by Tom Gaylord
Writing as B.B. Pelletier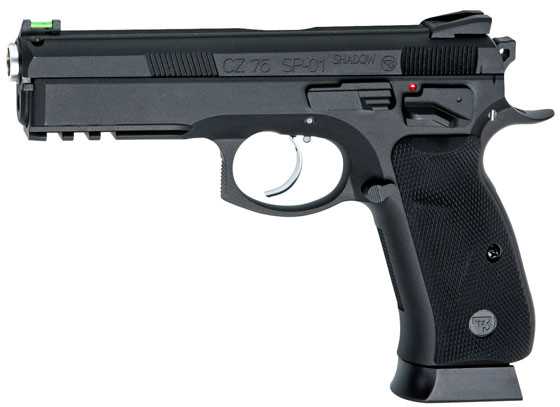 ASG's CZ 75 SP-01 Shadow BB pistol is large and heavy. The guns they are shipping have red fiberoptic sights in front, like those found on the firearm.
This report covers:
Function alike
To be honest…
How to test
The test
Accuracy Daisy BBs
Accuracy ASG Blasters
Accuracy Dust Devils
What now?
Discussion
More to come
Today is accuracy day for the ASG CZ75 SP-01 Shadow BB pistol, and there is more besides. As you know, I am very excited about this air pistol because of its realism. The shooting population thinks that all lookalike air pistols are good substitutes for the firearms they copy, but I have had reservations about that for years. Lookalike pistols have been with us a long time, but pistols that function alike are relatively recent. I think this BB pistol is one of them.
Function alike
Here's why I think that. When ASG sent me the pistol to test, they sent a tactical holster with it. This isn't a holster made for a BB pistol — it's the real deal — a genuine tactical holster for a CZ75 SP-01 and SP-01 Shadow. I was so impressed that I bought a 9mm CZ75 SP-01 firearm to compare to the BB pistol and that opened a whole can of worms.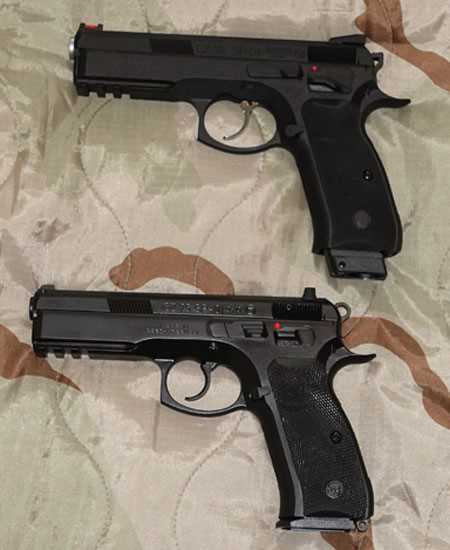 Which is which? The top one is an SP-01 Shadow BB pistol, while the bottom one is a 9mm SP-01 firearm.
<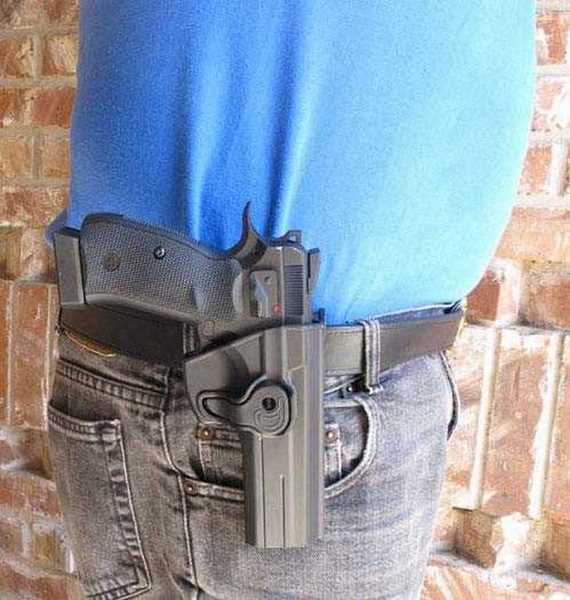 The BB pistol holsters just like the firearm.
To be honest…
To be completely honest I initially tried to cheap out on the firearm, by buying a CZ75 clone (a Bul Cherokee) made in Israel. It has a synthetic frame and does not look, feel or function like a genuine CZ75. I was like the airgunner who buys a Chinese mega-magnum breakbarrel and expects it to shoot like a Diana 34P. The good news is I got a heck of a bargain and stand to make some money on that deal.
So, then I broke down and bought the real CZ75 SP-01, but not the Shadow variation. The Shadow variation has custom fitted parts, particularly in the trigger, and costs twice what an SP-01 costs. Since the BB pistol I'm testing has not been through the CZ custom shop either, I felt I could get away with the cheaper firearm. Personally I wanted to just buy a plain-Jane CZ75, which is the gun most people rave about, but since the SP-01 has the light rail under the frame, I thought I'd at least better get that.
How to test
How do you test a BB gun against its firearm equivalent? Oh, Johnny Sofaspud has it all worked out in his mind. Just scale the targets down and start shooting. Maybe he's right — I don't know. But I plan to find out, and I want you guys to come along and watch. Today would normally be the final report on this airgun, but think of it more like the beginning. Let's look at some accuracy.
The test
I shot the pistol at 5 meters (16.4 feet) off a UTG Monopod rest. The gun had a fresh CO2 cartridge, and I want to talk about that for a moment. The CZ 75 SP-01 Shadow has a removable magazine that accepts the CO2 cartridge. To access it you first remove the plastic floorplate from the bottom of the mag. That exposes a large screw cap that has a wide slot to accept an American quarter or a Euro coin. The problem is, the cap is recessed deep in the mag and when you get to it the coin can hang up on the sides of the access hole. I tried installing two CO2 cartridges, only to have them slowly leak off. Finally I used a large screwdriver that gave me something hold onto, and I got the cap sealed on the third cartridge.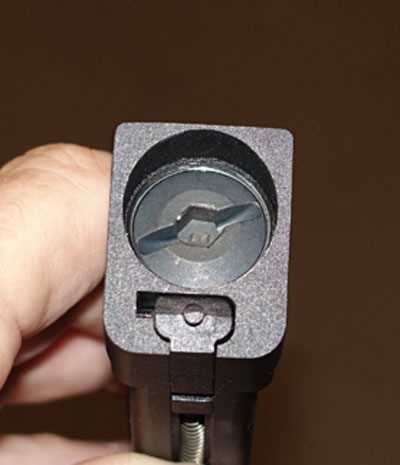 The cap is recessed so deep in the magazine that the quarter coin doesn't fit well in the slot.
Accuracy Daisy BBs
First to be tested were Daisy Premium Grade BB. I use them as a sort of baseline for premium BB performance. Ten of them went into 3.79-inches at 5 meters, which shocked me. I was expecting an inch or so. The only good thing about this group is it is centered on the bullseye pretty well. I used a 6-o'clock hold, so the gun shoots where it is aimed.

Ten Daisy BBs are in a group that measures 3.79-inches between centers.
I would like to report that the trigger on this BB pistol is delightful. It's light and reasonably crisp. It's just what you need when shooting targets.
Accuracy ASG Blasters
Next up were the ASG Blaster BBs. ASG imports the gun so I figured I should try their BB. Would you believe the group was the same size as the previous group of Daisy BBs? Granted it's difficult to measure BB holes with a caliper, but as close as I can tell, both groups are the same size. These BBs just seemed to spread out less to the side, but they were just as tall in their height.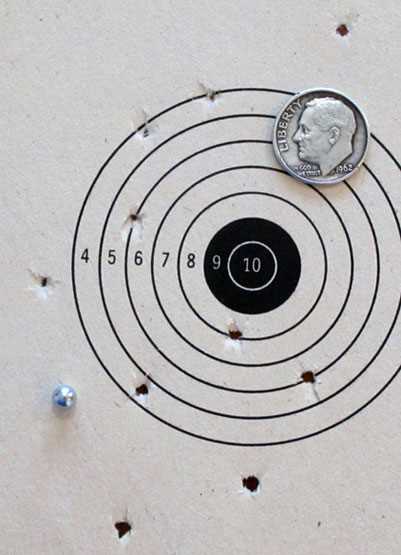 Ten ASG Blaster BBs are in a group that also measures 3.79-inches between centers. The group is not as wide as the previous one but just as tall.
Accuracy Dust Devils
Air Venturi Dust Devil BBs are the ones I was most interested in. This is an action pistol and it would be nice if the safest BB with hard targets was also the most accurate. Alas, it was not to be. Ten Dust Devils grouped in 4.018-inches at 5 meters. It was the largest group of the test.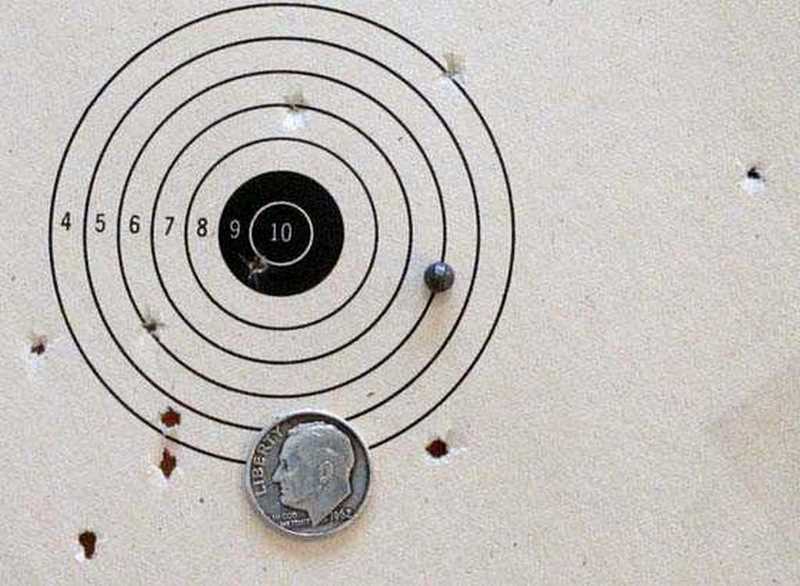 Ten Dust Devil BBs are in a group measuring 4.018-inches between centers. The one shot to the extreme right made this group as big as it is.
What now?
I had planned to test three BBs today, but I felt I couldn't walk away from results like these. I had to try one more BB that usually produces results — the Hornady Black Diamond. Ten of them went into 2.595-inches at 5 meters. That was the smallest group of the session by a large margin.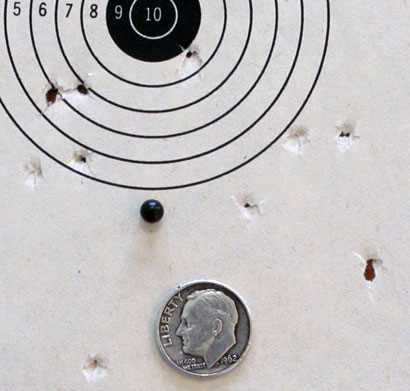 Ten Hornady Black Diamond BBs gave me the smallest group that measures 2.595-inches between centers at 5 meters.
Discussion
There is bad news and good news from today's test. The bad news is the CZ75 SP-01 pistol I'm testing is not a target arm by any stretch. The good news is it shoots to the point of aim with every BB I tested. It is certainly minute-of-silhouette accurate, provided I stand close enough and the target is large enough. That sort of dictates what I need to do with the target.
More to come
This report was delayed because I wanted to shoot the firearm and cover it today, as well. I just didn't get the time at the range for that, so that will have to come in a future report. I am told by every CZ75 owner I know that the 9mm pistol is remarkably accurate, so we shall see.