by Tom Gaylord
Writing as B.B. Pelletier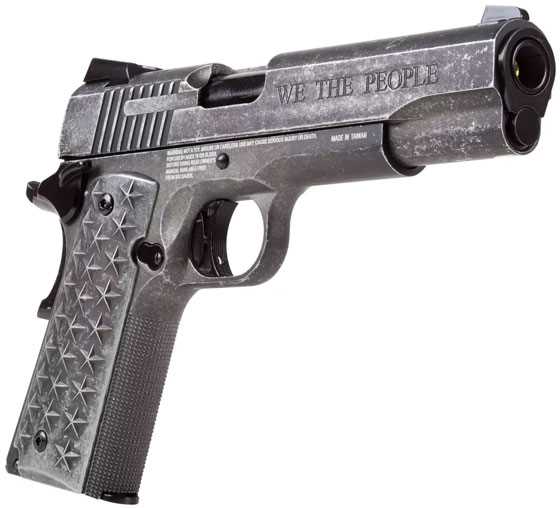 We The People commemorative BB pistol from Sig.
This report covers:
The trigger reveals itself
Sights
Grip
The test
Daisy BBs
Hornady Black Diamond
Dust Devils
Blowback
Accuracy?
Discussion
Summary
Today is accuracy day for the Sig We The People 1911 BB pistol. Remember, there is a cartridge equivalent pistol, but I won't be testing one of them.
Things I look at in a semiautomatic BB gun test
I do a lot of these BB-pistol tests and I thought I would take a moment to tell you what I look for. Since this is a BB gun the level of accuracy is not the same as I would expect from a pellet pistol. And it is certainly not what I expect from a single-shot pellet pistol! I know you guys are rolling soda cans with BB pistols like this, so that's my criteria — is it that accurate and will you have fun shooting it that way? I do shoot it at paper but only for a visible record we can all see and discuss.
While pinpoint accuracy is not a requirement for a BB pistol, hitting the aim point certainly is. If a gun shoots somewhere other than the aim point and the sights cannot be adjusted to hit, it won't be a lot of fun. Sure, you can learn where to aim and can eventually become quite good with any airgun, but if the BB naturally goes to where the sights are aiming it's so much better!
The trigger reveals itself
I weighed the trigger for you in Part 2. It breaks at between 5 lbs. 7 oz. and 7 lbs. 4 oz. I said that was stiff, but it isn't until I have to use the trigger while shooting for accuracy that things really reveal themselves. A trigger that breaks at 6+ pounds is not a target trigger. It took a lot of concentration with this one to not pull a shot off the target.
On the other hand, this trigger is perfect for rapid-fire drills. It's heavy enough to prevent any accidents while moving quickly from target to target. I know that IDPA and PPC shooters prefer lighter triggers, but they train with them all the time. For a duffer like me, the heavy trigger is the ticket!
Sights
The sights are clear and bright. They are crisp enough for good target work and the white dots don't interfere with a good sight picture when the target is illuminated.
Grip
I would also like to add that this BB pistol has a checkered front grip strap and checkered flat mainspring housing (the rear of the grip). Add to that the stars on both sides of the grips themselves and the We The People pistol is very grippy. It's as nice as the grip on my Wilson Combat CQB 1911 that now retails for $2,800.
The test
I shot the pistol at 5 meters off a UTG Monopod rest. The target was illuminated brightly and I was seated, so the pistol had the best chance to shine. I aimed at 6 o'clock on the tiny black bull.
Daisy BBs
I began the test shooting 10 Daisy Premium Grade BBs. They grouped in 2.132-inches between centers. While that is a large group, it is well-centered on the aim point and would roll a can easily.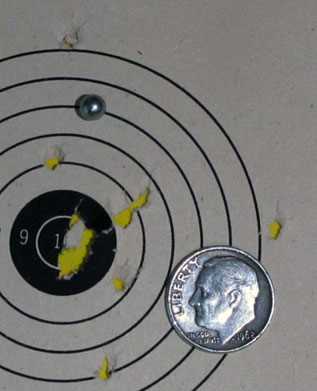 Ten Daisy Premium Grade BBs made this 2.132-inch group at 5 meters.
Hornady Black Diamond
The next BB I tried was the Hornady Black Diamond. This BB often turns in great results and today was no exception. They gave me the best group of the test — 10 shots in 1.475-inches. They landed slightly right of center and a little high on the target.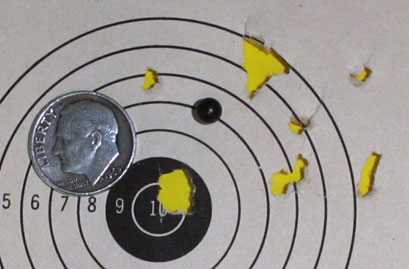 Ten Hornady Black Diamonds went into 1.475-inches at 5 meters. The group is a little high and a little to the right of center.
Dust Devils
The last BB I tested was the new frangible Air Venturi Dust Devil. These have done quite well in some BB guns, but today they came out third. The group measured 3.382-inches between centers. It is centered nicely on target, except for the one BB off to the right. Leave that one out and the other 9 are in 2.357-inches.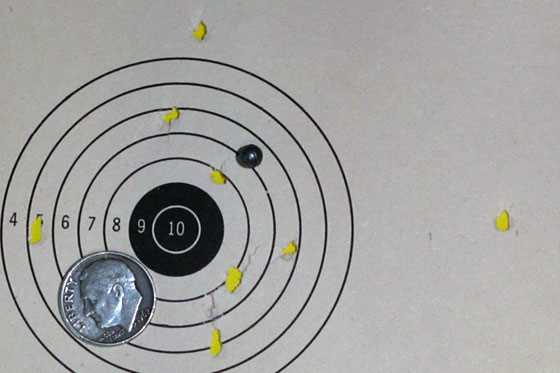 Dust Devils grouped 10 in 3.382-inches. Nine are in 2.375-inches. The main group is well-centered.
Blowback
I have to comment on the blowback, because I experienced it directly in this test. This handgun does bounce around a lot — especially if you do not hook your thumb over the ambidextrous safety in the classic 1911 hold when firing the gun! I would rank it up among the bouncy-est air pistols with blowback!
Accuracy?
I just heard from Bob Li of ASG. He read yesterday's report of the CZ75 SP-01 Shadow and told me that BB pistols with blowback do suffer accuracy loss because of the blowback. It seems that with a blowback gun that is accurately made to copy the firearm, the parts inside the gun have begun to move before the BB exits the barrel. You don't have that problem with a firearm whose bullet is going three times faster than a BB, but the slower BB will be affected. That will hold true for all BB pistols with blowback, regardless of the gun they copy.
Discussion
The We The People BB pistol has many good points and a couple that are not so good. Looks, feel, function and sight alignment are all in the plus column. The trigger and general accuracy, however, are not as good. This is a BB pistol that's suited to a lover of the 1911 pistol, and also one who will use it for fast action shooting. It gets lots of shots on a cartridge and the velocity is pretty good. It handles BBs reliably and had no misfeeds throughout all testing.
Summary
Sig Sauer is a happening company. Not only are they making sidearms for the US military, they are also winning contracts for law enforcement agencies across the nation. Add to that the guns they make for the general public and you can see what a winning streak looks like.
But beyond even that, Sig has chosen to play in the airgun world. Some of their products are imports made to their specifications while others are brand new and made right here in the U.S. I will be traveling to Sig next week to tour their U.S. facilities and see exactly what they are doing. You can expect more to come from this company and you can expect a big report from me!