by Tom Gaylord
Writing as B.B. Pelletier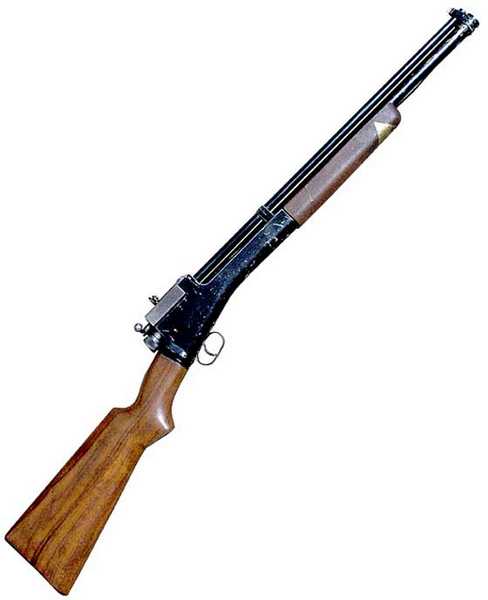 Crosman's 102 is a .22 caliber multi-pump repeater.
This report covers:
More than one shot per fill?
How many pumps?
The test
Sights
Pellet feed
RWS Meisterkugeln
Crosman wadcutters
RWS Hobbys
Crosman Premiers
Now 10 shots
Discussion
Summary
Today we look at the accuracy of the Crosman 102 repeating multi-pump pellet rifle. The last time I shot this rifle was back before the SHOT Show in January. I kept putting it off for no reason that I can remember.
More than one shot per fill?
Since it is a repeater, does it get more than one shot per fill? It's not supposed to. There are multi-pumps that do get more than one shot per fill and I will be covering one of them for you — a rare Benjamin 700. But that's not today. The 102 has to be pumped for every shot.
How many pumps?
If you take the time to read Part 2 you will see that I discovered that this rifle doesn't need more than 5 pump strokes to achieve its best velocity. I tested it to 8 strokes, but after 5 strokes the velocity increase got really small.
Then a reader found an old manual for the 102 that said it has a efficient new style of pump that needs no more than 4 strokes to achieve maximum power. I had tested this rifle to 8 strokes because I was unaware of that. And yet my test proved it over the chronograph. The difference between the recommended 4 strokes and the 5 that I found to be best has to do with the individual airgun. It is another example of why owning a chronograph is so important for an airgunner.
The test
Today I shot the rifle from a rest at 10 meters. I pumped the gun 4 times per shot. The pumping is so easy with this rifle that I don't mind it one bit. The rifle is also very quiet. So quiet that the cat who always complains about the noise went to sleep on the floor next to the shooting bench. She never does that!
I shot 5 of each type of pellet and then 10 of the pellet that looked the best. That way the pumping didn't get overwhelming.
Sights
The sights are adjustable, but for today I left them where they were when I got the rifle. I discovered they were close enough on the first shot, so I left them alone.
Pellet feed
You probably don't remember but the 102 has a 20-round tube that holds pellets until the bolt is operated. The hole for the pellets is very short which limits the pellets that can be used. There is no easy way to load a pellet other than through this hole into the gravity-feed magazine.
That said, if the pellets fit through the hole in the magazine, they will load into the breech. The 102 is the slickest-feeding pellet repeater I have ever used. Most pellets that fit are wadcutters but the Crosman Premier is a dome that also works very well.
RWS Meisterkugeln
The first pellet tested was the RWS Meisterkugeln wadcutter. They hit a little above and slightly to the left of the center of the bullseye, in a 5-shot group that measures 0.434-inches between centers.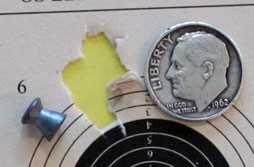 Five RWS Meisterkugeln pellets went into 0.434-inches at 10 meters.
Meisterkugeln pellets loaded a little hard because they were almost too long to fit through the loading hole. When I fed them into the breech I could feel some resistance, too.
Crosman wadcutters
The second pellet I tested was a vintage Crosman Wadcutter. These fit through the hole in the magazine easily and they dropped down the magazine tube rapidly. Five of these 14.3-grain pellets went into 0.599-inches at 10 meters. That's not bad for an inexpensive pellet.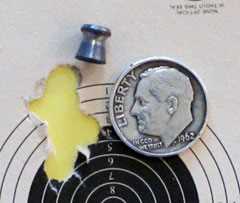 The Crosman wadcutter group was only a little larger than the Meisterkugeln group, at 0.599-inches for 5 shots.
RWS Hobbys
Next up were RWS Hobbys. Like the Meisterkugeln pellets, Hobbys were tight through the loading port and they fed a little tight into the breech. But they did group well. Five went into 0.411-inches between centers. They edged out the Meisterkugelns by a smidgeon that is almost too close to call.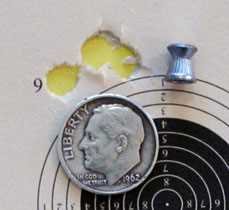 Five RWS Hobby pellets went into 0.411-inches at 10 meters. This was the best 5-shot group of the test, by a small margin.
Crosman Premiers
Crosman Premiers were the only domed pellet I tried, because they also fit through the short hole in the magazine. At 10 meters 5 of them went into a rather open group that measured 0.672-inches between centers. I think that's okay, but they are not the pellet I would choose for this rifle.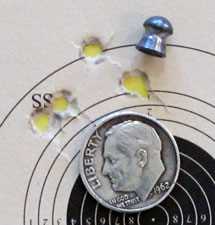 Five Crosman Premiers went into a open group that measured 0.672-inches between centers at 10 meters. While not that bad, it isn't as tight as the other pellets.
Now 10 shots
Now that I had tested 4 different pellets, I wanted to shoot the best one in a 10-shot group. Through the spotting scope that looked like the RWS Hobby, and measurement proved that it was, though Meisterkugelns were nearly as tight. The rifle was so easy to pump and shoot that I found myself looking forward to it.
Ten Hobbys went into 0.415-inches at 10 meters. That is so close to the 5 shot measurement that it's really a wash! And it tells the story of this entire test. The Crosman 102 is accurate and also a real pleasure to shoot!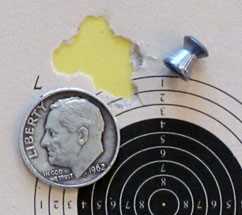 Ten RWS Hobbys went into a group measuring 0.415-inches at 10 meters. This rifle can shoot!
Discussion
Shooting the 102 put me in mind of owning a vintage car. It's like a 1940 Ford. Yes it's a car and it does drive, but you need to be prepared for the experience. It's not like a modern car that's controlled by computer chips. This is one you must get to know and feel to get the best out of it.
Pumping the gun is light and easy. If only all multi-pumps were so easy. Of course there is not much power, but I find myself not caring that much because it's so fun to shoot.
Summary
I was surprised by how easy and pleasant this was. I expected a lot less than I got. I expected the 102 would be going away after this test, but now I find myself wondering what it will do at 25 yards. We will find out, because this one is staying with me!