by Tom Gaylord
Writing as B.B. Pelletier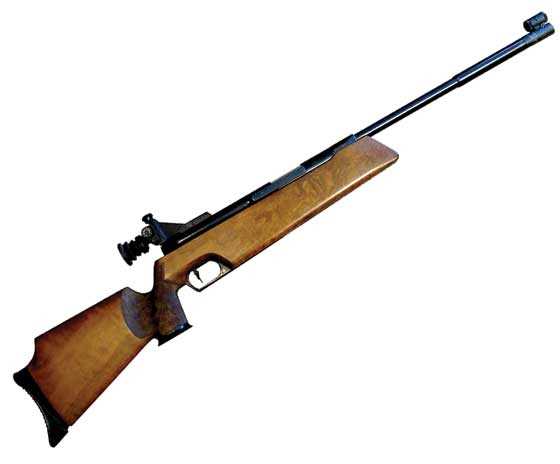 My FWB 300S is the most accurate 10-meter target rifle I own.
This report covers:
Background
Essentially sighted in?
The test
Qiang Yuan Olympic pellet
Sig Match Ballistic Alloy pellet
Sig Match Pb pellet
Sig Match Alloy
Qiang Yuan Olympic
Sig Pb target pellets
Summary
Before we begin I need to explain why a test of three current pellets is in the history section. Besides airguns I have a lot of other things I need to test and report, and pellets are one big category. I also have some .22 caliber pellets from Sig that need a test, as well as those samples of the new Baracuda Field Target that I received at the Pyramyd Air Cup. If I don't stop and make the time for these tests, they will never happen.
When it comes to target pellets, my most accurate 10-meter target rifle is an FWB 300S — a spring-piston target rifle that is decades out of date. But it's the best I have, so I used it. Since it is no longer made, I put the test that used it in the History section.
Background
Today is a straightforward test of three target pellets. It was shot at 10 meters. The last time I thought I had used this rifle in a test was in the series titled, FWB 300S vintage target air rifle. That was back in 2012. In that series I finished by mounting a scope on the rifle and shooting it at 50 yards. So when I began today's test I thought I had just remounted the rear target sight but not sighted it in again. If the rifle could hit anywhere close to what it was aimed after doing that it would have been incredible. But I had not looked to see if there were any articles about an FWB 300, the model number without the S. And there was one. In 2016 I did a one-time test that was titled, Shootoff between the TX200 Mark III and the FWB 300. Since I left the "S" off the rifle's model number in the title of that report, it wasn't found in my first search. Naturally I had to sight in the FWB for that report, so today I began with a rifle that was essentially sighted in.
Essentially sighted in?
That deserves some explanation. I do not adjust the sights in these tests unless there is a very good reason. As long as the pellets are hitting inside the bullseye, that's good enough for what we are doing. We are looking at group size, not the score. If I were after the best score I would have to fine-tune the sights for a particular pellet, and even for how I hold and sight the rifle when shooting for competition. Unless you do that you will loose points in a match, because you do not hold and sight a rifle that same offhand as you do when it's on a rest.
The test
Let's get started. I had what I thought were three target pellets that had never been tested in my 300S. Once again, that 2016 report that turned up later proved me wrong, because one of the three pellets I will test today was also tested then. But that's a good thing because we can compare my results from then and now.
I'm shooting off a sandbag rest from 10 meters, so the only thing getting tested is the rifle. The 300S has a sledge anti-recoil mechanism inside the stock that isolates the barreled action from the stock — a sort of built-in artillery hold. So, a bag rest is best. I'm shooting 5 shots per target.
Qiang Yuan Olympic pellet
The Qiang Yuan Olympic wadcutter is a target pellet that has given us good results in some guns in the past. They are always worth a try.
Five of them made a group that measures 0.199-inches between centers. For the record the best 5-shot group this rifle has ever produced at 10 meters was 0.097-inches in the 2012 test. A good pellet in this rifle will put 5 into something smaller than 0.15-inches. That means this group is on the large side for this rifle. This is the pellet I had tested before and didn't remember.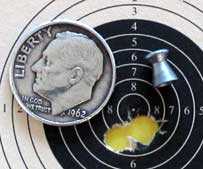 The FWB 300S put 5 Qiang Yuan Olympic target pellets into 0.199-inches at 10 meters.
The last time I shot this pellet in this rifle under similar conditions (the 2016 test), 5 of them went into 0.17-inches at 10 meters. That's better, but still not great.
Sig Match Ballistic Alloy pellet
The next pellet I tested is one I'm pretty sure I have never tested in the FWB 300S — the Sig Match Ballistic Alloy pellet. We have seen this lead-free pellet do remarkably well in some other airguns, and today we get to see what it can do in my most accurate 10-meter rifle.
Five pellets went into 0.142-inches at 10 meters. That's better than the average good pellet and good enough to bring out the trime. For those readers who don't remember, the trime, or silver three cent piece, is the smallest American silver coin ever made. Where an American dime measures 17.9mm or 0.705-inches in diameter, a trime is 14mm or 0.551-inches in diameter. I use it for comparison whenever I get a very small group.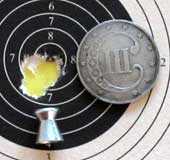 Five Sig Match Ballistic Alloy pellets went into 0.142-inches at 10 meters.
Sig Match Pb pellet
Next I tested the new pellet that really prompted today's report. This is a target pellet that's so new Pyramyd Air doesn't even have it listed yet. It's a lead wadcutter that weighs 8.18-grains, according to the package. I weighed 10 and five weighed 8.2-grains. Four were 8.0-grains and one was 8.1-grain. That makes them okay for training but not for serious competition.
Five of these went into 0.213-inches. That was the largest group thus far in the test.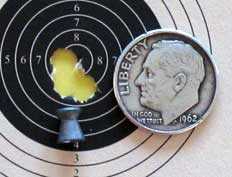 Five new Sig Pb wadcutters went into 0.213-inches at 10 meters. The FWB 300S doesn't seem to like this pellet very well.
Discussion
At this point in the test I could have shot more different pellets or I could have done something else. I decided to do something else.
Were the results shown above correct, or were they just lucky flukes? There was just one way to find out. I decided to shoot all three pellets again. This is where 5-shot groups pays off, because I haven't tired yet.
Sig Match Alloy
First up were the Sig Match Ballistic Alloy pellets. I wanted them to show me that first tight group was not just five lucky shots. This time five of them went into 0.089-inches — besting the previous best group (0.097-inches in 2012) I ever shot with this rifle!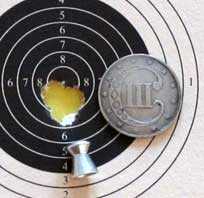 It's trime time again. This second 10-meter group of 5 Sig Match Ballistic Alloy pellets went into 0.89-inches between centers.
With this second group I have to consider the Sig lead-free target pellet to be a good match for this rifle. Consistency is what I'm after in a target pellet. These load quite firm, which I think is part of their reason for success. Of course the sights would need to be adjusted to raise the center of the group, but notice how round both of these groups are.
Qiang Yuan Olympic
Next up were the Qiang Yuan Olympic pellets. This time 5 of them went into 0.078-inches at 10 meters. That's a new record for this rifle! Isn't it strange that their first group was so much larger (0.199-inches)? Before I would consider a pellet with this much variation for a rifle I would have to shoot several more groups. The variation is probably me, but I would need to know for sure.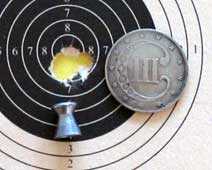 The second time I shot them, 5 Qiang Yuan Olympic pellets went into 0.078-inches between centers at 10 meters. That is the smallest group of this test and also the record for this rifle with me shooting.
Sig Pb target pellets
The last target I shot was with the new Sig Pb target pellet. This time 5 went into 0.191-inches. That's consistent with the first target, which was 0.213-inches.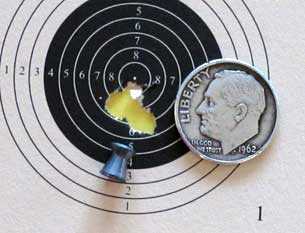 This second group of the new Sig Pb lead wadcutter pellet is quite similar to the first group. It's consistent, but not that accurate in this FWB 300S.
Summary
This was a test of a new pellet — the Sig Pb lead wadcutter. Just because it didn't do well today, don't automatically rule it out as a target pellet. Until you try it in the gun you intend using, you will never know for sure.
I used today's opportunity to baseline two other pellets in the FWB 300S. There are more pellets I need to test as well, so I plan to do this again soon.