by Tom Gaylord
Writing as B.B. Pelletier


Hatsan Vectis lever action PCP repeater.
This report covers:
Mounting a scope
Scope solution
Which pellets?
The test
JSB Exact King first group
How many shots per fill? 2nd JSB group
Predator Polymag
Benjamin domes
Predator Polymag
Summary
Today I mount a scope on the Hatsan Vectis lever-action rifle and we see how accurate it really is. As you learned in Part 3, when I used the iron sights that came on the gun and I aimed at the center of the bullseye, the rifle didn't do very well. A couple of you reminded me that the best way to used sights like these with a bead front sight  is to stack the bullseye on top of the front bead, rather than to try to center it. I knew that of course — I've been doing it for decades. I don't know why I aimed for the center of the target, other than to convince myself that it isn't the right way to aim with a post and bead front sight.
Actually, I am not very impressed with these sights. The rear sight mounts way too far forward, so the peephole has to be much larger as a result. And then they put two green fiberoptic dots on it to help me center the red dot up front. The whole thing smacks of a shooting gallery gun to me. And several more readers pointed out that Backup Iron Sights (BUIS — also called Mechanical Backup Sights or MBUS) are widely available and will easily fit this rifle. My reaction to that is why would I ever mount iron sights on a potentially accurate precharged pneumatic rifle?
Don't misunderstand what I'm saying. I appreciate iron sights in the right circumstances. On an M1 Garand or M1 Carbine iron sights are ideal and a scope is ridiculous — in my opinion. What 3-5 MOA rifle needs a scope for any reason? Even a Springfield rifle (a bolt-action repeater that was used by the military from 1903 to the end of WWII) is fine with iron sights. And, in all three instances, the rifles I have cited not only have iron sights, they all have a rear peep — just like the Vectis. But I wouldn't put them on a rifle that's capable of 1 MOA, unless it was a target rifle and I was competing in a match where optics were prohibited. I own a Remington model 37 Rangemaster .22 that has gorgeous original peep sights, but I have a period-correct 20X target scope mounted on it that I use all the time.
Mounting a scope
I ran into a problem selecting a scope for the Vectis. The circular magazine sticks up so high above the receiver that I had to find scope mounts that would clear it. It sounds like a simple task, but I worked for over an hour, first looking at mounts and then discovering that most scopes have a swelling right where the Vectis mag sticks up, so I had to be careful there, as well. Let's look at my solution and perhaps you will understand better.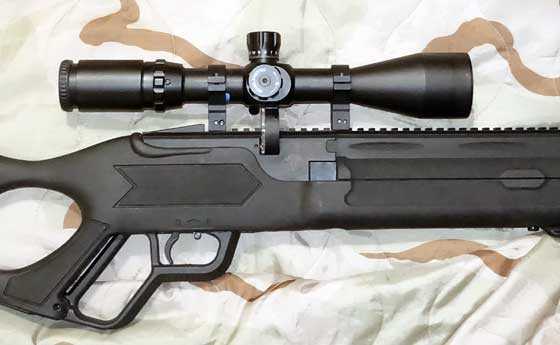 The scope has to be raised high to clear the circular magazine.
Scope solution
I used 2-piece BKL 30MM high rings that have thin caps with just 2 screws. They solved the clearance problem and, since the Vectis doesn't recoil, they were perfect. The scope I chose looked like a 4-12 at first but turned out to be the Aeon 8-32X50 AO scope with trajectory reticle! It's so small for all the power it has! And the price is great! I think it's a best buy!
Which pellets?
Looking at the last test, I selected three of the 4 pellets I tested at that time for this test. Can you guess which one was chosen first — for sight-in? That's right — the JSB Exact King. If you look at Part 3 I think you will see why.
The test
I shot off a rest at 25 yards. Today all my groups were 10-shot groups, as this day is the real accuracy day. I sighted-in with just 4 shots, starting at 12 feet and ending at 25 yards. Then I refined my sight picture with another 6 shots.
JSB Exact King first group
The first group of JSB Exact Kings was fired with the gun filled to 3,000 psi. I forgot that it only filled to 2900 psi, so all fills today were 100 psi over. Maybe that will satisfy those who wanted me to overfill the gun a little.
The first 10 shots went into a group that measures 0.469-inches between centers. That's certainly better than the 5 shots that went into 1.063-inches in Part 3. It's closer to the 4 shots in the same group that went into 0.431-inches, which is why I chose this pellet.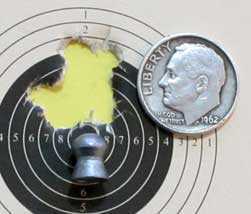 Ten JSB Exact Kings went into 0.469-inches at 25 yards. Not bad!
How many shots per fill? 2nd JSB group
Hatsan claims 35 shots per fill for the Vectis. I have been refilling after 10 shots in all the accuracy testing, so at this time I shot a second magazine of 10 shots with the same King pellet without refilling. This second group moved a little to the left and also opened up to 0.606-inches between centers. I don't think it would open the first group up any more if it was overlaid on top of it, so there are at least 20 good shots per fill, as long as you only shoot to about 25 yards.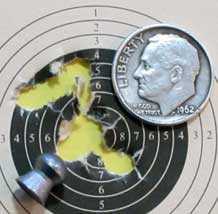 The second group of 10 JSB Kings, shot without refilling the gun measures 0.606-inches between centers. If overlaid on the first group I don't think it would measure any larger.
Predator Polymag
I refilled the gun for each of the next two groups. When I chose JSB Kings as the pellet to sight in the gun I'm sure some of you felt I should have chosen Predator Polymag pellets instead. I will admit that after looking at the Part 3 targets it was a tossup, which to select. This time, though, 10 Polymags made a 25-yard group that measures 0.714-inches between centers. The lowest hole was the last shot. So, it appears that I made the right choice for sight-in.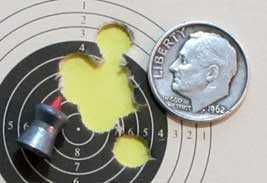 Ten Predator Polymags went into 0.714-inches at 25 yards. The lowest hole was the last shot.
Benjamin domes
For the final pellet I chose the Benjamin dome. I had an average group size until shot number 10. That one went wide to the left, opening a 0.541-inch group to 0.81-inches — the largest group of this test.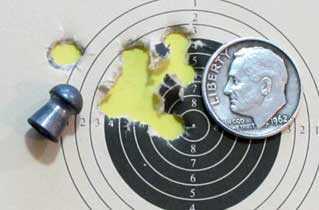 Ten Benjamin domes went into 0.81-inches, with 9 in 0.541-inches at 25 yards. Once again, the final shot opened the group.
Summary
I think today's test proves that the Hatsan Vectis is accurate. It's also clear that testing the iron sights by holding the front bead on the center of the target doesn't work. That's why I dislike fiberoptics so much, because that is what they are designed to do.
All the pellets did much better with the rifle scoped and you have to agree that the scope I used was everything anyone could hope for. So, we have now established the accuracy of the .25-caliber Vectis, and it is good.
The .25-caliber Vectis I'm testing is primarily a hunting rifle, not a plinker. I say that for several reasons — the amount of air used per shot, the cost of the pellets and the accuracy. In that vein the magazine is reliable, the trigger is decent, the power is okay and the accuracy is good. The lever action works slick and fast and never stumbles.
On the downside, the shot count is low, the rifle is loud, the fill probe is proprietary and the iron sights aren't up to the task — at least not in my opinion. The shot count and noise probably pertain only to the .25-caliber rifle.
All that said, I think the Vectis in .25 is a good PCP to consider if you plan to hunt and you want a .25. If you just want to shoot, choose the .22 or the .177.