by Tom Gaylord
Writing as B.B. Pelletier
Today's report is a report of the 2019 Pacific Airgun Expo, written by reader Yogi.
If you'd like to write a guest post for this blog, please email me.
And now, tell us about the show, Yogi
This report covers:
I go to the show
Placerville
What's up?
Success!
Lots o' PCPs!
10-meter guns
Summary
As a avid reader of B.B.'s Pyramid Air blog for the past several years, I decided to try and write a guest blog to lighten his burden and show appreciation for his efforts. So here is my attempt.
I go to the show
B.B. has written at great length about how interesting Airgun Shows/Swap Meets are. I live too far away to attend the big ones in Texas and Ohio. I wish I had been in airgunning when I lived on the East Coast and could easily have attended the Roanoke Show. So, when I heard that there is a smaller airgun show just 180 miles away, I knew I had to go.
Placerville
The Pacific Airgun Expo was held on April 13 & 14, in Placerville, California at the El Dorado Fairgrounds. Placerville is 30 miles west of Lake Tahoe in the beginning of the Sierra Foothills. During the gold rush days it was a major hub of commerce. Since the logging industry closed down about 15 years ago, it has become a vacation and retirement destination. [Editor's note: Placerville is also the home town of the late Thomas Kinkade, the painter of light.]
What's up?
Since this was going to be my first airgun show, I did not know what to expect. I was hoping to find a rear target sight for my HW50 which I have turned into a 10M target rifle.
The Airgun Expo had somewhere between 20-25 tables set up, all overflowing with all sorts of goodies. At the third table, I stopped and asked if he had any target peep sights.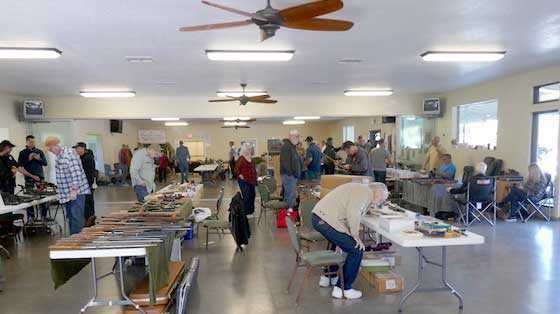 The Pacific Airgun Expo.
Success!
He said that he had a bunch, did I need a 13mm dovetail or a 11mm dovetail? I thought I stuck gold! One-hundred dollars later I have a Weihrauch rear peep sight that I was told came off an R8. Mission accomplished! What other interesting stuff might I find?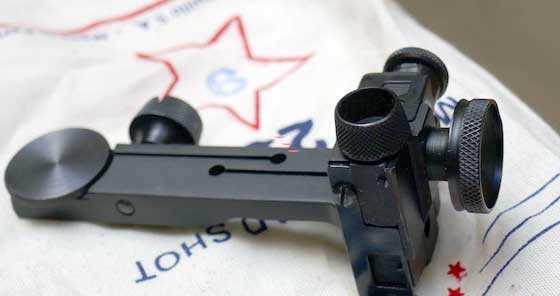 Score! I picked up this beautiful Weihrauch peep sight at the third table! It's perfect for my HW50S.
[Editor's note: By installing a Weihrauch peep sight on his HW50S, Yogi has recreated the rare HW55 SF — the only 55 that didn't have a barrel lock. I wrote about it here.]
Lots o' PCPs!
Well over half the tables had mostly PCP stuff. That was anything from 100 percent custom built rifles capable of developing 100 foot-pounds to dealers specializing in custom slugs for the big bores. Another vendor there had just about anything FX. I had no idea that they made so much stuff!
But I was interested in the older stuff — the kind of stuff that B.B. writes about in his Friday blogs.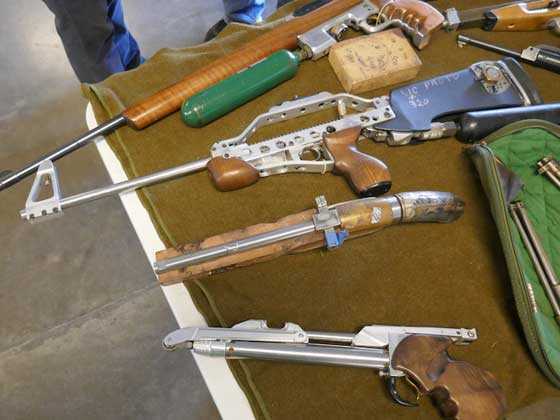 There were lots of homemade airguns there, including some powerful big bores!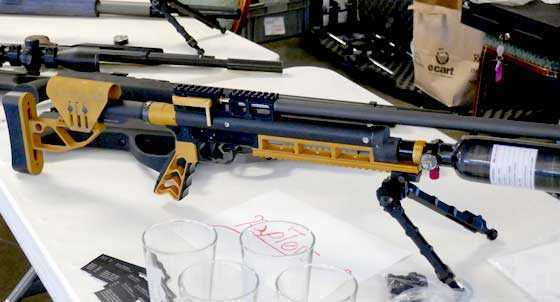 There were many modified PCPs there, as well.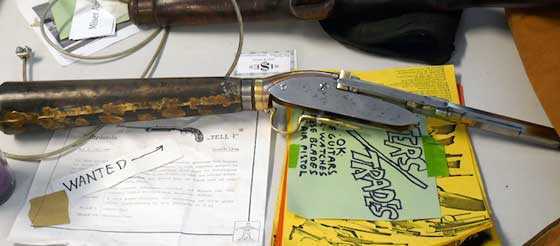 This butt flask airgun was strange, to say the least!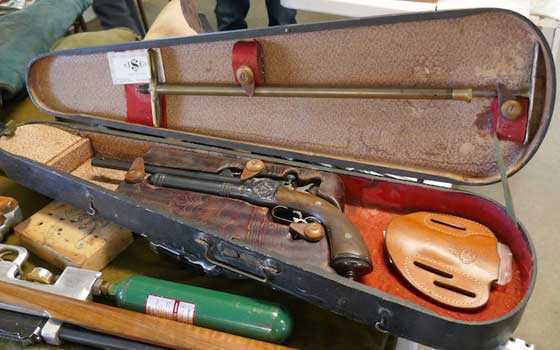 Most Giffards are powered by CO2. This pistol looks like a CO2 gun, but if it is, why does it have that hand pump in the converted violin case? Could it be the earlier pneumatic, or is it a gas gun that somebody converted to air?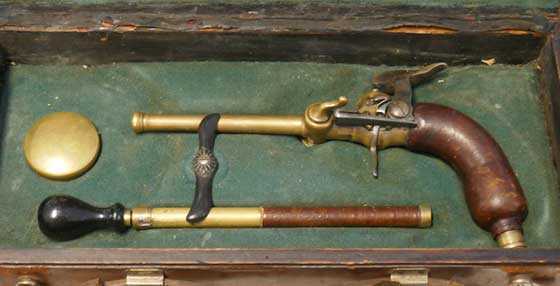 Another cased butt flask air pistol.
10-meter guns
There was a Diana 75 match rifle there. There was also a Walther LP 3. One table had what at first I thought was one of those evil ether-burning guns. When I looked closer it turned out to be an Hakim Egyptian trainer. It felt like it weighed 12 lbs. and was 5 feet long. With the wood stock going most of the way, it did shoulder nicely though.

There is a Diana 75 (arrow) standing next to another vintage 10 meter rifle.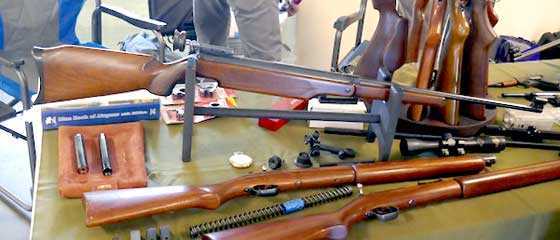 The rifle in the rack is a Diana model 50 Match.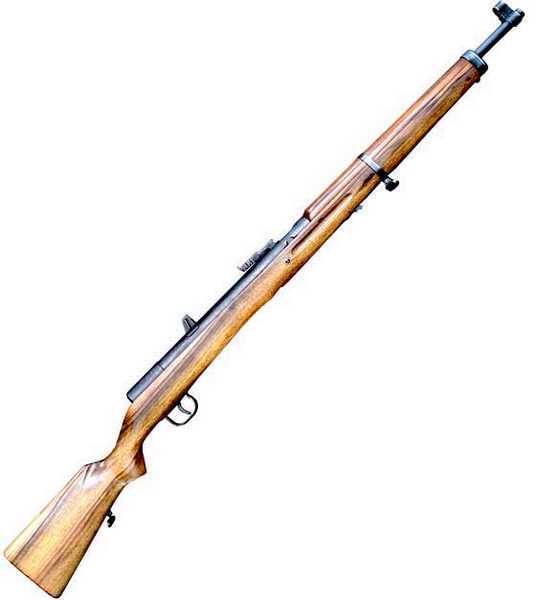 The Hakim air rifle I saw was huge!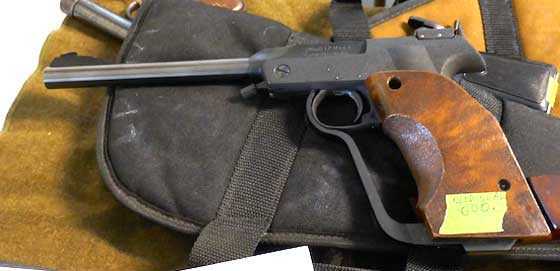 Walther LP 3 target pistol. This single stroke pneumatic is from the 1970s and '80s.
There was lots of really cools stuff there! There was a small gun from the 30's that was covered in nickel. The vendor said that the nickel version was very rare. I'm sure it is.
Summary
When I left the show, with my rear peep, 2 tins of hard-to-find H&N .177 Sniper Mediums, one RWS Lockdown one piece scope mount (for less than half the new price). I felt like I had spent a very worthwhile Saturday morning and hope to attend again next year.