by Tom Gaylord
Writing as B.B. Pelletier
This report covers:
Mounting the dot sight
The R47 sight
Can you see the front sight through the dot sight?
Sight-in
The test
First group
RWS Superdome
Crosman Premier Light
Sig Match Ballistic Alloy
Ten-shot group
Discussion
Summary
Today I will test the Ruger 10/22 at 25 yards. I'm doing this so the rifle can go back to Umarex, because they are apparently waiting for it. Other writers, I suppose.
Mounting the dot sight
As I mentioned in Part 2, Umarex sent an Axeon R47 dot sight to test on the Ruger, and today I will mount it and sight it in, then test the rifle at 25 yards. To mount any aftermarket sight to a 10/22 you have to first install Weaver bases. I showed you the factory-drilled holes for those bases in Part 2. I took a new package of two-piece Weaver bases and screwed them to the top of the receiver. That took 5 minutes.

The Weaver bases screwed directly to the 10/22 receiver.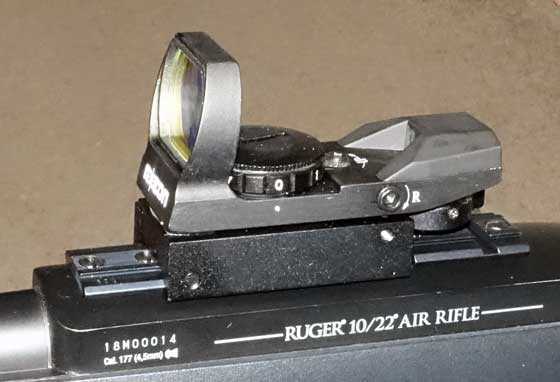 The Aexon R47 holographic dot sight was attached to the Ruger.
The R47 sight
The Aexon R47 dot sight is a holographic sight that offers a choice of 4 different reticles and 7 levels of light intensity. It adjusts via Allen screws (booooo — I would rather have controls that don't require tools), but they have the same 3mm heads as the scope base. At least one tool does it all!
The reticles are very bright, so I used the lowest illumination for the greatest precision. I used a plain dot that is best suited to a bullseye.
Can you see the front sight through the dot sight?
No. The R47 is so much higher than the standard rear sight that it looks over the front sight altogether. You don't need to remove anything when using this dot sight with the 10/22.
Sight-in
I sighted-in at 12 feet, then 10 meters, using RWS Supermag pellets. After three shots I was on target, and back at 25 yards it took 2 more shots to refine the zero. I wasn't worried about an exact zero as I am testing the rifle with 4 different pellets. Group size is important — not the score. When I finished the shots were hitting the bull. I will add that the dot sight is so high that my head had to be higher on the stock to see it in line with the target.
The test
I shot 5-shot groups with each pellet and decided to use the best one to shoot a 10-shot group at the end. I shot from 25 yards with the rifle rested directly on a sandbag. I cocked the bolt before every shot to get the trigger as smooth and light as possible.
First group
The Supermags did well at 10 meters with open sights, so I hoped they would do well at 25 yards with the dot sight. Five pellets grouped in 1.406-inches in a horizontal group.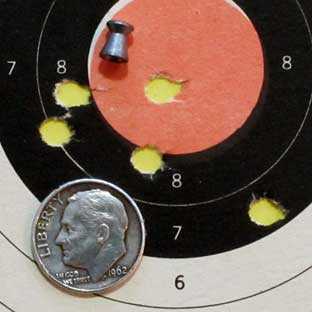 Five RWS Supermag wadcutter pellets grouped in 1.406-inches at 25 yards.
RWS Superdome
The next pellet I tried was the RWS Superdome. It gave me a strange vertical group of 4 that measured 0.968-inches between centers, with pellet number 5 opening the group to 2.221-inches between centers. I have no idea which of the shots that one stray pellet really was, because I was shooting with an unmagnified dot. I held perfectly for all shots and did not call a pull.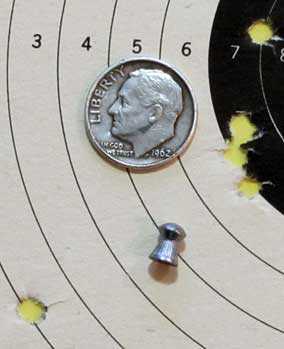 Five RWS Superdomes went into 2.221-inches at 25 yards, with 4 in 0.968-inches.
Crosman Premier Light
Next up were five Crosman Premier Light domes. They grouped in 1.074-inches. That was the smallest group of the test.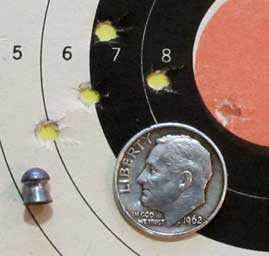 Five Crosman Premier Lights went into 1.074-inches at 25 yards.
Sig Match Ballistic Alloy
The final pellet I tested was the Sig Match Ballistic Alloy wadcutter. It did so well at 10 meters that I thought it would also do well at 25 yards. But not this time. Five pellets grouped in a vertical 1.751-inches at 25 yards.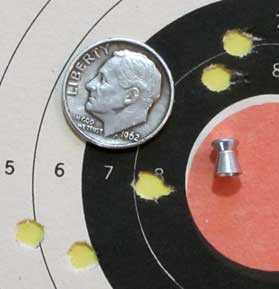 Five Sig Match Ballistic Alloy pellets went into a 1.751-inch group at 25 yards.
Ten-shot group
I said I would shoot a 10-shot group with the most accurate pellet and that looks like the Crosman Premier Light. So I loaded a final magazine and proceeded to shoot. Ten shots went into 1.755-inches between centers, with 9 in just 1.343-inches.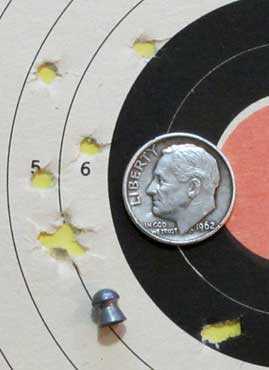 The 10/22 put ten Crosman Premier Lights into a 1.755-inch group at 25 yards. Nine of the pellets are in 1.343-inches.
Discussion
I expected better accuracy at 25 yards, based on the results from 10 meters. All the shots were good on my end today, so the pellets went where they wanted to go. I note a dramatic flier with Superdomes and again with the 10-shot group of Premiers. Is there one chamber in the mag that doesn't align with the breech that well? The pellets are being blown out of the magazine and into the breech with each shot; any small misalignment would be magnified.
Would the rifle shoot any better with a scope? Probably. But I doubt if it would improve by that much. And, on a rifle this small and light you would want to mount a lightweight scope to match it. In my mind that's something like a Bug Buster. The groups might improve by a quarter-inch or so, but I wouldn't expect much more.
Summary
This Ruger 10/22 Air Rifle is the real deal. It's very reminiscent of the firearm, and it performs well. Power is right where we expect it to be for a .177 CO2 repeater. The trigger is heavy in double action, but manageable when the bolt is cocked.
If you like the Ruger 10/22 firearm this may be an air rifle for you.