by Tom Gaylord
Writing as B.B. Pelletier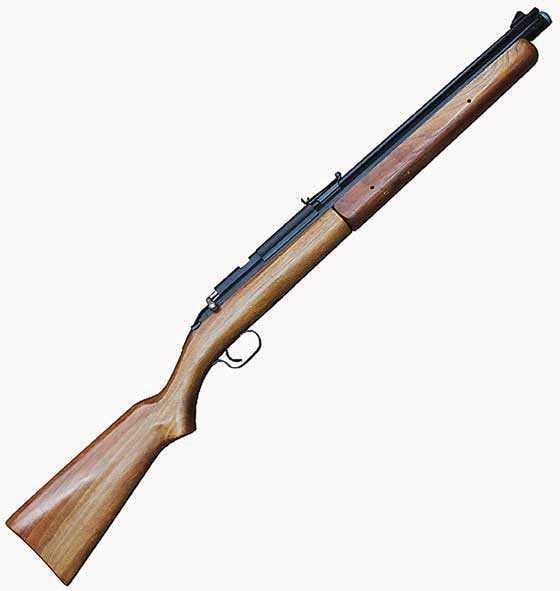 My Sheridan Blue Streak dates back to 1978 when I bought it new.
This report covers:
Lots of pellets
Test plan
Crosman Premiers
Huh?
Consistency
Last test — Benjamin Cylindricals
Pump effort
Discussion
Summary
Today I test my Sheridan Blue Streak's velocity. If you read the test I did in 2016 you know that I had the rifle resealed by Jeff Cloud at that time. Up to that point it still had the seals that were installed at the factory in 1977 when the rifle was made, so that's 39 years on the first set of seals.
Before resealing the rifle, .20 caliber 14.3-grain Crosman Premiers (a pellet that's no longer available) made 462 f.p.s. on 8 pumps, where the manual says to stop, and it went 476 f.p.s. on 10 pumps with no air remaining in the gun after the shot.
After resealing the rifle, the same Crosman Premier pellet went 582 f.p.s. on 8 pumps and 609 f.p.s. on 9 pumps. After 9 pumps were shot there was air left over in the gun, so 8 pumps was the effective maximum after resealing. That is a gain of 120 f.p.s. or 86 f.p.s., depending on which former velocity you accept as the top.
Following Part 4 of that series, which published on October, 2016, I put two pumps of air in the rifle and never touched it again until this report started on July 15 of this year. Actually that wasJuly 13, because I usually have to test my guns before writing about them. Still, almost three years had passed and the rifle was still holding air when I got it out.
Lots of pellets
I have plenty of .20 caliber pellets for this test. They range from the older Sheridan cylindrical pellets that came from a yellow plastic box that was purchased in the 1990s to several cardboard boxes of Crosman Premiers I have saved over the years. For modern pellets I have the following.
.20 caliber H&N Baracuda
.20 caliber H&N Field Target Trophy
.20 caliber Predator Polymag
.20 caliber JSB Exact
.20 caliber Benjamin Cylindrical
That's all the .20 caliber lead pellets Pyramyd Air stocks except for the JSB Exact Heavy. I plan to test all of those on hand for accuracy, but not for velocity. Their weights should tell us how fast they want to go, give or take a little. What I'm interested in testing is where the rifle is today, so we know where we stand going into the accuracy test.
Test plan
Today I will test the Blue Streak with Crosman Premiers in the same way I tested it in 2016, so we can compare. I will test velocity with 3 through 9 pumps and then I will test consistency with 5 pumps. Let's get started
Crosman Premiers
This first test is with the Crosman Premier pellet that's now obsolete.
Pumps……..Velocity
3……………..453
4……………..516
5……………..557
6……………..600
7……………..626 (no air remained)
8……………..651 (no air remained)
9……………..665 (no air remained)
Huh?
Okay — what just happened? I don't know, but after sitting for 3 years with 2 pumps of air inside, my Blue Streak is now either 83 f.p.s. faster on 8 pumps than immediately following the reseal in 2016 (if you go with what 8 pumps did back then), or 56 f.p.s. faster (if you go with what 9 pumps did back then). Either way, it has picked up some real velocity!
Consistency
Now let's look at how consistent the rifle is when pumped the same number of times. I will fire 5 Premiers on 5 pumps each for this test.
Shot………..Velocity
1……………..562
2……………..552
3……………..553
4……………..556
5……………..543
Across 5 shots with 5 pumps each, the Blue Streak shot Premiers within 19 f.p.s. of each other. And only shot 5 was slow. The other 4 are within 10 f.p.s. of each other.
Back in 2016 after the reseal during this same test the rifle stayed within 73 f.p.s. for this same test with the same pellet. But it seemed to be warming up as I shot that first string, so I ran the test a second time.
The second time the rifle delivered the same 19 f.p.s. velocity variation for 5 shots on 5 pumps each that we see in today's test. The same Premier pellet was used and the average velocity for the second run was around 543 f.p.s. I attributed that to the new seals warming up as the gun was shot. But they may have just been breaking in. At any rate, the gun is faster now than it was 3 years ago. Apparently multi-pumps do need a short break-in period after a rebuild before achieving top performance.
Last test — Benjamin Cylindricals
I know the Premier pellet I'm using for the tests is obsolete and unobtainable. So, to bring this test into the modern timeframe, I also tested it with variable pumps while shooting the new Benjamin Cylindrical pellet.
Pumps……..Velocity
3……………..456
4……………..509
5……………..548
6……………..560
7……………..590 (no air remained)
8……………..621 (no air remained)
9……………..634 (no air remained)
Pump effort
Now I measured the effort needed for each of the effective pump strokes.
Pumps….Effort lbs……2016 lbs.
3………….30…………..30
4………….34…………..32
5………….36…………..35
6………….39…………..35
7………….42…………..37
8………….42…………..37
The effort to pump has gone up up a bit. That may indicate that the rifle is pumping more efficiently today than it was in 2016.
Discussion
Now we have a good baseline for the rifle and are ready to proceed to accuracy testing. I will start with the Crosman Premier pellet that proved so accurate three years ago. I may test that pellet with a different number of pumps to see if there is a best number. But with all those other pellets I will certainly see what it will do with each one. Perhaps 5-shots groups for most of them, because this is a multi-pump?
Summary
This Blue Streak continues to surprise me. I have owned it for 41 years and I'm still learning things about it. What will come next?