by Tom Gaylord
Writing as B.B. Pelletier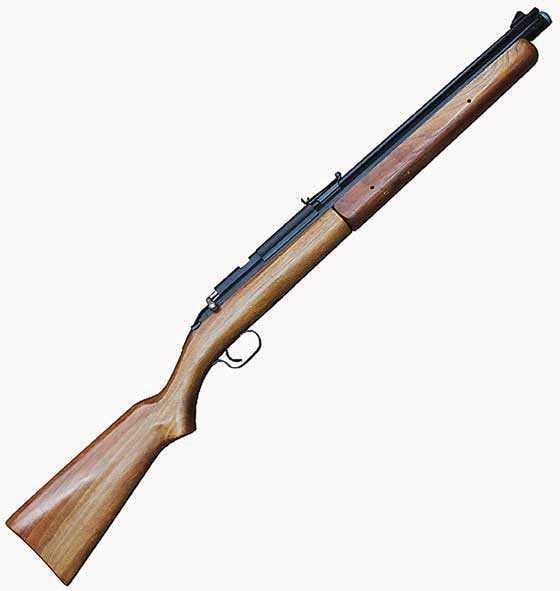 My Sheridan Blue Streak dates back to 1978 when I bought it new.
This report covers:
The test
Crosman Premier
Benjamin Cylindrical pellets
Predator Polymags
H&N Baracuda
Field Target Trophy
JSB Exact
Sheridan Cylindrical pellet
A different number of pump strokes
Discussion
What can cause poor accuracy?
Summary
We have an interesting day ahead of us! This is the first day we test the accuracy of my vintage Sheridan Blue Streak. Let's get started!
The test
I shot from 10 meters off a sandbag rest. The rifle rested directly on the sandbag. I shot 5-shot groups for the entire test. To begin with I shot each different pellet on 4 pumps. I'll take the most accurate pellet and do something more with it at the end of this test. And I never adjusted the sights during this entire test.
Crosman Premier
To this point the now-obsolete 14.3-grain Crosman Premiers have been the most accurate pellets in this rifle. The sights were on in 2016, so I shot from 10 meters with no sighters.
Five Crosman Premiers went into 0.382-inches at 10 meters. That's a pretty good group! It's very horizontal, though. I would like to see it more rounded.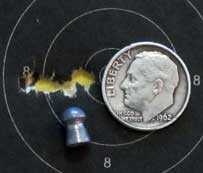 Five Crosman Premier pellets went into this horizontal 0.382-inch group at 10 meters.
Benjamin Cylindrical pellets
I tried 14.3-grain Benjamin Cylindrical next. They are the only .20 caliber pellet Crosman makes today. Isn't that ironic? Crosman makes the pellets. They brand them under the Benjamin name and the only multi-pump pneumatics they fit are Sheridans!
Five Benjamin pellets went into 0.48-inches at 10 meters. Though they are okay they are clearly not as good in this rifle as the Crosman Premiers.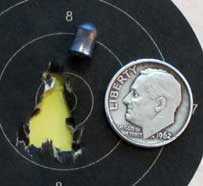 The five Benjamin pellets stayed in one hole, but not as close as the Premiers.
Predator Polymags
Next up were five Predator Polymags. They went into a one-hole 0.433-inch group at 10 meters. In fact, one hole groups is a theme you're going to see repeated a lot today.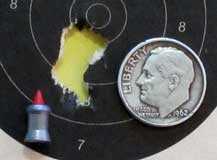 Five Predator Polymag pellets went into 0.433-inches at 10 meters.
H&N Baracuda
The next pellet I tried was the .20 caliber H&N Baracuda. Now, in .177, .22 and .25, Baracudas are heavy pellets. But in .20 caliber they are on the light side of middleweight, at 13.58 grains. Most pellet makers use the same lead preforms for .20 caliber and .22 caliber, but H&N has a different idea.
Five pellets went into 0.35-inches, which is the smallest group thus far. It edges out the Premier as the best pellet to this point.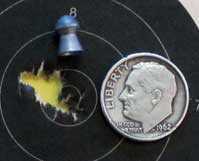 Now we're shootin'! Five H&N Baracudas are in 0.35 inches at 10 meters.
Field Target Trophy
Some of you know that I haven't had much luck with H&N Field Target Trophy pellets in the past. That changed with the Sheridan Blue Streak. Field Target Trophy pellets were so accurate that I used the silver three-cent piece as a size comparator. Five pellets went into 0.205-inches at 10 meters.


Five FTT pellets went into 0.205-inches at 10 meters. This is the second smallest group of the test.
JSB Exact
Next I tested the JSB Exact dome. Five of them made an interesting group that's pretty good. I know the first shot went through the X because I saw it through the spotting scope. The other 4 landed in 0.171-inches, in a group that was separate from the first shot. Those four would have brought out the gold dollar, but the first shot opens it up to 0.326-inches. It's still a great group but there is the promise of something even better.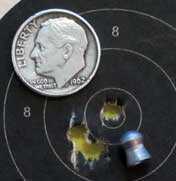 Five JSB Exact pellets are in 0.326-inches at 10 meters, with 4 in just 0.171-inches.
Sheridan Cylindrical pellet
Now it's time to test the pellet that was made for the entire Sheridan line — the Sheridan Cylindrical pellet. These are unusual because they have no wasp waist, being a true cylinder that rides on top of the lands. Only the short band at the rear of the pellet engages the rifling to spin the pellet for stability.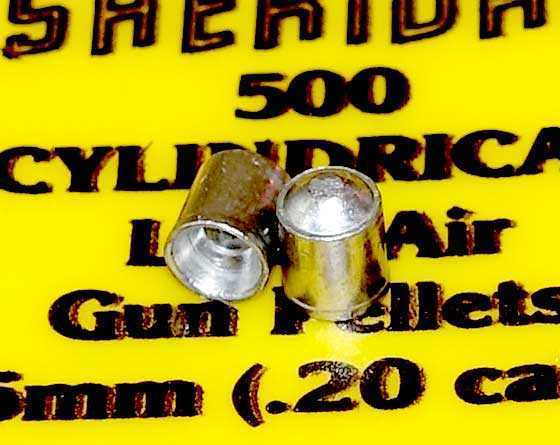 Sheridan's pellet is unique.
But compared to the accuracy of today's pellets, the old cylindricals are not as good. Five of them landed in 1.19 Inches with four in a tighter 0.44-inches.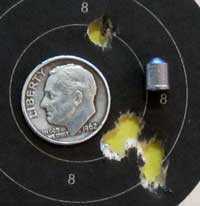 Five Sheridan Cylindrical pellets made a 1.19-inch group, with 4 in 0.44-inches at 10 meters.
A different number of pump strokes
Now that I knew that the FTT was the most accurate pellet, it was time to learn what number of pump strokes was best for it. I had been shooting with 4 strokes up to this point, so I loaded another Field Target Trophy and pumped the rifle 3 times. The shot sounded the same as with 4 pumps, but I checked the target to make sure it was still okay, which it was. Then I loaded and fired 4 more pellets — each with three pumps of air behind them.
The 5-shot group looked beautiful. It is quite round. And, when I measured it, I was surprised to get a measurement between the centers of the two shots farthest apart of 0.203-inch. The previous FTT target with 4 pumps measured 0.205-inches between centers. There is no real way to know if this group or the other one is larger, because the error in measuring is greater than the difference between them. But for the record, I am calling this the smallest group of the test.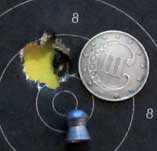 Field Target Trophys grouped in 0.203-inches at 10 meters when propelled by three pumps.
The next step was to pump the gun 5 times per shot and repeat the test. This time 5 FTT pellets went into 0.506-inches at 10 meters. That's enough of a difference to know that 3 and 4 pumps are better than 5.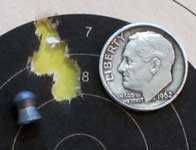 Five pumps was a turning point and accuracy started to suffer. Five FTT pellets went into 0.506-inches at 10 meters.
Discussion
My 41-year-old Blue Streak is more accurate than I knew! It's very close to my Sheridan Supergrade, which is what I said about the Streaks in the beginning of this report. They were not made with the same expensive materials as the Supergrades, but their performance is just as good.
As far as which pellet is the most accurate, I think several qualify. The FTT is certainly the leader in this test because it turned in superior results two times. But the Crosman Premier, the H&N Baracuda and the JSB Exact also deserve to be tested again. That JSB might just surprise us at 25 yards!
What can cause poor accuracy?
Reader Michael did a search and found a Steroid Streak report I did in 2009 that talked about its power and accuracy. If you read that report you'll see that the Silver Streak that was "Steroided" was just as accurate as the Blue Steak I am testing today. But that wasn't the case initially.
The rifle had a burr at the air transfer port that caused it to shoot one-inch groups at 10 meters. So I returned it to Mac-1 Airguns and Tim fixed the problem. Then I had a rifle that was both accurate and powerful.
The air transfer port is the thing to suspect when accuracy is a problem with a Streak. I discovered the problem by pushing a pellet through the bore from the muzzle to the breech. It came out with a huge "bite" out of the head and skirt on one side.
Summary
I'm not finished with the Blue Streak just yet. I want to back up to 25 yards and see what it can do from there. So, you can relax, Streakers. There's more to come!