by Tom Gaylord
Writing as B.B. Pelletier
This report covers:
History
Luger
Soviet SKS
One more common problem
Designed to be dry-fired
Airguns
BB — get real!
Sillyiess
And the others?
Under The Gun
An aside that is pertinent
Pneumatics and gas guns
BB's rule of thumb
Summary
Time for another basic report. We discuss dry-firing airguns a lot and things get out of control pretty quick, but I guess that's the nature of the Internet. My wife, Edith, used to have a little saying about it. She said people would post:
"I have an HW77 that I enjoy."
"Yes, Weihrauch airguns all nice, aren't they?"
"I shoot my Gamo Expomatic in the basement every day."
"I like ice cream!"
I'll come back to that, but today I thought I would dive into the subject of dry-firing a little deeper, since it's one that seems to affect all of us to some extent. I think I'll start with firearms.
History
I'm going to begin with guns that have firing pins, though the subject of dry-firing does go back much farther than that. Older guns are usually not made to endure much dry-firing, if any. Their metal parts are hardened to withstand a lot of use without wearing, but hardness does tend to make metal brittle. The better guns have firing pins made from tool steel that can be both hard and also resistant to breakage from impact, but gun makers didn't always do that because dry-firing was considered a no-no a century ago.
Luger
The German Luger, for example, had parts that were heat-treated (hardened) and then tempered (treated with heat for ductility) to a medium straw yellow color. The maker wanted the firing pin to work without wear, and also to not deform the parts with which it interacted. But the metallurgy of Luger parts was less complex 100 years ago than it is today and it is not recommended that you dry-fire a German Luger — especially if it is one from history. It can be done if the gun needs to be uncocked, but you run the risk of breaking the pin and other parts in the firing mechanism.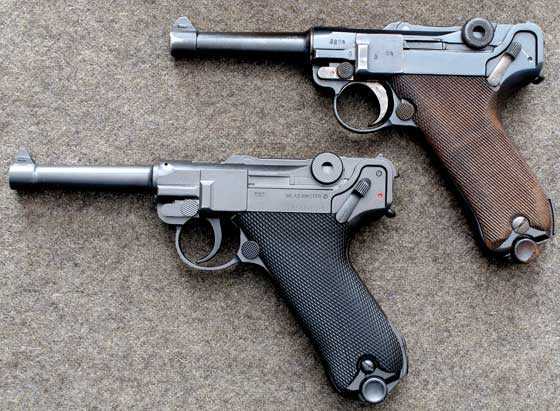 The Legends P08 pistol with blowback is shown beneath a 1914 Luger made at the Royal Arsenal at Erfurt. This century-old pistol should not be dry-fired.
Soviet SKS
The Soviet semiautomatic rifle we call the SKS is another example of a gun that should not be dry-fired — though not because of the metallurgy.


This Soviet SKS was manufactured at the Tula Arsenal in 1953.
The reason you should not dry-fire an SKS is the tapered firing pin can get stuck inside the bolt in the fired position — protruding from the bolt. If that happens the gun can fire every cartridge it chambers. It's essentially firing from the open bolt, which it is not timed correctly to do. It will shoot full auto until it runs out of cartridges and the action can blow up if a cartridge case lets go before it is fully chambered and the action is locked shut (that's the timing). This is a common fault with the SKS and owners are cautioned to keep their bolts and firing pins clean and to not dry-fire their rifle. A firing pin return spring was installed in the earliest SKS bolts and can be retrofitted into guns without it to protect against this.
One more common problem
So, breaking parts and sticking parts are two of the most common reasons why dry-firing firearms is not recommended. And there is one more common reason. Many rimfires are designed so their firing pins will make contact with the edge of the chamber if there is no cartridge rim there to cushion them. This makes them fire more reliably. However, if guns like these are fired a lot with no cartridge in the chamber a groove or depression will form in the rim of the chamber and the gun will no longer fire reliably because there is nothing backing up the cartridge rim. Therefore the cartridge rim will not be crushed reliably to set off the priming compound and the guns either start to misfire a lot or they quit working altogether. It's a real problem with older rimfires made before about 1960, and even some of the less expensive ones that are made today still have the problem. But many do not.
I'll use the Ruger 10/22 as an example of a rimfire that can be safely dry-fired. The Ruger website even has a video that says so. And so can the Ruger Mark pistols. Their firing pins are purposely designed to stop a tiny fraction of an inch away from the rim of the chamber. You readers who understand manufacturing know how difficult it is to maintain those kind of dimensions across multiple parts so it always works out right after assembly!
I only use Ruger as an example. Many rimfires are designed this way today. But don't take my word for it. Find out if YOUR rimfire is so-designed before you start dry-firing!
Designed to be dry-fired
Then there are the firearms that are purposely designed to be dry-fired. I'll use a free pistol for my example. Because bullseye target shooters shoot many times more shots dry than with ammunition to train their eye-hand coordination, their guns have to be designed for it.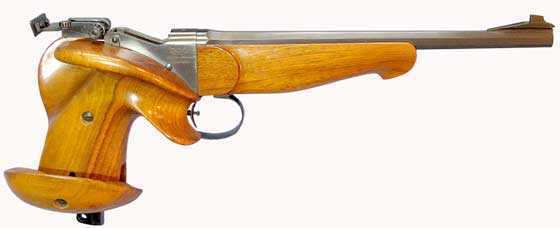 This Hammerli free pistol is a .22 rimfire pistol used in 50-meter bullseye competition.
The Hammerli 100 was produced from the late 1940s until the middle 1950s, when the model 101 superseded it. It has a lever on the left side of the receiver that cocks the trigger but not the firing pin. It allows you to practice with the trigger all day long without ever chambering a live round or cocking the gun.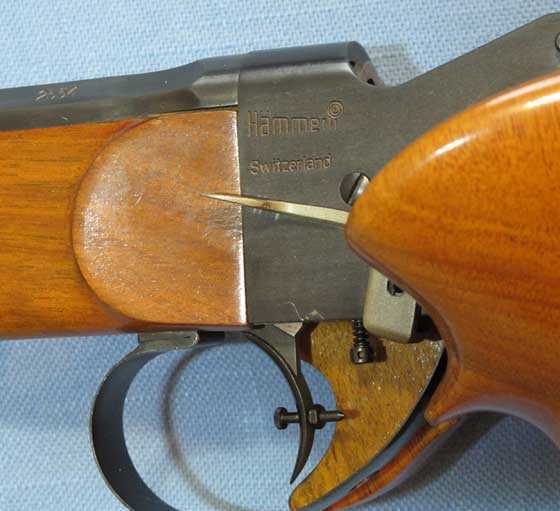 That lever cocks the trigger of the pistol. It works regardless of the action being cocked.
Airguns
Let's now turn our attention to airguns. I will begin with the target guns that have dry-fire devices to allow practice for the same reasons as the free pistols just mentioned. The top 10-meter rifles and pistols all have them, but so do the informal airguns (mostly pistols) that are designed for informal target practice. Take the Beeman P1 for example. If you lift the top strap, but not far enough to cock the pistol, you set the trigger and you can dry-fire it in the same way as a more expensive target pistol. The trigger feels exactly the same as when the pistol is fully cocked, but no pellet is shot when the trigger falls.
BB — get real!
All of that is nice to know, but it doesn't answer the question that is in your mind, does it? You want to know about spring-piston air rifles, don't you?
Silliness
Remember what I told you at the start of this report about conversations on the Internet quickly getting silly? It happens here sometimes, too. I mentioned a few weeks ago that Gamo at one time advertised that their spring-piston air rifles could withstand 10,000 dry-fires without damage and they had even tested for it. Well, that statement morphed into Gamo testing all (as in each and every one) of their spring-piston air rifles by dry-firing them 10,000 times! No — they don't. If you think about it, they really couldn't. That would add so much cost to each gun (the time spent putting them all into the cocking/firing fixtures then waiting for them to be cocked and fired 10,000 times, not to mention the vast number of fixtures they would need for a 40,000-piece model run) that a $200 air rifle would have to cost $400 or more.
Gamo doesn't do that and they never did. But maybe the person who said that only meant that Gamo tests each type of gun (one test per model type — not each and every gun) with 10,000 dry-fires. They don't do that any longer, either — or at least it's no longer a part of their advertising campaign. Maybe they still test them that way — but they don't talk about it as much. I said what I said in an historical context in my report titled, Does dry-firing damage airguns?. In that report a reader mentioned that Gamo addresses dry-firing in their frequently asked questions on their GamoUSA website. I went there to check and they no longer address it.
So, Gamo isn't telling customers they can dry-fire their spring-piston guns. Except that I did find in the manual for the Swarm Fusion 10X they said that one way to safely test whether the rifle has a pellet in the barrel after it has been cocked is to fire it in a safe direction. If there is no pellet that would constitute a dry-fire, so they are okay with that.
And the others?
What about the rest of the spring-piston airgun makers? Are their rifles and pistols proofed against damage from dry-fires? Yes and no. Yes because of the materials being used today and because of the changes in design that lend themselves to more reliable performance, and no — because in a lot of instances this hasn't been deliberate. I will illustrate with a scope analogy.
Under The Gun
Spring airguns break scopes. We have known that for a long time. But in 1998, when Leapers learned that was the case, they set out to design airgun scopes that could not be broken that way! They even designed test fixtures to test scope designs over the long term. During the same timeframe they added the name Under The Gun (UTG) to their scope line. Hence today UTG scopes are pretty much bulletproof. They are designed with Smart Spherical Structure (SSS) — a scope body that's inherently stronger than other bodies because it addresses the interaction between the inner and outer scope tubes.
Now along come all the other scope manufacturers in the world — from the biggies like Leupold, Burris and Hawke to the little guys that make scopes for cheap. The biggies watch the scope market closely and, when some bozo named B.B. Pelletier starts waving his pom-poms, they purchase a couple of the UTG scopes he is raving about and examine them — CLOSELY. They discover that, indeed, there are some design features that are quite worthy and they find their own ways of emulating them. Next thing you know ten years have passed and all of the brand-name scopes are spring-rifle proof or, as in the case of Hawke, they know that certain ones in their lineup aren't and they tell buyers up front. This migration doesn't just happen through copying, either. Engineers change jobs and the word spreads.
Last to change are the cheapies, but they do change, because at the same time the manufacturers were getting smarter — so were the buyers. Maybe a full two decades have to pass before there are no more scope problems with spring-gun recoil, but it does happen.
An aside that is pertinent
Back to dry-firing. When major airgun manufacturers like Feinwerkbau, Diana and Walther used piston seals that are made of a synthetic that dry-rotted over time, they all got a black eye when the ship hit the sand. Quick as a bunny and with ZERO fanfare they all switched their formulas for their synthetic piston seals! What else could they do — advertise that their airguns now come with piston seals that DON'T dry-rot?
That, ladies and gentlemen, is why dry-firing should not hurt a spring gun today — but don't do it regularly. Now — what about the other powerplants?
Pneumatics and gas guns
I will address both pneumatic and gas guns together. When you dry fire these, unless they are purposely built for it like target guns, you exhaust either air or gas. Nothing in the conventional design of these guns should be adversely affected — HOWEVER! As the corporate lawyer points out, it doesn't have to be a pellet or a BB that comes out of the gun. Anything stuffed down the barrel can become a projectile when the gun fires. So, for that reason more than for the safety of the gun's mechanism, dry-firing is not recommended.
BB's rule of thumb
Here is how I approach the subject of dry-firing airguns that aren't made for it. Pneumatic and gas guns I don't worry about. As long as I know the barrel is clear — such as immediately following a shooting session — I can dry-fire without worry. Spring-piston guns are a different matter.
If possible I try to uncock the spring-piston gun without firing. When that isn't possible, I load a pellet and shoot the gun. This is why I never cock an airgun at a gun show without asking if I can, and can the gun be uncocked without firing? But if I make a mistake, such as "loading" a .22-caliber Beeman R1 with a .177-caliber pellet, which results in an unintentional dry-fire, I don't worry about it. I haven't wrecked the airgun (in all probability), but it's time to wake up and start paying attention.
Summary
The dry-fire fear is very similar to the scope breakage fear and it serves as a marker to the continual improvement of the technology of airguns and their related equipment. Couch commandos the world over now sing the praises of side-focus scopes — completely ignorant that they were brought to them through airguns and more specifically the sport of field target.
Remember when velocity alone sold airguns? That day is over, though it will take more time before the word gets out to everyone.
Here is prediction from BB. At some time in the not-too-distant future shooters are going to realize that muzzle energy in a big bore airgun is pointless, once 500 foot-pounds is surpassed. We are currently in a race to produce more and more energy but it's meaningless, since the bullets fired from these guns are passing through the bodies of American bison and elk.
Automobile speedometers in cars that can barely make it to 90 no longer come with top limits of 120 m.p.h. Things change with the passage of time.