by Tom Gaylord
Writing as B.B. Pelletier
Part 1
Part 2
Part 3
Part 4
Part 5
This report covers:
Evil BB!
Report on the Meopta scope
Sight-in
The test
Refine the sight-in
However
Hurray!
What have we learned?
The second However
H&N Baracuda with 5.50mm head
Next
Summary
Today we test the Air Arms Pro-Sport with the Vortek PG3 tune kit I installed and tested in Part 5. But first I have to clear up a misconception.
Evil BB!
Somewhere along the line you may have read that I said the Meopta MeoPro Optika6 scope came without scope caps. It wasn't really me who said that! It was my evil twin cousin, BB Airgundart! He sometimes sneaks into my house and messes with the blog without me knowing it. The Optika6 has a very nice set of scope caps with their logo on both caps. I found them on my somewhat cluttered desk, in the detritus just above the Cambrian layer!
Report on the Meopta scope
In Part 6 of the Dreamlite report I mentioned that the illuminated dot was flashing in my Optika6 scope. Meopta, who follows this blog, read that and informed me that dot is never supposed to flash. It's supposed to remain solid on all 6 brightness settings, and the flashing does not indicate the battery is running down. They asked me to return the scope so they could examine it, and they promptly sent a replacement. What I had neglected to report to you in the first report on the scope is that it comes with a lifetime warrantee!
Thanks to them I am back in business with what is the finest riflescope I have ever owned, and I'm putting it on the Pro-Sport that I'll be shooting today. I'm mounting it in the Sportsmatch 30mm adjustable rings and the scope just fits the rifle! Let's look.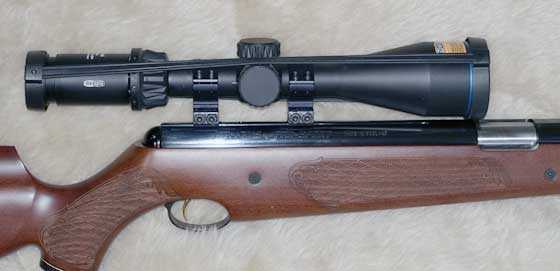 The Meopta MeoPro Optika6 scope is mounted on the Pro-Sport. As you can see, it does have scope caps. When the eyepiece is positioned correctly the scope objective lens just clears the loading port by less than a quarter-inch, making it perfect for this rifle!
I forgot just how clear and sharp this scope is. Or maybe my eyes are better this time when I used it. I did not need the illumination to see the dot over the 10-dot on the target at 25 yards.
Sight-in
I sighted in from 12 feet, which is a benefit we airgunners have. The pellet landed about 1.5 inches below the aim point and a little to the left, so the elevation was ideal for 25 yards (the approximate distance between the center of the scope and the center of the bore is 2-inches, and that is about how low the shot should be at 10-12 feet), so I put in 4 clicks of right adjustment and went back to 25 yards to begin the test.
The test
I will shoot a couple 10-shot groups from 25 yards. My goal today is not to see whether the Pro-Sport is accurate. That was established in Part 3. My goal today is to report on the smoothness of the Vortek PG3 tune and also on the performance of the Meopta scope on a spring-piston air rifle.
You will remember that Meopta wasn't initially keen on making scopes for recoiling air rifles. But they did make this line whose parallax adjusts to 10 yards. I have already tested it on two precharged pneumatics — a very accurate Air Arms S510XS and also on a .177-caliber FX Dreamlite that's accurate but not a world-beater. I promised them I would start testing it on a very smooth spring-piston rifle and we would go from there.
I already know this scope is a wonderful optic. But today's test showed me that its even sharper than I remembered, and I think the difference must be my eyes. Old eyes do change from day to day and today they were at their best — and so was this scope!
Refine the sight-in
The first 10 shots at 25 yards were to refine the sight-in. Then I shot a 10-shot group that was great, only it had two different points of impact. I was resting the rifle directly on the sandbag, which you can do with an Air Arms springer. HOWEVER!!!
However
Yes, there is a however today. Back at 25 yards I was resting the Pro-Sport with the point of contact with the sandbag back by the trigger guard. It seemed very stable but it was throwing its shots around more than I liked. So I wondered if resting it forward by the end of the forearm would be better.
Hurray!
Was it ever better! With the rifle rested this way 10 JSB Exact Jumbo domes went into a group measuring 0.38-inches at 25 yards. If you check back to Part 3 you'll see that there I managed to get 5 of the same pellet in 0.39-inches at 25 yards. Here is a 10-shot group that's smaller than the 5-shot group, when it should have been about 40 percent larger!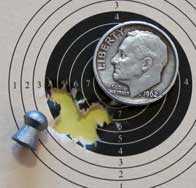 The Air Arms Pro-Sport put 10 JSB Exact Jumbo pellets in 0.38-inches at 25 yards.
What have we learned?
We now know that the forearm resting far forward on the sandbag is the best way to shoot this Pro-Sport — at least with this tune. And I do want you to understand that this tune has not made the rifle any more accurate. It's just made it easier to shoot accurately, because it's easier to cock and also doesn't vibrate nearly as much. HOWEVER!
The second However
I didn't know for sure until this test how well the rifle with the new tuneup would shoot. With my face against the stock for every shot I now know everything. While the Pro-Sport is far smoother with this tune than when it came from the factory, it is not the smoothest air rifle I have ever shot. That honor goes to Michael's Winchester 427. This Pro-Sport has a little jolt when the piston stops — so Meopta, be aware that you are getting a good test with a recoiling spring-piston air rifle. It's a smooth rifle that only recoils lightly, but it does have the forward bump that is known for destroying scopes. Before you worry too much, though, you should read last Friday's report where I discussed the evolution of riflescopes. You are more than likely in no danger.
H&N Baracuda with 5.50mm head
In Part 3 I also got intriguing results with the H&N Baracuda with a 5.50mm head. So I tried them in the Pro-Sport again, this time with 10 shots. Unfortunately this time the results were not as good. Ten Baracuda pellets went into 0.773-inches at 10 meters. That takes them out of contention. In fairness, however, the rifle now has far less power and that may have made a difference. I'll say more about that in a moment.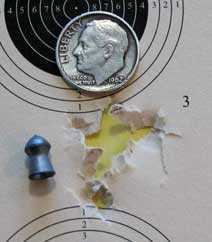 This group of 10 Baracudas isn't as impressive. It measures 0.773-inches between centers.
Next
Okay, that's done. The next step, thanks to the suggestion of reader Yogi, is to tune the rifle again and this time to tune it for all the power the Vortek PG3 kit can get. That should be about 12 foot-pounds for this .22-caliber rifle. Then I will test that for you. After that, who knows?
Summary
The Vortek PG3 kit really makes the Pro-Sport a delightful air rifle to cock and shoot. And the Pro-Sport trigger is adjusted about as nice as anyone could hope. Top it all off with the Meopta MeoPro Optika6 scope, sitting in the Sportsmatch adjustable mounts, and you have an air rifle combination that dreams are made of. I wish you readers could try this for yourselves. All I can say at this point is I never knew a Pro-Sport could be as nice as this. It is a sheer delight. I still like my TX200 Mark III, but if I didn't already own it this one would give it a run for the money!