This report covers:


The Steve Corcoran-made custom HW 30 stock.
This report covers:
Things that work best
Off the main path
Stock
Focused
The point
Summary
Before I begin today's report I will say a word about yesterday's report. I don't like to report when things go bad, but it happens. Knowing what happens at these times can give us clues to the solution. I wanted to show you how to do that.
Instead of giving all of you a fish to feed you for a day I would like to teach you to fish to feed you for a lifertime. We all love to shoot but sometimes it's about more than just shooting.
Things that work best
You readers know which airguns fit your lifestyle and you talk about them all the time in the comments. Because of that I'll bet you can spot when someone comments on this gun and that gun, and the person's comments are all over the place. They go from talking about big bores to 10-meter guns to repeaters to long-range precision shooters. They seem to be all over the board, while you enjoy one or two things above all. Well, the reports I have written over the past several months are for you guys — not for the Jacks of all trades. Let me explain.
Well, I can't explain. In the last paragraph I said I have been doing this for several MONTHS. Then, when I researched it, I discovered that it was more like several YEARS.
To bound the subject I will talk primarily about a single airgun — the HW 30S. You readers know that I really like the Diana 27. I find ways to write about it all the time. But many of you said I needed to consider the HW 30S. So I did.
In April of 2021 I started reporting on the HW 30S. In Part 3, which was the first accuracy test, I said the following, "All throughout this test I had a hard time maintaining my sight picture. I really felt that if I had a rear peep sight I could shoot better. That wasn't the test today, though, so I toughed it out. But at some point in the future I do want to try this rifle with a rear peep sight. However that won't be next."
Can you see from that paragraph where I'm heading? I wasn't aware of it at that time, but that paragraph was written that way because the shape of Weihrauch's new style of stock kept me from seeing the front sight in the rear sight notch. Are you with me now?
I went on to to tune that rifle several different ways. Surprisingly the rifle became more accurate as my testing progressed. I gave it a lube-only "tune" and then said, "After that I hope to install a Vortek PG3 SHO kit to compare to my lube tune. And after that, who knows?" Well — we know now, don't we?
Off the main path
I did install that Vortek kit and that lead me to a side excursion where I tuned an HW 50S with a different Vortek kit. I initially bought the HW 50S BECAUSE of the HW 30S! One thing led to another.
That rifle (the HW 50S) shoots beautifully and I have now written 16 different reports on it. In one of them I used that now-tuned and very accurate rifle to test the new Benjamin domed pellet that I call the Benjamin Bullseye. That was another small side excursion. But let's now get back to the initial topic — the HW 30S.
Stock
Going back to not being able to see the front sight in the rear notch, I went in two directions. One became a series — What a difference a stock makes. I bought a used old-style factory stock for the HW 30S and wrote a report titled, What BB did and then a four-part report on the 30S with the old-style stock, and that led to yet ANOTHER side excursion — or maybe it was a main one. I wanted to shoot better offhand so I could eliminate pests around the house.
The final two reports of the report titled, What a difference a stock makes are about ordering, receiving, installing and using a custom stock made by Steve Corcoran. And now I will try to summarize what I've been saying in this report.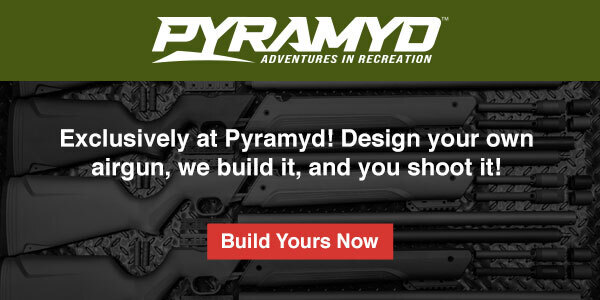 Focused
Rather than discussing airguns that range from DC to daylight (a reference to the broad expanse of the electromagnetic spectrum) I have remained focused on one (type) of rifle — the small, easy-to-shoot breakbarrel springer that you have seen transformed before your eyes. There have been small excursions into things on the periphery but I have remained focused on the topic of turning the HW 30S into the finest breakbarrel spring-piston rifle I own. No, Yogi, before you say, "I told you so" I will point out that I could just as easily have made a similar report about my Air Venturi Avenger (BB's Goldie). And, like this one, that series isn't close to being completed.
The point
Okay, there must be a point in here, somewhere. Right?
There is. I am spending time on the RAW MicroHunter because, up to this point it is one of the finest precharged pneumatic air rifles I have seen. Size, weight, shot count, power, fill level and trigger are right where I want them.
A few years back I purchased an Air Arms S510XS that turned out to also be one of the finest PCPs I have ever seen. It is a .22 and I wanted a companion piece in .177, so I turned to FX. Everybody says they are just as good as Air Arms, so I thought — why not?
I tested a .177 Dreamlite and was poised to purchase it, but in testing I discovered that the rifle I tested had a "smooth twist" barrel that was gimmicky, underdeveloped and inaccurate. I don't need that. In other words I discovered why not.
So, when this MicroHunter came along from RAW I wondered whether it could be the rifle I am looking for. Now, the MicroHunter is NOTHING like the Dreamlite, but that won't be so bad if it turns out to be accurate. I don't need gimmicks like smooth twist barrels. I don't need cheerleaders on the forums telling me something is good. I need performance. If the MicroHunter turns out to be the air rifle the Dreamlite wanted to be when it grew up — I'm in.
That's what both yesterday's report and today's report are about.
Summary
We are airgunners. We may not shoot or even like the same kinds of airguns, but that doesn't matter. We all like airguns. Manufacturers can keep the gimmicks; just give us accuracy reliability and great triggers. As the wise old frog said, "Time's fun when you're having flies!"