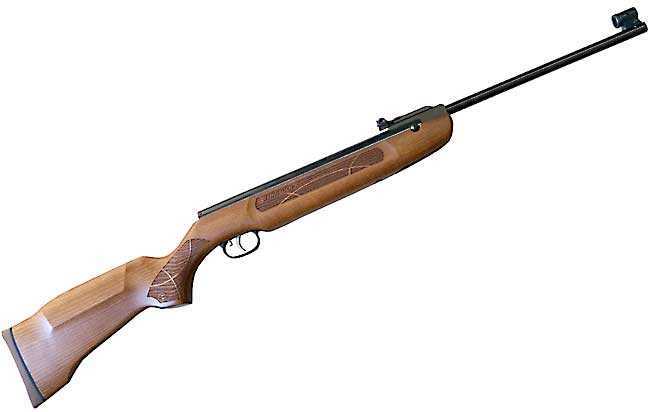 The HW 50S breakbarrel from Weihrauch.
Part 1
Part 2
Part 3
Part 4
Part 5
Part 6
Part 7
Part 8
Part 9
Part 10
Part 11
Part 12
Part 13
Part 14
Part 15
This report covers:
The test
Air Arms Field domes
Air Arms Falcons
Something different
Crosman Premier 10.5-grain dome
Mystery pellet
Summary
Today will be different. I'm going to show you a test and the results but I won't tell you exactly what I'm testing until tomorrow. Stay tuned; this will be fun!
Today I test the HW 50S at 25 yards. I'm going to use the two most accurate pellets from Part 15 and two new pellets I haven't tried before.
As you recall, the rifle is tuned with a Vortek PG4-Steel tune that I modified to lower the cocking effort. It shoots dead smooth and is accurate. This is the rifle that I had to replace the rear trigger guard screw because the factory screw was stripped. Reader Yogi said the accuracy would improve when that was done and he was right.
The rifle is scoped with a 3-12X32 Bug Buster that sits in Burris XTR Signature rings. The rings made a big difference in where the rifle shot and I'm glad I took the time to adjust them correctly.
The test
I will shoot 10-shot groups from 25 yards. Please bear that in mind, as they may be larger than other 5-shot tests you may see, but ten shots will usually group significantly larger than five shots in any situation. The rifle was rested directly on a sandbag. There were no called pulls in today's test.
Air Arms Field domes
First to be tested were 10 Air Arms Field domes. They hit the target to the left of the aim point and also a little low. Ten pellets made a group that measures 0.507-inches between centers.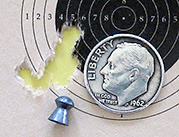 The HW 50S put ten Air Arms Field domes into 0.507-inches at 25 yards.
As you can see, the group is about a half inch to the left of center. It's also below the aim point, but that's okay — I don't want to blow my aim point away. I adjusted the scope 8 clicks to the right, which corrects for a half inch at 25 yards. I then shot one pellet just to settle the scope after the adjustment. Then I shot the next group.
Air Arms Falcons
Air Arms Falcons were next. In the last test they were the most accurate pellet and, until the eighth shot, I thought they would also be today. But shot eight went way to the left of the group, and shots nine and ten were also left of the main group. The first seven shots are in 0.271-inches, with the eighth shot opening the group to 0.769-inches.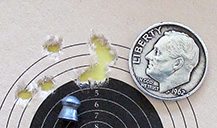 The HW 50S put ten Air Arms Falcons into a 0.769-inch group, with the first seven in 0.271-inches at 25 yards.
There were no called pulls and as far as I could tell the hold was consistent. But I'm sure I did something to make those three shots stray so much.
Notice that this pellet did move back to the center of the bull, left and right, but it also hit the target at the top of the bull. I decided not to adjust the scope any more because the next two pellets are heavier and might go somewhere different. That turned out to be a good decision.
Something different
And now our story departs from the norm. Usually I would shoot the other two pellets that were shot in the 10-meter test in Part 15 and call it done. But last Saturday I received a new pellet to try. They aren't on the market yet, but they soon will be, and naturally the person who contacted me said they were the greatest thing since sliced bread. They gotta say that or what's the use of telling me at all?
But this guy went on and on about how great this pellet was and how surprised I was going to be. It's a heavier pellet that weighs 10.5 grains, so I also selected Crosman Premier heavys to test alongside it. Normally for the power this HW 50S now produces, which is just under 11 foot pounds, I would stick with pellets weighing less than 10 grains. But the new pellet weighs 10.5 grains, so I thought the Premier heavy that also weighs 10.5 grains was a fair comparison. Here we go.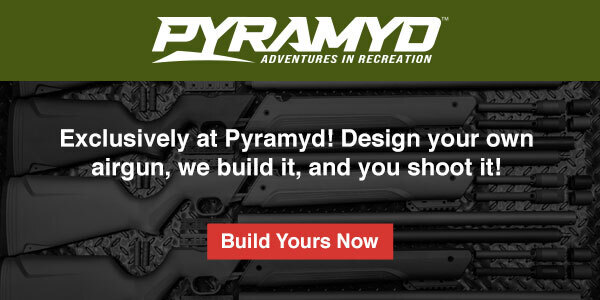 Crosman Premier 10.5-grain dome
The HW 50S put ten Crosman Premier 10.5-grain domes into 0.98-inches at 25 yards. It is the largest group of the test by far. And this pellet grouped 2 inches above the aim point at 25 yards.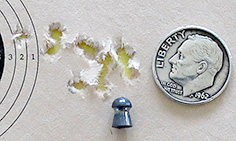 Ten Premier Heavys went into 0.98-inches at 25 yards.
Mystery pellet
Now for the mystery pellet. It weighs 10.5-grains and is a dome, so it compares with the Premier Heavy. Ten of them went into 0.577-inches at 25 yards. So the mystery pellet is in second place, behind the Air Arms 8.44-grain Field dome. I have to say I'm impressed. They grouped 1.8-inches above the aim point.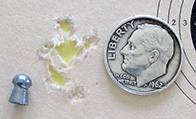 Ten of the mystery pellets made a 0.577-inch group at 25 yards.
The mystery pellet did very well in the HW 50s. Tomorrow I will tell you all about it, and there will be several more tests in other accurate .177 rifles we are testing.
Summary
That will be it for the HW 50S. I think we have seen enough to make a fair evaluation. You have seen the factory performance, a power tune and a tune for lighter cocking that turned out to be the best tune of all. We have been through the Rekord trigger in a different direction and today I am using the rifle as a testbed for a new pellet.