Posts Tagged 'Avanti Precision Grade Match BBs'
by Tom Gaylord, a.k.a. B.B. Pelletier
Today is a special test of the C96, requested by blog reader RidgeRunner and seconded by several others. You want to see if the pistol will be more accurate with Daisy's Avanti Precision Ground Shot, which is made expressly for the Avanti Champion 499 BB gun. More accurate than what? More accurate than the best BB tested in Part 3, which turned out to be the Daisy Premium Grade zinc-plated BBs that shot the tightest groups with this pistol?
Velocity first
We know that the Daisy Premium Grade BB averaged 395 f.p.s. with a total velocity spread of 18 f.p.s. (from 386 f.p.s. to 404 f.p.s.). RidgeRunner suspected the Precision Ground Shot would be faster in this pistol because it's usually slightly larger and also more uniform. So, I first shot it over the chronograph.
Avanti Precision Ground Shot averaged 381 f.p.s. on a fresh CO2 cartridge. The velocity spread was 19 f.p.s., with a low of 371 f.p.s and a high of 390 f.p.s. The spread was 1 f.p.s. larger with this shot than with the Daisy Premium Grade BBs, and the average velocity was 14 f.p.s. slower. So, that part of the theory didn't test out.
On to the accuracy test
I offered to do a blind test, but RidgeRunner trusted me to try my hardest with each BB: and that's good because there's a definite difference in appearance between the Premium Grade BBs and the Precision Ground Shot. The latter are not as shiny and appear more silver than steel in color than the Premium Grade BBs. I would have known which BB I was shooting.
The distance was the same 5 meters that was used for the first test, and I used the back of a chair to steady my hands as I held the pistol, just like I did before. This resulted in a very stable hold for every shot.
Daisy Premium Grade BBs
I shot 2 groups of 10 with each BB. The first group of Daisy Premium Grade BBs measured 1.115 inches between centers. Two BBs landed outside the black bull. The second group measured 0.644 inches between centers. That's almost half the size of the first group, so you can see how much latittude there is with BBs — even at 5 meters.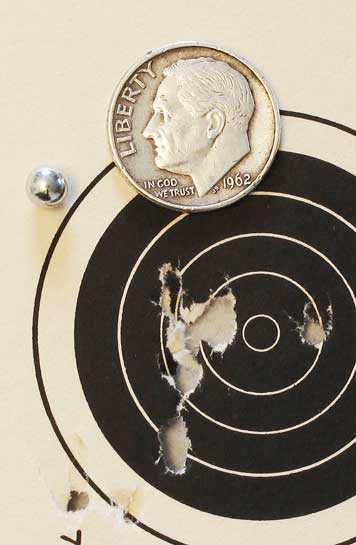 Ten Daisy Premium Grade BBs went into this 1.115-inch group at 5 meters.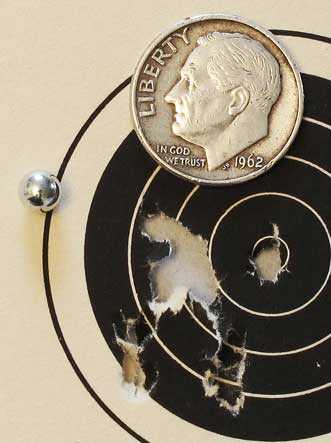 These 10 Daisy Premium Grade BBs went into a tight 0.644-inch group at 5 meters. This is the second-best group in this series.
Avanti Precision Ground Shot
Now, it's time to test the Avanti Precision Ground Shot. This shot is ground to work best in the 499 BB gun, only. But you readers wondered if it would also be more accurate in the C96 BB pistol. To test that theory, I shot another 2 groups of 10 shots each at the same 5 meters. The first group measured 0.954 inches between centers. One BB was outside the black, and 2 more were right on the edge.
The second group I shot with this ammunition measured 0.556 inches between centers. It's the smallest group of this session and would seem to lend credence to the Precision Ground Shot being more accurate than the Daisy Premium Grade BBs. However, the difference in group sizes of the 2 different BBs is not so great as to be overwhelming. Yes, both groups with Precision Ground Shot are tighter than the corresponding 2 groups made with the Daisy Premium Grade BBs, but the differences are not large. I don't think they justify shooting the Precision Ground Shot in the pistol since they cost roughly 2.5 times more.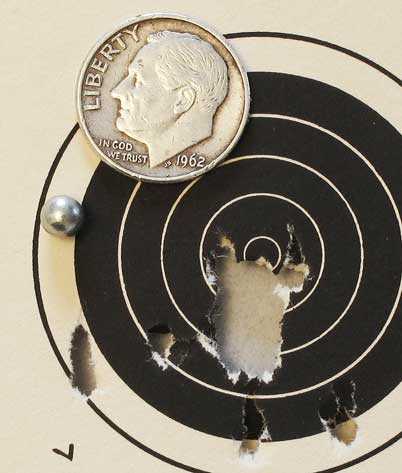 These 10 Daisy Avanti Precision Ground Shot went into a 0.954-inch group at 5 meters.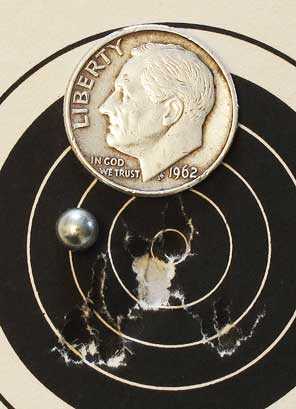 These 10 Avanti Precision Ground Shot went into an ultra-tight 0.556-inch group at 5 meters. This is the best group in this series.
Conclusions
The Avanti shot went slower than the Daisy Premium Grade BBs and also varied more. However, the difference wasn't much in either category.
The Avanti shot also appears to be slightly more accurate than the Daisy Premium Grade BBs. Again, the difference is very small, but it is there.
I'm surprised by these results. I predicted the Avanti shot would be faster because of its slightly larger size, but that it wouldn't be any more accurate. So, I was wrong on both counts. I don't think the difference between the two types of ammunition weighs in favor of using the Avanti shot in this gun, but it's really a call the owner of the gun needs to make.
My thanks to RidgeRunner and others who asked for this test.
by Tom Gaylord, a.k.a. B.B. Pelletier
It's accuracy day for the Beretta model 84 FS BB pistol, and some of you have been eagerly awaiting this day! I decided to shoot 3 different BBs in the gun just to give you a general idea of how well it groups.
Because this is a BB gun, the shooting distance was 5 meters, which is 16 feet, 5 inches. I sat backwards on a chair, resting my forearms over the back, so the pistol was fairly steady. I selected a 10-meter rifle target for this session because the smaller bull seemed appropriate for the shorter distance.
I forgot!
After installing the CO2 cartridge and loading the first 10 BBs, I tried to shoot the target and the gun wouldn't fire! What was wring? I knew this was a double-action-only trigger, and it should have worked. Right?
Wrong! This trigger is not DAO. It only feels like one! It's really a single-action trigger that requires the hammer to be cocked before it'll work. You can squeeze the trigger all day and nothing will happen until the hammer is cocked. So, with this little problem out of the way, the test could begin.
Crosman Copperhead BBs
First up were 10 Crosman Copperhead BBs. As I shot, I noted that the pistol was very steady in my rested hands. And the target shows that…I think. Ten Copperheads went into 1.521 inches at 5 meters. But note the 2 holes that are apart from the main group. Eight of those BBs made a group measuring 0.78 inches.
The farthest of the 2 holes that are apart from the main group — the one to the extreme right — was a called flier. My hand twitched to the left as the shot fired. The other one, though, was held just like all the rest.

Ten shots in 1.521 inches, though the one at the right was a called flier. But look at the 8 that landed on the bull. They measure 0.78 inches between centers.
Daisy Premium Grade BBs
Next I tried 10 Daisy Premium Grade BBs. Like I mentioned in Part 1, they're top-grade BBs that always deliver the goods. This time, 10 of them went into 1.114 inches. There were no called fliers, and the group is fairly well centered on the bull.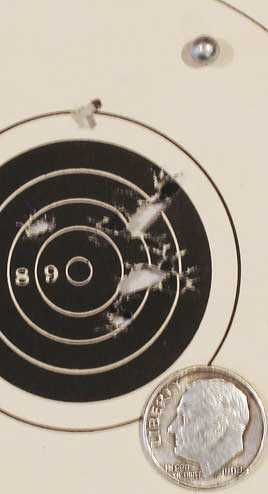 Ten Daisy Premium Grade BBs went into 1.114 inches at 5 meters. No fliers were called.
Umarex BBs
The last BB I tried was the Umarex precision BB — another top-grade BB. Ten of them grouped in 1.28 inches, with 9 going into 0.998 inches. There were no called fliers in this group, either.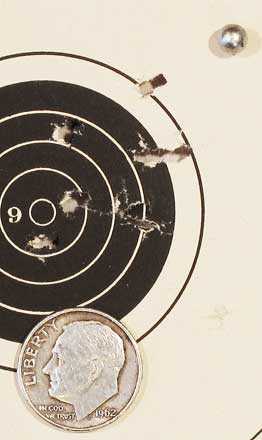 Ten Umarex BBs went into 1.114 inches at 5 meters. No fliers were called.
Overall impressions
As I told you in Part 2, the trigger-pull on this pistol feels very much like a double-action pull. That's one where the trigger first cocks the hammer before releasing it to fire the gun. It "stacks" or increases in effort significantly toward the end of the pull, like a vintage Colt double-action revolver. Once you learn how to use that, it helps with accuracy. The pistol is actually stabilized before firing.
This little Beretta is a fun BB gun, make no mistake. I found it trouble-free and easy to use. The sights are right on, and there are no quirks in the operation. If you like BB repeaters, this would be one to consider!
by Tom Gaylord, a.k.a. B.B. Pelletier
Merry Christmas, everyone! I hope this day finds you in good spirits, no matter where you are or what you are doing.
I have a special report just for this special day. It involves a BB gun, Daisy's Avanti Champion 499 — also known as the world's most accurate BB gun.

Daisy's Avanti Champion 499 is the world's most accurate BB gun.
About a month ago, my buddy Otho was visiting my house, and I pulled out my 499 to show him. I'd told him about it while we were at the rifle range the week before and he was fascinated, though he later admitted that he didn't believe me when I told him how accurate it is. So, I took this opportunity not just to show him the gun, but to let him shoot it.
We made a quick BB gun range in my garage using the UTG BB and pellet trap with some 5-meter BB gun targets taped to the cardboard target backer on the front of the trap. I showed Otho how to raise the bottom front of the trap so that all the BBs that entered would stay inside because they roll to the back after they stop moving. And the ballistic curtains will take most of the energy out of each BB on the first pass through the trap.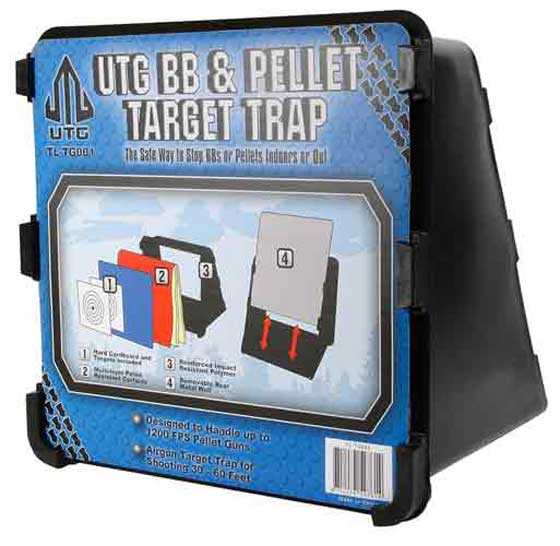 The UTG BB trap is the only BB trap available with replaceable ballistic curtains.
A muzzleloader!
Otho was captivated by the fact that the 499 is a muzzleloading single-shot. While it looks a lot like a Red Ryder, it couldn't be more different! The gun is loaded by dropping one BB down the muzzle, which is shaped like a funnel. The BB rolls down the precision tubing that serves as the barrel, and it takes from 2 to 5 seconds to be captured by a magnet at the bottom. A faint click announces this. The magnet allows the shooter to hold the gun in any orientation without fear of the BB rolling out.

Load just 1 BB at a time by dropping it into the funnel-shaped muzzle and listening to it slowly roll down the barrel until it clicks against the magnet.
I told Otho to listen to the BB roll down and be captured by the magnet. That's the only way to be sure the gun's been loaded properly. He was fascinated by this and quickly learned to do it every time. His background in machining gave him an appreciation of just how uniform that barrel and BB had to be to make the short trip last so long!
Precision ground shot
Accompanying the 499 is a special BB that's as precise as the gun. It used to have the model number 515, but today it's just labeled Avanti Precision Ground Shot. It's sold in small packs of 1050 and costs considerably more than standard BBs, but it makes a difference in the 499. You can shoot regular BBs in the 499, but they're smaller and they roll down the barrel faster. During loading, you will see the roll time down the barrel decrease to as little as a half-second for Crosman Copperhead BBs to 1.5 seconds for Daisy Premium-grade zinc-plated BBs. Accuracy results will reflect the roll time, as that's the best indication of the size and uniformity of each steel sphere.

Daisy's Avanti Precision Ground Shot is the only ammo to use in the 499. It's far superior to regular BBs.
Sights
Daisy used to sell this gun with a cheaper rear peep sight that was difficult to adjust with precision. The sight that now comes standard on the gun was an option at that time. Finally they decided to just include the better sight and raise the price a little to cover it. While this sight is made largely of plastic, it's still capable of precision adjustments. To eliminate slop in the mechanism, turn it several clicks in the direction opposite of where you wish to adjust; then, when you return, the slop will be taken out of the parts and the adjustment will be right on.
The front sight accepts inserts. Most shooters select the same one — an aperture that encircles the bull at 5 meters.
Proof of the pudding
A real shooter knows that the only thing that matters is what the gun does downrange. Fancy wood and deep bluing don't mean a thing if the gun can't shoot. So, naturally, Otho had to try his hand. The target was set as close to the regulation 5 meters from the firing line as it's possible to get in my garage. We were probably at 15 feet, instead of 16 feet 5 inches, but it didn't matter because we weren't shooting for record. His first 5 shots produced a group smaller than any he had ever shot with a BB gun, but it did much more that just that. It awakened his rifleman's spirit! Here was a gun that could shoot better than he could — guaranteed!
His eyelids dropped into a squint that broadcast concentration. His next 5 shots all landed in the same place and were all on the bullseye. The room now grew quiet as his concentration ratcheted up another notch.
Another 5 shots went downrange, and this time he was really trying. The smaller hole in this target reflected the attempt! The gun is apparently a perfect gauge of the effort that's put into it! The heavens opened and a shaft of divinely-inspired sunlight bathed the shooter in glory. Otho was hooked! He now understood what I had been trying to tell him. The Daisy Avanti Champion 499 is the world's most accurate BB gun! It is the gun that every real shooter hopes to find one day — one that can out-shoot him and will never be finicky. Do your best and the gun reflects it on target — pure and simple.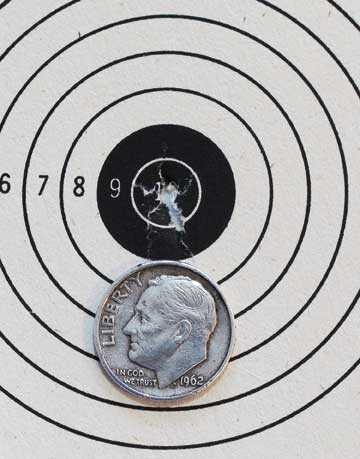 This is what the 499 can do at 5 meters. Ten shots in this group!
A Christmas story
This is where Otho had his epiphany. He went home and immediately ordered a Daisy Avanti Champion 499 for himself. On my recommendation, he also ordered several packs of Precision Ground Shot, plus I gave him a pack to get started since Pyramyd Air was temporarily backordered when he placed his order. He also bought 5-meter paper targets and a UTG target trap. In short, he purchased a complete shooting kit that had everything he needed to get started.
Three days later he called to tell me his gun had arrived, and he was already shooting the BBs I had given him. The day after that he called to tell me that he had ordered 3 additional shooting kits as Christmas gifts for his son, son-in-law and another friend. A week later he told me that he had taken his gun to his country home, where he stayed indoors and shot targets all day while his friends and family sat out in cold wet high seats, awaiting the deer that never showed.
Then, on December 23, Otho called me one more time to tell me he was purchasing one more gift set for another friend who hadn't shown any interest until the day before. His gift will arrive late, but it will be just as appreciated, I'm sure.
Otho never told me, but I am reasonably sure that he takes his new BB gun to bed with him every night, drifting off to sleep while shooting ducks on the wing and getting off spectacular hipshots. I think this little Daisy might be the greatest Christmas gift he will ever get or give, and it is our own version of A Christmas Story. Merry Christmas!
by Tom Gaylord, a.k.a. B.B. Pelletier
Part 1
Today, we'll look at the velocity of the Beretta model 84 FS BB pistol. We'll also look at the trigger and the shot count.
Of course, the first step to shoot a CO2 BB pistol like this one is to install a fresh CO2 cartridge. And when you do, never forget to put a drop of Crosman Pellgunoil on the tip before piercing. The oil will be blown through the gun, coating every seal on the inside and sealing it tight for a long time. I found the cartridge sealed immediately after it pierced, so this pistol is conventional in that respect. Remember — once the cartridge is pierced and the gas stops hissing, you don't want to tighten the screw any more or you'll soon tear the face seal that the cartridge butts against, creating a leak.
The BB magazine holds 17 BBs comfortably, and 18 can be forced in. I loaded them one at a time, but in this mag, they load easily.
Umarex Precision BBs
Thye first BB I tested was the Umarex Precision BB. In past tests I have found this BB to be one of the 2 top BBs on the market for precision and size uniformity. They tend to be larger in diameter, which means they give the best velocity.
These BBs averaged 368 f.p.s. for 10 shots, but I did notice the gun is very susceptible to velocity dropoff if the shots are fired fast. When I waited at least 10 seconds between shots, the velocity held steady; but if I fired 2 shots quickly, the second one was always much slower. In one test, the first shot went 372 f.p.s. and the next shot…fired a second later…went 358 f.p.s.
The fastest shot in the string went 385 f.p.s. and the slowest went 356 f.p.s., so the spread was 29 f.p.s. However, the first 3 shots on a new cartridge always go much faster than the average. If we eliminate those 3 shots from this string, the average drops to 363 f.p.s., which seems like a more reasonable average.
Daisy Premium Grade BB
Next I tried the Daisy Premium Grade BB that's the other top BB on the market. These BBs are also very uniform and very consistently sized. Ten of them averaged 357 f.p.s., with a spread from 350 to 373 f.p.s. That's a 23 foot-second spread.
The Daisy Premium Grade BB is as good as BBs get, unless you opt to buy the special Avanti Precision Ground Shot that are the finest BBs available today. But they only show their advantage when used in the equally superior Daisy Avanti Champion 499 BB gun. If you shoot them in anything else, you're wasting money as sure as someone who loads target rimfire ammo into a semiauto sporter.
Crosman Copperhead BB
The final BB I tried was the Crosman Copperhead BB. This BB is not as consistent as the other 2 because the diameter varies, causing velocity variations. You probably won't find any flat spots on these BBs, but the diameter inconsistency puts it into the second rank for both velocity and accuracy.
In the 84 FS, Copperheads averaged 348 f.p.s., but the spread is very revealing. The low was 314 f.p.s., and the high was 375 f.p.s. That makes the spread 61 f.p.s.
After shooting 64 BBs (there were many that didn't register on the chronograph, plus I filled the magazine with each type of BB and then shot the rest of them without recording the velocity), the next few Daisy BBs went 317, 306, 301 and 294 f.p.s., respectively. So, the liquid CO2 was exhausted at this point, and the gas pressure was dropping.
Shot count for a CO2 cartridge
I continued to shoot the pistol until the blowback no longer worked. That happened at shot 78, so that's the number of shots you can get from the gun. By that time, the gun is shooting the Daisy BBs in the mid-200s, meaning that about 100 f.p.s. have been lost since the cartridge was fresh.
Blowback
The blowback on this pistol is faster than the blowback on most air pistols, because the slide doesn't come back as far. When the CO2 cartridge is fresh, you just feel an impulse when the gun fires, but I wouldn't call it realistic recoil. But as the gas pressure lowers, the slide starts cycling slower and you do feel the recoil.
Trigger
Remember that I told you in Part 1 that the trigger felt strange? I said it felt like a double-action-only trigger instead of the single-action trigger that it is. Well, this time I tested it and proved that's how it feels. Despite the slide cocking the hammer for each shot, the trigger is still very long and heavy.
The first-stage pull runs about 4 lbs., and stage 2 breaks at 9 lbs., 9 oz. every time. Pull the trigger slowly, though, and stage 1 becomes creepy, plus stage 2 increases by a full pound. This will be an interesting handgun to shoot for accuracy!
Evaluation thus far
I like how the 84 FS holds. It's small, but not tiny. It fills the hand with its wide grip frame. But that trigger will be something to contend with. The trigger on my Micro Desert Eagle .380 firearm pistol is also DAO and also challenges me when I shoot farther than 20 feet; but it's smoother near the end of the pull. This trigger stacks up a lot at the end of the pull. We'll see!
by Tom Gaylord, a.k.a. B.B. Pelletier
This topic was received well last week, so I'm doing the second list today. Several readers have reminded me of other gifts I should mention, and some of them will make today's list. If I don't list something you suggested, there's a reason. These are the things I recommend without question.
Stocking stuffers/small, neat gifts
Gifts in this category don't cost a lot but will have great meaning to airgunners. Some of them are things that shooters won't buy for themselves.
Air Venturi Pellet Pen and Seater
Someone suggested the Air Venturi Pellet Pen and Seater, and I have to agree. This is a great gift, and it's one that a lot of shooters won't buy for themselves.
EyePal Peep Sight Master Kit
The EyePal Peep Sight Master Kit is another gift that people may not think about; but when they have one, they'll love it. I chose the Master Kit so you can use it with both rifles and pistols (and bows if you're an archer, too). Even if you don't wear prescription glasses, the EyePal is a great aid for your safety glasses to sharpen your vision and make that front sight clear!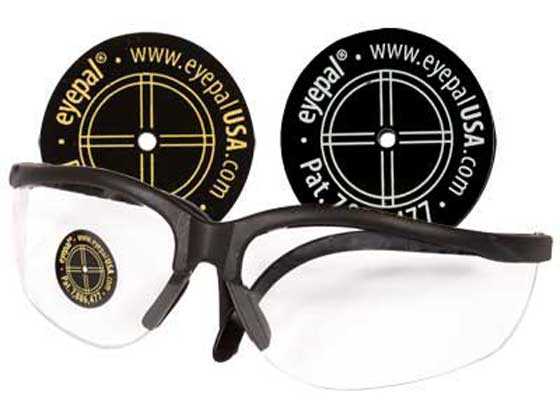 The EyePal makes the front sight appear razor sharp. Use it on prescription glasses and non-prescription safety glasses, alike.
Pellet selection
Here's a gift I'm putting in this section, although it will cost you some money. Pyramyd Air offers 4 tins of pellets for the price of 3. Your favorite airgunner has pellets he or she really likes, but they don't buy them all the time because they may cost too much.
Consider this gift similar to one of those fancy boxes of candies or Christmas smoked meats that are given this time of year. Nearly everybody likes them, but we don't spend money on them for ourselves. So, this is an opportunity to buy something your airgunner wants but will never buy himself. The one problem you have is finding out which pellets to buy. Rather than try and guess what your airgunner wants, I'm going to leave this up to you. You need to do a little investigation, maybe look at the pellets that he has on the shelf, or just talk to him and find out what he really wants but hasn't bought.
Gifts under $50
Crosman 357
For a pistol shooter the Crosman 357W is a great idea. It's a revolver, so you get multiple shots per loading; and for the money, it's an accurate little air pistol.
Walther Multi-Tac tactical knife
If your airgunner is a gadget junkie, you can't do much better than a Walther Multi-Tac tactical knife. It's a tool kit for your pocket. And it has a 440C stainless steel blade to cut whatever you need.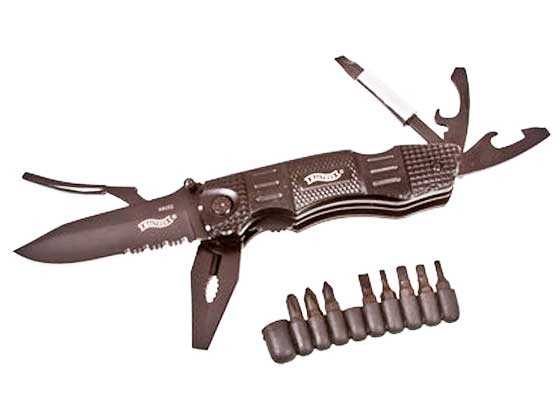 Walther's Multi-Tac knife is a toolkit in your pocket!
Walther Xenon Tactical flashlight
Can't have too many flashlights! Not when you need one! The Walther Xenon Tactical flashlight uses two CR123A batteries to cast a 60-lumen light. That means you get both good battery life and a powerful light.
Gifts under $100
Some of these gifts are just over the $50 mark, so look at them carefully. This category holds some of the most surprising values in airguns.
Legends Makarov
The Makarov from Umarex is a wonderful BB pistol that I just can't stop talking about. I bought one for myself after testing it! It's extremely accurate for a BB pistol, which means you really can use it for target practice. It runs on CO2, so don't forget to get some CO2 cartridges if you give this gun as a gift.
Simply one of the best BB pistols you can buy at the price, the Legends Makarov is accurate, well-made and inexpensive.
Crosman 2240
Another fine CO2 pistol is the single-shot Crosman 2240. It's a .22-caliber, bolt-action pistol that's powerful and accurate, plus it serves as the basis for many aftermarket modifications.
Ruger Mark I
The Ruger Mark I air pistol is powered by a spring-piston. It isn't very powerful, but it's a great companion for the handgun shooter who only wants to poke holes in targets and plink with a pistol that's easy to cock and accurate.
Stoeger X5 air rifle
The Stoeger X5 air rifle is a wonderful, youth-sized, spring-piston rifle that has enough quality to make my list. The trigger is a little stiff, but the accuracy is there. It reminds me of the Hämmerli 490 that is, sadly, no longer available.
Gifts a little over $100
I created this category for those items that are a few dollars over $100 but are still within the realm of economy. Sometimes, the things you want are just over the line — no matter where you arbitrarily draw it.
Shooting Chrony Alpha chronograph.
The Shooting Chrony Alpha chronograph is the instrument I use to document 98 percent of the work I do. I use it because it's small, portable and very reliable. Sure, there are reasons to use my Oehler 35P chrono, sometimes; but most of the time, this is my choice.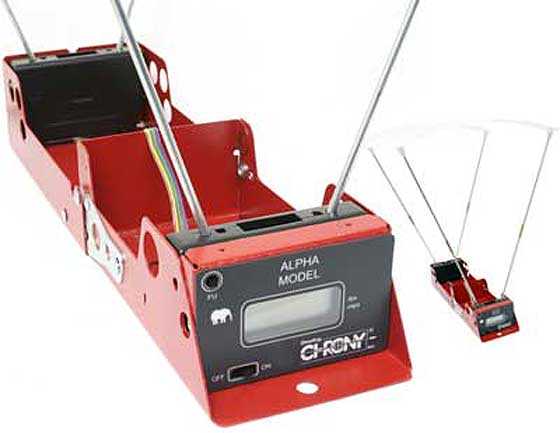 Though it's just $10 over a hundred, the Shooting Chrony Alpha has everything you need!
Daisy Avanti Champion 499 BB gun
I have to recommend the Daisy Avanti Champion 499 BB gun because it is the target shooter's dream. Where other BB guns will put 10 shots into three-quarter of an inch at 16 feet when all is right, this one will put 10 into a quarter-inch at the same distance. This is a shooter's tool, not a hunting gun or bragging-rights gun. Be sure to stock up on the special Avanti Precision Ground Shot if you get this gun because it definitely adds accuracy! And order some special 5-meter BB targets that are sized right for this gun!
IZH 60 air rifle
I am also going to put the IZH 60 air rifle on my list this year. Though the accuracy slipped when the gun's design was changed several years ago, this is still a delightful youth rifle that's easy enough for even smaller kids to cock. It has reasonable accuracy, and the sidelever design means that fingers can't be pinched in the mechanism like they would on guns having sliding compression chambers. I recommend the single-shot over the repeater for reasons of safety.
Daisy 953 TargetPro
I normally don't recommend combo guns, but I'll make an exception for the Daisy 953 TargetPro. It's a pellet rifle with enough accuracy to get you into the game without spending a bundle.
Gifts under $300
Gifts in this category start to take on the aura of personal taste. My recommendations may not be what your airgunner wants, so you need to find out if they are before you buy anything.
Benjamin 392 pump
This one is very personal. You airgunner will either like it or not. So, check first. The Benjamin 392 pump is the best multi-pump rifle going, these days. Its heritage dates back to the late 19th century, so there's a lot of history there. I also chose the .22-caliber 392 for its power; but if your airgunner only wants to shoot at targets, then the 397 is the same rifle and shoots cheaper .177 pellets.
Daisy Avanti 853
The Daisy 853 is right at $300, but its a great buy even at that price. It features a Lothar Walther barrel and has been used by millions of kids for competition in the decades it's been around. The trigger is rough, but there are several websites that tell you how to fix it. To get anything with better accuracy, you're going to need to spend several hundred dollars more.
Diana RWS LP8
Want an air pistol that shoots like a rifle? The Diana RWS LP8 is the one to get. It just may be the best value in a really good air pistol these days. It has plenty of power and is very accurate. The breakbarrel cocking is on the heavy side, but an adult male shouldn't have a problem.

For the price, the Diana RWS LP8 air pistol can't be beat.
Gifts without limit
Now, we can spread our wings a little. This is where many of the better airguns live.
HW 30S
Let's start with the HW 30S. You know this rifle as the Beeman R7 when it's in a different stock, but airgunners know the HW 30S has the same powerplant and the same adjustable Rekord trigger as the R7. If your airgunner likes the styling of the HW 30S, it's less expensive; but if he wants an R7, it's also a wonderful spring-piston air rifle.
Diana RWS 48
If you want a big bruiser spring-piston air rifle, the Diana RWS 48 is one I would recommend. And, I recommend it in .22 caliber, where you get all the power it can develop. The 48 is a sidelever that's surprisingly easy to cock, despite the level of power it delivers. It's also very accurate. One thing, though, the 48 is a big air rifle, so be sure your shooter knows what he's in store for. Definitely for adults, only.


Diana 48 sidelever from RWS is large and in charge!
TalonP air pistol
There's no other smallbore air pistol that can hold a candle to the TalonP air pistol from AirForce Airguns. It comes in .25 caliber and has 10 shots per fill at over 50 foot-pounds of muzzle energy! Many rifles can't equal it! When I tested it for accuracy, I got sub-one-inch groups at 50 yards. It's a hunting air pistol extraordinaire.

The TalonP pistol from AirForce Airguns leads the pack for power and accuracy.
Walther LGV Challenger
If you want a really fine breakbarrel spring rifle, you can't do better than the Walther LGV Challenger. I recommend the .22-caliber gun because it was so smooth when I tested it.
by Tom Gaylord, a.k.a. B.B. Pelletier


M1 Carbine on top and Crosman M1 Carbine below. A realistic copy!
Today, we'll test the Crosman M1 Carbine BB gun for accuracy. I pulled out all the stops, plus I shot a comparison group with a Daisy Avanti Champion 499 BB gun for comparison.
The course
I fired all targets from 15 feet, which is the NRA distance for BB gun competition. Daisy uses 5 meters, which is about 16 feet, 6-and-a-fraction inches, but the NRA standardized on 15 feet many years ago and hasn't changed. They don't hold any significant competitions that I am aware of, while Daisy hosts the International BB Gun Championships every year. But since the gun I'm testing was never meant for competition, I felt the shorter distance would suffice.
I shot the gun from a rest using the artillery hold to take myself out of the picture. The target was well lit, and the Crosman M1 Carbine has an adjustable peep sight at the rear, so the sighting system is pretty advanced.
Daisy Premium Grade zinc-plated BBs
The first BB was the Daisy Premium Grade zinc-plated BB. You saw how these compare to the Umarex precision BBs in Part 2 of this report. Nine of the 10 BBs landed in 1.354 inches and were slightly low and to the right of center. But 1 of the 10 shots strayed up and to the right, opening this group to 5.148 inches between centers. No shot was a called flier.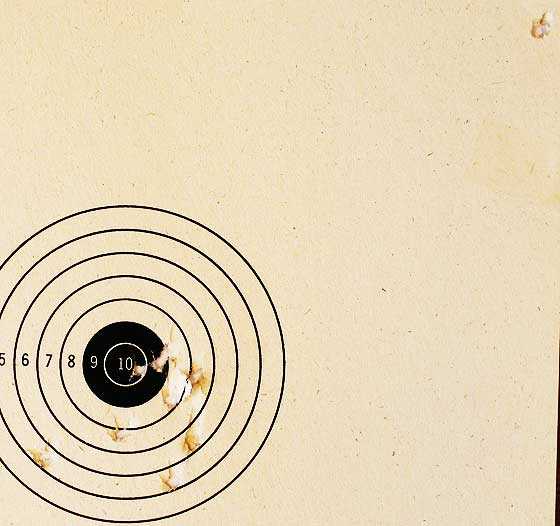 The 9 shots in the bull area went into 1.354 inches, but the shot at the upper right corner opened the group to 5.148 inches. Daisy Premium Grade zinc-plated BBs.
I expected results that were like the 9 shots. I did not expect any wild shots like this one!
Okay, so maybe the Umarex BBs would do better in this gun. Remember, I'm shooting off a rest at 15 feet.
Umarex Precision BBs
Next, I loaded 10 Umarex Precision steel BBs and tried a second group on a fresh target. I can't tell you how large this group is because 2 of the BBs missed the target trap and hit the backer board I put up to protect the wall. I know one of them was high because it passed through a piece of cardboard I had taped to the target trap. The 8 shots that landed on the target paper made a group measuring 3.046 inches between centers. It's impossible to know how large the actual group was since 1 of the BBs left no record whatsoever.

These 8 Umarex BBs landed in a 3.046 inch group at 15 feet, but 2 BBs missed the target paper altogether. So, the 10-shot group is larger, but there's no way of knowing how large.
Wow! This wasn't the way I remembered the M1 Carbine! I knew you would have a lot of questions for me. So, I decided to do something about it.
Avanti Precision Ground Shot
I also tried the Avanti Precision Ground shot that Daisy sells for the Avanti Champion 499 BB gun. This shot is very uniform in size and measures 0.1739 inches with my micrometer. That's considerably larger than either of the other 2 BBs I shot.
This time, all 10 BBs hit the paper and made a group measuring 3.681 inches between centers. That is the best group of all 3 BBs tried. But it wasn't good enough for me. Shooting 3 inches at 15 feet is something I never want to do because I know I'm better than that. How much better? Well, I had to find out.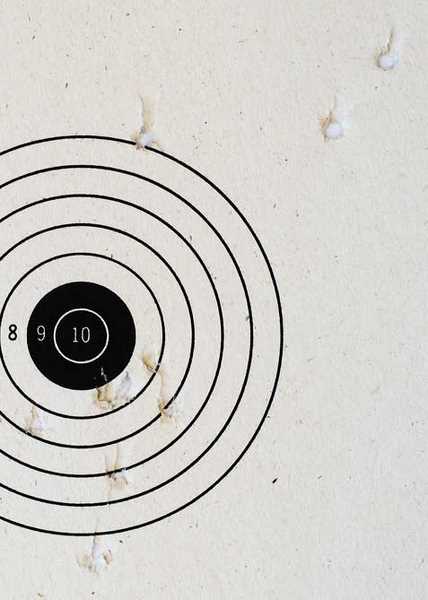 Ten Avanti Precision Ground shot BBs made this 3.6781-inch group at 15 feet. It was the best group made by the the M1 Carbine in this session.
Avanti Champion 499 BB gun
I next shot a group in the same way but with the Avanti Champion 499 BB gun — the world's most accurate BB gun. Naturally, I used the Avanti Precision Ground shot since it's the only BB developed specifically for this gun.
This time, 10 shots went into 0.328 inches. They were a little high and right on the target, which means I need to adjust the rear sight just a little, but I'm pleased with the group size. It came after firing 30 aimed shots, so I was starting to get tired, if anything.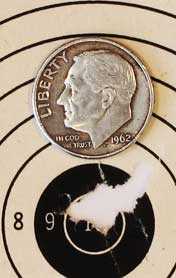 This is 10 shots from the Daisy Avanti Champion 499 BB gun. Though the group measures 0.328 inches between centers, the gun is capable of much smaller groups in the right hands.
Conclusion
The Crosman M1 Carbine is not as accurate as I remembered. I expected to put 10 shots into 1.5 inches or better, and that didn't happen with any BB — not even the Precision Ground shot. I think I've shot 5-shot groups with this BB gun in the past, and that may have given me false expectations.
Still, the Crosman M1 Carbine is a wonderful BB gun from the standpoint of realism and power. It comes from a time I fear we will never see again, and I lament the end of the era that produced such a fine BB gun.
by Tom Gaylord, a.k.a. B.B. Pelletier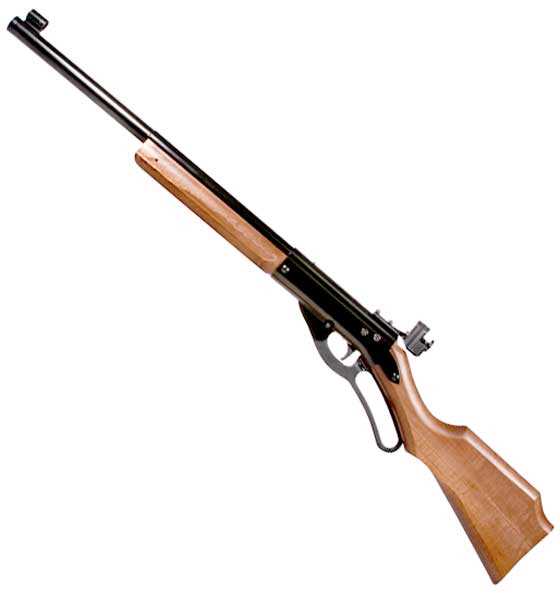 Daisy Avanti Champion 499 is the world's most accurate BB gun.
This test of the Daisy Avanti Champion 499 at 10 meters was requested a couple weeks back by a blog reader, and several of you seconded the request. It was in response to a discussion of the spin rate of projectiles and what benefits it conveys.
After I agreed to write the report, another reader asked me to test not only the Avanti Precision Ground Shot that's made specifically for the 499, but also some more common BBs. So, today, we'll see how the 499 performs at the 5-meter distance for which it was designed, as well as at 10 meters. I think we're in for some interesting ballistics.
The 499
For those who don't know, the Avanti Champion 499 is the world's most accurate BB gun. It's the only BB gun to compete each year in the International BB gun Championships at Bowling Green, Kentucky. Like the wheels and axels on Soap Box Derby racers (the All-American Soap Box Derby is an annual race where children race home-built cars powered by gravity, alone), the 499 is so specialized and ahead of the competition that there's nothing that can touch it. Unlike derby wheels, though, anyone can own a 499 because they're sold through specialized airgun dealers like Pyramyd Air (along with their special ammunition).
Although it may look like a Red Ryder to the casual observer, the 499 is as special among BB guns as a Formula One racer is among automobiles.
The 499 is a single-shot BB gun that has a precision smoothbore barrel. It's loaded through the muzzle by dropping a BB down a funnel-shaped spout, where it enters the true barrel and rolls to the rear to be captured by a magnet. Regular BBs take 0.50 to 1.00- seconds to roll down the barrel, while the Precision Ground Shot can take up to 5 seconds.
The gun was developed by Daisy for their National BB Gun Championship Match. They noticed that coaches were ordering many shot tubes for their teams' model 99 and 299 target BB repeaters that were used in competition at the time. The coaches were looking for the most uniform barrels that would shoot the best. When Daisy recognized that, they simply designed a gun to be accurate from the start. Once the 499 became a reality, all other BB guns were obsolete because nothing else could keep up.
For over a decade, the gun and ammunition was available only directly from Daisy, until I discovered it while writing The Airgun Letter. The guns were hand-built and Daisy didn't really think they could sell them to non-target shooters because of the extra cost; but once the word was out about how accurate they are, everything changed. They're probably still made by hand today, and I'm sure they're not one of Daisy's most popular products; but if you like accuracy, you really should look into getting one of these.
Baselining the gun
Before I shoot at 10 meters, I thought it would be nice to see what the gun can do at the regulation distance of 5 meters. I could have found old images for this because I've done this test many times before, but I always welcome the opportunity to shoot this marvelous little gun. I shot it on NRA 15-foot targets because I don't have any of the slightly larger official 5-meter BB-gun targets on hand. The NRA is out of touch with BB gun competition and is stiill using the 15-foot target, where the rest of the world has backed up another 1.4 feet to 5 meters.
For this test, I selected three types of ammunition — Crosman Copperhead BBs, Daisy Zinc-Plated BBs and Avanti Precision Ground Shot. When I load the gun, I listen to the BB roll down the barrel and strike the magnet at the bottom. Copperheads roll the fastest — taking about a half-second to make the trip.
Crosman Copperhead BBs
I shot 10 shots with each BB at 5 meters. I used the back of a chair as a rest because this was a test of the gun — not me. There were no called fliers, and the 10 Copperheads grouped in 0.574 inches. That measurement is approximate, as BBs do not tear clean holes in target paper.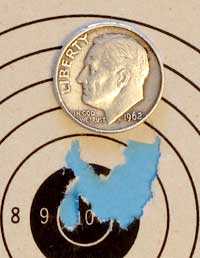 At 5 meters, 10 Crosman Copperhead BBs tore this hole, which measures 0.574 inches between centers.
Daisy Zinc-Plated BBs
Next up were Daisy Zinc-Plated BBs at 5 meters. These are ever-so-slightly larger than Copperheads and take 0.50 to 1.50 seconds to roll down the barrel. They made a 10-shot group that measures 0.361 inches between centers — and keep in mind this is approximate, at best. But you can see in the photo that this group is tighter than the first one.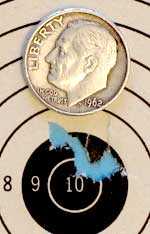 Ten Daisy Zinc-Plated BBs made this 0.361-inch group.
The final group was shot with Daisy Avanti Precision Ground Shot that is specially made for the 499. If anything is going to group well in the gun, this is. Ten shots made a group measuring 0.224 inches between centers. The hole on the target tells all, as it is either a score of 99 or 98 — it's too close to tell.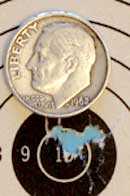 Avanti Precision Ground Shot shows what the 499 can really do. Ten went into this 0.224-inch group at 5 meters. This is almost a perfect score.
On to 10 meters
Now that we know how well the gun can shoot, it's time to back up to 10 meters and test what we all came to see — namely, how well the 499 does at 10 meters. This is the first time I've done this, so I am just as interested in the results as all of you.
Crosman Copperhead BBs
First up were the Copperheads. I didn't change the sight setting, so we'll forgive the placement of the shots in this test. Ten shots landed in a group that measures 1.118 inches between centers. That's actually slighly smaller than double the 5-meter group size (which would be 1.148″); so, allowing for the measurement error, it seems to be right-on.
Notice the two shots that landed below the main group. There were no called fliers, so those BBs are probably not the same size as the others.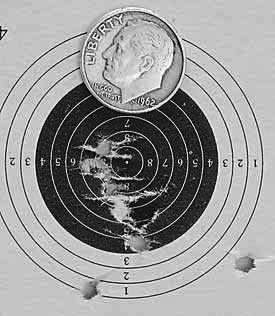 At 10 meters, 1o Crosman Copperhead BBs made a 1.118-inch group. Those two at the bottom were not called as fliers.
Daisy Zinc-Plated BBs
Next up were the Daisy Zinc-Plated BBs that do so well in this gun for normal BBs. Ten of them made a group measuring 0.828 inches. That's larger than double the 5-meter group size, which is what I expected at 10 meters. Again, there were no called fliers, and one stray BB hit below the main group.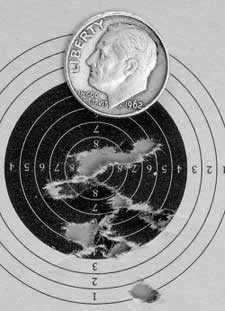 Daisy Zinc-Plated BBs did well at 10 meters. This is a 0.828-inch group. The lone shot at the bottom was not a called flier.
Daisy Avanti Precision Ground Shot
Finally, I shot the Avanti Preciaion Ground Shot at 10 meters. The picture tells the story. Ten shots landed in a group that measures 0.755 inches across. This group is larger than double the 5-meter group with the same BB, which is what we would expect. Let's talk about that next.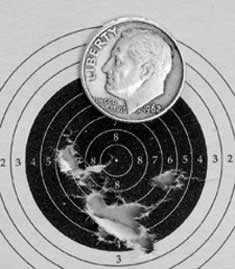 This is where the pedigree of the Avanti Precision Ground Shot shows up. Ten made this 0.755-inch group with no real stragglers.
Why aren't the groups just double the size at 10 meters?
This is a common misconception that I'd like to address. Groups don't open up on a linear scale as distance increases. A 10-meter group should not be twice as large as a 5-meter group. And here we must differentiate between a spin-stabilized conical bullet and a round ball fired from a smoothbore.
A ball that's not spin-stabilized will deviate much faster than a ball that's stabilized by the spin introduced by rifling. A rough comparison can be made to a baseball that is intentionally thrown without spin — the famous knuckleball. It will go straight for a short distance, then suddenly deviate wildly and unpredictably from its ballistic path. The comparison is not perfect because a baseball has seams that affect its movement through the air, but the principle is similar.
Conclusion
Don't run out and buy Avanti Precision Ground Shot for your Red Ryder. That would be like putting premium gasoline into a lawnmower! On the other hand, don't buy a 499 and then try to shoot it with standard BBs. That's false economy going the other way. Back up a few feet and look at what you are paying for ammunition, and then buy what makes the most sense.
The 499 is a special gun that's purpose-built to do one thing — shoot BBs as close to where you aim as possible. I rested the gun for this test, but every year there are children who shoot similar targets offhand in competition.
Thank you!
I would like to thank everyone who requested today's test because it was something I've never done before. Now, we all know what an accurate smoothbore shooting a steel BB can do at 10 meters.