Posts Tagged 'semiauto BB gun'
by Tom Gaylord, a.k.a. B.B. Pelletier
Mea Culpa!
You know, Babe Ruth was the home run king of his era. But he was also the strikeout king. Sometimes when you swing for the fence, you get fanned by the pitcher. I've done that a couple of times in recent reports.
The AirForce Escape SS has a 12-inch barrel. I said it was an 18-inch barrel, but several of you clever guys spotted why that could not be. And, while I was starting to redden from embarrassment in the AirForce booth, John McCaslin also took the opportunity to inform me that what I wrote about the Escape valve is also incorrect. It isn't different than the TalonP valve — it is identical. So, gather a crowd and paint me red…I goofed!
The Escape has a 24-inch barrel, the Escape Ultra Light has an 18-inch barrel and the Escape SS has a 12-inch barrel. All 3 rifles come in either .22 or .25 calibers and no others.
The $100 PCP
I'm happy to report that Crosman is taking the $100 PCP project seriously. They will look into the possibility of making such an air rifle, but that doesn't mean they have made any decisions to proceed. A lot of things must be taken into consideration beyond the fact that it might be possible. Don't any of you start a clock on this! I'll continue to test the rifle I have, and we'll leave it at that.
Mike Mellick (Mike in Iowa) did come to Las Vegas, and we had a meeting. He showed me 2 examples of the rifles he's currently selling, and we talked about my testing one for a feature article in Shotgun News. I plan to present the entire $100 PCP project in that article, which I think will be in the July 2014 color issue.
Okay. On to the new stuff.
Leapers
Leapers is going to introduce an upgraded line of optics later this year that they'll call the T8 line. They're trying to offer optics as clear and sharp as those currently being sold for tactical use by Law Enforcement. They want to give $2000 worth of value for something in the $200 price range.
The first scope will be a 1-8X that fits the tactical scenario very well. If you're in the CQB team, you run your scope on 1X and have a wide field of view and rapid acquisition. If you're in the overwatch team, you're running 3-4X and cover the door-breakers. The snipers sit on the high ground at 8X, watching everything.
I looked through a prototype scope, and it was clear as a bell, but the development is not quite finished. After it's announced later this year, they'll move ahead on a 2-16X scope to compliment the first one.

Leapers T8 scope line will offer upgraded optics.
I saw many products at Leapers this year, but the one that surprised me the most was the little peep sight they developed for a number of firearms. It's so small, yet it adjusts in both directions. I asked if it could be made for airguns because then people wouldn't have to root out the sides of their wood stocks to make room for the elevation slide — not that I've ever done that!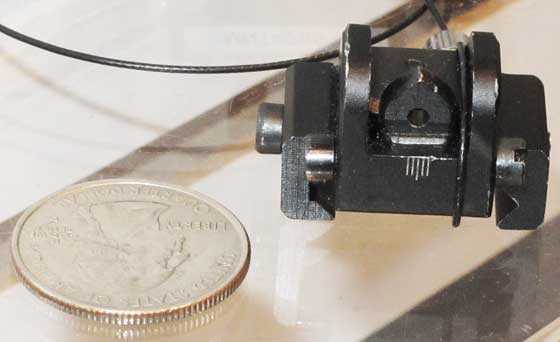 This peep sight is made to fit Weaver bases, but imagine what you could do with this on an airgun!
Air Arms
I saw the new field target rifle being offered by Air Arms. The FTP 900 is a purpose-built target rifle suited to knocking down those pesky steel targets. Short for Field Target Professional, the FTP replaces the EV2, their longtime field target competition rifle. It's loaded with features. But to sum it up, this rifle is adjustable! It's completely ergonomic, so it can be adjusted to fit the shooter like a glove. If $2,500 seems a lot to pay for an air rifle — just try winning the World's with something less!


Air Arms FTP 900 is the newest field target rifle in the Air Arms line.
KalibrGun
From the Czech Republic came the KalibrGun company with a range of precharged pneumatics. According to their spokeswoman, the specs are fluid, but they did show a bullpup called the Colibri, assumedly after the world's smallest (2.7mm) firearm. It's a tiny thing they'll offer in .177, .22 and .25…but they were somewhat vague on the velocities as apparently some things are still in flux. Besides being a bullpup, it's also semiautomatic! Unfortunately, it takes a 300 bar (4,350 psi) fill according to their literature (the sales rep told us that 250 bar is recommended), so I don't know what the U.S. reception will be.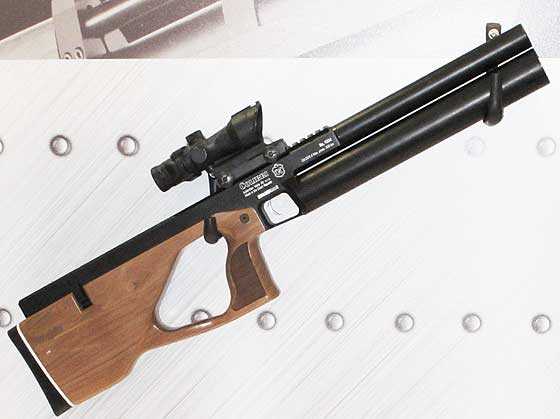 The KalibrGun Colibri is a semiautomatic bullpup.
BSA & Gamo
BSA is located in the Gamo booth, and they keep secrets about their products better than the National Security Agency! I did photograph the BSA Buccaneer SE for you. It appears to be a precharged carbine and I'm sure that someone in the world knows something about it, but they weren't in the booth at this show either time I visited. Perhaps the intelligence community will discover something about this airgun at some time this year. If they do and I learn of it, I'll be happy to share it with you.
Years ago, when BSA was a UK company, the airguns they made were well-designed and had remarkably accurate barrels. Let's hope some of that tradition has carried over to the newest crop of guns!


The BSA Buccaneer SE is a pretty little PCP carbine. It looks like it can shoot!
As far as the Gamo guns go, I couldn't make out what was new and what wasn't. A lot of them were on display, but the confusing plethora of names lead me to abandon the quest. When Pyramyd Air gets some in this year, I'll test some of them for you.
Crosman
Crosman got a healthy exposure in the first report due to the Nitro Piston 2. But I didn't get the full tour until the third day of the show. Let's start with the AK BB gun that everybody was talking about before the show. It's called the Comrade AK and is a semiautomatic BB gun that gets 150 shots per 12-gram CO2 cartridge. Yes, that was the number I was given for a 400+ f.p.s. BB gun!

The Comrade AK BB gun is semiautomatic and gets 150 shots per CO2 cartridge, according to Crosman.
I was also shown the new 760 that has been redesigned for greater velocity and easier pumping effort. They lengthened the pump handle to lighten the load and strengthened the pump rod and pump cup to make the mechanism more efficient.
There are also a couple airsoft guns I'm really excited about. One is an automatic electric pistol that fires both semi- and full-auto. There aren't many full-auto handguns in the world, so I'll let you decide which one this looks like. I hope to test one for you soon.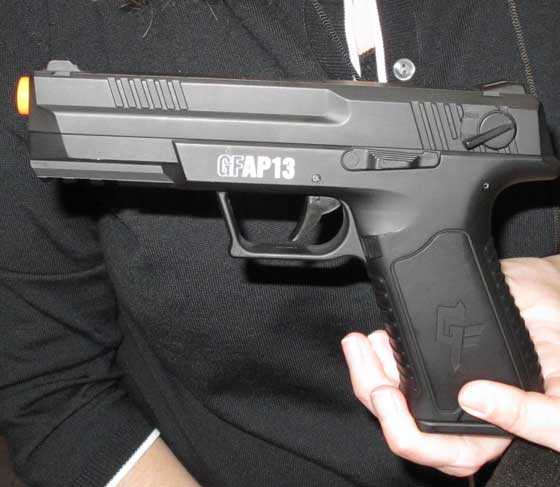 The GFAP13 BB gun is semiautomatic and gets 140 shots per CO2 cartridge, according to Crosman.
There's also a Chicago Typewriter (Tommy Gun) that's a fun AEG. It has an 800-round BB drum that winds on the outside — just like the real thing! I want to test one of these as well.
Finally, I saw a very neat looking CenterPoint dot sight that has a laser built in. So, it's both a dot sight and a laser sight! I don't think I've tested one of those before! This one is a high-quality holographic unit.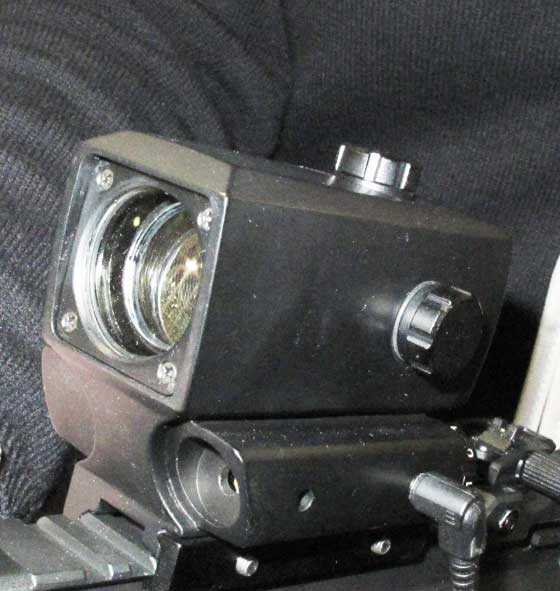 CenterPoint dot sight features both red and green dots, as well as a red laser!
Well, this is the last day of the 2014 SHOT Show. If I see anything new today, I'll stick in one of the reports next week.
by B.B. Pelletier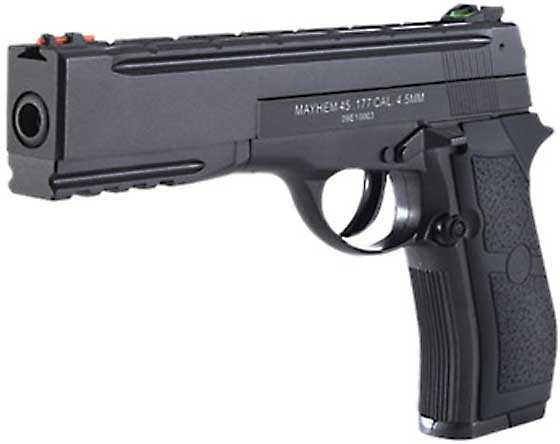 The Mayhem .45 Sport Tactical air pistol is a big, heavy airgun.
Well, it all came down to accuracy, and the Mayhem .45 Sport Tactical air pistol has it in buckets. However — and it's a big one — the trigger is so hard to pull and it's also double-action only that it creates a problem shooting the gun accurately. If this had a single-action trigger, I bet I could shoot half-inch groups with it — especially at 15 feet. But I'm getting ahead of the story.
The first BBs I used were the RWS BBs that I've mentioned in the past. They seem to group just as tightly as Daisy's zinc-plated BBs, and I wanted to give them a chance in this pistol.
I started the test at 15 feet, and the nature of my range dictates a one-hand hold at that distance. I didn't expect very much until seeing the BBs all go to the point of aim. However, I wasn't able to hold the gun still enough to pull the trigger, which requires over 12 lbs. of effort, and still keep the pistol steady.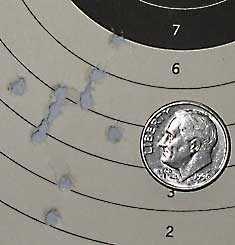 At 15 feet, the pistol shoots to the point of aim, but the heavy trigger-pull caused it to move around more than a little. This 10-shot group measures 1.468 inches between centers.
Since it shot so straight at the close distance, I decided to back up to 25 feet and try it. Normally, I don't shoot BB pistols that far back, but at that distance I could use a barricade rest and this pistol might surprise me.
Barricade rest
A barricade rest is a very steady hold for a handgun — especially an air pistol that doesn't recoil. I grab onto the barricade, in this case a door jamb on my right side, with my left hand and rest my right (shooting) hand on top. Then, I lean into my hands to further steady myself. This eliminates the shakes and allows for a good arm's-length sight picture.
The Mayhem trigger-pull is so heavy that, after the first group at 15 feet, I had to pull the trigger with my middle finger because my index finger was out of strength. The BBs also went slightly higher at 25 feet.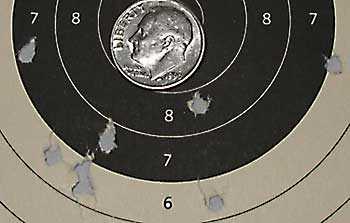 A fair group from 25 feet with a BB pistol. There are 9 shots in 2.192 inches.
After this group, I reloaded the magazine with Daisy zinc-plated BBs for another try. My trigger finger was giving out at this point, so this was the last group I would be able to shoot with any accuracy.
This time, I gave it my best for 10n shots. From where I stood, every shot looked like a perfect release; but when I walked to the target, I saw that the group was more spread out. Ten shots went into 1.873 inches.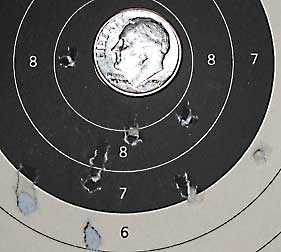 The final group of Daisy BBs did best at 25 feet.
Summary
The Mayhem BB pistol has several things going for it. It gets an incredible number of shots per CO2 cartridge, yet the velocity remains high. The BB magazine is very easy to load and manage. Accuracy is also well ahead of many BB pistols.
On the down side, the sights aren't adjustable. As we see from this test, it would have been nice if they were.
But the trigger is the biggest sticking point I had with this pistol. It's double-action only, so there's no possibility of relief from the excessive pull. I'm usually pretty neutral when it comes to triggers. I shoot so many airguns that I can adapt to just about anything. But this one is too much even for me. I know I could have shot better with a trigger-pull half as heavy or with a single-action pull.
by B.B. Pelletier
Announcement: Before we begin, I want to mention a correction I've made to the review of the Evanix Conquest. Apparently, the dual mag is not included with the gun. It was simply sent with the gun for testing. I've edited the review and noted the edits. The dual mags are available for purchase.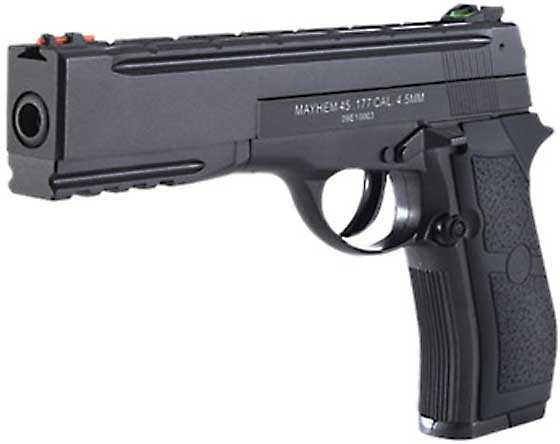 The Mayhem .45 Sport Tactical air pistol is a big, heavy airgun.
Today, we'll look at the power and velocity of the Mayhem .45 Sport Tactical air pistol. As you recall, this pistol is double-action only (DAO), which means the trigger retracts the striker before firing. So, the trigger-pull will never change as you shoot. It's always going to be heavier than a single-action trigger.
Don't confuse single-action and double-action with single-stage and two-stage. They describe entirely different things. Single-stage triggers are those that have no movement when the gun is cocked. You just pull until the gun fires. Two-stage triggers have a lighter first stage that stops at stage two, which then should break or release crisply when the gun fires.
The test
I always learn something from every test I conduct, and this time was no different. For the first time in my experience, I found a CO2-powered BB gun that needs a short break-in! I tested the gun with Daisy zinc-plated BBs. The initial shot went just 351 f.p.s., and I was stunned to see that it was 80 f.p.s. below the advertised velocity. But the next shot went 404 f.p.s., then the third went 373 and so on throughout the first 10 shots.
I saw a high of 429 f.p.s. around shot 10, but the average was far below that number. I reloaded the stick magazine and tried again!
The second time was similar to the first. Shot one went 399 f.p.s., and then the velocity dipped as low as 384 f.p.s. Shot six then went 423 f.p.s., which was the fastest shot in the second 10-shot string that averaged 407 f.p.s.
Then, the gun started performing better and better. The average of the third string was 427. String 4 averaged 421 and on and on until the 11th string averaged 408 f.p.s. That was the final string that made over 400, but there were still about 20 more usable shots left.
Yes, this pistol gave me over 130 shots on a CO2 cartridge! It was as close as I have come to cold fusion in quite a while. I almost had to break the velocity test into two parts because the testing was taking so long. Is that music to your ears? This is the ideal air pistol for those who lament the cost of buying CO2 cartridges.
The fastest recorded shot went 435 f.p.s., so the gun seems to be right on spec. I even got used to the DAO trigger and believe I can control it during the accuracy test.
The gun doesn't seem to need much recovery time between shots to maintain its velocity. At times I was firing as fast as a shot every 5 seconds without hurting the velocity at all.
Yes, this pistol gave me over 130 shots on a CO2 cartridge! It was as close as I have come to cold fusion in quite a while. I almost had to break the velocity test into two parts because the testing was taking so long.
Magazine
I said in Part 1 that the magazine looked to be easier to load than most stick mags — now I can say that with confidence. The follower locks down in place positively, yet a flick of the finger releases it after the magazine is loaded.
Safety
The safety on this pistol is located on the right side of the frame and is one that requires a forward push on the milled plate to unlock the safety lever, which then moves up and down. It's a design that requires some thought to operate, but it completely disconnects the trigger from the striker, rendering the gun incapable of firing.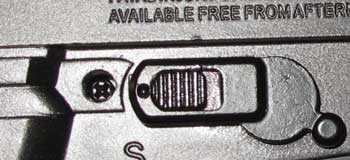 The safety takes a bit of getting used to, but it works fine.
Made for a silencer
The Mayhem has deep roots in the world of airsoft. One of the ways you can tell is by examining the muzzle, which is threaded for a fake silencer. While it wouldn't change the minimal report (the gun really isn't very loud), it will probably appeal to many shooters. I don't know that there's an optional silencer for this handgun — yet; but if there's enough demand, one probably could become available in the future.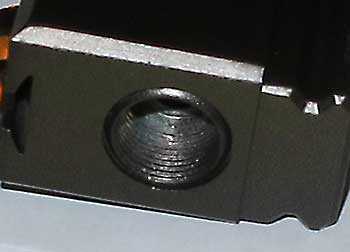 The muzzle is threaded for a fake silencer.
This is the ideal air pistol for those who lament the cost of buying CO2 cartridges.
So far
All things considered to this point, the Mayhem has a lot going for it — especially the gas economy! But at the price, it's going to come down to accuracy.
by B.B. Pelletier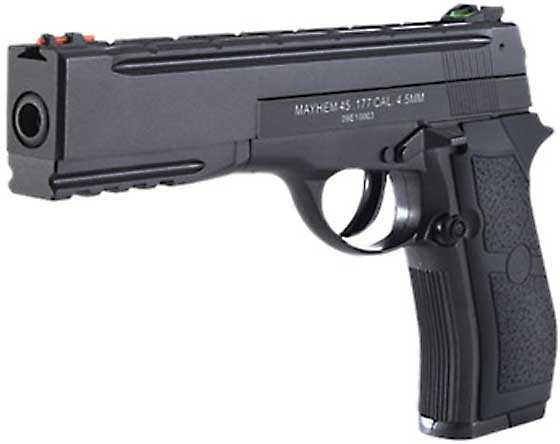 The Mayhem .45 Sport Tactical air pistol is a big, heavy airgun.
If you liked the Dan Wesson revolver we looked at a couple weeks ago, here's another realistic airgun for you — the Mayhem .45 Sport Tactical air pistol. This one is a semiautomatic pistol style, and the owner's manual says that it fires semiautomatically. Without a 12-gram CO2 cartridge installed, all I could feel was a double-action-only trigger-pull, because every pull of the trigger was obviously also cocking the internal striker. So I installed a cartridge to see if it really is semiautomatic once charged.
Not a semiautomatic
Indeed, this is not a semiautomatic! When you pull or squeeze the trigger, you're also retracting the internal striker against a powerful spring. A true semiautomatic would cock this striker spring for you by the action of firing. In a firearm, the moving slide would push the external hammer back until the sear caught it and then all you would have to do is squeeze the trigger a little each time to release the sear. That is the definition of semiautomatic. The exposed hammer you see on the gun is a solid cast piece that doesn't move, so the real striker (the correct name given to a weight that is internal and doesn't pivot on an axis, but moves straight back and forth to impact the end of the valve stem) is inside the frame of the gun and hidden from view.
Some people insist that double-action-only applies to just revolvers, but that is incorrect. Glock sells only firearm pistols, but they label their triggers correctly as double-action-only. The Mayhem trigger is also DAO.
General impression
The Mayhem is very large and heavy. The grip feels wide — like the grip on a double-stack firearm pistol in which the cartridges in the magazine are offset to accommodate twice as many in the same magazine height.
The entire exterior of the pistol is metal except for the grip. That's where the weight of 2.29 lbs. comes from.
The sights are the fiberoptic type that I usually criticize for their lack of precision, but this is a BB pistol and probably capable of shooting to the same precision as the sights can control. So, in this case, the sights match the capability of the gun very well. There are no adjustments for these sights. The front is a red tube that is largely unprotected from impact and the rear is a curved green tube that appears as two green dots.
The entire top of the pistol is a stylized Weaver rail that Pyramyd Air calls an optics rail. Under the muzzle, there's also a short Picatinny rail for accessories like tactical flashlights. Weaver bases will attach to Picatinny rails, but not vice-versa.


Looking down on the top of the pistol, we see the stylistic "Weaver" sight rail that extends the length of the gun. It should accommodate standard Weaver bases, but it has non-typical scalloped notches instead of the usual square Weaver notches.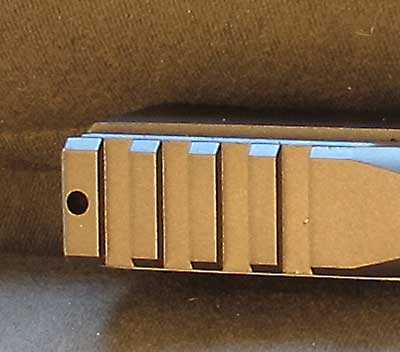 Underneath the slide at muzzle, there's a short Picatinny rail for tactical flashlights and lasers.
The whole plastic grip panel pulls back to expose the CO2 cartridge housing. Loading is quick and easy and the screw that tensions the CO2 cartridge does not show when the grip is forward.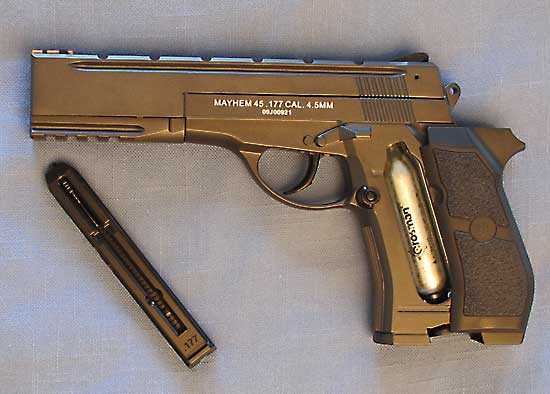 The grip pulls back to expose the CO2 receptacle. The BB magazine is a metal stick-style.
The 19-shot BB magazine is a stick-type located in the front of the grip. It's made of metal and better-made than 90 percent of the stick magazines I see in similar airguns. The spring-loaded follower pulls down and locks at the bottom so you can load the magazine with one hand. There's a wide opening for loading the BBs. When you're finished, push the base of the follower that protrudes through the bottom of the magazine, and it'll unlock and spring forward to tension the BBs.
The slide doesn't move on this gun, nor is there any blowback sensation. The trigger stacks toward the end of the pull, allowing you to control the gun for more precision. It isn't as easy to control as a gun with a single-stage trigger, but you can learn to control this kind of trigger pretty quickly. I imagine a gun like this will be chiefly used for plinking at soda cans and targets of equal size, though I do plan to test it on bullseye targets.
Power
The power is rated at 430 f.p.s. Since this is a steel BB gun, there can be no confusion about what that means. Only steel BBs will be used in the gun, so any that I try should go approximately that fast.
Airsoft heritage
This is another air pistol that made the transition from airsoft. You can see that in several places, starting with the threaded muzzle that's obviously meant for a silencer. A second clue are multiple references made in the owner's manual, where the instructions refer to this as a "soft air" pistol.
There's nothing wrong with transitioning from an airsoft gun, We saw that in the Dan Wesson revolver and liked it very much. But this pistol must stand on its own merit, so it's going to be treated the same as all other BB pistols. As nice as it feels, I hope it does well!
by B.B. Pelletier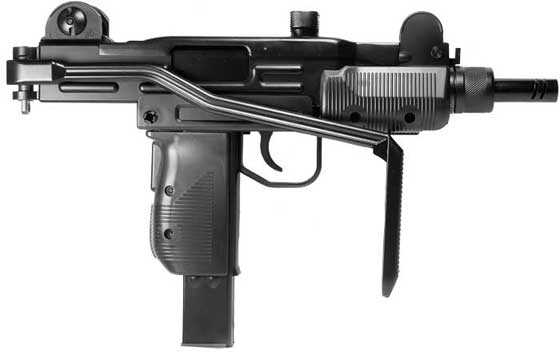 Cybergun brings us this Mini Uzi BB submachine gun. Owners think it's accurate and today we'll find out.
Today is accuracy day with the Mini UZI CO2 BB Submachine Gun by Cybergun and I have been awaiting this day with great expectations. That's because almost every owner review I've read about this gun emphasizes how accurate it is. Today, we'll find out.
To be the most accurate BB submachine gun I have tested, this gun will have to beat the EBOS from Umarex that I tested for you in November 2010. That gun was truly phenomenal at 15 feet on full-auto. About 40 full-auto shots could be covered by a half-dollar.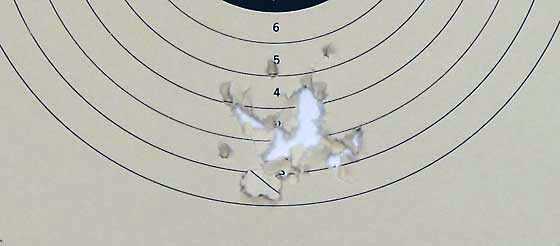 Forty shots from the EBOS on full-auto at 15 feet made this ragged little group.


Ten Daisy zinc-plated BBs from the EBOS went into this little screamer.
I don't normally compare guns, but this one time it seems right to do so because we're talking about accuracy with a BB gun, which is usually nothing special, and other features like firing modes and realism of the guns. So, just this once, I'm relaxing my rules and making comparisons.
And, the Cybergun UZI is coming out looking pretty good. The recoil sensation is so sharp that the wire stock actually stung my face every time I shot the gun. I had to pad it with a shop rag, because at first I thought I had been hit in the cheek by a rebounding BB — it's that sharp. Holding the gun tight into the shoulder helps a lot, but I think you'll also need a pad. One of the old jell pads that Pyramyd Air used to sell would work perfectly for this.
Aside from the face slap, that heavy bolt really does jar you when it moves. No other BB submachine gun has a sensation to match this one.
If this was a pellet gun, I would test several different pellets for accuracy, but most BBs are very similar — especially the ones we can buy here in the U.S. I went with Daisy zinc-plated BBs, which were the same ones I used in the velocity test in Part 2.
The first target was shot at the regulation 15 feet and, as I was getting slapped in the face by the wire stock on every shot, I'm afraid my concentration was not at its best. Still, the 10-shot target was very encouraging. In fact, it encouraged me enough to step back two feet so I could use a doorframe as a support to see how much better I could do.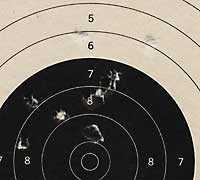 Not a bad target for the first try. I was encouraged.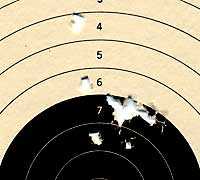 This target was shot from two feet farther back (17 feet) and proved that the gun can shoot!
The second target was a real good one, with a group almost as small as the best EBOS group. As you can see, however, the shots are striking the bull a little high, so I adjusted the front sight down four clicks to see what would happen. One more group would tell the story.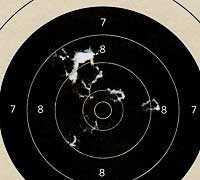 The shots moved down in the direction of the sight adjustment. This is another good group, but not as tight as the best EBOS group.
This gun has excellent sights. Coupled with the accuracy, which is well above average, those sights can get you on target a lot farther out than 15 feet. I imagine you could roll pop cans at 20 yards with one of these.
The bottom line
I have to give the accuracy edge to the EBOS. It shot the best groups, hands-down.
But for realism and fun, this Cybergun Uzi is hard to beat. I'm glad they didn't have BB guns like this when I was a kid, because I couldn't have afforded to keep them in ammo! And, I would have gotten into a lot more trouble than I did.
by B.B. Pelletier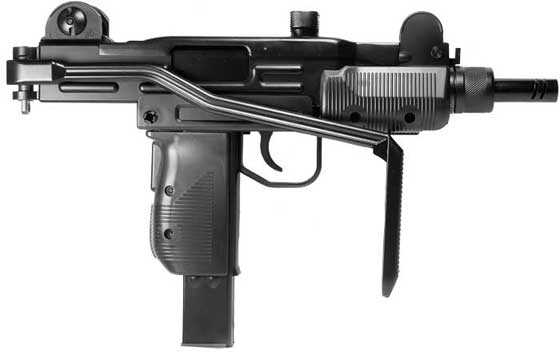 Cybergun brings us this Mini Uzi BB submachine gun.
This gun's last report had lots of good comments from owners and from those who have been researching it. I think the most powerful feature it has is the fact that it fires from the open bolt. When you shoot, a heavy mass reciprocates in mock recoil. It's the difference between an M3 grease gun that jumps all over the place when it fires and an HK MP5 that barely recoils at all. This Mini UZI CO2 BB Submachine Gun by Cybergun really jumps around.
I can see why people are impressed by its performance in full-auto. It feels so realistic with that heavy steel bolt working back and forth on every shot.
With the open bolt comes an open receiver, also just like the grease gun. When the gun's ready to fire, the receiver looks menacingly open and ready for action.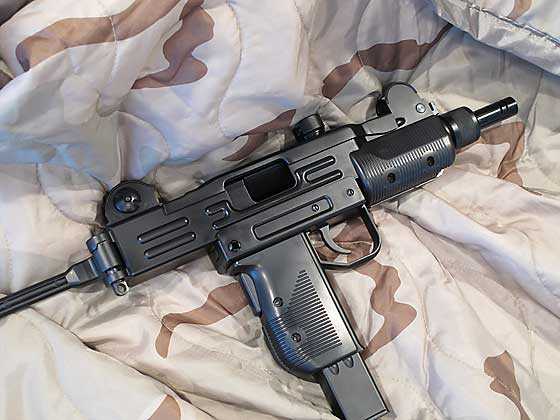 This gun is open for business!
Accuracy is another feature we have yet to test, but everyone who owns the gun praises it for its accuracy. We'll find out.
Charge the magazine and load
The 12-gram CO2 cartridge fits into the stick magazine, small end first. Don't forget to put some Crosman Pellgunoil on the tip of each new cartridge before you pierce it. That will be blown through the valve, where it gets on every sealing surface and keeps the gun sealed against gas loss. With it, your gun should last for years. Without it, you may have an early failure.
The BBs are loaded one at a time, with the spring-loaded follower held down with the other hand. It isn't the easiest thing to do, but it works. I found I could load 26 BBs, despite the manual stating that it holds 25.
Gas consumption
Most owners understand that a CO2 gun at this power level will get about 50 shots per cartridge. I tested for this and found that it does get 50 shots, but the last ones are not as fast as the average shots from the first magazine.
Velocity
They advertise this gun at 344 f.p.s. I tested it with Daisy zinc-plated BBs, which I have found in the past to be the largest and most uniform BB Pyramyd Air carries. In other words, they're always the fastest. In the test gun, they averaged 350 f.p.s. for 10 shots. The velocity range went from 345 to 357 f.p.s. I was pausing about 10 seconds between each shot for this test, and the temperature was 71 degrees F.
I tested how much velocity is lost by firing very fast. We know that cooling a CO2 gun causes it to shoot slower, and the CO2 is what cools the gun. The faster you shoot each shot, the faster the gun cools down and slows down. To test this, I fired 12 quick shots as fast as I could pull the trigger, then chronographed the next shot. It went 313 f.p.s. That should tell you guys who modify the gun to shoot full-auto what's going to happen. As you hold down the trigger, you're going to lose velocity to the tune of about 40 f.p.s. That's not such a great loss and I think you won't really notice it.
Gas consumption
Another thing I wanted to test was the overall gas consumption. Other owners said they're getting about two magazines per CO2 cartridge, which would be 50 shots. That sounds about right, given that the gas also has to operate that heavy bolt. I chronographed shot No. 49 at 283 f.p.s. Shot 50 went 269 f.p.s. Because I was able to get 26 BBs in the magazine, I also got shots 51 and 52. Shot 51 was lost, but shot 52 went 231 f.p.s. The gun is definitely out of gas at that point, though the bolt still comes all the way back. To load more BBs and attempt to get a few extra shots is just asking for a jammed BB in the barrel.
Handling
I'd forgotten that the gun has a grip safety but was reminded when I started shooting it. Also, it didn't register that I had to cock the bolt for the first shot. Since we had a question about how you can see the sights with that fat knob in the way (the cocking knob), I'm showing it here, so you can see the wide slot cut through the center.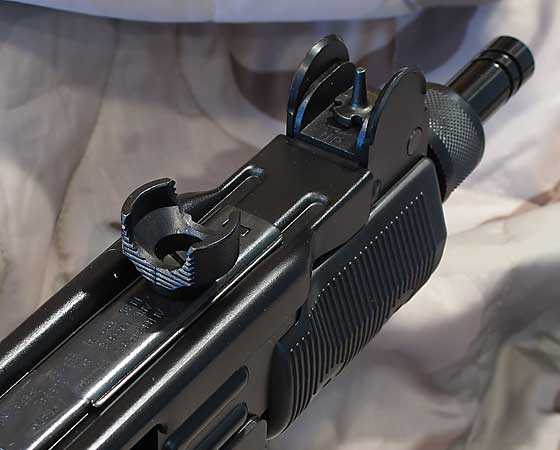 Here is how you sight through the cocking knob.
Rating so far
It's difficult to remember the other BB submachine guns at this point in time, but I think I can safely say this one has the most realistic feeling recoil. That heavy bolt really rocks the gun when it moves. I do like the grip safety, and even the trigger seems pretty crisp and positive for this type of BB gun. Although there are a few plastic parts on the outside of the gun, this is a very heavy airgun that gives a solid sense when you shoot it. If it's as accurate as the owners say, it'll be a winner in my book.
by B.B. Pelletier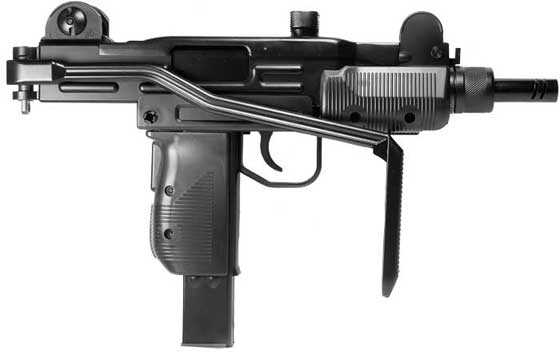 Cybergun brings us this Mini Uzi BB submachine gun.
Let's take a look at the Mini UZI CO2 BB Submachine Gun from Cybergun. What we have here is a steel BB-shooting gun made and packaged by an airsoft manufacturer and sold by distributors. Everything (the gun, box, owner's manual, etc.) is made in the style of airsoft guns, not airguns. I even found the gun itself called a "Softair" in the instructions, which look exactly like other airsoft manuals, so there isn't much doubt where the gun comes from.
I was surprised when I was reviewing the other BB submachine guns that no one asked why I wasn't testing this one as well. I guess it's just flying under the radar at the moment.
The other BB submachine guns
Here are the BB submachine guns we have looked at thus far in this blog. First was the Russian-made IZH Drozd that we looked at here. I also did another report on it here. Then, I tested the EBOS from Umarex. The reports on that gun are here. And let's not forget the H&K MP5 PDW gun. That one was covered here. And, of course, we also looked at the Umarex Steel Storm. That report can be found here.
We've looked at four BB submachine guns to this point. This Mini Uzi is number five. The gun is really a pistol-sized gun, as most submachine guns are. Though small, at just 14 inches overall, the gun weighs 4.85 lbs., which makes it a real chunk. What isn't as clear from the description online is the presence of the folding wire stock that increases the length to 23-1/2 inches and gives you a more-than-generous pull of 15-7/8 inches. While I've never fired an Uzi, I have shot enough 9mm HK MP5s to know that you don't shoot them from the hip if you expect to hit anything. These modern submachine guns all have good sights and are meant to hit targets out beyond 25 yards, so the rifle stock comes in quite handy.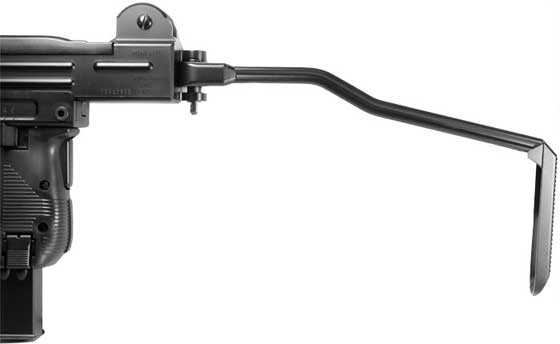 The wire stock extended. The bottom of the hinge pin has a hole to use as a rear sling swivel anchor.
This gun comes to you in semiautomatic, only. There's a three-position selector switch on the left side, but the A for automatic is a non-functioning setting. You cannot slide the selector switch over to the A. You just have R for semi-auto and S for safe. However, there's a way to make the gun full-auto.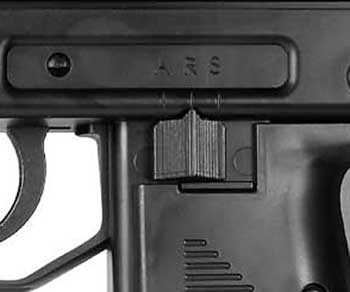 As the gun comes from the box you cannot access the full-auto mode (the letter A) with the selector switch.
Full-auto mode!
Yes, with a small modification, it's possible to make this gun full auto. It does require some disassembly and any parts modification that you would do (and you must modify the gun for it to be full-auto capable) voids your warranty. Since I'm going to return this gun to Pyramyd Air, I won't be modifying it. If you're interested, you can find out how to modify the gun online, but bear in mind that the warranty will be voided.
The gun is powered by one 12-gram CO2 cartridge that fits in the bottom of the stick magazine. The magazine also holds 25 BBs under spring pressure, and I'll report to you about the feeding reliability when I write the velocity test.
Some unusual features
Now for some things you don't see on other BB guns. The first is a grip safety that blocks the trigger until squeezed by holding the grip. These safeties make guns safe in situations…like when they fall to the ground, which tactical guns will do from time to time. They also make it harder for bad guys to shoot you with your own gun while you're holding it.
The other strange feature is going to make me look like a fool, but I really haven't figured it out yet. There's a heavy steel collar around the barrel that has a ratcheting mechanism with a positive lock. Inside the mechanism, there's a coiled spring. But what it does is anyone's guess. It might be threads for a silencer. If so, why all the extra parts and complexity? The barrel shroud moves when this collar is loose and not when it's tight. The manual doesn't address it, so I guess I'l just have to figure it out as we go.
The folding stock has no positive lock for either position. There's just a spring-loaded detent that holds it wherever it is. It presents no problem as a BB gun stock, of course, but many owners may want a locking stock like the firearm.
Owners love it
I read the reviews of this gun on the Pyramyd Air site, and the thing people like the most is the realistic blowback recoil simulation. The bolt is heavy, and apparently the gun feels delightfully realistic when fired.
A second thing most owners commented on was the accuracy of the gun. With the four reviews listed of the other BB submachine guns above, the Mini Uzi will be up against some stiff competition, but a look at this gun's sights tells me that, whoever made it, they were thinking about hitting the target.
The one drawback seems to be an excessive use of gas, however, it isn't as bad as it sounds. One owner said he thought he was getting about two magazines worth of shots per cartridge. That would be 50 shots. With the blowback feature that also uses some gas, that's about right. It's just that this gun makes you want to shoot-'em-up so much that you're blowing through the gas that fast.
Sights
The sights are an aperture rear and post front, and they're both adjustable. The front sight adjusts for elevation and the rear for windage. The front sight uses the same positive spring-loaded pin lock found on an M-16. I hate adjusting this type of front sight system because it's so cumbersome; but once it's dialed-in, it never changes. There 's a tool in the box for this, so you don't need to carry a 5.56mm cartridge in your pocket — but it's still difficult to adjust.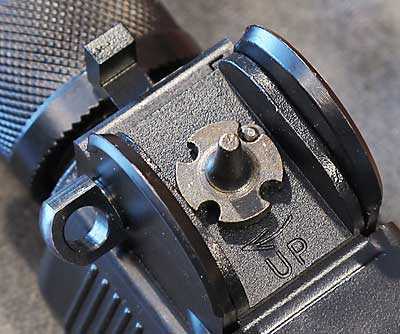 Anyone with M-16 experience will recognize how this sight is adjusted. Press down on the spring-loaded pin and turn the sight base in the correct direction. A special tool is provided with the gun for this. Note the front sling swivel stud on the left of the sight ear.
The rear sight is an L-shaped leaf with two different apertures, one large for rapid target acquisition and the other smaller for precision. A screw on the left side of the assembly moves the leaf from side to side, and of course you adjust it in the direction you want the pellet to go. The aperture rear sight is a no-brainer sight, which is why most of the world's military uses them. Just look through the rear hole and position the front post where you want to BB to go — it's that simple.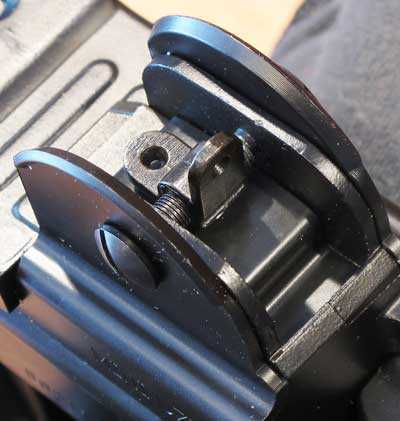 I like the sights on this gun a lot. They show the same kind of innovation that would be found on the sights of an M1 Carbine, with an even greater range of adjustability.
Finally, the gun comes with sling swivel studs front and rear (the bottom of the stock hinge pin has a hole, and there's another anchor on the left side of the frame at the front sight). This comes from the firearm, of course, and from the airsoft heritage. As heavy as the gun is, a tactical sling would be a nice touch.
Overall observations
The advertised velocity (344 f.p.s.) is fast, but not blistering. I like that because, frankly, when steel BBs get up around 500 f.p.s., they get hard to manage downrange. Since you can't hunt with BBs anyway, this velocity is right where it needs to be and the blowback feature doesn't have to use up that many shots.
This is a heavy gun that feels substantial. Yes, there's plastic here and there, but most guns made today have some somewhere. The customer comments are quite reassuring, making me want to rush into this test faster than usual.