Posts Tagged 'Walther LGV Challenger'
by Tom Gaylord, a.k.a. B.B. Pelletier
Blog reader Kevin asked me this question recently, and I embraced it because I usually don't even have time to think about which airgun I would prefer to shoot. There's always another blog, a feature article and 5 other deadlines pressing on my time…so thinking like this is not a luxury. It's a fantasy! Then, Kevin asked this question and "forced" me to stop and think about it for today's report. Ahh! Happy Friday!
The first gun that pops into my head when I ask this question is the Diana model 27 rifle. It's just such a simple, uncomplicated airgun that I guess it serves as my happy place. But as I think about it, other guns pop up. The Air Venturi Bronco, the Falke model 70, the Diana model 25 are 3 more that come to mind immediately. They all share the model 27′s chief attribute — ease of operation. In short, they're all fun airguns.

Diana's model 27 breakbarrel is so light, smooth and easy to operate that it epitomizes everything that's good about airgunning in my eyes.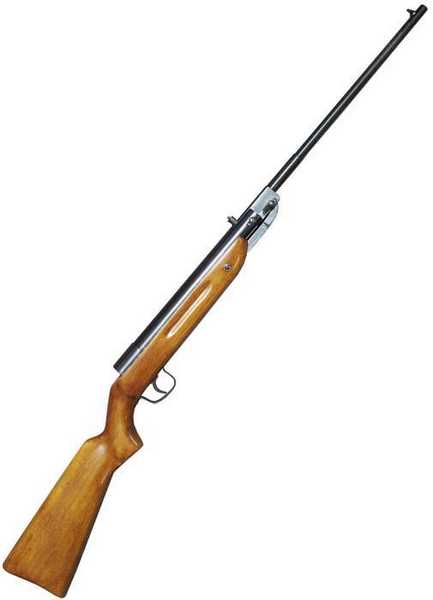 Falke model 70 is another vintage breakbarrel that's light and smooth like the Diana 27.
To take the fantasy a little farther, have these guns always been the ones that do that, or have there been others? Yes! There have been others!
My straight-grip Webley Senior pistol is exactly like the Diana 27 in this respect. It's small and easy to operate. I still own this pistol, although there's seldom any time to actually shoot it. But it's right there in the drawer where I can put my hands on it whenever I want. I guess that's good enough. I guess it will have to be.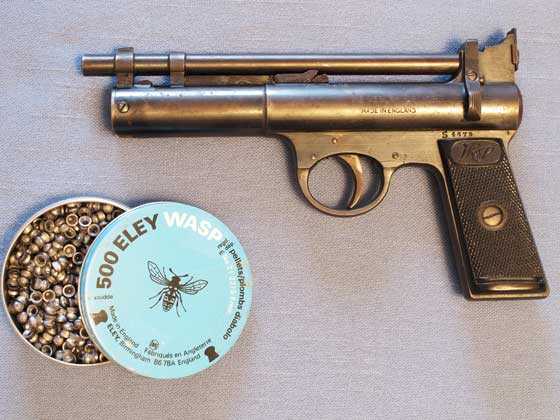 I've owned this straight-grip Webley Senior since the early 1970s. It's easy to cock, has a nice trigger and is fun to shoot. Not terribly accurate, but it's one of those rare guns I let slip by because everything else works so well.
When I think a little longer and harder, my Beeman R8 pops into view. It comes in later because it has a scope, and scopes do complicate things. So do target sights, but my Walther LGV Olympia 10-meter target rifle now comes to light. And with it comes the new .22-caliber LGV. The target rifle took longer to pop up because it's a heavy gun. The .22 took longer because of its power. When I want to play, power is the farthest thing from my mind.
Firearms?
Kevin didn't ask me what my favorite firearms were; but since this is Friday, I'll take a little license and include them, as well. Right now, my new PO8 Luger is a favorite because it's accurate, recoils very little and it eats my handloads like they were candy! And when I think of that gun, I cannot overlook my Ruger Single-Six in .32 H&R Magnum. It has great power and almost no recoil. For cutting out the center of a bullseye, that little Ruger wheelgun is a dream.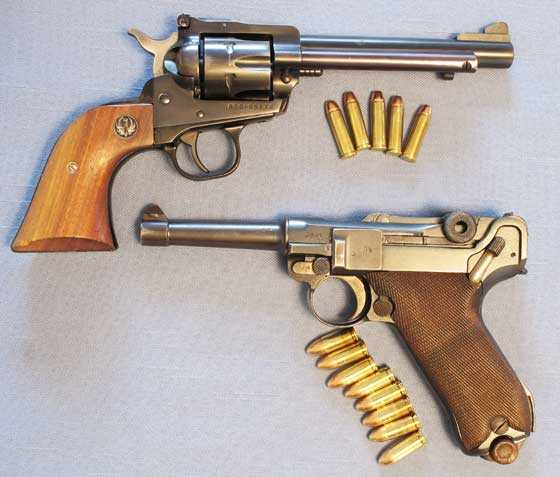 The Ruger Single Six is chambered for the .32 H&R Magnum. It's light, yet very powerful and will out-penetrate a .357 Magnum on a steel target. The 1917 Luger is such a smooth shooter that it's like eating peanuts — I can't stop! Both guns are very accurate.
Then, I think of my O3A3 Springfield. It's one of the few military rifles that gives me an honest sub 2-inch group at 100 yards. If it didn't recoil so much, I'm sure it would have popped up even sooner.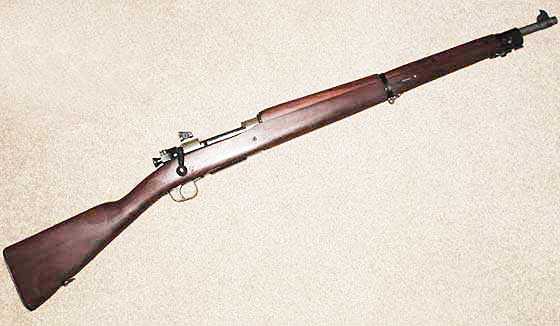 This O3A3 Springfield will smack you with recoil when you're shooting full-house loads. The short stock gives it a running start at your shoulder. But the accuracy is stunning!
My M1 Carbine is also a favorite — not for its accuracy, which is just average — but for the fact that it drops the empty cases on top of the shooting bench! Most autoloaders throw their cases a country mile, but this little sweetie piles them up for me. With more training, I'm sure I can get it to put them back in the box!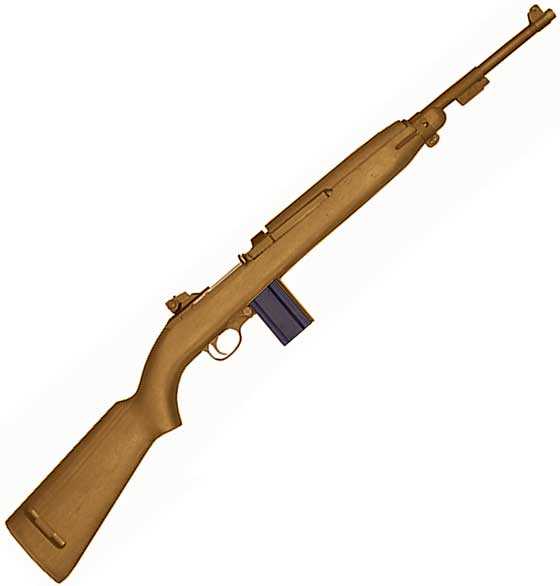 My M1 Carbine is well-behaved. Next, I'm going to teach it to put the fired cases back into the box!
Guns I wish I still had
Now comes the Great Lament — the ones that got away! I had a Bernardelli Baby in .25 ACP that would put 3 shots into the bottom of a soda can offhand at 30 feet. Most .25s are lucky to hit dinner plates at that distance, but this little pistol was a good one. I let it get away. I recently bought another Bernardelli Baby in the hopes of doing the same thing. Alas, this one is a dinner-plate special.
Ruger .44 Magnum Blackhawk with 10-inch barrel
They're very collectible now; but when I had my 3-screw Ruger Blackhawk, they were just good guns. I was too stupid to know that the one I had was an exceptional shooter. I figured I could always get another one.
Custom .458 Winchester Magnum
I have written about this rifle many times. I shot it with a 550-grain cast lead bullet, and it would put 10 shots into less than 2 inches (outside measurement) at 100 yards. It was like owning a target-grade 45/70. Stupid me — I thought I would always be able to find another one just as good. Haven't yet!
What kind of shooting do I like to do?
I'm pretty easy to please. I like whatever kind of shooting I happen to be doing at the time — usually. The things I hate are magnum spring rifles that buzz like bottles of hornets, slap me in the face and have no accuracy. I also disdain black rifles that can't group in less than 3 inches at 100 yards. In fact, I dislike almost anything that isn't accurate.
I enjoy shooting a .45 Colt Single Action Army with accurate loads and feeling the plow-grip roll in my hand during recoil. I like shooting a nice 1911 and feeling the slight burp of recoil when I hold my thumb over the manual safety. I shot a Walther P38 recently that had a nice trigger and is very accurate. My experiences with P38s aren't that good, but this one was memorable. I could burn up a lot of 9mm ammo in that one.

When I came home from the hospital several years ago, I received this Single Action Army as a gift from the readers of this blog. It is a favorite of mine because it mimics the feel of a Gen 1 Colt perfectly!
Same for the PO8 I got for Christmas. The ergonomics are legendary and the trigger is extremely good for a Luger (their trigger linkages usually make for poor triggers). My handloads are moderate enough that I can shoot this pistol for the rest of my life and not put any wear on it!
I enjoy holding a 10 with a target air pistol and seeing the pellet hit the pinwheel. I love seeing 10 shots from an accurate rifle sail through the same hole at 100 yards, knowing the hole they made is smaller than half an inch. I love shooting 5 shots from a 10-meter rifle and seeing a group smaller than a tenth of an inch.

Holding a 10 with a pistol is very enjoyable!
I love shooting my Daisy Avanti Champion 499 offhand and making quarter-inch groups. My shooting buddy Otho bought one for himself this past December and has been doing the same thing ever since.
I enjoy shooting a Garand and hearing the shot go off but not feeling the recoil. I know it's there, but the push is so slow that it doesn't seem to count. The same holds true for my .357 Magnum Desert Eagle. It's got enough power to drop a steer, but the soft recoil feels like a 1911 shooting +P ammo.
Best of all
But the thing I like above all is when I solve some problem of inaccuracy and turn a bad gun into a real shooter. It doesn't happen as often as I'd like, but from time to time I do hit one out of the park. I'm hoping to do that with my Ballard someday. And maybe my Meteor, as well.
by Tom Gaylord, a.k.a. B.B. Pelletier
This topic was received well last week, so I'm doing the second list today. Several readers have reminded me of other gifts I should mention, and some of them will make today's list. If I don't list something you suggested, there's a reason. These are the things I recommend without question.
Stocking stuffers/small, neat gifts
Gifts in this category don't cost a lot but will have great meaning to airgunners. Some of them are things that shooters won't buy for themselves.
Air Venturi Pellet Pen and Seater
Someone suggested the Air Venturi Pellet Pen and Seater, and I have to agree. This is a great gift, and it's one that a lot of shooters won't buy for themselves.
EyePal Peep Sight Master Kit
The EyePal Peep Sight Master Kit is another gift that people may not think about; but when they have one, they'll love it. I chose the Master Kit so you can use it with both rifles and pistols (and bows if you're an archer, too). Even if you don't wear prescription glasses, the EyePal is a great aid for your safety glasses to sharpen your vision and make that front sight clear!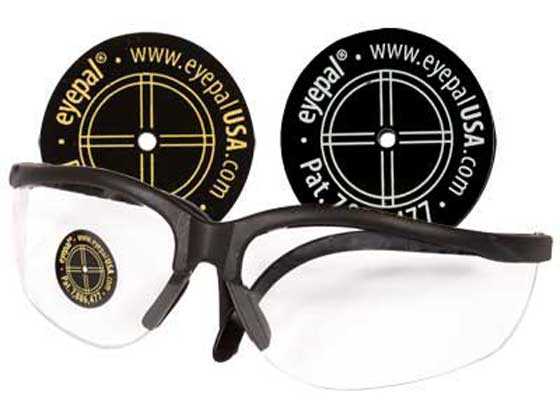 The EyePal makes the front sight appear razor sharp. Use it on prescription glasses and non-prescription safety glasses, alike.
Pellet selection
Here's a gift I'm putting in this section, although it will cost you some money. Pyramyd Air offers 4 tins of pellets for the price of 3. Your favorite airgunner has pellets he or she really likes, but they don't buy them all the time because they may cost too much.
Consider this gift similar to one of those fancy boxes of candies or Christmas smoked meats that are given this time of year. Nearly everybody likes them, but we don't spend money on them for ourselves. So, this is an opportunity to buy something your airgunner wants but will never buy himself. The one problem you have is finding out which pellets to buy. Rather than try and guess what your airgunner wants, I'm going to leave this up to you. You need to do a little investigation, maybe look at the pellets that he has on the shelf, or just talk to him and find out what he really wants but hasn't bought.
Gifts under $50
Crosman 357
For a pistol shooter the Crosman 357W is a great idea. It's a revolver, so you get multiple shots per loading; and for the money, it's an accurate little air pistol.
Walther Multi-Tac tactical knife
If your airgunner is a gadget junkie, you can't do much better than a Walther Multi-Tac tactical knife. It's a tool kit for your pocket. And it has a 440C stainless steel blade to cut whatever you need.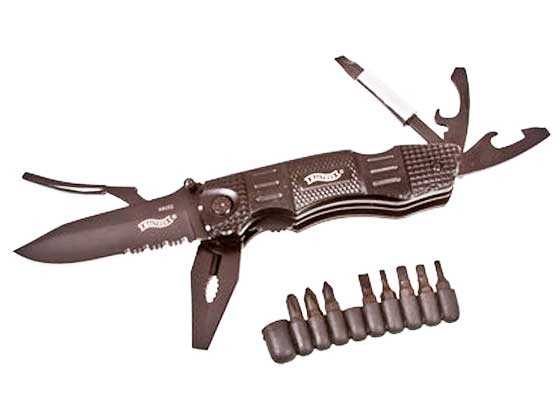 Walther's Multi-Tac knife is a toolkit in your pocket!
Walther Xenon Tactical flashlight
Can't have too many flashlights! Not when you need one! The Walther Xenon Tactical flashlight uses two CR123A batteries to cast a 60-lumen light. That means you get both good battery life and a powerful light.
Gifts under $100
Some of these gifts are just over the $50 mark, so look at them carefully. This category holds some of the most surprising values in airguns.
Legends Makarov
The Makarov from Umarex is a wonderful BB pistol that I just can't stop talking about. I bought one for myself after testing it! It's extremely accurate for a BB pistol, which means you really can use it for target practice. It runs on CO2, so don't forget to get some CO2 cartridges if you give this gun as a gift.
Simply one of the best BB pistols you can buy at the price, the Legends Makarov is accurate, well-made and inexpensive.
Crosman 2240
Another fine CO2 pistol is the single-shot Crosman 2240. It's a .22-caliber, bolt-action pistol that's powerful and accurate, plus it serves as the basis for many aftermarket modifications.
Ruger Mark I
The Ruger Mark I air pistol is powered by a spring-piston. It isn't very powerful, but it's a great companion for the handgun shooter who only wants to poke holes in targets and plink with a pistol that's easy to cock and accurate.
Stoeger X5 air rifle
The Stoeger X5 air rifle is a wonderful, youth-sized, spring-piston rifle that has enough quality to make my list. The trigger is a little stiff, but the accuracy is there. It reminds me of the Hämmerli 490 that is, sadly, no longer available.
Gifts a little over $100
I created this category for those items that are a few dollars over $100 but are still within the realm of economy. Sometimes, the things you want are just over the line — no matter where you arbitrarily draw it.
Shooting Chrony Alpha chronograph.
The Shooting Chrony Alpha chronograph is the instrument I use to document 98 percent of the work I do. I use it because it's small, portable and very reliable. Sure, there are reasons to use my Oehler 35P chrono, sometimes; but most of the time, this is my choice.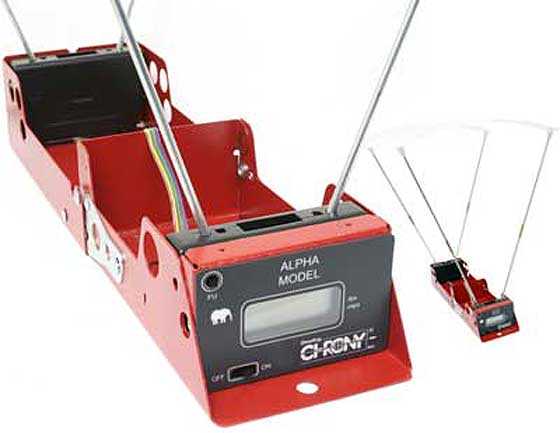 Though it's just $10 over a hundred, the Shooting Chrony Alpha has everything you need!
Daisy Avanti Champion 499 BB gun
I have to recommend the Daisy Avanti Champion 499 BB gun because it is the target shooter's dream. Where other BB guns will put 10 shots into three-quarter of an inch at 16 feet when all is right, this one will put 10 into a quarter-inch at the same distance. This is a shooter's tool, not a hunting gun or bragging-rights gun. Be sure to stock up on the special Avanti Precision Ground Shot if you get this gun because it definitely adds accuracy! And order some special 5-meter BB targets that are sized right for this gun!
IZH 60 air rifle
I am also going to put the IZH 60 air rifle on my list this year. Though the accuracy slipped when the gun's design was changed several years ago, this is still a delightful youth rifle that's easy enough for even smaller kids to cock. It has reasonable accuracy, and the sidelever design means that fingers can't be pinched in the mechanism like they would on guns having sliding compression chambers. I recommend the single-shot over the repeater for reasons of safety.
Daisy 953 TargetPro
I normally don't recommend combo guns, but I'll make an exception for the Daisy 953 TargetPro. It's a pellet rifle with enough accuracy to get you into the game without spending a bundle.
Gifts under $300
Gifts in this category start to take on the aura of personal taste. My recommendations may not be what your airgunner wants, so you need to find out if they are before you buy anything.
Benjamin 392 pump
This one is very personal. You airgunner will either like it or not. So, check first. The Benjamin 392 pump is the best multi-pump rifle going, these days. Its heritage dates back to the late 19th century, so there's a lot of history there. I also chose the .22-caliber 392 for its power; but if your airgunner only wants to shoot at targets, then the 397 is the same rifle and shoots cheaper .177 pellets.
Daisy Avanti 853
The Daisy 853 is right at $300, but its a great buy even at that price. It features a Lothar Walther barrel and has been used by millions of kids for competition in the decades it's been around. The trigger is rough, but there are several websites that tell you how to fix it. To get anything with better accuracy, you're going to need to spend several hundred dollars more.
Diana RWS LP8
Want an air pistol that shoots like a rifle? The Diana RWS LP8 is the one to get. It just may be the best value in a really good air pistol these days. It has plenty of power and is very accurate. The breakbarrel cocking is on the heavy side, but an adult male shouldn't have a problem.

For the price, the Diana RWS LP8 air pistol can't be beat.
Gifts without limit
Now, we can spread our wings a little. This is where many of the better airguns live.
HW 30S
Let's start with the HW 30S. You know this rifle as the Beeman R7 when it's in a different stock, but airgunners know the HW 30S has the same powerplant and the same adjustable Rekord trigger as the R7. If your airgunner likes the styling of the HW 30S, it's less expensive; but if he wants an R7, it's also a wonderful spring-piston air rifle.
Diana RWS 48
If you want a big bruiser spring-piston air rifle, the Diana RWS 48 is one I would recommend. And, I recommend it in .22 caliber, where you get all the power it can develop. The 48 is a sidelever that's surprisingly easy to cock, despite the level of power it delivers. It's also very accurate. One thing, though, the 48 is a big air rifle, so be sure your shooter knows what he's in store for. Definitely for adults, only.


Diana 48 sidelever from RWS is large and in charge!
TalonP air pistol
There's no other smallbore air pistol that can hold a candle to the TalonP air pistol from AirForce Airguns. It comes in .25 caliber and has 10 shots per fill at over 50 foot-pounds of muzzle energy! Many rifles can't equal it! When I tested it for accuracy, I got sub-one-inch groups at 50 yards. It's a hunting air pistol extraordinaire.

The TalonP pistol from AirForce Airguns leads the pack for power and accuracy.
Walther LGV Challenger
If you want a really fine breakbarrel spring rifle, you can't do better than the Walther LGV Challenger. I recommend the .22-caliber gun because it was so smooth when I tested it.
by Tom Gaylord, a.k.a. B.B. Pelletier

Walther LGV Olympia was a top-quality 10-meter target rifle from the 1970s.
It's play time again, today, for this is the day we shoot the Walther LGV Olympia target rifle at 25 yards in preparation for shooting it at 50 yards. This report is a look at the vintage Walther LGV platform as a sporter, rather than the 10-meter target rifle that it is. With Walther bringing out the new LGV models, I thought it would be nice to see how the original LGV did in the same test.
I have no idea which pellet to choose for shooting at 25 yards — to say nothing of shooting twice as far. So, today's test was nothing beyond my best guess of what might work well. Because I'll be shooting at a fairly long range with this relatively low-powered spring rifle, I knew the pellets had to be domes. Wadcutters start to fall off in accuracy after 25 yards, and pointed ones aren't that accurate to begin with. But good domes can be as accurate as good wadcutters, and they hold their accuracy a heck of a lot longer.
I'm shooting 10-shot groups off a rest at 25 yards, using the target sights that belong on the rifle. Ten shots should show which pellet or pellets are the best. I'll also try each pellet seated flush and seated deep, so there will be 2 groups shot with each pellet.
JSB Exact Express
The JSB Exact Express pellet is a fairly lightweight domed lead pellet that's new to me. I tried it in the velocity test for the first time and learned that flush-seated pellets leave the muzzle faster than deep-seated pellets. That was the reverse of what 2 other pellets did in that test.
The first 10 shots were with flush-seated pellets. They made a group that measures 0.657 inches between centers; but within that group, there are 8 shots in a 0.257-inch group. What can we say about that? There were no called fliers, and I feel the 2 shots that strayed from the main group did so on their own, without the rifle contributing. I'm looking at the entire group size and ignoring the smaller group-within-a-group. However, this pellet does merit another chance at 50 yards.

Ten JSB Exact Express pellets seated flush went into 0.657 inches, but 8 of them made a 0.257-inch group. Maybe I should try this pellet at 50 yards.
Next, I shot another 10 JSB Exact Express pellets, only these were seated deep with the Air Venturi Pellet Pen and Seater. This time, the group measured 0.778 inches, and you can clearly see the dispersion of the shots. Deep-seating does not suit this pellet.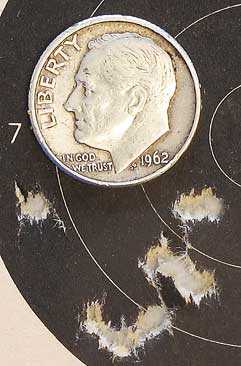 You don't have to use calipers to see that this group of 10 JSB Exact Express pellets that were seated deep are scattered all over the place. Group size is 0.778 inches.
RWS Superdome
The next pellet I tried was the RWS Superdome, which so many shooters love. I had no idea how Superdomes would do in the LGV Olympia, and this test would be the way to find out. First, I shot them seated flush. Ten pellets made a group that measures 0.695 inches between centers. The group was fairly round, which I took to be a good thing, because it means the pellets are fairly evenly distributed.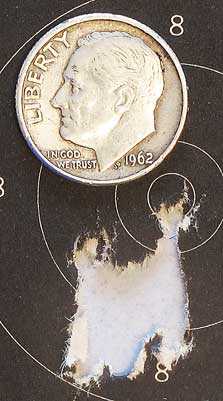 Ten flush-seated RWS Superdomes went into 0.695 inches at 25 yards.
Next, I shot 10 Superdomes seated deep in the rifling. This time, the group wasn't as pretty, but it did measure only 0.649 inches, which is slightly better than the flush-seated group. It's a toss-up between the different seating methods, though deep-seating does seem a trifle better. Perhaps the difference would be greater at 50 yards.

Superdomes seated deep made the better group by a small margin. Ten went into 0.649 inches.
JSB Exact Heavy
The final pellet I tested in the LGV Olympia was the JSB Exact Heavy that I included in the velocity test. We wouldn't normally select a 10.34-grain pellet for a rifle of the LGV's limited power; but when you shoot out to long distances, the weight of the pellet is more important than its starting velocity.
The first group was shot with the pellets seated flush. It measures 0.354 inches, making it the best group thus far. This group is also very round, which is another point in its favor. I think I've found the best pellet to shoot in this rifle at 50 yards!

Ten JSB Exact Heavy pellets seated flush made this remarkable 0.354-inch group at 25 yards.
I now wondered if could this get any better. The next 10 pellets were shot deep-seated and, alas, the answer was…no. I'd gone as far as I was going in this test. Ten deep-seated Express pellets made a 0.79-inch group.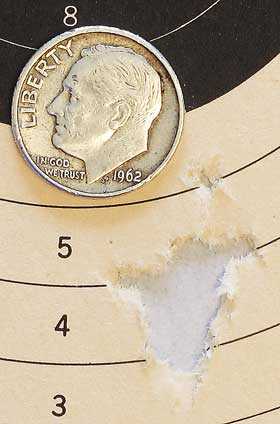 When seated deep, the Heavy pellets opened up to a 0.79-inch group at 25 yards. There's one pellet hole above the main group that may be hard to see, but it's there.
So, here at the end of the test we have a very clear example of one seating method triumphing over the other. The Express pellets wants to be seated flush in this rifle.
We also have a clear example of one pellet standing apart from the others. The flush-seated Express pellet made a group that was significantly smaller than all the other pellets I tried. That doesn't mean it's the best pellet in the LGV — just the best of these 3 that I tested. When I go to the 50-yard range, I need a day with zero wind — and I'll try the JSB Exact Express first.
Considerable drop
You may have noticed that the groups were all below the bullseye. That was with the rear sight cranked up pretty high. There's still some room for more height; but at 50 yards, I know the gun will be printing its groups low. I'll have to compensate for that.
by Tom Gaylord, a.k.a. B.B. Pelletier

Walther LGV Olympia was a top-quality 10 meter target rifle from the 1970s.
Don't get confused. The title of this blog is the Walther LGV Olympia field test, but the first part was titled, We interrupt our regular program….I used that title so I wouldn't give away the topic that first day. This report is, indeed, about the Walther LGV Olympia of history, but this is a new take on it. I already reported on it two and a half years ago, but that report was about the rifle as a vintage 10-meter target rifle, which at that time was all the LGV had ever been. Only in 2012, when Walther brought out their new line of sporting rifles under the LGV model name, was the LGV anything except a breakbarrel target rifle.
We've now looked at the .177-caliber Walther LGV Master Ultra rifle and also at the .22-caliber LGV Challenger (which I now own), so I thought it might be nice to see how the original LGV stacks up to these new rifles. This test will look at the vintage LGV Olympia at 25 yards and at 50 yards. At both distances, I'll use the rifle's target sights. I mentioned last time that when I tested the FWB 300S at 50 yards, it didn't seem to matter that much whether target sights or a scope was used, so I see no need to switch the sights on this rifle.
One thing I have learned in the two and a half years since testing the LGV target rifle is how deep-seating the pellet often has a dramatic affect on accuracy. We have seen that with other airguns, but this will be the first time I think I've tested it on a vintage target rifle. This should be an interesting test. And, because the LGV is a breakbarrel, it plays right into the test plan, because breakbarrels are the easiest type of guns in which to seat the pellets deep.
Naturally, I'll use the Air Venturi Pellet Pen and PellSet seater to seat the pellets. It's so easy; because once you set the optimum seating depth, it never changes until you change it. If you don't have a tool, you can seat pellets with a ballpoint pen…but the seating depth is not adjustable.
Today, we're just going to see how well the rifle performs with some sample pellets that might get chosen for the 25-yard test. I'll test the velocity of all pellets both seated flush with the end of the barrel and also seated deep. That will be a good comparison.
JSB Exact Heavy
You must wonder if I've lost my mind, testing the 10.34-grain JSB Exact Heavy domed pellet in a rifle this weak. No, that's one of the types of pellets I expect might do well at 50 yards. It certainly has the capability to buck the wind, so I thought it might be a good one to test. I have almost no experience shooting airguns of this low power level out to 50 yards, so this is just a hunch.
JSB Exact Heavys averaged 500 f.p.s when seated flush with the breech. The low was 499 f.p.s., and the high was 501 f.p.s., so there was a total variation of just 2 f.p.s. That's remarkable for a spring-piston air rifle — I don't care what type it is! This pellet generates 5.74 foot-pounds of muzzle energy.
When seated deep, the same pellet averaged 511 f.p.s., with a low of 509 f.p.s. and a high of 512 f.p.s. The spread opened up to 3 f.p.s., which is still astonishing. Deep-seated pellets averaged 11 f.p.s. faster than flush-seated pellets. The average muzzle energy was 6.0 foot-pounds.
RWS Superdome
The second pellet I tested was the ever-popular RWS Superdome. This is another pellet that I believe might do well at long range when fired from this air rifle. When seated flush, they averaged 552 f.p.s., with a 17 f.p.s. velocity spread from 543 f.p.s. to 560 f.p.s. The average muzzle energy this pellet generated when seated flush was 5.62 foot-pounds.
When seated deep, the average velocity increased by 10 f.p.s. to 562 f.p.s. The spread ranged from 557 to 565 f.p.s., so it tightened up to just 8 f.p.s. The average muzzle energy was 5.82 foot-pounds.
Beeman Kodiak
Next, I tested the Beeman Kodiak pellet. This is another heavy pellet that I plan to try at 25 yards; and if it does well there, at 50 yards, too. At 10.65 grains, this is the heaviest pellet in today's test. When they were seated flush, Kodiaks averaged 483 f.p.s. in the LGV Olympia. The spread went from a low of 478 f.p.s. to a high of 487 f.p.s., so 9 f.p.s. in total. That's still pretty tight. The average energy was 5.52 foot-pounds.
When seated deep, the average velocity for Kodiaks increased to 501 f.p.s. The spread now went from a low of 479 f.p.s. to a high of 515 f.p.s., so a total of 36 f.p.s., which is on the high side. The average muzzle energy was 5.94 foot-pounds.
JSB Exact Express
The JSB Exact Express pellet is one I haven't tried before. It's a dome that weighs 7.87 grains. Normally, I would try the JSB Exact RS pellet in a rifle like this; but when I tested it in the past as a 10-meter rifle, I did try the RS pellets and they didn't seem to do very well at 10 meters. So, I welcomed the opportunity to include this new JSB dome in the test.
Although it's heavier than the RS, this Express pellet is still the lightest pellet I tried in this test. When seated flush, it averaged 585 f.p.s., with a spread from 569 to a high of 593 f.p.s. The average muzzle energy was 5.98 foot-pounds.
Of course, I expected this pellet to go even faster when seated deep, but it didn't. In fact the relationship between deep-seating and velocity turned around 180 degrees with this pellet. The average for deep-seated Express pellets was 547 f.p.s., with a range that went from 545 to 553 f.p.s. The average muzzle energy was 5.23 foot-pounds. So, just like we have seen in some tests of deep-seated pellets in the past, here's another surprise. I wonder what will happen in the accuracy test?
Trigger-pull
The Walther LGV Olympia has an adjustable 2-stage match trigger. The one on my rifle is set very nicely, and stage 2 breaks at 10.5 to 11 oz. I can do very fine work with a good trigger like this.
Impressions thus far
I was surprised by how consistent the rifle is with JSB pellets. The fact that 3 pellets increased when seated deep, while one decreased, is also something curious. It just points out the need to test a gun in as many ways as you can think of, I guess.
Best of all, this test gives me one more opportunity to shoot and handle this rifle. I own many nice airguns, but my work doesn't often afford the chance to play with them; so, tests like this one are a refreshing change for me. And I know that many of you get enjoyment from reading about a fine vintage airgun. It's a nice change of pace.
I do hope the newer readers will see how nice these older airguns are and maybe use the links to explore them more thoroughly. If you're new to the shooting sports, this is where a lot of the fun is found.
by Tom Gaylord, a.k.a. B.B. Pelletier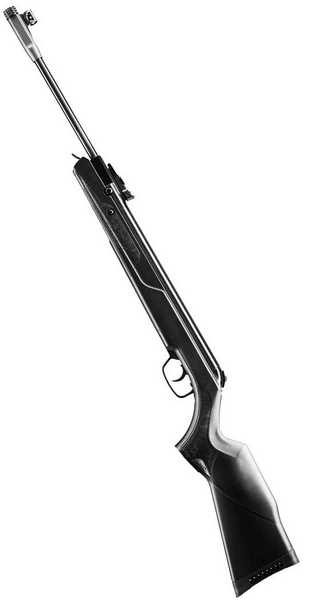 Walther's LGV Challenger is an exciting new sporting breakbarrel springer.
Wow! That's my assessment from today's test. Please read the explanation of how I arrived at that result.
Today, I shot the .22-caliber Walther LGV Challenger air rifle at 25 yards with open sights. You'll remember that it has fiberoptics front and rear, but they can be defeated by lighting the target brightly and sitting in a dark place to shoot. Fiberoptics are not good sights for precision shooting, but they're good for a fast snap shot when hunting. These can be used both ways, so they're wonderful.
I always become concerned when I shoot indoors at 25 yards — especially when using open sights. I have only a few inches of clearance through the garage door; and if a pellet goes astray, it could plow into the woodwork around the door. I needn't have worries with the LGV, however, because the only place those pellets went was to the target.
JSB Exact Jumbo Heavies
Reader Kevin asked me to try the rifle with 18.1-grain JSB Exact Jumbo Heavy pellets, so I did. I was concerned that a 12 foot-pound rifle wouldn't be able to handle a pellet so heavy, but that wasn't a problem. In fact, this pellet gave me the best 10-shot group of the test, measuring 0.78 inches between centers. That's just a hair over 3/4 of an inch!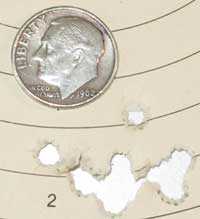 Ten JSB Exact 18.1-grain heavies made the best group at 25 yards. It measures 0.78 inches between centers. This is great for 10 shots at 25 yards with open sights.
Crosman Premiers
The first group was low on the target, so the rear sight was adjusted up for the next pellet, which was the 14.3-grain Crosman Premier. As you can see, I lucked into the perfect sight adjustment for this pellet and tore out the center of the bullseye. I realize this makes a lot of people feel better about the group, but I hope you readers realize that it's simply a matter of sight adjustment that determines where the pellets land. If the gun will shoot a tight group, then you can move that group anywhere you want. This one certainly does shoot very tight.
Ten Premiers landed in a group that measures 1.147 inches between centers. It's not as tight as the previous group, but we expect that to happen with different pellets. The irony is that because this group is centered on the bull, it'll look better to those who think the object is to the strike the center of the target regardless of anything else.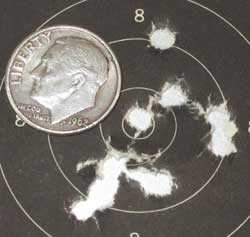 Ten Crosman Premiers made a 1.147-inch group. It happens to be centered on the bull but isn't as tight as the previous pellet.
Predator Big Boy
I did try a group of 10 Predator Big Boy pellets in the LGV; but at 26.2 grains they're clearly too heavy for this powerplant. They opened to 1.657 inches at 25 yards, which told me this isn't the right pellet for this rifle. I could also hear a very long lag between firing and the pellet hitting the trap, so the velocity must be in the high 300s or low 400s.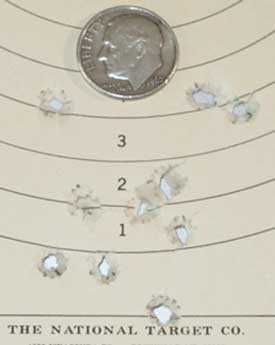 Ten Predator Big Boys made an open 1.657-inch group. This is obviously not the pellet for the LGV.
JSB Exact Jumbo Express
I finished the test with 10 JSB Exact Jumbo Express pellets that weigh 14.3 grains. I tried it because, in the 10-meter test, 13.4-grain JSB Exact RS domes didn't do as well as the others. But at 25 yards, this pellet certainly did very well. Ten pellets grouped in 0.786 inches, just a whisker larger than the group of 18.1-grain heavies…and really too close to call.
Ten JSB Exact Jumbo Express pellets made3 a 0.786-inch group at 25 yards. This is too close to the group made by the Jumbo heavies to call the difference.
The bottom line
So far, the LGV is living up to its name and even going beyond. I say beyond because this new LGV delivers 12 foot-pounds, where the target rifle by the same name was less than half that powerful.
This rifle is smooth, it holds well, the weight is distributed very well and the trigger is light enough for good work. When you cock the rifle, it's smoother than any breakbarrel I've ever tested…other than a few that were tuned to perfection. I had the chance to shoot another LGV while I was at Umarex last week, and it felt identical to the rifle I'm testing. Rick Eutsler, who usually tests airguns costing $200 and under, fired the rifle before he was ready on the first shot. He, too, was blown away by the feel of the gun.
I know these rifles are going to cost a lot, and I know that not everyone will be able to purchase one, but that doesn't detract from the fact that this is the best new breakbarrel to come along in the past half-century. I may not live in a mansion, but that doesn't prevent me from appreciating one when I see it.