by B.B. Pelletier
Part 11
Part 10
Part 9
Part 8
Part 7
Part 6
Part 5
Part 4
Part 3
Part 2
Part 1
Before I start today's report, Joe B. in Marin and Duskwight were really impressed by that air bazooka I showed on the blog for Day 2 of the Roanoke airgun show , so today I included a picture of the ammo. Duskwight — all U.S. bills are the same size, so those projectiles are very large.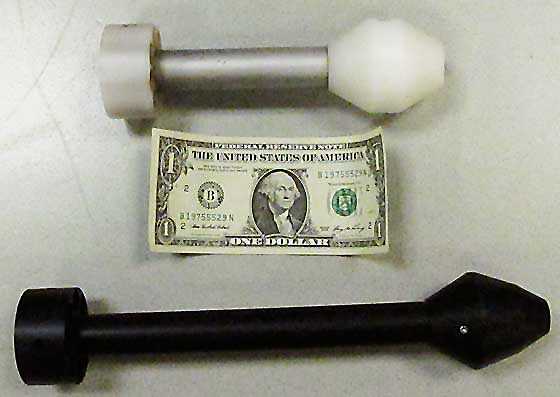 Two of the air bazooka projectiles from the Roanoke airgun show dwarf a dollar bill.
Well, this report has taken on a life of its own! I never intended for it to grow this huge, but things just kept popping up and I had to address them. Today was supposed to be my report about tuning my San Anselmo gun once again with the new Pyramyd Air piston seal, but something strange happened at the Roanoke Airgun show to change that.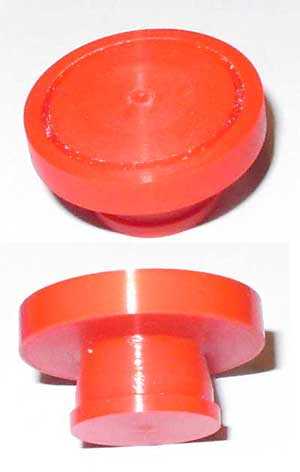 When Pyramyd Air assumed responsibility for the high-end Beeman airguns, they had this piston seal made for the FWB 124. It's a 70-durometer material with a good parachute channel. I'll install it in a 124 and report my findings.
This seal is also available from Pyramyd Air, although I don't think it's online yet. They're using them so fast that they'll soon make another run of seals.
Mark Taylor, a reporter for the Roanoke Times, wrote a nice piece on the show that Edith sent to me while I was on the road. Mark stopped by my table to introduce himself. As we chatted, he asked me if there were any airgun tuners who could tune his FWB 124 to shoot smooth. Of course, Paul Watts was at the show, but Mark knew that Paul has a long waiting period, and he wanted his gun back as soon as possible.
So, I thought, "Why don't I tune his rifle?" Then, I won't have to open up mine one more time. Mark's rifle has a 38,000 serial number, so the tight compression chamber shouldn't be quite the problem that it is on mine.
Mark went out to his car and got the rifle for Mac and me to examine. It's a deluxe model in excellent condition. When we cocked it, we both knew something dreadful was wrong. It cocks much harder than a 124 should, and there's a grinding feel to the mainspring as it's compressed. Today, I'll shoot the gun for a baseline, then in the next report I'll pull it apart for a look-see and a smooth tune.
From the feel of the cocking effort, I believe someone has tuned this rifle for power and left smoothness to suffer. The chronograph will tell the story, of course. If I'd experienced this 124 as the first 124 I'd ever seen, I would have thought all the wonderful reports about it were lies. The cocking effort is a whopping 27 lbs., which is about right for a Beeman R9 but quite a bit too heavy for a 124.
Mark stressed that all he wanted from his rifle was smooth shooting. Well, the 124 can certainly deliver that in spades, and it doesn't have to give up much in the way of power to do so! While Mark was at my table, Mac picked up a 124 from a table nearby and showed Mark what the gun should feel like. The difference was night and day.
The rifle test
This rifle cocks with a gritty, rubbing feel. Through the cocking slot, I can see what appears to be moly on the spring, so the gun has definitely been opened up at some time. I wonder what I'll find inside?
Crosman Premier 7.9-grain pellets
The standard test pellet is a Crosman Premier 7.9-grain domed pellet, because it's the one more shooters choose for their accurate airguns. Mark's 124 was shooting this pellet at an average of 761 f.p.s. as it was tuned. The spread went from a low of 752 f.p.s. to a high of 770. That's an 18 f.p.s. total spread, which isn't too bad. The average muzzle energy is 10.16 foot-pounds
RWS Hobbys
The next pellet I tried was the RWS Hobby. At 7 grains, it's among the lightest of the pure lead pellets. Hobbys averaged 808 f.p.s., with a spread from 798 to a high of 819 f.p.s. The average muzzle energy for this pellet is 10.15 foot-pounds
JSB Exact 8.4-grain pellets
For some reason, JSB Exact domes weighing 8.4 grains were the most powerful of all. They averaged 764 f.p.s. with a spread from 757 to 777 f.p.s. The average muzzle energy is 10.89 foot-pounds.
While I shot the rifle over the chronograph, I felt the harshness of the powerplant. The vibration was quick and powerful, and the forward lunge of the rifle that's a trademark of the 124 was quite noticeable. I won't be able to cancel that out, but I should be able to get rid of all the vibration and the scraping feeling when cocking.
Now that I have a baseline of performance, I can pull this rifle apart and see what's inside. It'll be a pleasure to tune this rifle sweet for Mark so he can feel how a 124 is supposed to behave. That'll be in the next report.