by B.B. Pelletier
Photos and testing by Earl "Mac" McDonald
You've waited a long time for this part of the report. And there's a good reason that I made you wait. Mac had a problem with the Beeman R7. Instead of shooting like it should, the groups he got were all over the place. But there's a happy ending, with things working out as they should. Now that we know what was happening, we're going to turn this test into a tutorial.
For those who are regular readers, this will be easy to solve, although in the weeks that Mac and I worked on it, it didn't seem easy. That's because we are separated by half a continent, plus I don't always trip to things on the first pass. I hope many of you will identify with that.
As I present the report, I'll give you clues, just as they came to me. Only you won't have a thousand other things that surrounded the clues, so they'll jump out at you like billboards. You'll have to remember that I was puzzling this thing out from the opposite side — the "before"side, if you can understand that.
When Mac first unpacked the box, he exclaimed his pleasure that the scope was already mounted on the gun — just as many of you would like it to be. He also remarked that there was noticeable droop in the barrel on this particular gun. There, those are two huge clues that I didn't pick up on in the beginning.
Mac was also delighted that the R7 seemed to be sighted in from the start. Unlike a lot of guns, there was no need to zero this one. There's another clue.
But the groups he reported, once he got around to accuracy testing, went from mediocre to bad! He also noticed that the R7 seemed to diesel long after it should have stopped. Even after hundreds of rounds had been fired, it was still smoking, and Mac could hear a difference between many of the shots. He theorized that the intermittent dieseling was causing the groups to open up.
Let's look at some of the groups Mac shot. Maybe you can figure out what has happened with just what you've learned so far.
JSB Exact 8.4-grain pellet
The JSB Exact 8.4-grain pellet was the most accurate of all pellets in the first accuracy test Mac shot. At 30 yards, 10 pellets went into a group measuring just 1.20 inches across the two farthest centers.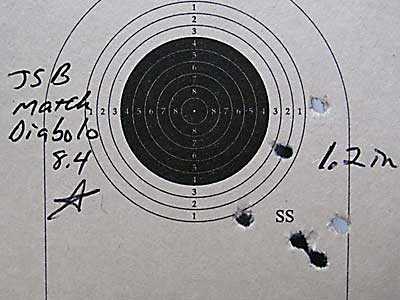 Tightest group of this test was with 10 JSB 8.4-grain Exacts.
Crosman Premier 7.9
Next up were Crosman Premier 7.9-grain pellets. They were not quite as good as the JSB Exacts, grouping into 1.90 inches.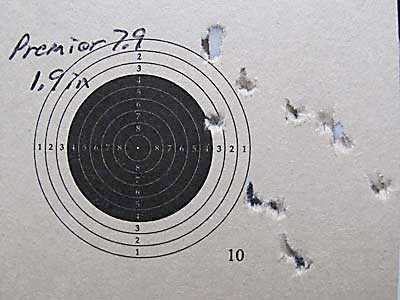 Ten Premier lites are spread out over 1.90 inches. But there is something else about this group.
With the Premiers we begin to get a powerful clue as to what may be happening. Can you tell by looking at the group what may be transpiring?
RWS Superdomes
The next pellets Mac tried were the RWS Superdomes that shot so well in the velocity test. That gave him two interesting groups, one measuring 2.20 inches across and the other measuring 2.40 inches across.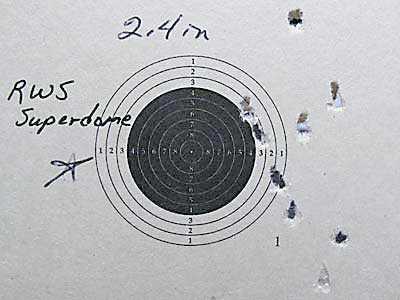 The larger of two groups of 10 RWS Superdomes.
By now, the problem seems obvious. Especially in light of the clues given. But I still didn't pick up on it. As I told you, there were a thousand other things happening during this time, and I wasn't paying attention to the details that now seem both bold and obvious.
So Mac and I discussed what could possibly be going wrong. Why was the R7 performing at such a poor level? Had he cleaned the barrel with J-B Non-Embedding Bore Cleaning Compound? Indeed he had. Not once, but three times! That wasn't it.
Weeks went by and then it hit me. The new R7 has a muzzlebrake. Could some of the pellets be touching that on their way out the muzzle? If so, problem solved. Mac dutifully removed the muzzlebrake but no joy there. The hole was large and untouched. The crown was also untouched and perfect. He shot groups with the brake off that were just as large as with it on. Something else had to be wrong.
Then, I asked him why we were spending so much time looking into the accuracy of this one rifle when others we simply tested and took the results. He said it's because we know the R7 has a good track record. But there was an even more compelling argument. Look at the Superdome group again. Notice anything, besides how long it is? Yes, it's not nearly as wide as it is long. And that's the biggest clue I will give you today. Tomorrow we'll discover the reasons for all of this.