by B.B. Pelletier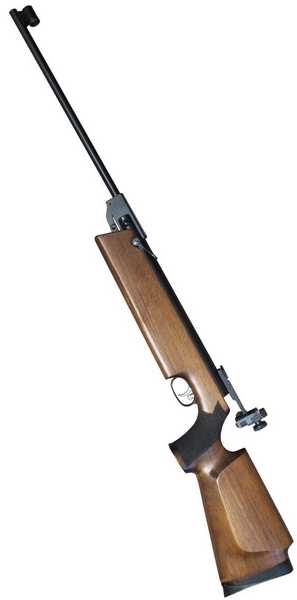 Is this Custom Match the best HW 55 ever made? Read the report to find out.
This is a special Part 3 for the HW 55 Custom Match target rifle. It will be a retest of velocity, following a strip-down and lubrication with black tar to get rid of some uncomfortable vibration when the gun fires. When I tested it for velocity in Part 2, I discovered the rifle was shooting way too fast for an HW 55. Probably the Beeman Company replaced the mainspring when it went back to them for an overhaul. At any rate, when RWS Hobby pellets average 694 f.p.s., as they did for this rifle, you know something is wrong. I'll try to remove as much of the harshness as I can with this tune, and I really don't care how much velocity is lost.
A word about the Part 2 report is needed here. I combined it with Part 2 of the report on Mac's Diana model 60 target rifle because I don't want to crowd the blog with too many reports about vintage air rifles. Since the velocity report goes pretty quick, I just put the two of them together. But, today, the 55 CM gets its own report, because as well as testing velocity I'll be disassembling the rifle and applying a tune. There will be some observations for that, as well as the velocity results afterward, so this work rates a report of its own. Of course, there will still be a Part 4 accuracy test to come.
Disassembly
There were no real surprises when disassembling the rifle, except to find a very canted mainspring. That was where the vibration came from — of that there can be no doubt. I rooted around in my collection of replacement mainsprings and found one that Jim Maccari made for a TX 200! Talk about inappropriate for an HW 55 — but the dimensions of this spring were so great that I had to try it.
I discovered that the trigger was still coated with a drying, tacky layer of factory "tractor grease." I kidded Hans Weichrauch, Jr., about this years ago and he had no comeback. From his perspective, the grease is always fresh and new. I removed everything I could from the trigger but expected no change in performance. This was more of a conservation step than a restorative one.
The new spring was very liberally buttered with black tar, and the rifle was assembled once more. However, when I cocked it the first time, I knew that wasn't the solution. The cocking effort started out light but quickly stacked until I was pulling back around 30 lbs. of effort. That's way too much for a 55 target rifle.
On the plus side, I probably added at least another 50-75 f.p.s. to the velocity. But, with a target rifle, who needs velocity?
So, once more, the action came apart. This time I used a spring that had very similar dimensions to the one that came from the gun — only this one is straight. It got buttered with tar, too and then everything went back together.
How does the rifle feel?
The rifle now requires 26 lbs. of force to cock, compared to the 20 lbs. before — so that part isn't good. The firing cycle, however, feels lighter and much quicker. Gone is the objectionable vibration that came from the canted mainspring. This rifle will now be easier to shoot accurately.
Velocity
The first pellet tested was the RWS Hobby that was such a speed demon with the old tune. Back then, the rifle averaged a blistering 694 f.p.s. with this pellet. That's way too fast and does nothing for the potential accuracy. The extreme spread was 17 foot-seconds with that pellet and tune.
With the new tune, Hobbys average 603 f.p.s., ranging from 602 to 610 f.p.s. for an 8 foot-second spread. That's more like what I wanted, and maybe even on the low side of what I was looking for. But with that tight spread, I know the rifle is doing well with this tune.
Next, I tried H&N Finale Match Pistol pellets. The old tune gave an average 632 f.p.s. velocity with a 14 foot-second spread.
The new tune gives an average of 573 f.p.s. with a 12 foot-second spread that runs from 567 to 579 f.p.s. The spread is pretty close to what we had before, but the velocity is now down where I expect it to be.
The last pellet I tested was the RWS R-10 Match Pistol pellet. With the old tune, the pellet averaged 632 f.p.s. with an 18 foot-second spread that went from 619 to 637 f.p.s.
The new tune sends this pellet downrange at an average 565 f.p.s. with the total velocity spread that runs from 560 to 567. Only 7 f.p.s. separates the slowest shot from the fastest.
Firing behavior
The rifle now seems much more calm and settled when it fires. I can't be sure until I shoot for the record, but I think I've tamed the beast.
Am I satisfied with this tune? Yes, except for the extra cocking effort. An HW 55 should cock at around 15 lbs. of force, and this one takes 26 lbs. That's heavy, even though it doesn't set off any alarms. I would still like to get it back under 20 lbs., but I'm not going to hold up the show just for that.
Accuracy testing is next, and then we'll have complete tests for five popular 10-meter spring-piston target rifles: the HW 55 SF, FWB 150, Diana model 60, Walther LGV Olympia and this HW 55 CM. Guns I haven't yet tested (that I own and have access to) are the FWB 300S and the Haenel 311.