by B.B. Pelletier
Announcement: Brendon Krahn is this week's winner of Pyramyd Air's Big Shot of the Week on their facebook page. He'll receive a $50 Pyramyd Air gift card.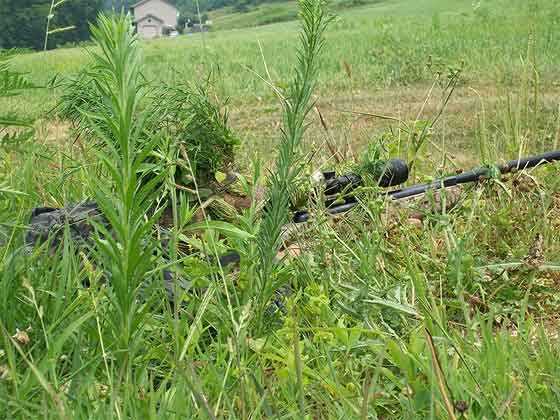 Brendon Krahn is this week's Big Shot of the Week. He's sniping at starlings with his .177 Remington NPSS.
Photos and test results for the Diana 60 by Earl "Mac" McDonald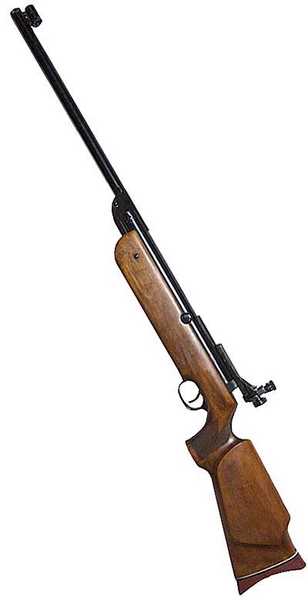 The Diana model 60, which is a Hy-Score model 810 in this case, is a breakbarrel target rifle from the 1960s and '70s.
That's right, sports fans, today you're getting a twofer. For the benefit of our readers outside the U.S., a twofer is slang that means "two for the price of one." I decided to report on both Mac's Diana 60 velocity test and my HW 55 Custom Match velocity test for reasons I will explain in each part. Grab a large cup of coffee and an extra Danish and sit back!
The Diana model 60 target rifle
We'll look at Mac's rifle first. Today, I'll reveal the one thing that's been troubling Mac about his rifle, so it doesn't take a detective to know that it has to do with velocity.
The cocking effort of his breakbarrel rifle is 28 lbs., which seems high to me. Mac says it doesn't feel that high because, for some reason, it gets lighter toward the end of the cocking stroke. He also cautions us to beware of the rack-and-pinion noises that these guns have when they're cocked. To all that I have to say this.
There shouldn't be any noises when this rifle is cocked. I've owned several Giss-system rifles and pistols and shot a lot more, and none of them made any extra noise when they were cocked. That's clue No. 1. And, I'll explain how the Giss system works next.
Clue No. 2 is the lighter cocking effort toward the end of the stroke. That's atypical for a breakbarrel, but Diana has the reputation for breaking mainsprings. When they do, they get smoother. They don't make any noise, nor do they bind during the cocking stroke. I've certainly seen a half-dozen Diana rifles with broken mainsprings and they all acted this way.
How the Giss contra-recoil system works
The Giss contra-recoil system consists of two pistons connected to each other. The real one goes forward when the gun is fired, and a dummy travels to the rear at the same time. The real piston is the only one that has a piston seal, and it's the one that compresses all the air for the shot. The dummy piston has no seal and is just there to provide an equal and opposite reaction to the real piston. When the real piston slams to a stop, the dummy piston does too at the same instant. The EFFECT of this is that the impulse of each piston cancels the other. The first time an airgunner experiences it he's usually blown away because, when the gun is timed right, absolutely no firing pulse can be felt.
Of course, timing is the principal concern in a gun that uses the Giss system. That's why I never recommend a person try to repair his own gun. Sometimes, a mechanical genius like Nick Carter who writes Another Airgun Blog will be able to dive right inside a Giss gun and find no obstacle he cannot understand and overcome, but the average person will just create a basket case.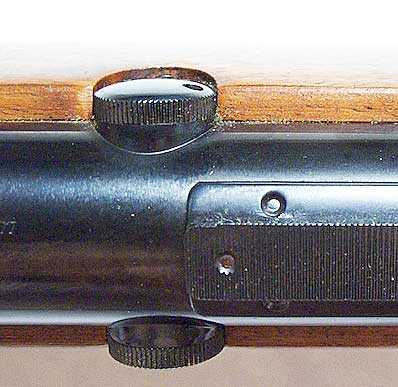 Looking straight down on the top of the model 60 action, we can see the two telltale caps that cover the gears connecting the two pistons to each other. All Giss-system guns have these caps.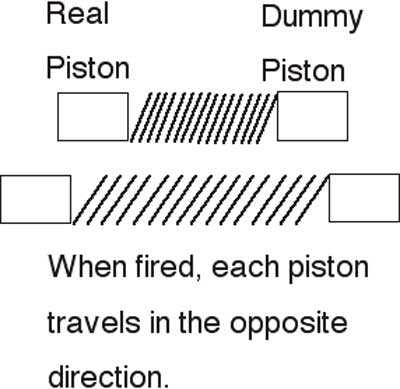 This simple graphic shows how the two pistons oppose each other.
Velocity test
I'll tell you right now that Mac experienced lower velocity than he expected from this rifle. An Air Rifle Headquarters catalog (the original company) from 1973 gives the velocity of the model 60 as 546 f.p.s., without specifying what pellet was used. That would probably translate to about 550-570 f.p.s. with the pistol-weight target pellets we use today. Mac wasn't getting that.
He asked me what I thought about putting a drop of silicone chamber oil through the air transfer port to lubricate the piston. We know that these older target spring guns came with seals that dry-rotted over the years, and chamber oil will speed up their demise, but I figured he had to find out somehow, so he did it. But it didn't cause the seal to destroy itself. It simply boosted the velocity about 12 f.p.s. with no change in how tight the velocity spread was.
The first pellet he tried was the H&N Finale Match Rifle pellet that weighs 8.18 grains. They averaged 457 f.p.s., with a 22 foot-second spread from 445 to 467 f.p.s. The average muzzle energy was 3.79 foot-pounds.
Next, he went with a domed pellet. JSB Exact Diabolos are domed pellets that would not normally be fired in a target rifle unless the target was something other than paper. But Mac also uses his target rifles for mini sniping, so he tested this 8.4-grain pellet anyway. It averaged 474 f.p.s., with a 16 foot-second spread from 465 to 481 f.p.s. The average muzzle energy was 4.19 foot-pounds.
The final pellet Mac tried was the old standard RWS Meisterkugeln pistol-weight wadcutter. Today, they only weigh 7 grains, but Mac had some older ones that weighed 7.7 grains. They were a very loose fit in the breech and averaged 458 f.p.s., with a whopping 37 f.p.s spread from 442 to 479 f.p.s. The average energy generated was 3.59 foot-pounds.
Conclusions
Both Mac and I think the rifle isn't performing up to spec. Mac found some stated velocity figures of 460 f.p.s. in print somewhere, but he thinks it's a transposition of 640 f.p.s., which is where a few of the 1960s and '70s-era target rifles were.
I now believe the rifle has a broken mainspring. Mac thinks it's just a tired one. Either way, the thought that his gun isn't performing up to snuff is getting under his skin, so I advised him to have it repaired by either Pyramyd Air or Umarex USA so he'll know for sure.
Nevertheless, the rifle still shoots as it should and there will be a part 3 coming soon. Let's go to Part 2 of the other target rifle on today's menu.
The HW 55 CM target rifle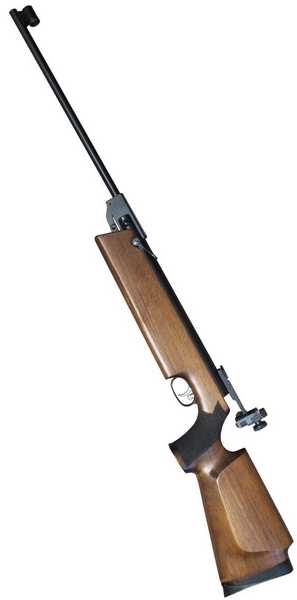 Is this Custom Match the best HW 55 ever made? Read the report to find out.
I'm putting this additional report here for a couple reasons. First, I didn't want to go too long without reporting on it. More importantly, I thought I might have to do an extra report on this rifle. As luck would have it, that's how it turned out. While this is Part 2 and a velocity test, the next part will also be about velocity.
Remember that the HW 55 CM was the rifle that I felt had a harsh firing cycle back in Part 1. After I tightened the stock screws, some of the harshness went away. Even after that, the rifle was still feeling harsher than I felt it should for what it is.
Several of you readers thought that when the gun went back to Beeman for a rebuild, they probably installed the upgraded HW 50 sporter mainspring that would have boosted the power. The only way to find that out is with a chronograph, so that's what I did. According to Air Rifle Headquarters catalog data, once again, a regular HW 55 should shoot H&N pellets at 650 f.p.s. Unfortunately, they don't give a lot more data about the specific pellets they used for the test.
The rifle does still shoot a little harsh. When you're peering through a peep sight, the smallest recoil becomes instantly noticeable. In this rifle, it's unpleasant. The peep comes straight back and bumps into my skull when I fire. My Ballard rifle does the same thing, only its peep is on a tang sight that collapses forward when it contacts my eye. The HW 55 sight, in contrast, remains rigid and allows me to absorb all the impulse of each shot. Well, I'll be danged if I'm going to put up with that!
The plan is to quiet the shot cycle with black tar, if possible. If the gun has extra velocity it doesn't need, I'll be only too happy to do that.
The cocking effort is just 20 lbs. on the nose, and the ARH catalog says to expect a weight of just 15 lbs. There's another small deviation from what would be expected. Even the HW 50 mainspring isn't that powerful, and the long almost-18.5-inch barrel may be providing the extra leverage to reduce the force.
The first pellet I tested was the RWS Hobby, that standard candle of high-velocity lead pellets. At just 7 grains, it's not only light, but often it turns in surprisingly good results downrange. Hobbys averaged 694 f.p.s., with a 17 foot-second spread that went from 684 to 701 f.p.s. The muzzle energy is 7.49 foot-pounds. I would love to say that this speed wasn't expected, but it wasn't far enough out of line to be definitive.
Next, I tried H&N Finale Match Pistol pellets. They weigh 7.56 grains. They averaged 632 f.p.s., with a 14 foot-second spread from 625 to 639 f.p.s. The average muzzle energy was 6.71 foot-pounds. That seems right on the money for a stock mainspring.
The final pellet I tried was the RWS R-10 Match Pistol pellet. Although they're just as light as the Hobbys, they go the same speed as the heavier H&N Match Pistol pellets. That would indicate a bore-fit issue.They averaged 632 f.p.s., with an 18 foot-second spread from 619 to 637 f.p.s. The average muzzle energy was 6.21 foot-pounds.
Evaluation
I can't tell for certain that the mainspring has been upgraded, but I do know that the rifle has way more velocity than I need. The next step is to lube the spring with black tar to see what EFFECT, if any, that has on the shot cycle. While Mac wants more velocity, I'm looking to get rid of some for the sake of smoothness.
I'll break these two reports into separate reports for their respective accuracy tests. But before I do the accuracy test with the HW 55 CM, I'll lube the spring and retest the velocity results, giving this rifle one extra report.