by B.B. Pelletier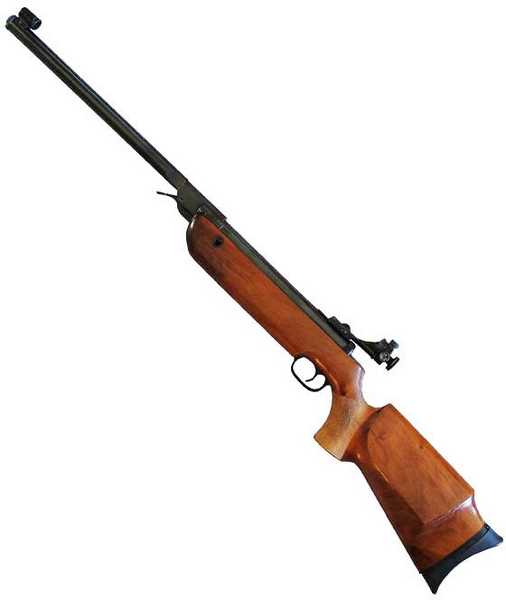 The Walther LGV Olympia is a beautiful breakbarrel spring-piston target rifle from the 1960s.
Wow! It's been two-and-a-half months since I did the last report on this rifle. A lot has happened since then, plus I had to wait until I was strong enough to lift the heavy rifle. Cocking it was easy, because the barrel breaks with just 15 lbs. of effort, but I was under a 10-lb. weight restriction after my last operation. I didn't want to break apart in the middle, so I waited!
We learned in part 2 that this particular rifle is on the zippy side for an LGV following a recent tuneup (sorry, twotalon). It still has just a hint of twang when it fires, though compared to most breakbarrels it seems extra smooth.
The stippled pistol grip fits my hands very well. It's a pleasure to grasp when shooting. However, being a rifle made primarily for offhand work, the Olympia doesn't fit especially well when you shoot it off a bench. The trigger is a Goldilocks baby bear special, in that it feels just right. Though it releases at 12 oz., it feels like less to me. Not too light, not too heavy.
Remember how I gushed over the rifle in part 1? Well, gush, gush, gush all over again. One of the drawbacks of being an airgun writer is I often don't have any time to play with the real beauties. Awww. Poor me! But, this rifle is so sweet that it really deserves to be shot way more than I have time for. [Let the offers to relieve me of this terrible burden commence.]
In Part 1, I mentioned that this was my steadiest target rifle, which it was at the time. But, as I also mentioned, Mac did bring an HW55 CM to show me when he came out to Texas in November, and I managed to get it away from him. So, that'll be another vintage 10-meter rifle I cover some time in the future. Because of it, I now cannot say the LGV is the steadiest in my closet. But it is steady.
I also shot the TF79 Competition rifle at 10 meters on the same day as the LGV. While the TF79 remains on target through the shot, the LGV does not. It moves just enough that you lose the target in the front aperture every time the shot is fired.
The test
Because the Olympia is a 10-meter rifle, I tested it as such. I shot 5 pellets at each 10-meter rifle target, and with one exception I will tell you about in a moment, I shot only wadcutters. The rifle was rested using the artillery hold. I initially sighted-in the rifle with RWS Hobby pellets. Once the shots were landing in the 10-ring I didn't adjust the sights again. So, the Hobbys are sighted-in and all the other pellets land close, but no attempt was made to get the highest score for any of them. We're just looking at the size and shape of each group.
Speaking of the sights, I should mention that each click of the adjustment knobs in either plane (up/down or left/right) moves the strike of the pellet very little. I guess that's what you need for the best precision in a target rifle; but when you have to move 40 clicks to move the pellet a half-inch on target, it seems excessive. And, the clicks are extremely well-defined. There's no mistaking when the sight has moved.
RWS Hobbys
Let's see what this beauty can do! The first target, which was fired right after sight-in, was shot with RWS Hobby pellets. While Hobbys are not premium target pellets by anyone's definition, they often deliver startling performance, especially at lower velocities.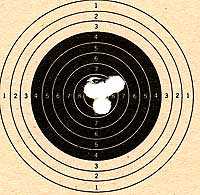 RWS Hobby pellets were used to sight-in the rifle. They produced this 5-shot group at 10 meters. It measures 0.218 inches between centers. Not bad!
H&N Finale Match Pistol pellets
Next, I tried H&N Finale Match Pistol pellets. These would be more appropriate for air pistols because of their lighter weight of just 7.56 grains. As you can see very clearly, they didn't group as well as Hobbys. And make no mistake, there were no called fliers. Every shot was calculated to be the best I could make it. These pellets have a head size of 4.50mm.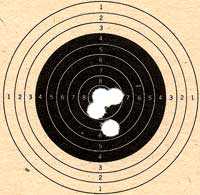 H&N Finale Match Pistol pellets are not right for the Walther LGV — at least not this one. The group measures 0.315 inches between centers.
RWS R10 Match heavies
Then, I tried the pellet that might be considered the best overall for this rifle. It's certainly one of the two pellets I would spend more time testing. The RWS R10 Match heavy pellet weighs 8.2 grains and is meant for use in target air rifles. This pellet has a head size of 4.50mm.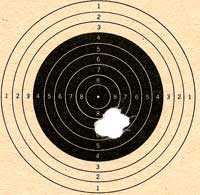 The RWS R10 Match heavy pellet turned in the best group of the test. Five pellets went into this group that measures 0.143 inches between centers.
RWS R10 Match Pistol pellets
After the R10 Match heavies, I tried the R10 Match Pistol pellet that weighs only 7 grains. The difference between it and the heavy R10 was like night and day. The head size is not indicated on the tin.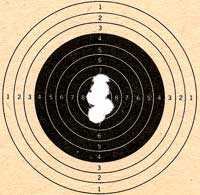 The lightweight R10 Match Pistol pellet produced a group measuring 0.281 inches between centers. It was close to the worst performance of the test and is also a very good illustration of just how much performance can vary with different pellets in the same gun. Compare this group to the one made by the R10 heavies.
Vogel pellets
Next, I tried some of Scott Pilkington's Vogel Match pellets. Scott, who is America's airgun technician for the U.S. Olympic team, makes these pellets right here in this country. Vogel is a well-recognized, world-class pellet that was made in Germany before Scott took over the reins. These pellets weigh 8.18 grains and have a head size of 4.50mm.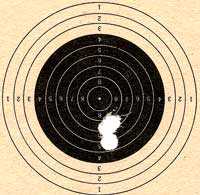 Vogel pellets produced this 5-shot group that measures 0.164 inches between centers. It was the second-best pellet I tested and certainly deserves more testing in this rifle.
Gamo Glow Fire pellets
Finally, I tested a pellet that really doesn't belong in this report, but it's one I've had on my desk for the past 10 months, awaiting the right moment. One of our readers touted the new Gamo Glow Fire pellets in a comment in early 2010, and his enthusiasm drove me to acquire a tin for testing. My thought was always to test them separately, but my illness intervened, and I reckoned that if I don't work them in somehow I'll never test them at all. So, I'll include them in several accuracy tests in the future to make a comparison on the fly.
The Glow Fire pellet has a luminous, pointed synthetic tip that glows in the dark. I suppose under the right lighting conditions they look like tracers, but I didn't test for that. At just 10 meters, though, there isn't enough time to acquire the pellet in flight before it smashes into the pellet trap. But the blog reader who mentioned them was impressed with their accuracy, not their appearance in flight, so I added them to this test knowing that we already had a very accurate rifle to shoot them.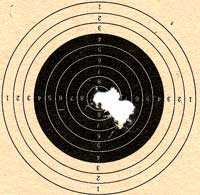 Lo and behold, the Gamo Glow Fire pellets went into this group measuring 0.225 inches at 10 meters! That's very good performance for a non-target pellet.
I can't say the Glow Fires are not premium pellets, because Gamo sells just 150 of them for $11. So, from the standpoint of cost, they're certainly among the costliest pellets around. At that price, 500 would cost you $36.67, which is beyond even the price for the finest R10s in the individual package. From a production view, they're not as uniform and regular as most of these target pellets.
Of course, 10 meters is not the range at which to determine a pellet's accuracy for anything other than target pellets. So, I'll try to test the Glow Fires at longer range next time.
The last word
This has certainly been an interesting journey with the LGV Olympia. As I mentioned in Part 1, I owned one of these a long time ago, but I let it get away. I don't think I'll make that same mistake with this one. It's a delightful shooter, and every time I pick it up a smile breaks out. I think I'm at that age where quality matters more than anything else, and this is one high-quality air rifle!