by B.B. Pelletier
Announcement: Mark Barnes is this week's winner of Pyramyd Air's Big Shot of the Week on their facebook page. He'll receive a $50 Pyramyd Air gift card.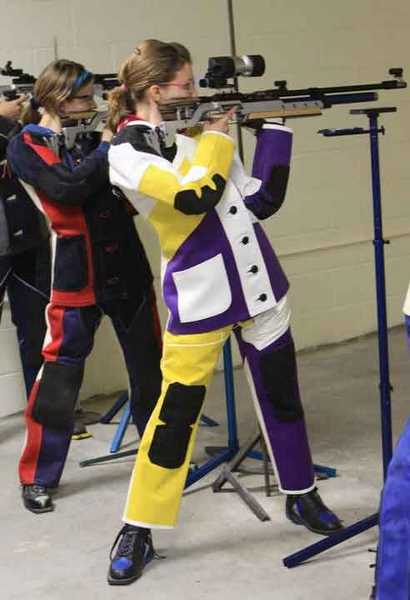 This is Mark's winning photo. I really like his caption: "Shoot like a girl — if you can! – My daughters."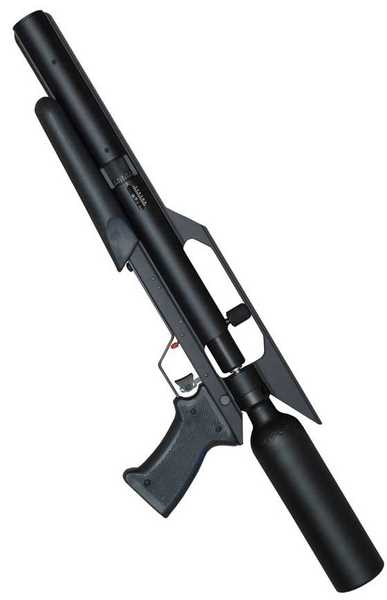 TalonP air pistol from AirForce is a powerful, new .25-caliber pneumatic hunter.
It was a blustery day at the range this past Wednesday. Texas is noted for being windy most of the time, and this day was a classic. I noticed it while loading my truck at the house, and when that happens it never gets any better. Today I would be shooting the TalonP air pistol at 50 yards — a challenge to any airgun, and certainly in this wind it would be an acid test.
Once I got to the range about 15 miles away the wind was still blowing, even though the entire range facility is set in a small valley. The 50-yard range has a solid 12-foot-high earth berm all the way down to the backstop on both sides, so the wind really has to blow to affect you. But it was. My shooting glasses blew off the bench and a sack of loaded centerfire cartridges did the same. Nothing was safe.
By the time I had everything set up the wind was gusting to 15 mph and blowing at least 5 mph during the lulls. So I thought about writing the day off and doing something else. But this was the first time I had the TalonP pistol at this range and I really wanted to salvage something out of all the effort.
However, I didn't have an especially accurate pellet for the gun yet. Beeman Kodiaks were the best I had tested so far and, as many readers had pointed out after reading Part 2, they were only average. I figured I could find a sweet spot in the pressure curve where the Kodiaks would perform at their best, but I really had hoped for a better-performing pellet for this test.
No great .25-caliber pellets
But the odds were against me. You see, there has never been an especially accurate .25-caliber pellet. It is the one caliber of all four smallbore calibers that really has no pellets of note. Oh, they are okay for hunting at close range, but they simply cannot compete with the superb accuracy that some of the premium .22-caliber pellets give at longer distances. And, since the TalonP only comes in .25 caliber at this time, I needed to find a .25-caliber pellet that worked — even if it was only satisfactory and not really notable.
Years ago RWS imported a .25-caliber pellet called the Diana Magnum. It was a 21-grain dome and it showed real promise in my Whiscombe. Shooters everywhere thought the Diana Magnum was the best .25 caliber pellet ever made. I have a couple tins of them in reserve, but what's the purpose of showing you a great pellet that you cannot buy? I needed something that worked and was available.
So hoping against hope I took some of every decent .25-caliber pellet I had to the range — in hopes that one of them might miraculously work. When I began shooting, the wind speed had increased. Now the gusts were as high as 25 mph and I had to wait a long time for a 5 mph lull. So I shot into wind moving 10 mpg and hoped one of the pellets I had brought would somehow be able to buck the odds.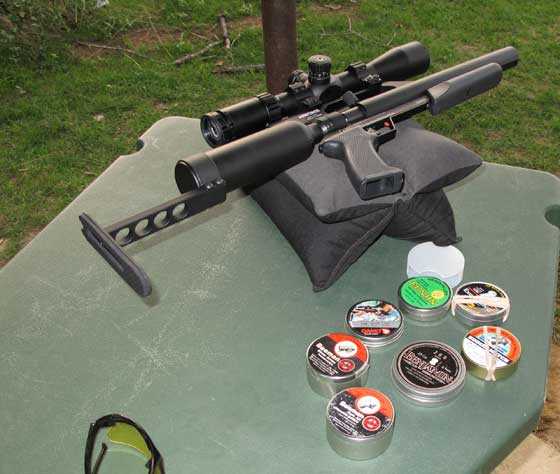 I took every decent .25-caliber pellet I had to the test range. Here are just a few of them. Notice the optional stock on the pistol that will soon be available.
Since I already knew how well Beeman Kodiaks and Eun Jin heavies do, I began shooting with Beeman Silver Arrows. No dice. They flew everywhere. Then I tried the Beeman Ram Jet pellet that is apparently no longer available in .25 caliber. Another loser.
Then I spied a tin of JSB Exact Kings. These are relatively new to the .25-caliber world, but JSB has a solid reputation for making some of the world's best pellets in the other three calibers. I hoped their expertise carried over into the quarter-inch bore.
And it did! The second shot went into the same hole made by the first! I didn't start celebrating, but things definitely looked better, because when two pellets go into the same hole at 50 yards on a windy day you are onto something! So I kept shooting that pellet and hoping it might be the one. The first hole with two pellets was soon followed by another two pellets in the same hole when the aim point was changed. This was looking promising.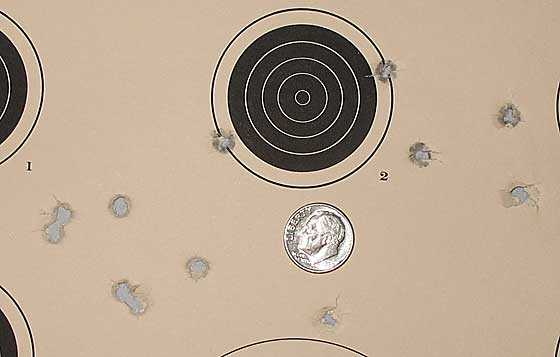 A bunch of random holes scattered over the 50-yard target until, bam! Two pellets went into the same hole (bottom left). Then I selected a different aim point and, bam! Two more pellets in the same hole (upper left). Was I on to something?
I set the power level of the pistol on eight and refilled the gun to 3,000 psi. I know this should give at least 10-12 good shots, but since I hadn't tested this pellet through the chonograph yet, I couldn't say much more. Then I adjusted the Hawke scope and tried to shoot a group of ten. This time I got what would be a decent group for any .25-caliber airgun. Ten shots went into a group that measured 1.242-inches. Given the wind that was now gusting most of the time, that seemed pretty reasonable, however within the 10-shot group were two separate smaller groups that baited me. This gun had more to offer.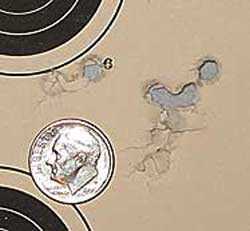 The first good ten-shot group. It was impressive, but because of the two smaller groups within, I suspected it could be even better.
I refilled the reservoir then switched targets to a larger bull and shot another ten-shot group. This was the one that got me so excited! Although it is larger than the first group, at 1.343-inches overall, there are nine pellets in a group measuring 0.817-inches. That's at 50 yards on a blustery day! No reason for the stray shot except the wind. But look at the nine! That would be good performance from any PCP on a calm day. This pistol really wants to shoot.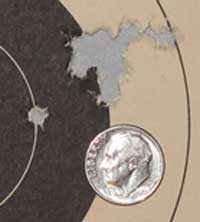 There it is. The group that caused me to reschedule today's report. This is outstanding performance from any air rifle at 50 yards on a windy day. Note the group is strung horizontal by the wind. No excuse for that lone pellet hole. That's just where it went.
What's next?
The next step is to get out on a better day and shoot at 50 yards again. I won't be testing any other pellets, because I've found the one that works. I know how that reads when you are sitting there wanting to know absolutely everything about this airgun, but here is the deal. I have shot enough .25-caliber airguns to know great performance when I see it. And this is it. You won't get a group like that from Kodiaks, and as for the rest of the pellets on the market — good luck. If I were going to hunt with the TalonP, I would lay in a good supply of these JSB Exact Kings and go with it.
I also want to chronograph the pistol, but not in my office! I need to be out at the range to shoot a gun that is as potentially loud as a .22 rimfire.
The shoulder stock
AirForce loaned me the optional shoulder stock extension you see in the photo and I used it for this test. I discovered that the scope was positioned too far to the rear, so I relocated it during the test. The shoulder stock works very well, but the smaller size of the pistol's reservoir means you need to find an alternative placement for your cheek when firing. It took a while but I found a hold that works for me and the last group was shot with it.
The really good news
I know the folks at AirForce will celebrate the performance of the JSB pellet in their gun, and for me finding this pellet is just as major as discovering how well the pistol shoots. I am reminded of the movie Back to the Future, Part III in which Doc Brown was trapped in the year 1885 with his DeLorean time machine and no gasoline. He had the greatest vehicle in the world, but without gas it was going nowhere. Well, the .25-caliber airgun world just got gas, in the form of this JSB pellet. Finally there is a no-apologies pellet that can hold its own with a .22 at distance! I think I will have to explore this pellet's performance a little more in the future.
I was also able to retrieve several fired pellets from the thick rubber backstop and from their appearance it can be seen that they hit with a lot of force. I think this will make a good long-range hunting pellet.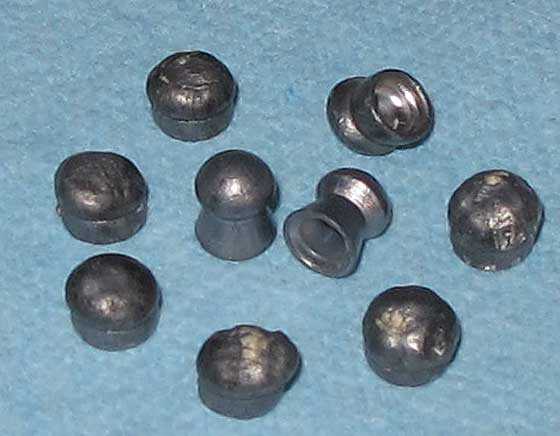 The JSB Exact King is the most accurate .25 caliber pellet I have ever tested. They mushroom well when driven by the force of the TalonP.
The rest of the day
Just to put this day into perspective, my shooting partner shot a half-inch ten-shot group at 50 yards with one of those hyper-accurate .22 HM2 conversions he makes, but when we moved to the unprotected 100-yard range, a FIVE-shot group blossomed to 1.5-inches!
My .250 Savage that shot five shots into 0.8-inches at 100 yards last time shot three into 1.25-inches this time. The day was just too windy to do well with anything. And that is why I did not even bother shooting the Ballard.