by B.B. Pelletier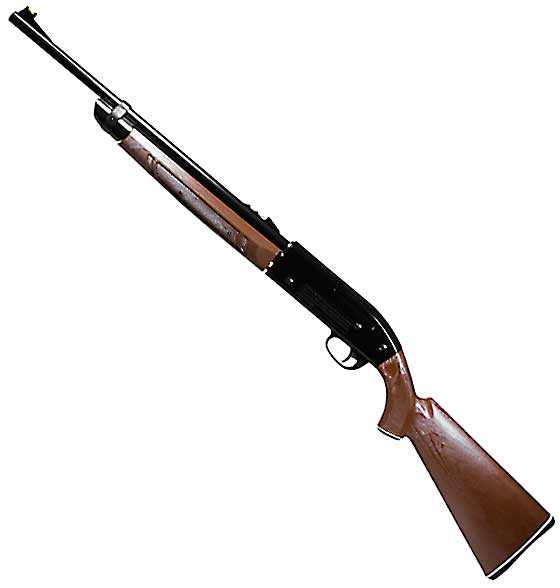 Crosman's 2100B is a full-sized multi-pump that hopefully delivers power and accuracy with a few economic concessions.
I've been reviewing some basic and even classic airguns and air rifles for the past month, and today's Crosman 2100B multi-pump is one of them. It was initially my plan to get all these at least started by Christmas 2011, but I didn't even make that date. Next year, I need to start in early October, because other things do get in the way.
I know many of you are 2100 fans because you've said as much in the comments.
I may be the last guest to come to the party where the 2100 is concerned. Only Crosman's smoothbore 760 Pumpmaster is more popular; and, of course, with the release of the rifled M4-177 late last year, that will be a tough act for any airgun to follow.
Think of the 2100 as the 760's older brother, though there are a couple very important differences. For starters, this powerplant is completely conventional. You can pump the gun and leave air in the reservoir without cocking it first. That's a big plus in my book. And the piston stroke in the 2100 is longer than that of the 760, so the power is greater, as well. Best of all, the 2100 has a rifled barrel!
The power level is elevated over that of the smaller multi-pumps. Crosman rates the rifle at 755 f.p.s. with steel BBs and 725 f.p.s. with lead pellets. Naturally, I'll test both numbers for you, and Crosman Copperhead BBs will be involved. So, this is a more powerful airgun than most of the others in its class.
Sights
The sights are a fiberoptic bead in front and a plain notch in the rear. The rear sight is adjustable in both directions, though the adjustments are crude. There's an elevator wedge for elevation, and the entire sight can swing in either direction for windage. A screw then locks it in place.
The stock and forearm/pump handle are plastic, but the rest of the exterior of the gun seems to be metal. Only the bolt handle and barrel band are plastic, while the exterior of the barrel is jacketed in some metal around a soda-straw steel barrel. This barrel is rifled, as mentioned, yet the rifle can handle steel BBs if you're so inclined.
Cocking
The bolt retracts to open a funnel-shaped loading port, similar to what we saw in the review of my vintage Crosman 2200 multi-pump rifle back in 2009. I'll wait until I've loaded the gun several times before reporting on how easy it is to load. Naturally, this time, there are also steel BBs to be loaded from an internal reservoir, so I'll cover that later as well.
The effort needed to cock this gun is considerable, and buyers should know that before they buy. This isn't the gun to pick to train your 10-year-old. Think of it as more of an adult pneumatic. I compared it to my vintage 2200, which is much easier to cock, so there's a possibility that this will wear in with time and use.
Most people love the 2100!
I looked at the owner reviews of the gun, and only one of them was really negative. Apparently, the buyer expected a $125 rifle for $60. He said the barrel is plastic, but it isn't. It's metal, but as noted, it's just a jacket around a soda-straw steel barrel. He was terribly upset about the construction of his gun. So much so that he forgot to report how it shot.
There were 32 others, however, who gave the gun five stars, and I think what they say is a lot closer to the truth. I've tested Cannon multi-pump air rifles from Indonesia that are all metal and wood, but don't shoot worth a darn until their valves are rebuilt by their owners. Even then most of them don't even perform to spec, and only after they're made to work at all do the owners discover that the barrels are often less than accurate. I expect more from this Crosman rifle and will be shocked if I don't get it. A little plastic where it doesn't matter (and, no, Michael…the one person who gave this a negative review, the bolt handle will not break when you cock the gun — even 10,000 times!) is not a detractor if the performance is there. That's what this report will determine.
The rifle
Weight-wise, the 2100 is light, but not overly so. At just 4.8 lbs., it lays light in your arms but it doesn't float the way many similar smaller multi-pumps do. For many people, that's a good thing. The length of pull is an adult 13-3/4 inches that will work for older kids, as well. The molded plastic stock and forearm are both checkered with large, sharp diamonds that really do grip your hands. Overall, the rifle feels pretty good in the offhand position.
Pellets are loaded singly, but the BBs are poured into a 200-shot reservoir that's accessed through a discreet hole in the bottom of the pistol grip. Just slide the grip cap to the rear and pour in up to 200 BBs. Pull the BB magazine follower to the rear and lock it in place, then, while holding the muzzle down, shake the rifle from side to move BBs into the 17-shot visible magazine on the left side of the receiver. Finally, release the BB follower. Every time you cock the gun, a magnet on the bolt tip will grab a BB until the BB magazine is empty. It's possible to have BBs in the larger reservoir and not in the magazine and to shoot pellets single-shot without BBs getting in the way.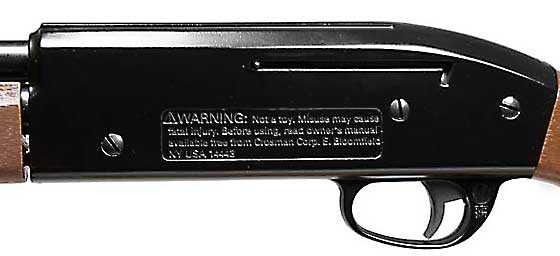 The 17-shot BB magazine is located on the left side of the receiver.
Trigger
I measured the trigger-pull with my Lyman electronic scale. The trigger is two-stage with a very short first stage. It's not adjustable. Stage two breaks very consistently at between 4 lbs., 10 ozs. and 4 lbs., 12 ozs. — as long as the squeeze is slow and consistent. Yank the trigger, and the pull goes over 5 lbs. on the test gun.
Pump effort
I have to comment on the effort it takes to pump this gun, because it could surprise some buyers. Where the 760 Pumpmaster and its derivatives all pump easily, the 2100 does not. It pumps as hard or even harder than a Benjamin 397 multi-pump. I may need to measure this for you. I checked it against my 2200, and it's close to the same effort for both, so this is probably not going to change.
Hunting?
Yes, and no. Yes to the five percent who can reliably hit a quarter at 30 yards offhand five times out of five. And no to the rest who can't, but just want an extra-cheap airgun to do what it isn't made for. And the five percent are also the ones who know better than to try to hunt with such a light air rifle.
Yes, this airgun probably has enough power to take very small game humanely at close range. Unfortunately, too many shooters will try to stretch the distance well beyond what the gun can reliably do. So, please, think of the 2100 as a plinker and not as a hunter.
Overall
This will be another enjoyable rifle to test, because it has so much going for it. No wonder it's a classic — it feels and handles right!