by B.B. Pelletier


The Sterling by Benjamin Sheridan is an air rifle not many have seen or even heard about.
Say hello to my little friend! We last saw this Sterling 11 months ago and discovered during testing that the velocity was very unstable. Variations of 61 to 147 f.p.s. were found in the 10-shot strings, even though the rifle had been recently tuned by reader Jim Grossman (Jim in PGH). Clearly, something seemed to be wrong. I stopped the test right there because I didn't want to damage the mechanism, and I set it aside for later when I could I eventually look inside.
Well, our No. 1 tuner and all-around good guy — blog reader Vince — stepped forward and offered to have a look at it for me. He told me he'd worked on another Sterling, and I was relieved because I didn't have to learn the complexities of yet another odd spring-gun mechanism. This one is odd because, in addition to the underlever that cocks the mainspring, the gun also has a bolt-action that opens the breech for loading a pellet. It's quirky and unlike just about any other airgun you've seen.
Vince was as good as his word, and the gun is now back with me. I'll let him tell you what he found inside and what he did to the gun at his convenience. I just want to get back to the original test.
An odd duck
The Sterling is an odd spring-piston mechanism, to say the least. As I said, it cocks via an underlever but is loaded in a trough on top of the action by retracting a spring-loaded bolt; so when the handle is lifted, it jumps back out of the way and exposes the trough for loading. The trough is sculpted to make it easy to roll in a pellet, so loading is a snap.


The Sterling bolt is spring-loaded to jump back and open the scalloped trough, which easily accepts a pellet.
The rifle was made both in the UK and in Racine, Wisconsin, by Benjamin-Sheridan before Crosman bought them. It's a large, solid rifle that looks and feels like a magnum, though the performance is strictly under 12 foot-pounds. One attractive feature of at least the American-made rifles is the barrel from Lothar Walther. It should be fairly accurate.
The UK Sterling suffered from a lot of quality issues, the greatest of which were a very buzzy action, a trigger that tended to fall apart during use, sights that fell off and a rear sight that is apparently of very low quality. I can't comment on the sights; because when I got the rifle, all that remained was the hollow shell of the globe front sight. Benjamin Sheridan was frustrated by front sights falling off, so they engineered a solid front piece that includes the globe for the sight within the same piece that serves as the catch for the underlever.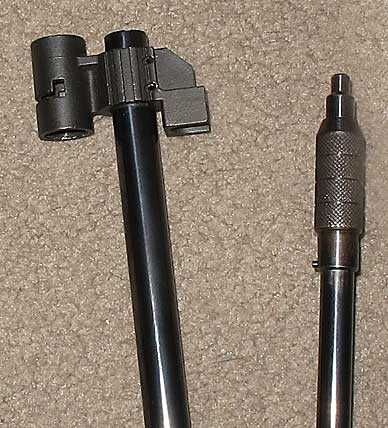 The front sight globe is made as a unit with the underlever catch.
Trigger
In the first part, I complained that the single-stage trigger was a little creepy. Well, either I was being overly critical or Vince did something. Although it still breaks at 2 lbs., 8 ozs., this trigger is now pretty crisp! I'll learn more during the accuracy test, because that's when I become intimate with the trigger. For now, I'll just say that it's a good one.
Cocking effort
The rifle cocks with 26 lbs. of effort, though it feels a little lighter. That's probably because most of the effort over 20 lbs. occurs in the last 20 degrees of lever arc. There's no anti-beartrap device. The bolt-action design keeps your fingers without one, so you can uncock the rifle at any time.
Velocity
When we last looked at the American-made (Benjamin) Sterling, I shot it with three different pellets to obtain the velocity/power rating, so that's where I'll begin today.
Falcon pellets
First, I tried the 7.3-grain Air Arms Falcon pellet. In the test done before this work, the pellet averaged 626 f.p.s., but the velocity ranged over 147 f.p.s. The average velocity equates to a muzzle energy of 6.38 foot-pounds.
With Vince's work, the Falcon pellet now averages 754 f.p.s. — a 107 foot-second gain. The spread was reduced to 23 f.p.s., from a low of 738 to a high of 761 f.p.s. That's quite stable — especially in light of the former test. The current muzzle energy is 9.22 foot-pounds.
JSB Exact 8.4-grain dome
The next pellet tried was the 8.4-grain JSB Exact dome. In the earlier test, this one averaged 597 f.p.s. with a 61 f.p.s. spread from 564 to 625 f.p.s. The muzzle energy was 6.65 foot-pounds.
In the current state, this pellet averages 704 f.p.s. with a 19 foot-second spread from 696 to 715 f.p.s. That is another gain of 107 f.p.s. And the muzzle energy increased to 9.25 foot-pounds.
You don't normally see a heavier pellet making more energy than a lighter one in a spring-piston powerplant. It's indicative of a heavy piston, which is perhaps the reason the rifle has a pronounced froward jump upon firing.
Is it hard to believe that heavier pellets typically produce less energy than lighter pellets in spring-piston guns? While this is not 100% the case, it's probably the case 9 times out of 10. Spring-piston guns do not transfer their potential energy very well, and therefore lighter pellets that offer less resistance are usually slightly more efficient. In pneumatic and CO2 guns, the reverse is true: heavier pellets produce more energy most of the time.
Crosman Premier 7.9-grain lites
The last pellet I tested was the 7.9-grain Crosman Premier lite. In the first test, these averaged 580 f.p.s. with a 144 foot-second spread from 467 to 611 f.p.s. I tried flaring the skirts of these pellets to get a better seal in the bore, but the average velocity increased to only 584 f.p.s., while the total variation increased to 152 f.p.s.
In this test, Premier lites averaged 705 f.p.s., and the spread went from 698 to 712 f.p.s. — a 14 foot-second spread that was the tightest of the entire test. The gun now shoots 119 f.p.s. faster than before. The average muzzle energy is 8.72 foot-pounds — the lowest of the three pellets tested.
The evidence is overwhelming that Vince made some important changes to the Sterling's performance. I'm sure his account of what was done will be of great interest.
Bottom line
My research into the history of this fascinating airgun revealed that very few airgunners who know about the Sterling are neutral about it. They either love it or hate it. Blog reader Robert from Arcade also expressed an interest in the design, as did a number of other readers, I believe. That's why this test is so important. It's been more than two decades since I read about this air rifle in the British press, and I have always wondered what the truth is. Now we can all find out together.