by B.B. Pelletier
Announcement: Shivashankar Raghu is this week's winner of Pyramyd Air's Big Shot of the Week on their facebook page. He'll receive a $50 Pyramyd Air gift card! Congratulations!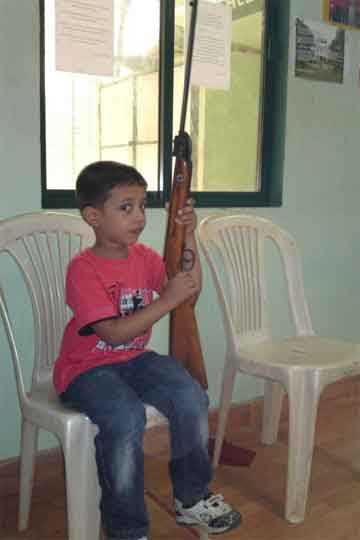 Shivashankar says this is his 4-year-old son with his dad's Diana Model 23 on the boy's first day at their club!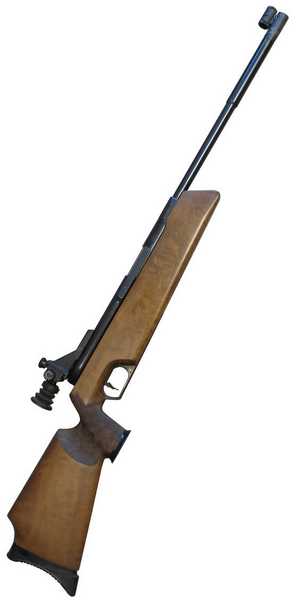 The FWB 300S is considered the gold standard of vintage target air rifles.
We'll look at accuracy today, but this isn't our last look at the 300S. You convinced me to take this rifle to the range and test it at 50 yards. I'll do that, but I have to have a perfectly calm day for it. Kevin also convinced me to test weight-sorted pellets against pellets straight from the tin, so that's how I'll do the test. I want to use domed pellets at that distance, so today I'll be looking for a good one that the rifle likes.
More 300S trivia
Mac sent a batch of photos to show some details that few people have ever seen. I'll show a couple today and more in the next report.
Remember the Running Target rifle we talked about last time? Well Mac sent photos to show how the loading port differs from the one found on the standard 300S match rifle. The port is the same size, but FWB has rotated it to the right to make access for loading a little easier. I guess they expected a lot of right-handed RT shooters, or more likely they also built one in a left-hand version. Mac's is the right-hand rifle.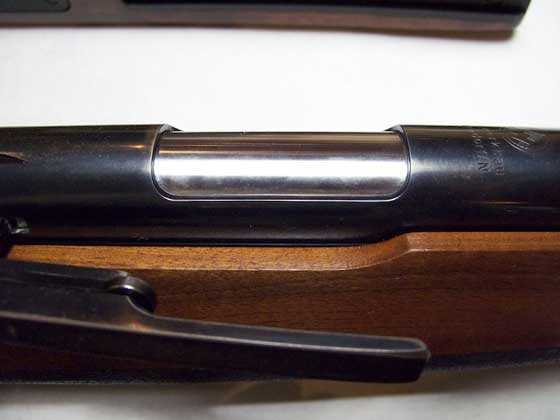 The standard 300S loading port is centered on top of the spring tube, to be equally accessible from either side.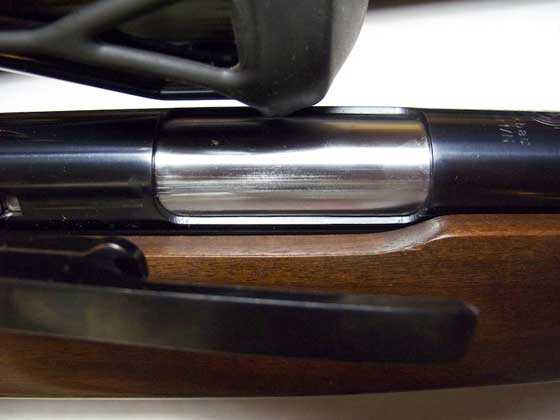 On the right-hand Running Target rifle, the loading port is rotated to the right for better access from that side.
Accuracy
All of today's shooting was done from a rest at 10 meters. I attached the Gehmann color filter wheel to the rear aperture and used the yellow filter to sharpen the bulls. It seemed to work okay. Unless I were to use it for a lot longer, I really could not say that it adds anything. I don't shoot a 10-meter rifle often enough to notice things like that.
Pellet head size is important when shooting a target rifle, and I shot pellets with heads of 4.50mm and 4.52mm, but none with a 4.51mm. Interestingly, the 4.50mm heads ranged from bad to good; so even when you have a single head size, you aren't done looking for the right pellet.
Pellets that didn't make the grade
I tried nine pellets in this test. Seven were wadcutters and two were domes. RWS Hobby pellets and Gamo Match were the two that didn't cut it. Both shot so poorly that I didn't waste any time with them. Oddly, in the test of the FWB 150 I did last year, RWS Hobbys were tied with H&N Finale Match Pistol pellets as the best ones. Go figure!
I shot two 5-shot groups each with the other 7 pellets. And with 6 of the 7 pellets, the second group was smaller than the first. That lends support to the notion that an airgun barrel needs to be seasoned before it will perform its best.
Honorable mention
The following pellets did okay, and I would have continued to use them if I had nothing better. Each of them seemed to want to do better than they were doing, but I tried an extended test with one of them and it didn't pan out.
The RWS R10 Match Pistol pellet came the closest to making the final cut. Maybe if I shot it more it might improve. But the best group of five I got measured 0.153 inches between centers.
I tried the Vogel match pellet that Scott Pilkington makes here in the U.S. It's a great match pellet, but for some reason the 300S didn't care for it that much. This is the pellet I shot four groups with, but the best of them measured 0.192 inches between centers. No dice!
JSB S100 Match pellets were another tease. The best group measured 0.113 inches between centers, but in the end it just wasn't enough to make the cut. This was the only pellet I tried that had a head size of 4.52mm. All the others were 4.50mm. This pellet did very well in an Edge match rifle from AirForce, so I thought it might have a chance here, but no dice.
The one domed pellet that I thought might work but didn't was the Air Arms Falcon pellet. The best group out of two was 0.167 inches between centers. It was a nice, round group; and because this isn't a wadcutter, the group looks about half the size it really is. With domes, you have to make extra allowances for the skirt that tears through the target paper.
The winners
Three pellets showed great promise in the 300S, and one of them was superb. The JSB Exact RS was the best domed pellet, putting 5 shots into a beautiful round group that measured just 0.111 inches between centers. Because these groups are all so small, I've enlarged the photos for you to see them better. My dime is in the photo for reference. This is the pellet I will take out to 50 yards.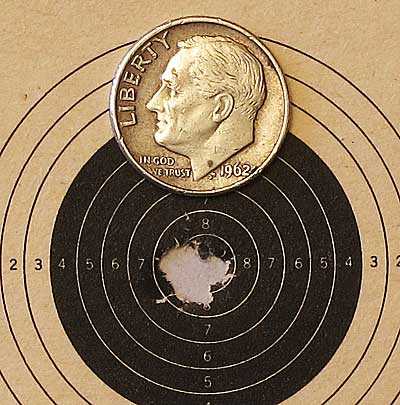 JSB Exact RS pellets made a nice small, round group. They will be shot at 50 yards in this gun.
I tried both H&N Finale Match Pistol pellets and H&N Finale Match Rifle pellets in the 300S, and both turned in a wonderful performance. These are the pellets the gun likes best. The Finale Match Pistol pellets turned in a group that measured 0.117 inches between centers. It looked very good when I saw it, but one that's even better was yet to come.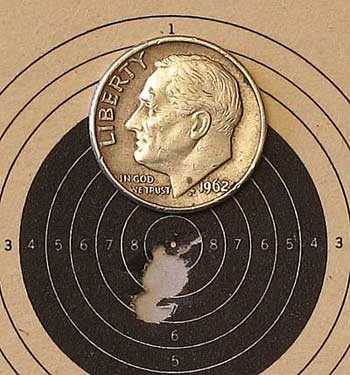 That's a nice tight group of five H&N Finale Match Pistol pellets. It measures 0.117 inches between centers.
The best pellet of the day was the last one I shot — the H&N Finale Match Rifle pellet. Five of them went onto a group measuring 0.097 inches.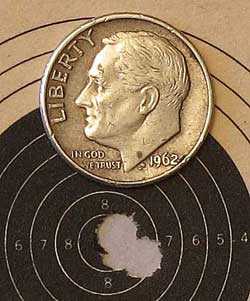 H&N Finale Match Rifle pellets made this group that measures 0.097 inches between centers. Now, that is a group!
So we found out what we knew all along: the FWB 300S is an accurate target rifle. Just for fun, I checked back to the test of the FWB 150 and saw that the best two groups with that rifle measured 0.119 inches between centers, so I did a little better with this one. On any given day, I suppose either rifle would emerge the victor. But I like the firing behavior of the 300S a little better.
The next time you see this rifle, it will have fired those JSB Exact RS pellets at 50 yards. What a day that will be!