by B.B. Pelletier
This is one of the most popular reports I've done in a long time. That may be because scopes can be very cantankerous to deal with — hard to mount, difficult to zero, always seem to shift their zero, etc. Today, I'll address some of the problems you can have and some ways to minimize them.
Scopes should work — no?
To the non-shooter, the telescopic sight seems like a guarantee of accuracy. We've all seen the movies. Put the crosshairs on the target, squeeze the trigger and you can't miss.
Then, you try it for the first time, and you notice that you can't keep the scope's reticle (crosshairs) steady. As long as you hold the rifle, no matter what you do, the crosshairs move. Each beat of your heart makes them jump a little. Each breath you take in can move the scope or at least tilt it. You can minimize these movements through training, but nobody can eliminate them entirely. That's why I shoot from a rest so often. But sometimes that doesn't work — especially with spring-piston airguns. You have to learn the artillery hold; and since that technique goes well beyond what many people think, I'll explain it more fully here.
Relax for a neutral hold
The artillery hold is really just a way to get you to follow through, but there's more to it. An important part of the hold is how you are at the instant the gun fires. You have to be completely relaxed, so the gun doesn't recoil back and encounter an off-center obstruction that shifts the muzzle in a certain direction.
Here's how to achieve this relaxed state. After putting the crosshairs on your target, take a breath and expel most of it. Try to relax as you do this. The crosshairs will usually move off the target in a certain direction. If you had fired before relaxing, the pellet would have gone off target in the same direction the crosshairs just did. Maybe it wouldn't have gone quite as far as the crosshairs seemed to, but it would have moved in the same direction. The result is a larger group.
Let's try again. This time, after you relax, move the crosshairs back on target by shifting the gun or your hands slightly. It doesn't take much.
Once you're back on target, take a deep breath, close your eyes, let out most of the air and relax again. Now, open your eyes and see where the crosshairs are. They probably moved again, only this time they didn't move so far. Shift things to get back on target again and repeat this procedure.
You may have to repeat this procedure several times before the crosshairs are still on target when you open your eyes. When they are, you can take the shot — making sure that you allow the gun to recoil and move as much as it wants to. This time, the shot should feel very different than it normally does. It should feel neutral — as though you're no longer connected to the gun. That's the feeling of a perfectly neutral shot and one that will group as tightly as the gun is capable of — if you can repeat the process several times.
What does this have to do with scopes? Everything! This is the only way to shoot a recoiling airgun with any accuracy; and until you can do that, you'll never have much success with a scope.
With most firearms, except .22 rimfires, the hold isn't nearly as important for accuracy because the bullet is out of the gun before all the movement takes place. But with airguns, and especially spring-piston airguns, the pellet hasn't started to move before the gun does. Only a .22 rimfire is similar, and even they're much more forgiving than most airguns.
However, you do need to know that all firearms are affected by hold, as well. Even centerfires that shoot in excess of 3,000 f.p.s. will benefit from the hold I've described here, but the amount of accuracy increase is so small that it's only of interest to target shooters and long-range varmint hunters. The average shooter won't normally notice the difference between a 1-inch group and a 1.25-inch group at 100 yards. Or if they do, they won't care. I've heard that from so many shooters at my rifle range over the years that I know it's true.
Now you're ready
If you can learn how to neutralize your rested hold using the process I just described, you'll see an immediate increase in accuracy from your scoped guns. Then, you're ready to discuss scope fundamentals!
Temperature is critical
We don't appreciate how sensitive a modern telescopic sight can be. I don't mean fragile, either — I mean sensitive. Every change in temperature changes the point of impact of your scope a little. No scope is immune to this phenomenon, yet most shooters act as if once the scope is zeroed it stays zeroed.
Field target shooters know different. I've seen a field target scope with three different sets of click values on the elevation knob, each color-coded to a 20-degree temperature range. The shooter who owned that scope took the time to not only figure out all the elevation click values for every yard between 10 and 55 — he did it three separate times when the temperature was in three different ranges! That's something Hollywood will never show you.
The optical elements inside a scope are refracting light to the millionths of an inch. When they move in relation to one another — because the metal tubes that hold them expand and contract from changes in temperature, the light beams do move. The movement is very slight, but it can and sometimes does change where the images appear. The point of aim changes.
There are many other reasons for a shift in the point of aim, but temperature is a constant one that must always be taken into account. If you're looking for the way to prevent such changes, I'm sorry to disappoint you. There's no solution to cancel the effect of temperature changes on a telescopic sight. But if you know it will happen you can at least anticipate it and adjust your scope when the time comes.
Reticles
There are so many different kinds of scope reticles that it would take a book to cover them all. And most of the highly specialized ones are for specific purposes, such as the ballistics of a single military round, so they have no place in a general discussion. I'll address hree general types of reticles found on most scopes. If I miss something, you can bring it up in the comments.
The oldest type of reticle is the plain "crosshair," which is two straight lines — one vertical and the other horizontal. In some scopes, these lines actually appear to move as the scope is adjusted, but that's getting pretty rare today. More often, the crosshairs remain in place in the center of the image and the adjustments move the whole image, so you don't notice anything.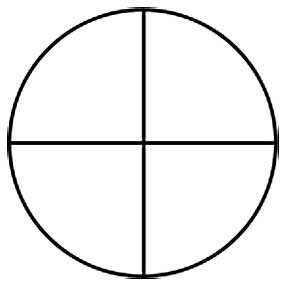 The plain crosshair is the oldest type of reticle. This image shows thick reticle lines, but they can be much thinner for greater aiming precision.
Often a very thin reticle can be difficult to see against a background, so there will be a small dot at the center of the crosshairs that makes them stand out. This dot will be small, perhaps one or two minutes of angle (a minute of angle covers about one inch at 100 yards), but it doesn't take much to be noticeable against anything but a dark woods background.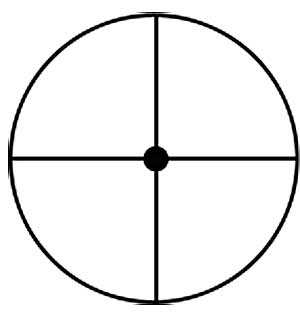 This dot looks large on the heavy reticle lines. But in many scopes, both the dot and reticle lines are very small and fine. This is just for illustration.
Plain crosshairs are best in open country and are therefore favored by long-range shooters. They're fine for plinking, as long as the reticle lines aren't too thin. They're less useful in deep forests, where the reticle lines don't stand out. For that terrain, probably nothing beats the duplex reticle.
The duplex reticle is a plain crosshair that has thicker lines near the edges of the field of view and thinner lines in the center. When I shot field target, I used a scope with a duplex reticle for two reasons. First, it was much easier to see in the deep woods where many matches are shot; and second, the duplex offers four additional aimpoints.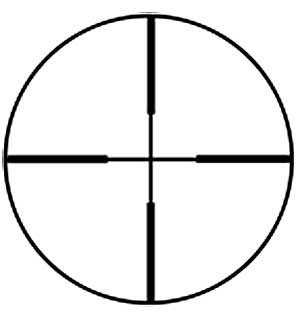 The duplex reticle uses crosshairs of two different sizes. The ends of the thick posts provide four additional aim points that can be used for things…like greater or lesser distance and wind.
Duplex reticles are the favorite of hunters, because they work well in deep foliage yet they permit precise aiming at the same time. Like plain crosshairs, duplex reticles come in different thicknesses.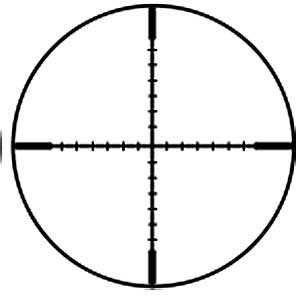 In the mil-dot scope, the dots are an exact size (measured in mils) and are spaced apart an exact distance. On variable scopes, they must be used at one power setting to work as designed. Read the information that comes with the scope to discover how this works.
Mil-dot reticles are a more recent invention. They feature dots of a controlled size spaced along one or both reticles at regular spaces. Mil is short for milliradian, a measure of angle that, unfortunately, has never been standardized. Or perhaps it's more correct to say that it has been standardized dozens of times — each with a different measurement. When I was a mortar platoon leader, our fire direction center and mortar sights used the old French measurement of 6,400 mils to a circle, but there are many other measurements that differ — some slightly and others in a more significant way.
One common use for the mil is rangefinding. Though it isn't exact, we say that one mil subtends (covers) one meter at 1,000 meters. At 100 meters one mil subtends one-tenth of a meter or 3.9 inches. That's so close to 4 inches that we round it up.
A whitetail deer is about 12 inches from the top of the shoulder to the bottom of the chest. A two-mil dot will just about cover the deer's chest at 150 meters.
Is that too much for you? It is for many hunters who still use the mil-dot scope for aimoff when there's wind. Or they use the vertical dots for aim points at distances other than the range for which the scope is sighted.
Focusing the reticle
The first thing a shooter must do with a scope is focus the reticle. The eyepiece should adjust to allow you to do this, and it does on all but the cheapest scopes. Focus by looking through the scope at the sky or a light-colored wall and turn the eyepiece until the reticle appears in sharp focus. I've read that this is supposed to be done incrementally; because if you stare at the reticle very long, your eyes will naturally focus on it. So do it in stages.
After you focus the reticle, some scopes have a locking ring to hold that focus. Others don't have the locking feature, but the focus rings should be stiff enough to hold your focus without it.
Focusing the reticle is very important for scopes with adjustable objectives, because the scope's designers assume the scope is in sharp focus when the objective ring or sidewheel is turned. Only when the reticle is in focus will the scope come close to the distances marked off on the parallax ring or knob, which is the adjustable objective we are discussing. And, of course, that will also depend on the temperature when the scope is used.
On the other hand, on lower-powered scopes that have a fixed parallax setting you can use the focus to bring close targets into better focus. This isn't what the adjustment is for and it will blur the reticle somewhat, but sometimes it's the best way to use a low-priced, fixed-focus scope at closer distances than it's intended.