by B.B. Pelletier
Announcement: Chris LeGate is this week's winner of Pyramyd Air's Big Shot of the Week on their facebook page. He'll receive a $50 Pyramyd AIR gift card. Congratulations!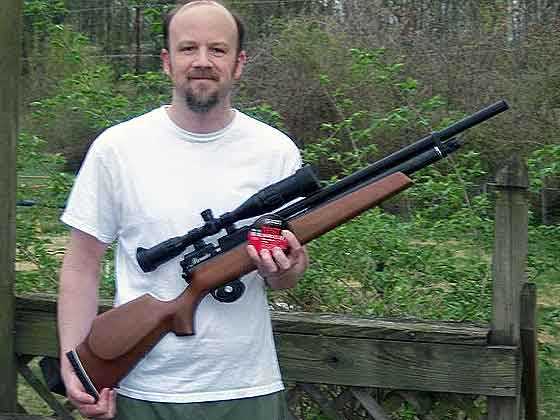 BSOTW winner Chris LeGate holding his .22-cal. Benjamin Marauder mounted with a Leapers 3-9x40AO scope with illuminated reticle. He also got a tin of JSB TEST Sampler pellets and an Air Venturi hand pump.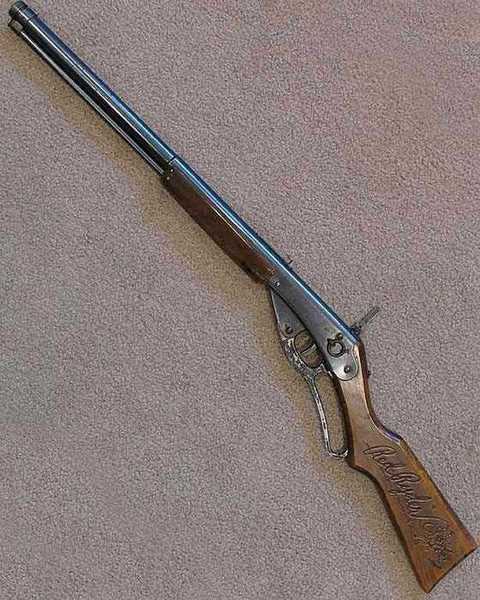 Daisy's Red Ryder is the best-known airgun of all time. This one is from the 1940s.
I'm going to combine velocity and accuracy testing for the Daisy Red Ryder, because I want to do a third report with the Daisy model 300 scope mounted. After examining the mount on my 1936 No. 25 that has that scope, I see it has the same base as the Red Ryder. So, the switch should be easy.
My Red Ryder hasn't been shot in a great many months — perhaps over a year, so I expected to find the leather piston seal dry. But it wasn't. I got that telltale wisp of smoke that told me the seal is still full of oil. However, I wanted to test the gun both before and after oiling, so that's what I did.
I used the pellet/BB trap that was given to me by Jim Contos at last year's Malverne airgun show (don't forget, it's coming up next month on April 27 and 28). It's full of duct seal; but because I would be shooting BBs at low velocity and didn't want any to bounce back off the lead already in the trap, I put a half-pound smear of fresh duct seal over what was already in the trap. I've now got between 5,000 and 10,000 shots on this trap, and it's holding up fine. For those who need to build an inexpensive yet rugged trap for both BBs and pellets, click here for instructions on how to make one.
Before oiling
I shot Daisy zinc-plated BBs for all tests you'll read today. Before the gun was oiled, it gave an average of 302 f.p.s. The spread went from a low of 290 to a high of 306 f.p.s. At the average velocity, the 5.1-grain BBs produced 1.03 foot-pounds at the muzzle.
I removed the shot tube and dumped out all the BBs. Newer BB guns have a hole on the side of the barrel jacket for oil, but older ones like this one don't. You must remove the shot tube and drop the oil straight down the open end of the barrel jacket, where it can soak into the leather piston seal.
I used 3-in-One oil for this job. At the low velocity the Red Ryder generates, common household oil is fine for oiling the piston seal. There's no danger of a detonation, and you can use enough oil to really soak that seal. I used 12 drops just to see what would happen.
After oiling
After the gun was oiled, the velocity was no higher than before. The average now was just 300 f.p.s., but the total velocity spread tightened just a bit, from 16 f.p.s. before oiling to 11 f.p.s. after. The spread went from 293 to 304 f.p.s.
So oiling made little difference. As I noted, the presence of a wisp of smoke after every shot alerted me to the fact that the gun had all the oil it required.
Accuracy
I set up a 15-foot range, because that's the standard distance for guns like this Red Ryder. The aim point was a Shoot-N-C black paster, peeled off a 3-inch bullseye card. It's ever-so-slightly larger than a U.S. nickel coin, and I wanted to follow Mel Gibson's advice from the movie The Patriot, "Aim small. Miss small."
I shot offhand, and the first group is larger than it should be because I didn't apply myself on every shot. I didn't expect much accuracy from this BB gun, so I let a couple shots wander more than they should. The resulting 10-shot group measures 1.597 inches between centers. But within that group, there's a cluster of five holes that measures 0.453 inches between centers. That encouraged me to knuckle down and give it my best effort on a second try.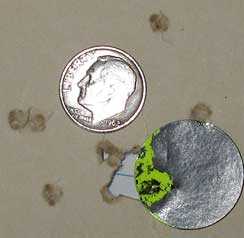 The first group measures 1.597 inches across for 10 shots at 15 feet, but look at where five of those shots went. That hole measures 0.453 inches across.
The second group measures 1.483 inches between centers, so not a lot better than the first. It looks better because the shots seem to all be in a big cluster, but the measurements tell a different story.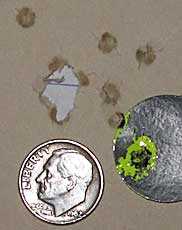 Target two looks better than the first, but it isn't by much. Ten shots went into this group measuring 1.483 inches between centers. Four of those shots made a much smaller 0.371-inch group.
Notice, though, that the BBs seem to go to the same place in both groups. This gun wants to shoot slightly above and to the left of the aim point with the 6 o'clock hold I'm using. Remember these sights are not adjustable, but I can use Kentucky windage to move the point of impact around a little. I think this gun is the kind that a little boy would soon learn to shoot, and before long he would be doing impossible things with it at close range.
Summary
This test turned out differently than expected. I thought the Red Ryder might get up as fast as 350 f.p.s. after a good oiling, but that didn't happen. And I thought the accuracy would be a lot worse than what you see here.
We're not done yet, because in the next installment I'll mount the Daisy model 300 scope and shoot some more groups for you. I'll also give you photos of this unique scope and mount that seems to copy the old buffalo hunter scopes of the 19th century. Til then!