by B.B. Pelletier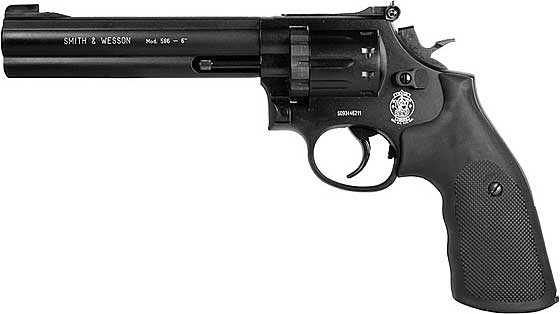 Smith & Wesson 586 pellet revolver is a classic for airgunners who like shooting pellet pistols.
Let's look at the velocity of our Smith & Wesson 586 with the 6-inch barrel. But before I get to that, let's first look at the trigger-pull.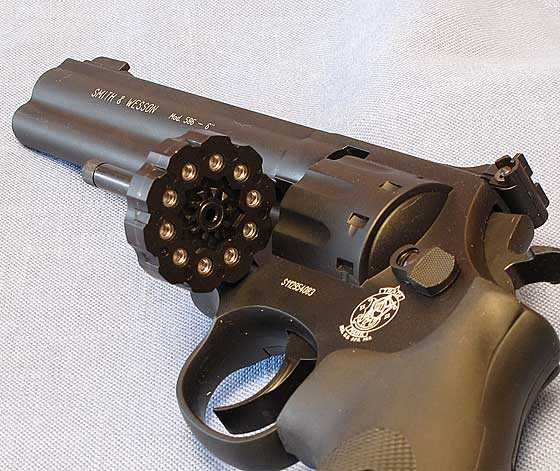 Here's the revolver with the cylinder open. It's easier to remove the circular clip from the crane and load it separately than to load it while it's still in the gun like this.
This test gun has the most variable trigger I've tested recently. In the double-action mode, it breaks between 8 lbs., 10 oz. and 9 lbs., 6 oz. In single-action mode, it broke somewhere between 5 lbs., 1 oz. and 6 lbs., 10 oz. That's a broad range in either mode, yet when I hold the gun and pull the trigger normally I can't feel the difference. So forget what the numbers say — the trigger feels remarkably stable and even light!
Velocity
I tested the gun with three pellets. Each was tested in both the single-action and double-action modes because you get different velocities in each mode in some guns.
Crosman Premier 7.9-grain
The Crosman Premier Lite averaged 390 f.p.s. in the single-action mode. The spread was large, ranging from 377 f.p.s. to 416 f.p.s. That's a total spread of 38 f.p.s. All shooting was done with at least a 10-second pause between shots, and the temperature in the room was 70 deg. F.
The same pellet in the double-action mode averaged 389 f.p.s., so not much difference. The range was from 372 to 403 f.p.s., for a spread of 31 f.p.s. Taking 390 as the average, Premier Lites generated 2.67 foot-pounds at the muzzle.
Air Arms Falcon
The Air Arms Falcon pellet was next. In single-action, it averaged 406 f.p.s., with a 24 f.p.s. spread from 398 to 422 f.p.s. In double-action mode, this lightweight domed pellet averaged 398 f.p.s. with a spread from 376 to 425. That's 49 f.p.s. between the fastest and slowest. At a velocity of 402 f.p.s., the Falcon generates 2.62 foot-pounds of energy. I selected a velocity that falls between the averages of the single-action and double-action modes.
RWS Hobby
The 7-grain RWS Hobby pellet is still the one I use to test maximum velocity in most airguns. In this revolver, the single-action mode gives an average 428 f.p.s. The spread ranges from 414 to 441 f.p.s., for a difference of 27 f.p.s. In double-action, the revolver averages 411 f.p.s. with Hobbys, and the spread goes from 391 to 422 f.p.s. That's a spread of 33 f.p.s. At 420 f.p.s. the Hobby generates 2.74 foot-pounds of energy.
How many shots on a CO2 cartridge?
I got 40 powerful shots before the velocity began to decline. From 41 to 50, it declined in a straight line, starting at 377 f.p.s, and ending at 292 f.p.s. That would be where I would stop, so for casual shooting I'd say it gets 50 good shots on a CO2 cartridge. The danger of shooting more pellets in a CO2 gun when the velocity begins to drop off like this is that you'll eventually get one stuck in the barrel. If you quit while you're ahead, that won't happen. Fifty shots is standard for air pistols of this power.
What have we learned?
This test was interesting because it showed there's a slight advantage in velocity in the single-action mode. The description says the gun gets 425 f.p.s., and the results seem to agree with that number. It also shows that this pistol has a wider velocity spread than most CO2 guns. It demonstrates that you cannot judge a gun only by numbers, since the trigger-pull figures are high, yet the trigger-pull seems both light and crisp in both modes.
So far, I have to say this S&W is every bit the wonderful airgun that I remember. Can't wait to see how accurate it is.