by B.B. Pelletier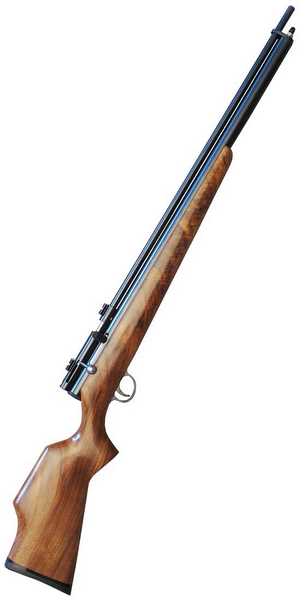 Quackenbush .308 big bore is an attractive airgun.
The last time we looked at this Quackenbush .308 big bore was when I discovered that my rifle really likes Mr. Hollowpoint's 68-grain hollowpoint bullet. I also tested a 150-grain Loverin-design bullet that was just a bit too heavy for the gun. It didn't want to stabilize and was tearing elongated holes in the target at 50 yards.
If you'll recall, I was running low on air that day, so I could fill the rifle to only 3,000 psi. That gave a stunning group that was smaller than one inch at 50 yards with the 68-grain hollowpoint, but I wondered whether it would do any better if I filled the rifle to higher pressure. I also wondered if going just a trifle faster would have stabilized the 150-grain bullet. There were a lot of unanswered questions after the last test.
Today, I'll address those questions. I had a full air tank and a reasonably good day at the range. Certainly for testing something as stable as a .308, the light breeze was no challenge.
Shooting the 68-grain hollowpoints
I decided to fill the rifle to 3,500 psi, to see what kind of velocity that might give. The 68-grain bullet averaged 1051 f.p.s, on that much air and left about 3,100 psi in the tank for the second shot. That's a muzzle energy of 167.15 foot-pounds.
Shot two averaged 1,010 f.p.s. with the same 68-grain bullet and generated 154.07 foot-pounds of energy. You might think that's close enough to the first velocity that the bullets will print in the same place. They might if this was a firearm — but it's an air rifle, and we have to take the flexing of the horizontal air reservoir into account. As the pressure inside the air reservoir changes, the reservoir — which is a long tube — flexes a tiny bit. Since it's connected to the barrel, this flexing can cause movement in the muzzle.
The first shots printed about two inches higher on the target than the second shots. I knew they would from past experience shooting other big bores, so this came as no surprise to me. I actually shot one group of first shots (after a 3,500 psi fill) at one target and a separate group of second shots at a second target.
After seeing where the shots landed relative to the aim point, it's possible to use the mil-dot reticle in my scope to shoot both shots into the same group by using two different aim points. This is a technique I learned several years ago with my .458 Outlaw; and with it, I can put five bullets into one inch at 50 yards. I didn't try that on this day, however, because I was too busy learning the gun.
Neither group obtained this day was as good as the group I shot last time on just 3,000 psi of air. The first group that was shot on 3,500 psi measured 2.72 inches between centers for five shots, though four of those shots landed in a group measuring 1.219 inches.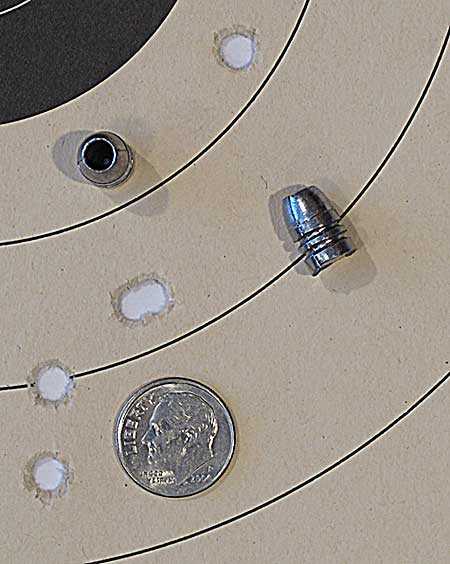 Four of the five bullets were close at 50 yards on 3,500 psi. Two landed in the same hole.
The group that was fired on 3,100 psi measured 1.953 inches between centers. That's twice the size of the best group that was shot several weeks ago on 3,000 psi, so I think this bullet is going too fast for best results. It looks to me like this 68-grain hollowpoint wants no more than 3,000 psi as a max charge. That would put the velocity at around 970-980 f.p.s.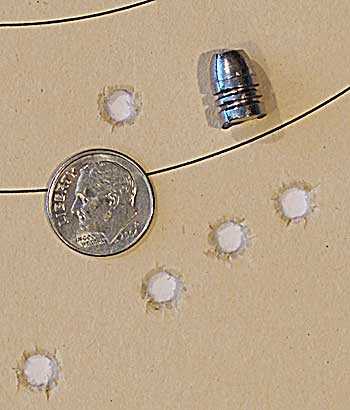 Lower starting pressure gave a tighter group. This one was made with 3,100 psi.
Did the 150-grain bullets stabilize?
Again, the 150-grain bullets failed to completely stabilize — even when driven to 825 f.p.s (on 3,600 psi air) and generating 226.75 foot-pounds of energy at the muzzle.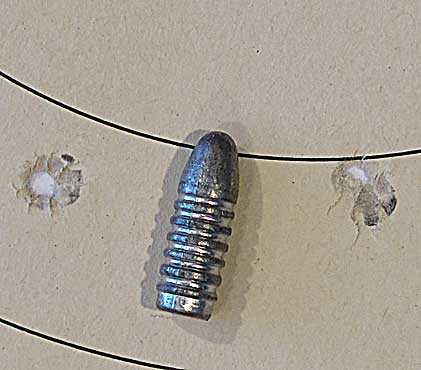 Both bullet holes show evidence of tipping. The bullet is not stabilized.
Clearly, this Loverin bullet is too long to stabilize at the velocity this rifle generates. What's needed is a 120- to 130-grain bullet that's short, which means it must have either a round or a flat nose.
Some observations
I'm seeing a relationship between soft pure lead bullets and better accuracy. Any hardening alloy seems to open up the group.
Ditto for lubricated bullets. So far, the best, most accurate bullets are those that are completely dry. I see now that I need to cast some more 130-grain bullets in lead that is as pure as I can make it, and shoot them absolutely dry. I've seen the performance of pure lead bullets on game, and they hold together far better than hard alloy bullets do. Lead hardened with antimony breaks apart in large chunks, while soft lead mashes up like a wad of bubble gum when it hits game.
I've always questioned using a .308 for game as large as a deer. I know hunters who are better shots than I am do it all the time and have great success, but for me the .308 is more of a coyote and bobcat round. I'll leave the deer and wild hogs to the .458 and keep this .308 for smaller game. It probably has a useful range of 125 yards in my hands. For an air rifle, that's pretty far!