BSOTW
by Tom Gaylord, a.k.a. B.B. Pelletier
Announcement: Bill Cardill is this week's winner of Pyramyd Air's Big Shot of the Week on their airgun facebook page. He'll receive a $50 Pyramyd Air gift card. Congratulations!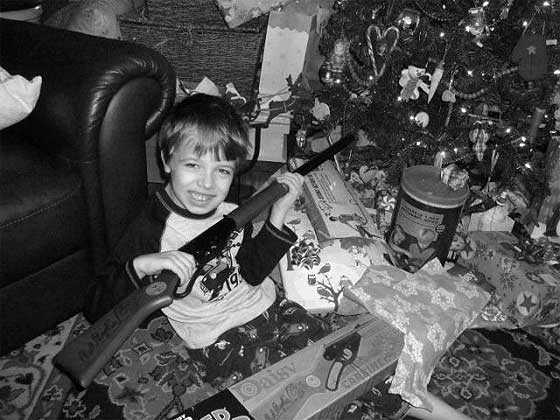 Bill Cardill is the Big Shot of the Week on Pyramyd Air's facebook page.
This same scenario will be repeated in countless homes this coming Christmas!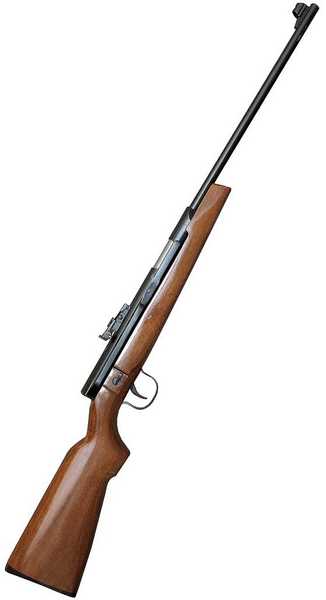 The Chinese Fast Deer sidelever air rifle is attractive. Does its performance live up to its looks?
This is a fourth look at the intriguing KL-3B Fast Deer sidelever from China. We saw some pretty good 10-meter results in Part 3, and I said I'd be back to expand on that. I didn't mention a scope was coming in part 4, but that's what I had in mind. However, when it came time to shoot the gun, I decided to see how well I could do with the same open sights I used last time.
Today, I backed up to 25 yards which always reveals things that were perhaps masked when I shot at 10 meters. Twenty-five yards is a middle distance for a spring gun — at least for one in this power range — and you can count on the shots opening up.
The first thing I noticed right away was that heavy trigger! I'd forgotten about it. I don't think it disturbed my accuracy, since I shot from a rest, but neither did it enhance my shooting.
The second thing I noticed was the size of the rifle's breech. Three times in 55 shots the pellet fell out, and I didn't notice it. The result was always a surprising detonation, and once I found a squashed pellet still in the receiver, where the sliding compression chamber had flattened it.
Other than those two distractions, the Fast Deer is a nice rifle. The stock is the right length and size, and everything fits me quite well. If I could mount a peep sight on the gun, I think it would be just about perfect. In fact, I'm going to look into the possibility of doing just that!
RWS Hobbys
The first pellet I tested was the RWS Hobby that did so well at 10 meters. After confirming they were still on target at 25 yards with the same sight setting as 10 meters, I stopped looking through the spotting scope and just shot the group. But Hobbys didn't do so well at 25 yards. Ten of them made a group that measures 1.918 inches between centers. As you can see, the shots are scattered and show no tendency to go anywhere, in particular. I noted that Hobbys were loose in the breech. Also, the Hobby is a wadcutter pellet, and wadcutter accuracy usually starts falling off around 25 yards.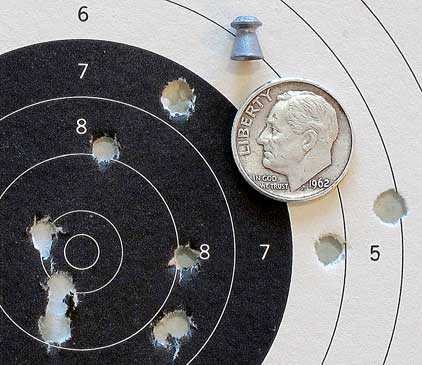 Ten RWS Hobbys made this 1.918-inch group at 25 yards.
Baracuda Green
The next pellet I tried was that remarkable lead-free dome, the H&N Baracuda Green. They've surprised me on more than one occasion, and they looked good at 10 meters in the Fast Deer. At 25 yards, they were a little better than the Hobbys, but not that much better. Ten of them made a group that measures 1.815 inches between centers. The Baracuda Greens fit the breech rather well.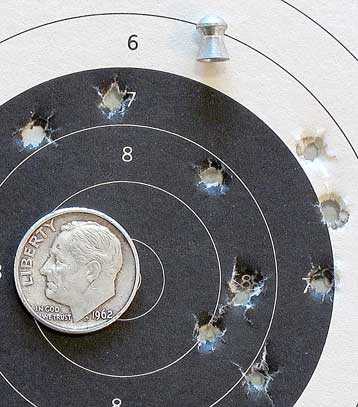 H&N Baracuda Greens were slightly better than Hobbys, but not much. Ten went into 1.815 inches.
JSB Exact RS
I tried JSB Exact RS pellets next, and I got an interesting result. First of all, this was one of the pellets that fell out of the breech. When I tried to compensate for the lost rounds, I shot 11 rounds instead of 10. The entire group was large, at 1.918 inches between centers. Before you comment, I'm aware that's exactly the same as the RWS Hobby group, but please remember that there's always a built-in margin of error when measuring these groups. So, they probably aren't exactly the same size — that's just how it looked to me.
The interesting result was that 6 of the 11 shots were in a smaller group that measures 0.475 inches between centers. That hints that this pellet might actually be the best one for this rifle, though the overall group doesn't show it.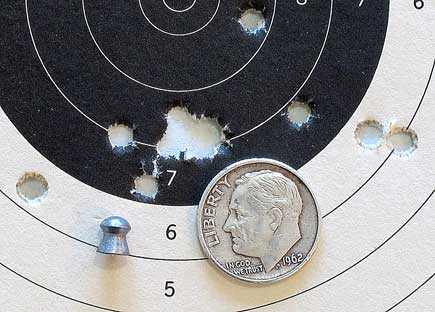 This group of 11 JSB Exact RS pellets is large, at 1.918 inches between centers; but within it, 6 pellets are grouped in just 0.475 inches.
Beeman Kodiak
Next I tried the heavyweight Beeman Kodiak pellet. Although many would not try it in a rifle as low-powered as the Fast Deer, I've often found that Kodiaks are some of the most accurate pellets in lower-powered spring guns. Not this time, however. Ten went into a group that measures 2.134 inches between centers. That was the largest group of the test.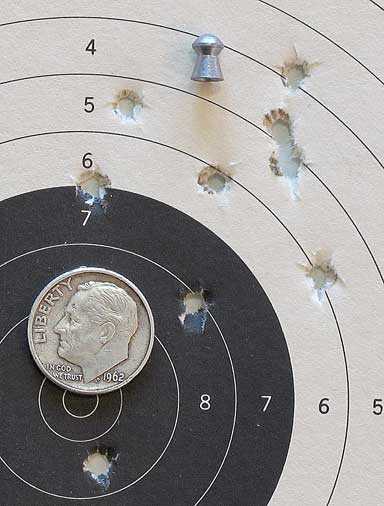 Beeman Kodiaks didn't do so well in the Fast Deer. Ten went into 2.134 inches — the only pellet to go over the two-inch group size.
Air Arms Falcon
The final pellet I tried was the Air Arms Falcon. These are made by JSB; and, often, if other JSB pellets do well, these will, too. Ten Falcons made a group that measures 1.497 inches between centers. It's the smallest group of the test, though it doesn't have the same tantalizing group-within-a-group that the JSB Exact RS pellets had.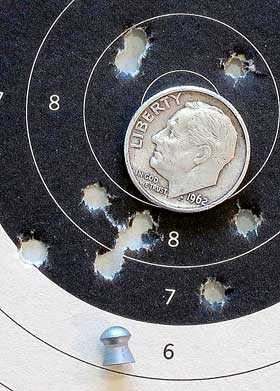 Air Arms Falcons made the smallest group of the test, with 10 going into 1.497 inches at 25 yards. They also hold some promise for greater accuracy if the sighting was more precise.
Overall evaluation
I don't think we've seen the full potential of the Fast Deer, yet. The groups from the JSB Exact RS and Air Arms Falcons seem to promise a higher lever of accuracy if things were somehow different. I'm going to think about that for a while and see what I can do about it. Yes, I think there will be a Part 5 of this report at some point.
One thing is very interesting and that is what the 25-yard shooting and 10-shot groups have taught us about this rifle. Some things to think about in the future are better sighting possibilities and perhaps expanding the skirts of the two most accurate pellets — to see if that has any bearing on the outcome.