by Tom Gaylord, a.k.a. B.B. Pelletier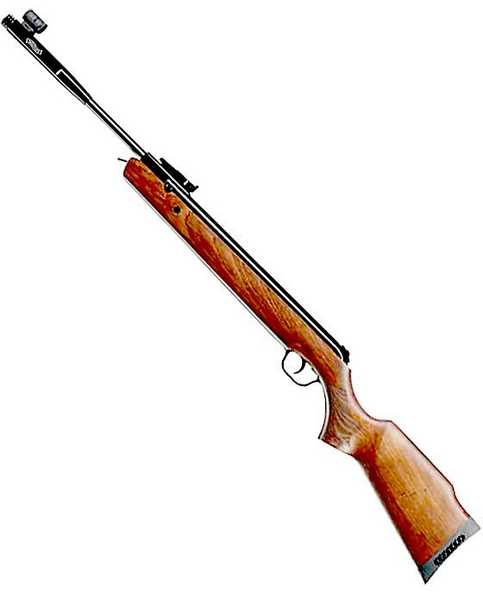 The LGV Master Ultra with wood stock is what readers have been asking to see. Today, we'll see how it shoots!
Today, you'll see the test of the .177-caliber Walther LGV Master Ultra at 25 yards with open sights. This is for all who have an interest in a rifle that I think redefines the breakbarrel spring-piston sporter.
Twenty-five yards is not quite 2.5 times the distance at which the first test was conducted, so I expect to see the groups open up quite a lot. In fact, this is a wonderful distance at which to test an airgun because this is where the real pedigree starts to show through. Let's see how our test rifle did.
Crosman Premier lite
The first pellet I tested was the 7.9-grain Crosman Premier lite that did so well in the 10-meter test. After confirming the shot was on the bull with a spotting scope, I shot the remaining 9 shots without looking again. Shot 9 was a called pull to the left, and I knew I would see a hole to the left of the main group when I examined the target.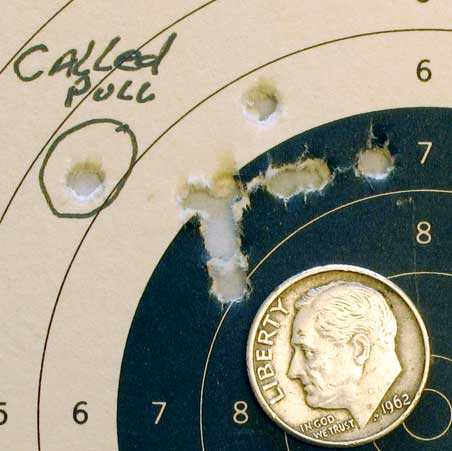 Ten Premier lites went into 1.065 inches at 25 yards. Nine of them made a 0.742-inch group that I feel is more representative of the rifle's actual accuracy with open sights at this range.
Crosman Premier heavies
Next, I tried 10 Crosman Premier heavies because a reader thought they might do well. They did not — giving a very open and scattered group that measures 1.549 inches between centers.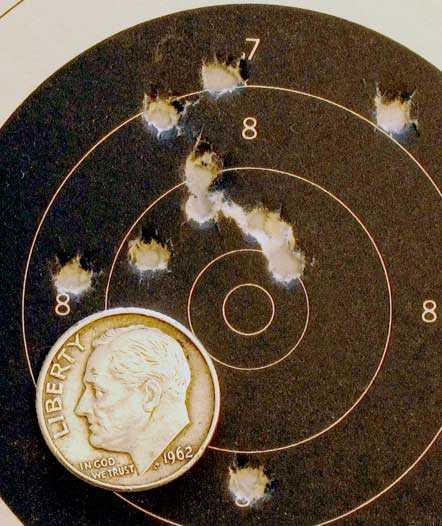 Ten Premier heavies made this 1.549-inch group at 25 yards. The group is open and scattered — showing not much hope for this pellet in this rifle.
Beeman Devastators
Next, I shot 10 Beeman Devastator pellets. These lightweight hollowpoints surprised me in the Pellet velocity versus accuracy test I did two years ago. And they fit the LGV breech very well, so I had hopes they might be accurate, as well.
Indeed they were! Ten gave a 1.154-inch group, but 9 of them were in 0.746 inches. That's very much like the Premier lites, though there was no called shot this time.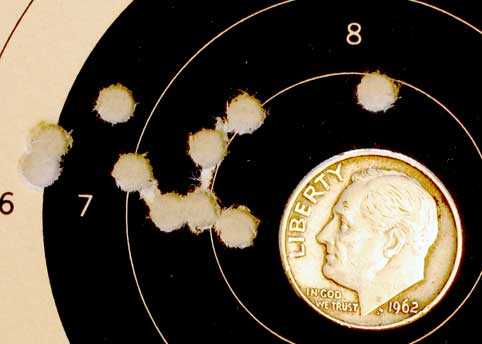 Ten Beeman Devastators made a 1.154-inch group, but 9 went into 0.746 inches. Very promising!
JSB Exact Heavy 10.34-grain
Next up were 10 JSB Exact heavys. The Exact RS pellets had not done well in the 10-meter test, but these heavier domes often succeed where the lighter ones don't. This time, the outcome was very telling. Eight of the pellets made an incredibly small 0.518-inch group that's perfectly round, then the final two shots enlarged the group to 2.147 inches. They made both the largest and smallest group of the session! That small inner group tells me that this may well be the most accurate pellet in this rifle, as it often is.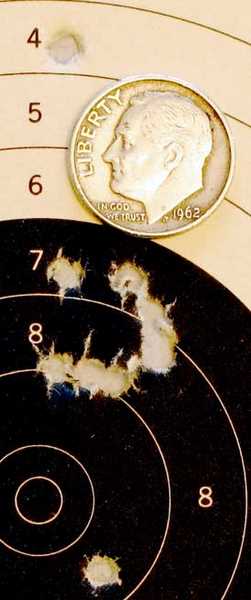 This group made by JSB Exact Heavy pellets will make you think! I didn't call any shots, but I think something went wrong with the two outliers. I believe the small cluster is more representative of what this pellet can do in this rifle.
Of course, I could be wrong, but this isn't the last time I'm going to shoot this LGV for accuracy. Next time will be at 25 yards with a scope mounted. This JSB just won a place in that test.
H&N Baracuda Match
The last pellet I tested was the H&N Baracuda Match, which did so-so in the 10-meter test. I thought I would give them another chance at 25 yards; but, alas, their mediocrity only continued. Ten made an open 2.121-inch group with no pattern or clustering.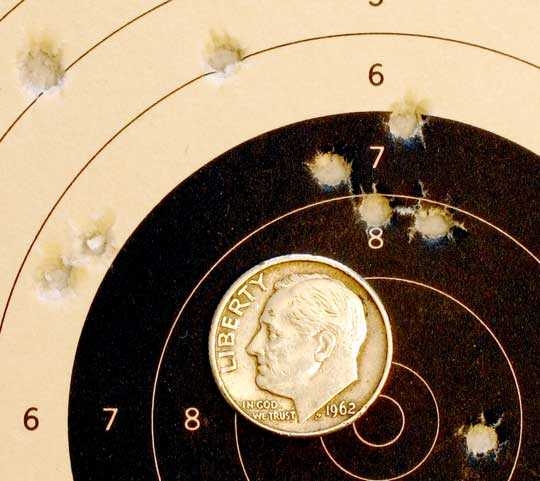 Ten H&N Baracuda Match pellets didn't do so well in this rifle. Group size is 2.121 inches…and, yes, there are 10 shots there.
Am I satisfied?
I am very satisfied with this performance. The naysayers will probably dream up new things to say about the gun; but as far as I'm concerned, it's on track for a spectacular test.
I will say that the firing behavior was quite buzzy with the Premiers, but much less so with the Baracudas and the heavy JSBs. I think those JSBs are going to turn out to be the pellets of choice in this rifle. I'll also comment that the trigger now seems as good as a well-adjusted Rekord. It's not as light, but the wide blade makes the release feel very crisp.