by Tom Gaylord, a.k.a. B.B. Pelletier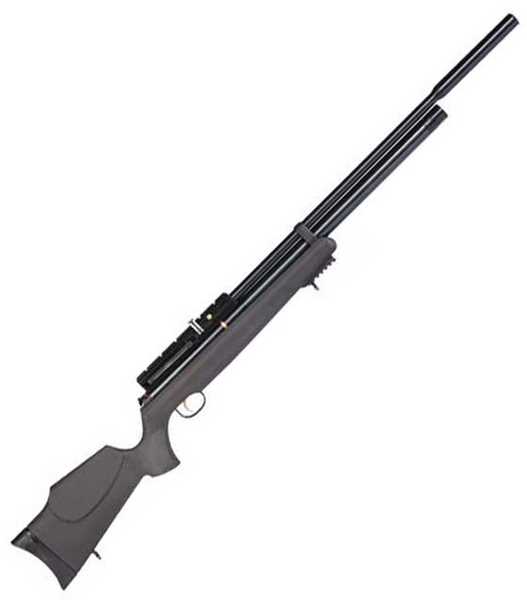 Hatsan's AT44S-10 Long QE is packed with features for airgun hunters and long-range shooters.
This report covers:
• Most accurate test ever conducted!
• Scope and mounts
• Scope base design
• On to the range
• Airgunners…just like golfers!
• What happens next?
You waited for this report. I told you it was going to be a good one. I even advised a couple people to just buy this rifle if they wanted a quiet and powerful PCP that was also accurate. Today, you're going to see why I said that.
Best test ever conducted!
To cut to the chase, this was the best test of an air rifle I've ever conducted at 50 yards. I won't go so far as to say that the Hatsan AT44S-10 Long QE is the most accurate air rifle I've ever fired, because you've seen in recent days that I seem somewhat variable. I refer to yesterday's good test of the Air Arms Shamal after a pervious mediocre test.
However, if I can repeat today's results at some future date, then I'll conclude that this rifle is the most accurate air rifle I've ever tested at 50 yards. But I'm getting way ahead of myself. Let's see what happened.
If you're a regular blog reader, you already know that I was having a good day because the Shamal had just turned in several great groups — including one stunner that measured 0.818 inches for 10 shots at 50 yards. Now, it was the Hatsan's turn on the bench, and the weather was still perfect.
Scope and mounts
I had mounted an AirForce 4-16X50 scope on the rifle using UTG 2-piece Max Strength high Weaver rings for a 1-inch scope. One of our readers heard that the Hatsan scope base that allows both Weaver and 11mm scope rings to be mounted has problems with Weaver rings, so he asked me specifically to use rings that have a Weaver dovetail on their base. I did, and the UTG mounts fit well, though I will say that the Hatsan base is at the wide end of acceptable width.
But I think I see what the reader has heard about, and I want to share it with you. There are some shooters who feel that all mounts must look attractive and squared away or they don't fit right. What these people don't understand is that mount makers use base jaws that will fit as many different configurations of dovetail cuts as possible — because gun manufacturers do not use many standards when making their cuts.
Scope base design
I'm going to explain something here, and I want you to try to understand it because it will make all the difference if you do. Weaver bases are a standard that specifies the width and height of the dovetail, and the width of the cross groove that accepts the locking bar on the mount. But the angle of the cuts that shape the dovetail grooves are not as certain. No doubt, Weaver specifies them, but mount makers don't always conform to that spec. They use dovetail cutters with varying angles. To deal with this inconsistency, many mount makers, including Leapers, cut the jaws of their ring base clamps with rounded points, so they'll grip most dovetails, regardless of the angle of the cut.
If there was only one rounded point on the clamp base, the ring would sit cockeyed on the rifle; but when the other end of the same clamp also has a rounded point that engages a special cut in the scope ring and the two cockeyed points cancel each other. The result is a scope ring clamp jaw that looks cockeyed, yet the ring sits squarely on the gun.
In the 1990s, B-Square owner Dan Bechtel and I did a project to determine the standard width of 11mm airgun dovetails. This is where we discovered that those dovetails vary between 9.5mm and almost 14mm in width. The angles of cuts ranged from 45 degrees to 60 degrees. The Weaver base is more standardized, but the cut angles still vary and have to be addressed.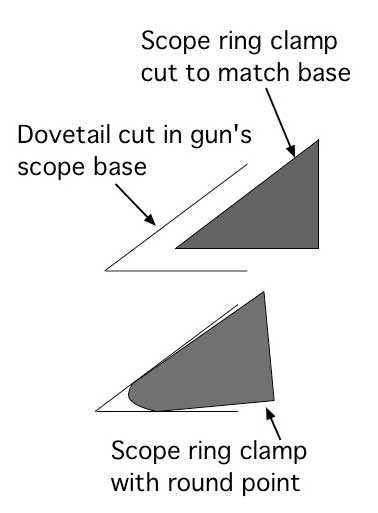 Here you see how the rounded point of the scope ring clamp jaw allows it to fit into a wide variety of rifle dovetail base cuts. Having a rounded point on the other end of the same clamp will cancel this odd angle and allow the scope ring to sit squarely on the rifle.
The genius of this clamp design is lost on many people who see the cockeyed part as a flaw or mistake. Actually, it's a compensating part that assures an exact fit on a variety of different gun bases. The picture shows this clearly.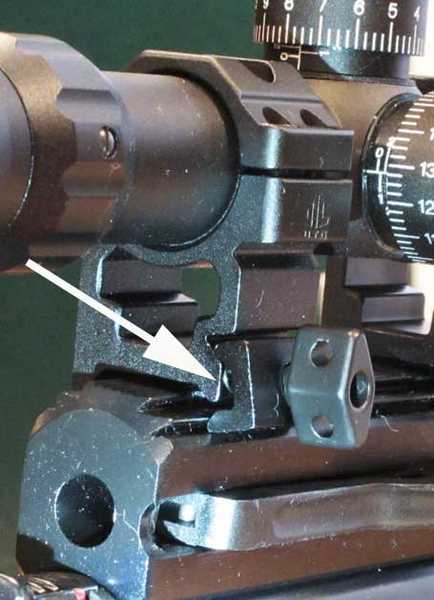 This photo shows how the compensating clamp jaw works. The jaw sits at an off angle, but the scope ring is perfectly level.
For that reason, my answer to the reader who asked whether the Hatsan bases will accept a Weaver ring is — yes. Many ring manufacturers make their ring base jaws this way. If you can tolerate the odd appearance, this solution works perfectly.
On to the range
I was at the range on a perfect day, so this test would be conclusive if a good pellet was found. In the past, you've seen me work through a list of pellets, looking for the best one. Well, on this day I happened to find that pellet on the second try. At least, I think that's the case because that pellet did so well that I didn't bother trying any others.
I filled the rifle to the manufacturer's recommended 200 bar (2900 psi) and loaded the 10-shot magazine. The first pellet I shot was the 14.3-grain Crosman Premier dome. I put 10 into 1.463 inches, but I'm not going to bother showing you that group because of what happened next. I knew from the velocity test we did in Part 2 that this rifle probably gets at least 20 good shots per fill when shooting at 50 yards. The velocity does decline with every shot; but as you'll soon see, that doesn't seem to matter much.
The second pellet I tried was the 16-grain Air Arms Diabolo Field pellet. It's a dome that sits comfortably in the middle of the .22-caliber pellet weight range. Although it resembles the 15.9-grain JSB Exact Jumbo and although JSB does produce this pellet for Air Arms, they do so on proprietary dies owned by Air Arms; so, the two pellets are not the same and should not be confused with each other. On other tests, I've seen different results from these two pellets.
These 10 pellets were fired on the same fill as the Premiers, so the rifle's internal pressure was down around 2500 psi when I started shooting. Every pellet went to the same place on the target. It was like they were being guided, or something. The result was 10 shots into a group that measures 0.681 inches between the two centers that are most distant. I was stunned when the group was finished! I've probably shot a couple other groups that small with airguns before — certainly with my Talon SS and probably also with a Benjamin Marauder — but this still ranks as one of the best groups I've ever shot at 50 yards with an air rifle. And the day was just beginning!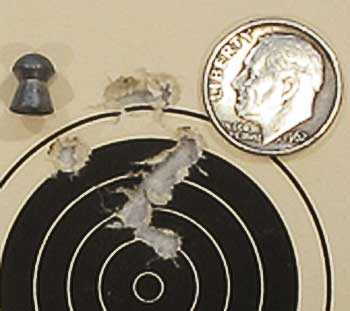 Ten Air Arms 16-grain domes made this 0.681-inch group at 50 yards. This is a screamer.
Following that, I refilled the rifle, for 20 shots had now been fired. The pressure had dropped to below 2000 psi, and I think to as low as 1750. I filled it back to 2900 psi and went back to the bench.
The next 10 shots were with the same Air Arms pellets, only this time we started at a full fill instead of only a partial. Ten pellets went into 0.992 inches this time — a little larger, but still in good territory.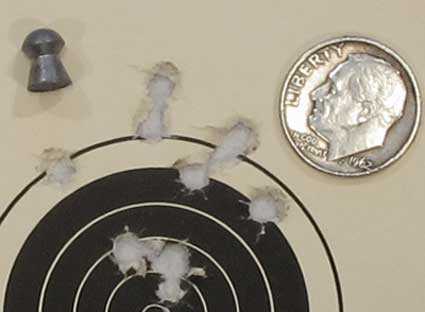 Ten more Air Arms 16-grain domes made this 0.992-inch group at 50 yards when the rifle was filled to the maximum. This isn't a screamer; but coming on the heels of the previous group, it's pretty good!
Now the rifle was back down to where it had been for the first great group. So, I loaded 10 more Air Arms pellets into the rotary clip and settled down to shoot another group. This time, all 10 went into 0.624 inches. A definite screamer; and with the first group, pretty good proof that the Hatsan AT44-10 Long QE I'm testing is a shooter.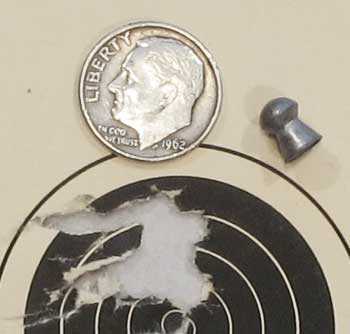 Ten more Air Arms domes made this 0.624-inch group at 50 yards when the rifle was fired on a partial fill. This is the best group of the session and also one of the best 50-yard 10-shot groups I've ever shot with an air rifle.
Airgunners…just like golfers!
Like a golfer who shot a sub-par game in which he also got a hole-in-one, I decided that my good luck had probably run its course this day. Besides the 40 shots fired with this rifle, I had also tested the Shamal and shot an additional 40 shots there because there were some adjustments to the scope that had to be made. In all, I'd shot 80 precision shots this day. That's tiring.
What happens next?
I've never had an air rifle that would shoot this many consistently small groups in succession. Either I was having the best shooting day of my life, or this Hatsan rifle can really shoot. I want to return to the range under similar shooting conditions and see if I can repeat this. And I'll continue to shoot the Air Arms pellets.
I just want to make sure this test was a valid one. It isn't every day that you shoot the most accurate air rifle you've ever seen. I told several readers not to worry but to just buy the rifle if that was what they wanted. Now you see why.
After seeing what can be done with the Air Arms pellet, I want to explore some other pellets in this Hatsan. Hopefully, it'll do well with several brands so there's a choice.
After that, who knows? Maybe I'll try this one at 100 yards. You may remember that I shot a one-inch group of 10 at 100 yards with a CondorSS last year. I wonder if this rifle can do as well?