by Tom Gaylord
Writing as B.B. Pelletier
This report covers:
Big bore match
What amazes you?
Bell target
The action pistol match
Back to basics
Texans galore!
What about the show?
Prizes galore
Was the show a success?

Pyramyd Air was the sponsor of the 2015 Texas airgun show, and we put their banner at the entrance to the show. The entrance had to be outdoors this year, because both buildings were full.
Pyramyd Air donated a raffle prize of a Sam Yang Light Hunter .45, plus safety classes for the public range and gift bags for everyone who attended. Crosman couldn't attend, but they generously donated the grand prize of a Benjamin Bulldog for the LASSO big bore match.
Big bore match
Last time I reported on the LASSO big bore match I apparently didn't say enough. Unfortunately the competitors were all allowed to fill out their own data sheets, so some of the information I have on the guns that were used is lacking.
The guns in the match were:
AirForce Texan .45 (6)
Hatsan .35 Carnivore (1)
Shin Sung Fire 201 .357 (1)
Mrodair P30 Velociraptor .308 (1)
Professional Big Bore Airgun (2) .257 and .401
KAM Custom (2) .257 and .45
Cook Custom (1) caliber unknown
AirForce Condor .257 (1)
Rossi Morreale was the Grand Champion, shooting a Texan. He also took first place in the Big Game class. Jeff J. shooting a Texan took second and Brian C. took third with his custom gun (so we know Brian's rifle was .40 caliber or greater).
In the Varmint class (under .40 caliber) Jared L. took first with a Fire 201, Jess A. took second with a Hatsan Carnivore and Bennie N. took 3rd with a Condor.
What amazes you?
I have been to dozens of airgun shows over the past 21 years, and I've seen just about everything that can be seen. What I look for now is how the show appears through other people's eyes. Let me begin with our own Reb. He is a quiet guy who wanders the show looking and listening, but not necessarily doing a lot of talking. He's like a walking sponge. But when his eyes fell on the huge box of airguns at the end of the tables I was in, he got real serious, real fast.
Reb saw the potential in that box, and when he realized he could own it all, he bought it. Readers of this blog have watched him take the guns out of that box and examine them one by one. It doesn't take a crystal ball to see where he is headed with those airguns. As far as I am concerned, that was a success!
Bell target
David Enoch is a blog reader who comments from time to time. I know him from seeing him at numerous airgun shows and LASSO events in the past. I even bought a Gamo 68-XP from him at one show that lead to a 6-part report. I thought I knew him pretty well, but at this show, I saw a different side of him. He was captivated with a Quackenbush bell target from the 19th century.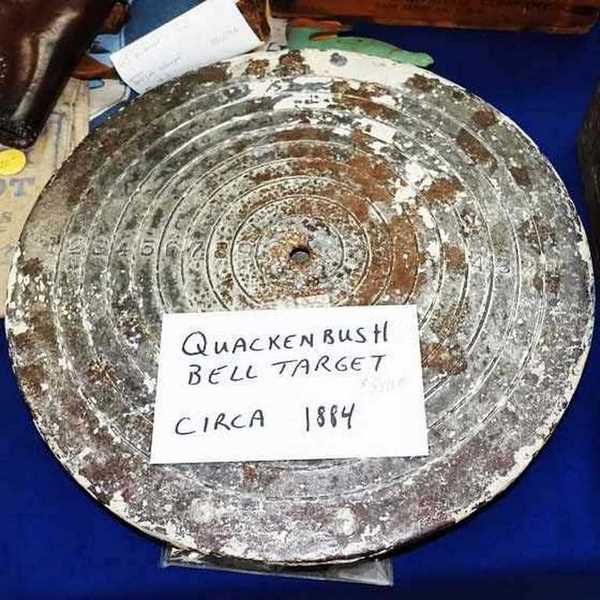 Quackenbush bell target from the 19th century is large and mechanical. David Enoch fell in love with it!
This target was important for 2 reasons. First, just for what it is and second, because it was priced at $950 — substantially less than an identical target that was displayed at the Findlay show, earlier this year. The target is mechanical. When the bull is hit, a bird (?) drops from the top rim. The rest of the target would have been painted with non-drying lead paint to show where the pellets impacted. This is airgunner man-cave jewelry!
I heard from a 10-meter target shooter who attended the show that there were airguns on display that he never knew existed. His world consists of 4-5 brands of target airguns, so seeing all the other odd stuff at this show opened his eyes in a major way.
My brother-in-law, Bob, had the same reaction. He came mostly for the firearms at the show, but left with his head exploding from all the odd airguns he never knew about.
The action pistol match
MegaBOOM target systems and Umarex USA teamed up to run the public action pistol match. It was a timed match at a rotating target with 4 MegaBOOM targets and the fastest time to break all 4 after the time started was the winner.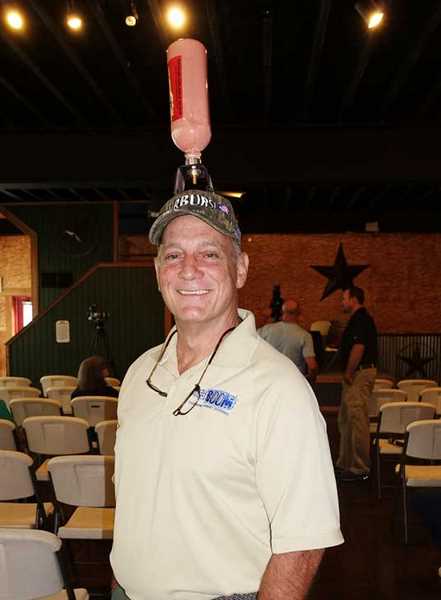 Ralph Hoetger, owner of MegaBOOM target systems had an unusual way of attracting attention at the show.
The bottles were filled with pink dust that looked like Pepto-Bismol. When they broke, a cloud of pink dust erupted. I thought the contest was over with a winning time of just 20.8 seconds, but that was before Rossi Morreale broke them all in 20.01 seconds to win the match!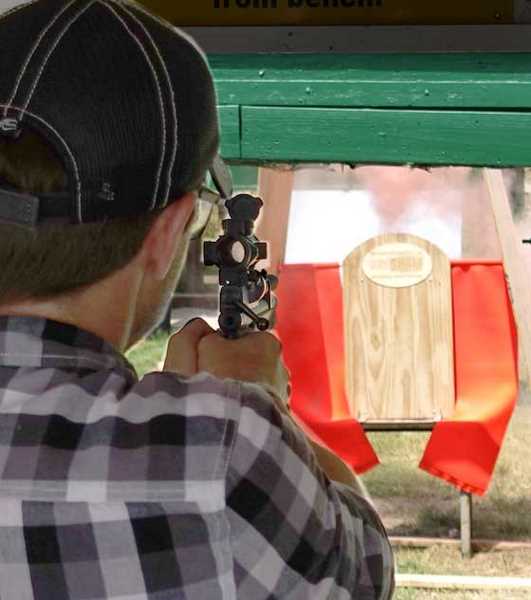 Looking over the shoulder of the match winner, Rossi Morreale broke 4 MegaBOOM targets faster than anyone, to win the public action pistol match.
All I can say is this — for three years on American Airgunner Rossi has said that he's not a shooter and just wants to learn from the experts. Well, the jig is up! Your honeymoon is over, pardner!
Back to basics
Back at the show there were a pleasing number of antique airguns to be seen. On one table next to the the bell target sat three Quackenbush guns. One was a No. 1 pellet/dart gun and the other 2 were safety cartridge rifles shooting .22 rimfire ammo. That is the beauty of the Texas Airgun show — both airguns and firearms are okay. So instead of not showing these two vintage rimfires, the dealer was able to display them proudly with the airgun of the same period — where they belonged.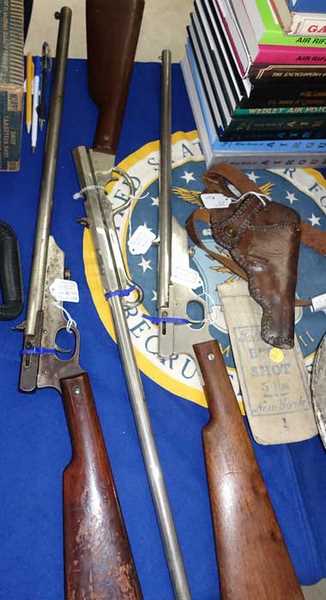 A Quackenbush No. 1 air rifle flanked by two Safety Cartridge Rifles. Only at the Texas Airgun show will you see a display like this that contains both airguns and firearms.
Unusual stuff
At every show you see things you didn't imagine — because nobody ever imagined them. Well, nobody other than the person who made them, I suppose. This time a man named Dan Hill stopped by my table with a version of the Walther Lever Action rifle I had never seen. It had a gold-plated receiver and a long octagon barrel. It looked like an old Winchester. I though it was a Henry rimfire rifle at first. But he told me it was a Walther lever action that he had customized.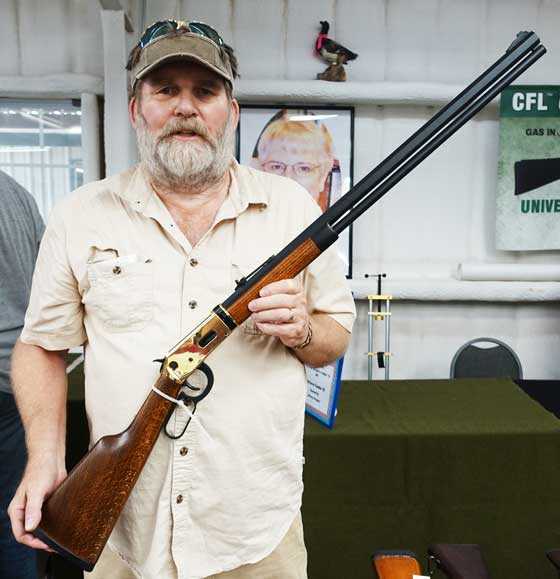 Reader Jim Hill showed me his beautiful custom Walther Lever Action rifle.
I sent Jim over to the Umarex table to show the rifle to Umarex USA marketing manager, Justin Biddle. He was as impressed as I with the rifle. I bet he thinks the rifle could sell in this configuration. These are the kinds of wonderful ideas that sometimes get missed by the makers.
And, speaking of unusual stuff, Tank Fisher the knifemaker had a table next to me where he displayed his gorgeous handmade knife collection. Tank is a custom maker whose brand is TbarK Knives and he is well-known for making automatic knives (switchblades) Automatics are legal to own and carry here in Texas (what a wonderful state!) and Tank had some beauties at the show.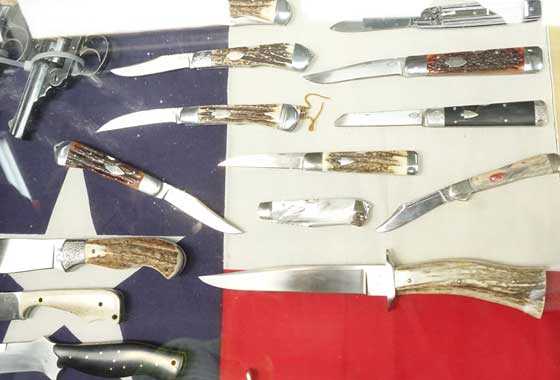 Tank Fisher was selling these beautiful knives at the show. The folders are all switchblades., and many of them can also be opened manually.
One thing Tank is known for are his Case conversion knives. What looks like a Copperlock is actually a switchblade that also opens manually if you want. Very few knifemakers offer this option and Tank's are widely considered to be the best.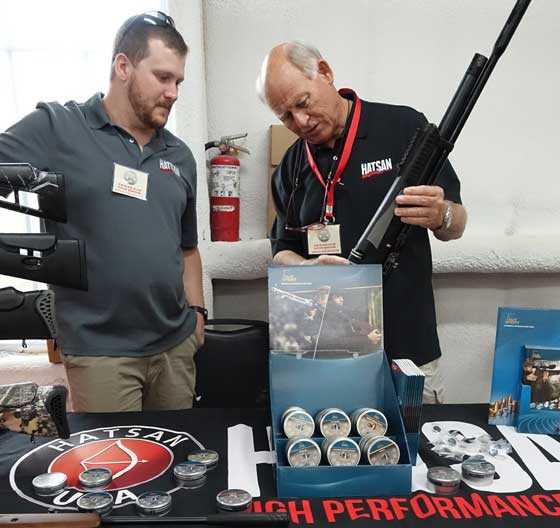 The guys at the Hatsan table enjoyed the entire show.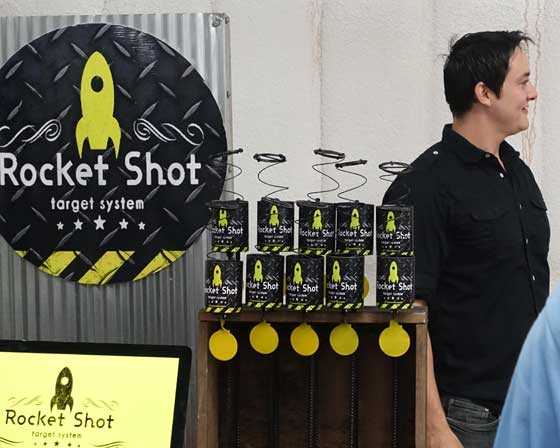 Jody Shackelford of Rocket Shot targets had a good show.
Prizes galore!
One keynote of the Texas Airgun show is the prizes that are available. There are raffle prizes, match prizes and a huge door prize that's available to anyone who pays admission. The raffles started at 10 a.m. and were held every hour until 2 p.m. this year. These were the raffle prizes:
Pelletgage and Speedy Pellet Sorter in winner's choice of calibers — .177 or .22. From Pelletgage and Speedy Pellet Sorter.
Hatsan .35 Carnivore w 6 tins of H&N Grizzly pellets. From Hatsan USA.
Diana RWS 34. From RWS USA (Umarex USA).
Umarex Legends P08. From Umarex USA.
MegaBOOM target system with pump. From MegaBOOM target systems.
Sam Yang Light Hunter .45 cal. single tank. From Pyramyd Air.
$50 gift card to Umarex website. From Umarex USA
Rocket Shot target system. From Rocket Shot Targets.
MegaBOOM and Umarex USA put on the action pistol match. Entry fee was $5 and the winner won $100.
We already read about the big bore match grand prize from Crosman, which was the Benjamin Bulldog I tested for this blog and for Shotgun News.
The door prize was the last prize drawn at the show. It was a Condor SS rifle, donated by AirForce Airguns. There were several tickets drawn, but the holders who had to be present to win didn't come forward. Then they found a winner, and what a winner she was!
Sherry Williams drove all the way from San Antonio to attend the show. She is AirForce Airguns official huntress, and bought her own Condor SS back in February of this year. Her fiance introduced her to hunting about three years ago and she currently hunts varmints and feral hogs. Her normal rifle is a Tikka T3 in .308 Winchester, but she recently added a Texan to her growing collection.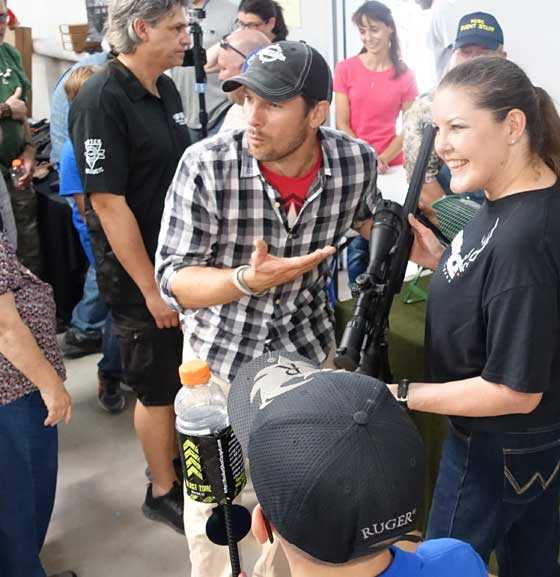 Sherry Williams drove up from San Antonio to win the door prize — a Condor SS donated by AirForce Airguns and presented by Rossi Morreale.
Since she already has a Condor SS, Sherry is raffling her prize off on the GoFundMe website for Aiden & Rowan's medical bills. Go there to buy a ticket to win.
Was the show a success?
I am always asked whether I think the show is a success. The answer to that is personal for everyone who attended. One guy might have found exactly what he was searching for, and another person might have struck out.
From an observer's standpoint, though, I would call this show a success. It was very large, it had multiple competitions,
prizes were off the charts and there were more major dealers present than you will ever see at another airgun show. From that standpoint, I would say it was a huge success.