by Tom Gaylord
Writing as B.B. Pelletier
This report covers:
Setup
Big bore draws a crowd
The match
Texans galore!
What about the show?
Vortek and the Diana 34
More to come
Setup
The Texas airgun show is a one-day event. Everyone knows they have to get in quick, set up quick and get everything accomplished in one short day. The Parker County Sportsman Club that hosted the event provided dozens of volunteers to run the ranges, park cars, sell tickets, prepare and serve food and drinks, and generally help anyone who needed it. As a result, the event was set up and running smooth when the doors opened to the public at 9 am. But, unlike last year, there was no line at the door. The tickets were sold at a gate outside the compound because we had vendors in two different buildings this year. Even so I was surprised and a little disappointed when I didn't see the immediate crush of people at 9.
Big bore draws a crowd
At 9:30 we had only about 100 people come into the main hall, so I stepped outside to see what was happening. And then I found the crowd! They were standing at the 250-yard range, watching the big bore shooters get their range and safety briefing.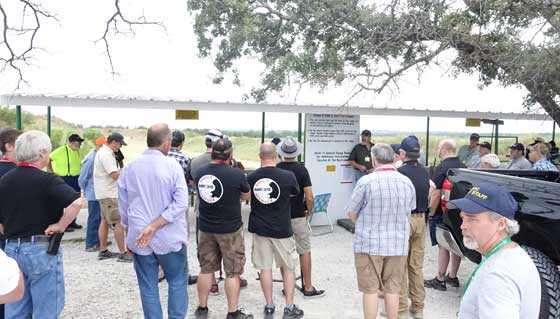 A crowd watched the big bore shooters' safety briefing.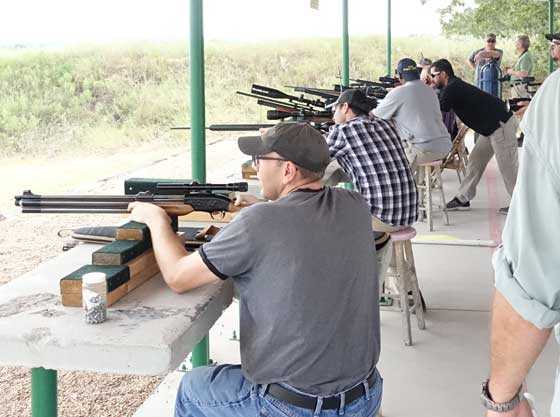 Shooters were allowed to check their zero at the 250 yard line before the match.
The second shooter in this picture — the man in the checked shirt — is American Airgunner host, Rossi Morreale, who is shooting an AirForce Texan that was assembled for him 10 minutes before this picture was taken. He was sighting-in at 250 yards with an air rifle had had never fired or even seen before this day.
The match
LASSO is a match that simulates hunting. So the rules are made to make things realistic. There are 2 classes — Big Game is for all guns .40 caliber and above and Varmint is for everything smaller — usually .257 to just under .40 cal.
The match was simple. There were only 4 targets. The first was shot offhand at around 30-40 yards at a 6-inch bullseye. If the first shot hit, maximum points were awarded and no second shot was taken. If they missed on shot one they shot again. If the target was hit on the second shot, a lesser number of points were awarded. Two shots were all they got, and each shooter had 30 seconds to take both shots. Out of 18 shooters, only 6 ever hit the paper target.
After all shooters had shot the paper target, they walked back to about 100 yards from the berm and shot at metal silhouettes. The Big Game class shot at a half-sized ram that had an 8-inch kill zone. If the kill zone was hit, a steel paddle behind it flapped back, showing the hit. Hitting the silhouette anywhere but on the paddle counted for nothing. Varmint class shooters shot at a full-sized coyote that had a 6-inch kill zone. Same rules and points applied.
The shooters had to start from a standing position with their breeches open and guns unloaded. When the command was given they had to move forward to a designated spot and start shooting. The time started when the command to start was given.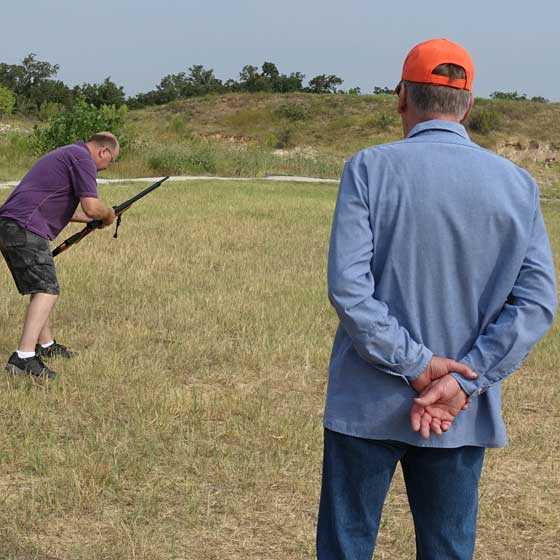 The shooter has been given the command to start. He has to move to his spot, load the gun and do anything else before taking his shot. He gets 30 seconds to make up to 2 shots. If the first shot connects, he is done.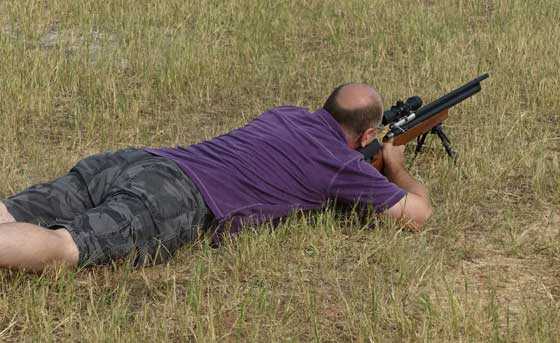 This shooter is using a bipod that he had to extend and adjust while getting into position before he could shoot.
Out of 18 competitors (5 shooters competed in both classes) the close silhouette was hit 6 times. Five of those were on the first shot. Two and sometimes three spotters watched every shot through spotting scopes, so there was no doubt about the hits.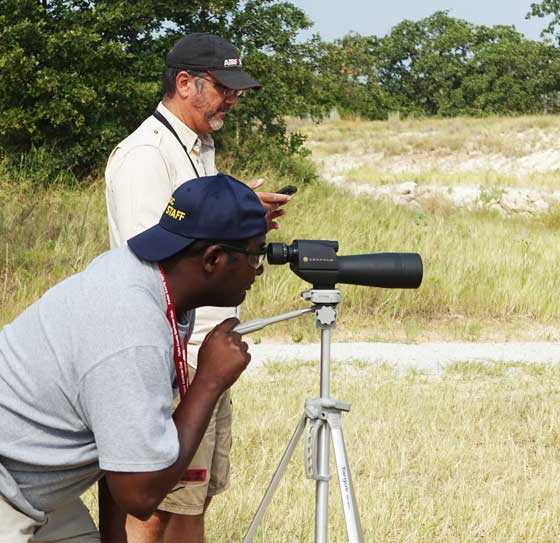 Two and sometimes 3 spotters watched every shot to see if the paddles were hit.
After all had shot the near silhouette, they walked back to about 175 yards and shot at the same silhouettes again. Same rules applied. Only one shooter of 18 connected with the kill zone at this distance.
After all shooters were done, the line walked back to 250 yards and fired at the same silhouettes again. Same rules. Of 10 shooters, only one connected at this distance. Rossi Morreale did hit his target, but he was shooting in the Big Game class and hit the Varmint class silhouette, so no points were awarded.
When all was finished there was a shootoff at 250 yards between Rossi Morreale and Bennie Nelson for the grand prize. Rossi edged Bennie out on the second shot at 250 yards to win the grand prize.
I awarded Rossi with the Benjamin Bulldog that I tested for this blog and for a feature article in Shotgun News. The Crosman Corporation generously donated this rifle and the scope and mounts I used in the test. I also gave him a notarized certificate of authenticity for the rifle, the issue of Shotgun News that contained my article and two boxes of Nosler bullets for the rifle. Rossi had announced during the filming of the Round Table the evening before that he would be winning the grand prize, and I laughed at him on camera. Shut my mouth!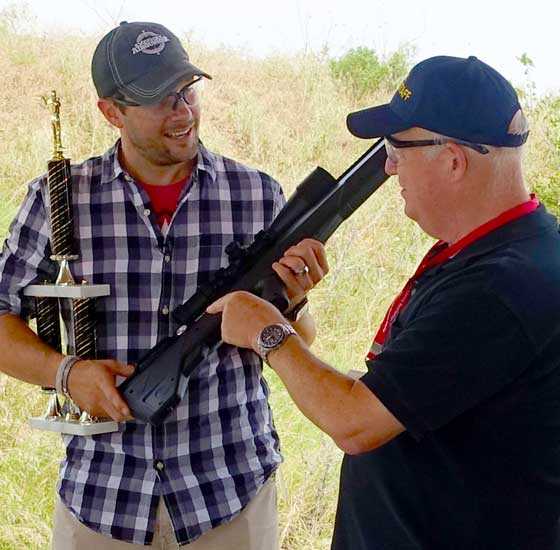 I awarded Rossi Morreale the grand prize of a Benjamin Bulldog, donated by Crosman. Please note he is also holding the first prize trophy for the Big Game class.
Texans galore!
I was shocked to see no fewer than 6 AirForce Texans in this match! There were 8 other makes (one was a Condor!) in the match but this year's LASSO was clearly a sweep for the Texan. I don't want to hear any excuses from the makers of other big bore airguns who did not compete in this match. One of them, who I will not embarrass by naming, was even displaying his big bore at a gun show in nearby Ft. Worth on the same day as this show match  was happening! If I were in the market for a big bore air rifle, I would look at the ones that actually perform, rather than the ones people write about but never compete in public.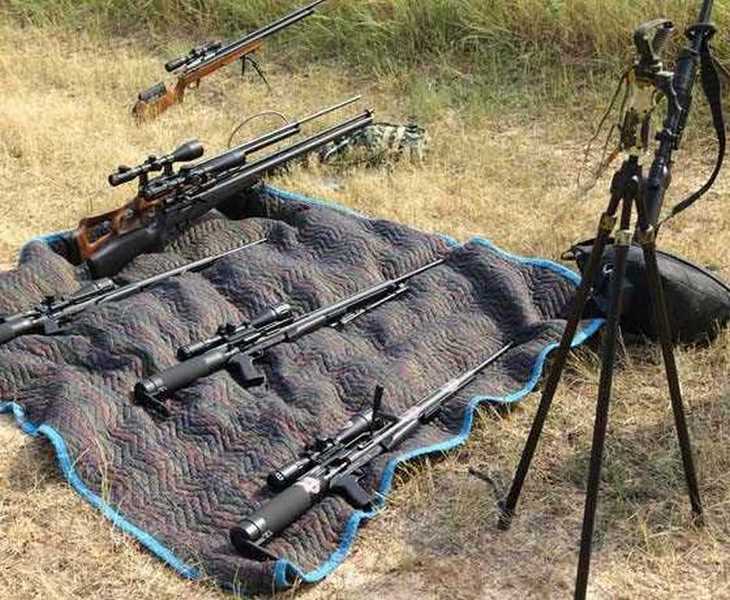 Nearly half the rifles used in the match were AirForce Texans!
The other big bores in the match were:
.25 caliber Condor
.35 Hatsan Carnivore
.357 Shin Sung Fire 201
.30 Mrodair
.257 and .401 Professional Big Bore Airgun
.257 and .45 Kam Custom
What about the show?
Inside the main hall 60 tables were loaded with airguns and accessories. The major dealers were:
Umarex USA
Hatsan USA
AirForce Airguns
Airgun Depot
Shoebox compressor
Sun Optics
MegaBoom targets systems
Rocket Shot target systems
R Arms Innovations
Mrodair
Flying Dragon airguns
Pelletgage and Speedy Pellet Inspector
Baker Airguns
Vortek
Dennis Quackenbush
Tin Starr bullets
Big Bore Airgun Ammo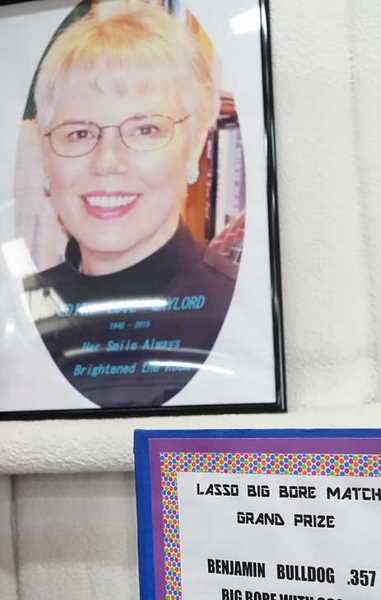 Edith was remembered at this show that she helped create.
Several dealers had pellets for sale this year, and I saw them being carried around by the "sausages" of 10 tins. This was a major improvement over last year's show, where the only pellets seemed to be in collectible tins.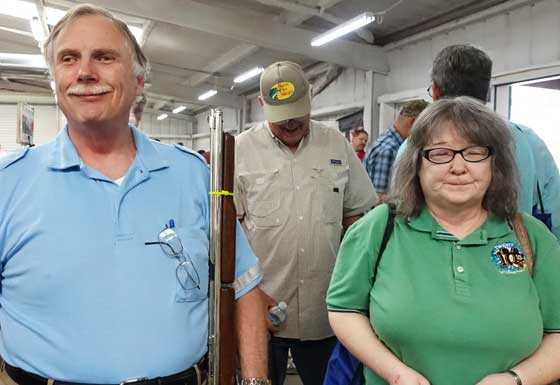 Blog reader JimQwerety123 and Mrs. Qwerty enjoyed the show. That's the Sheridan Silver Streak he scored!
Vortek and the Diana 34
Here is the exciting news I promised about the Diana 34. Tom Gore, who developed numerous gas spring piston units for spring-piston airguns announced a new unit for the Diana 34. It works with the T06 trigger and reduces vibration to nothing, according to him. It's also easier to cock than most units of the same power.
I shot a prototype of this unit at the 2014 Pyramyd Air Cup, and was hitting 3-inch kill zones offhand at 55 yards with the rifle. Gore used my Diana 34 to demonstrate to the crowd how easy his new unit installed. And the owner can change the pressure inside the unit with his hand pump! He was interviewed for American Airgunner, so you should see the unit on television next year.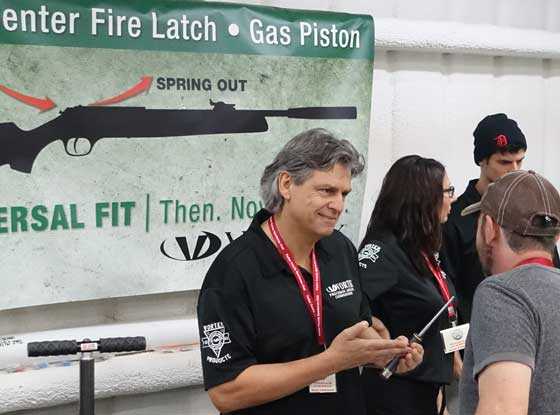 Tom Gore of Vortek shows his new center fire latch gas spring piston unit to an airgunner.
I didn't get to shoot it at the show, but Gore promised to send me one to test. He has offered this unit to several companies but at this time he plans to sell it directly through Vortek.
There were plenty of private dealers offering the vintage and odd guns so many of us expect at airgun shows. There were regular airguns and then there were the real oddities. Like Ron Robinson showed me an LD shotgun made in the Philippines especially for airgun writer, Jess Galan, who was extremely prominent from the 1970s through the 1990s.
When have you ever seen a ping pong ball launcher at a gun show? Otho Henderson brought both of his and let some kids shoot at the Rocket Shot targets with them.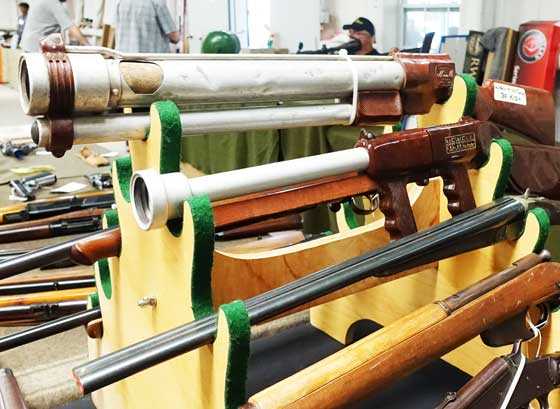 When was the last time you saw a ping pong ball launcher at a gun show?
At the end of the tables I was at there was a huge box of old airguns selling for one price. I've seen this at other shows, but this time I got a special insight into it that I'll tell you about in a moment.
The show may have started slower than last year, but by 10:30 the halls were packed and you couldn't hear yourself think!
Sometime late in the morning a man stopped in front of my table and I knew without asking that it was Reb. We talked for a bit, then I sent him out to shoot a Diana 25 on my table. He seemed reserved, as if overwhelmed by the show. Surely it couldn't be this good — could it?
When he returned to the table, he wandered down to the big box of guns and started talking to the owner. The guy was just sitting there, waiting for the right person to come along. Reb was that person, because in a little while he came back to my table having bought the entire box of guns!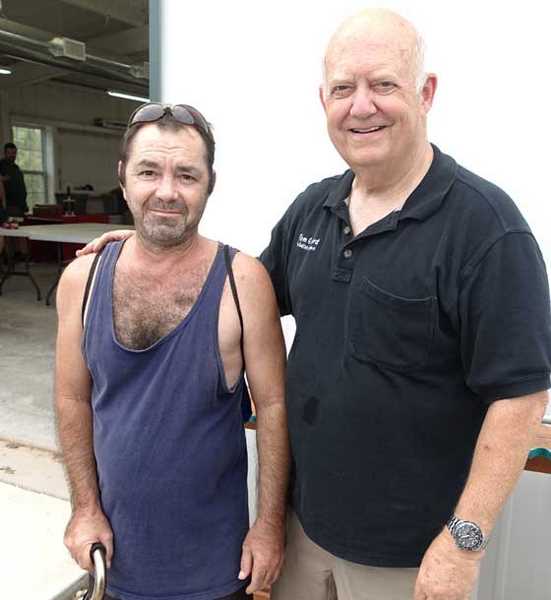 Me on the right with reader Reb, at the end of the show.
More to come
There is so much more to say. Like the fabulous raffle prizes, the incredible door prize that whose story you won't believe. And finally, who won the action pistol match sponsored by MegaBOOM targets and Unmarex USA.