Benjamin Maximus: Part 3
By Tom Gaylord
Writing as B.B. Pelletier
This report covers:
First the pump
Left eye today
Premier 7.9-grain pellets
Crosman Premier Copper Magnum
JSB Exact Heavy
H&N Baracuda Match 4.53mm heads
Air Arms Falcon
Trigger pull
What's next?
Today I start looking at the accuracy of the Benjamin Maximus. I have decided to run this test differently than my normal tests. Today I will shoot 5-shot groups at 10 meters off a rest. I will use the open sights that come on the rifle. I want to test those sights anyway, and this gives me a chance to do that. plus I start getting familiar with this rifle.
I also used the Benjamin Hand Pump to fill the rifle today, so I will report on that. I still cannot get the female quick disconnect Foster fitting on the Air Venturi G6 pump to fit the male fill nipple on this rifle, but the Benjamin pump fitting worked fine.
First the pump
I filled the rifle very quickly and the effort was minimal. After firing 20 shots I noted that the rifle's pressure had dropped to about 1000 psi. As I filled it again with the hand pump I could hear a click when the reservoir valve opened. That allowed me to make a very accurate count of the pump strokes needed to bring the pressure back up to 2000 psi. It took just 30 strokes to do that. Since I am getting 20 good shots per fill, the Maximus takes 1-1/2 pump strokes per shot. That's exactly what a Benjamin Discovery takes, so no surprises there. If you are getting into precharged guns for the first time and decide on either the Maximus or the Discovery — get a pump!
Left eye today
I noticed that the open sights were not clear for me with my right eye that had the detached retina, so today I switched sides and shot from the left. The sight picture was crystal clear and the way I had the target lit, the front sight appeared as a sharp black rectangle in the rear notch.
Unfortunately, the Maximus rear sight does not adjust up high enough to hit the bullseye at 10 meters when a 6-o'clock hold is used. Being fiberoptic, this sight is made to align the green dot of the front sight between the two red dots of the rear sight, and to center the green dot on the target. Then the elevation would be fine, but that lacks precision for what I'm doing today. So my groups all landed low on the paper.
Premier 7.9-grain pellets
First I thought I would try the 7.9-grain Crosman Premier. It's accurate in the Discovery and I thought it would be good in the Maximus, as well. Five Premier lites went into 0.316-inches at 10 meters. That's not bad, but I hoped to do better. You spring gun guys can just eat your hearts out, though.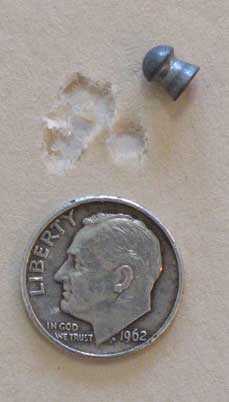 The Maximus put 5 Premier 7.9-grain pellets into 0.316-inches at 10 meters.
Crosman Premier Copper Magnum
Next, I tried the Crosman Premier Copper Magnum pellets Crosman sent with the rifle. The card that comes with the tin says they are 20 percent more accurate at 50 yards than the 7.9-grain Premiers. At 10 meters I was able to put 5 into 0.371-inches. So they aren't quite as tight as the 7.9-grainers this time, but this was with open sights. I will wait until I get to the 50-yard range to really test these two!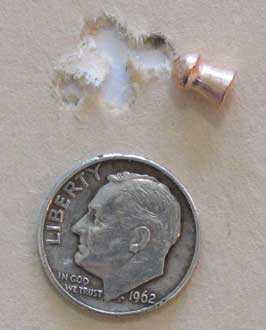 The Maximus put 5 Premier Copper Magnum pellets into 0.371-inches at 10 meters.
JSB Exact Heavy
Next up were JSB Exact Heavy domes. Five went into 0.353-inches at 10 meters.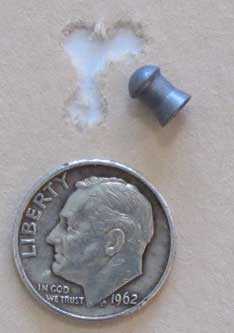 The Maximus put 5 10.34-grain JSB Exact Heavy pellets into 0.353-inches at 10 meters.
I thought I was seeing a pattern at this point. All groups were just over three-tenths of an inch. Was this as good as I could shoot with my left eye? Was I handicapping the Maximus by shooting with my left eye? The groups were good — just not hood enough to make me smile. Then, it happened.
H&N Baracuda Match 4.53mm heads
Next up were H&N Baracuda Match pellets with 4.53mm heads. Would they be better? I linked to the pellets with 4.52mm heads because Pyramyd Air seems to be out of the 4.53mm heads at this time.
Five pellets went into a very round group that measures 0.234-inches between centers. Finally! This group proves that the Maximus can shoot and also that I can shoot left-handed. I can't wait to try this pellet at 50 yards!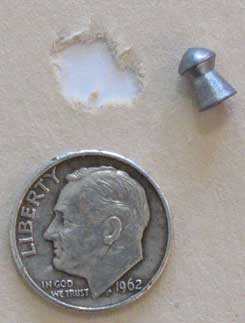 The Baracuda Match with the 4.53mm head seems to be good in the Maximus. At 10 meters 5 went into this round group that measures 0.234-inches between centers. That is a group!
Air Arms Falcon
And, it just gets better! Five Air Arms Falcon pellets made a group measuring 0.215-inches between centers at 10 meters. That is the smallest group of the session, from the lightest pellet I tested.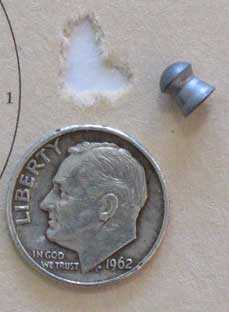 Five Falcon pellets went into 0.215-inches between centers at 10 meters. The best group of the day!
Trigger pull
I discovered today that, though the trigger pull is heavy, it's very crisp and caused no problems with accuracy — obviously! I wish the sights were not fiberoptic, but they are what they are.
I also discovered that I can shoot left-handed. No apologies are required today, which is a good thing.
What's next?
Can the Maximus shoot? I guess so! My next test will be at 25 yards with a scope.
Tom Gaylord is known as The Godfather of Airguns™ and has been an airgunner for over a half-century, but it was the 
Beeman
 company in the 1970s that awoke a serious interest in airguns. Until then, all he knew were the inexpensive American airguns. Through the pages of the Beeman catalog, he learned about adult airguns for the first time. In 1994, Tom started
The Airgun Letter
 with his wife, Edith. This monthly newsletter was designed to bring serious reports about airguns to the American public. The newsletter and
Airgun Revue
, a sister magazine about collectible airguns, was published from 1994 until 2002, when Tom started
Airgun Illustrated
-- the first American newsstand magazine about airguns. Tom worked for three years as technical director at
AirForce Airguns
, the makers of the 
Talon, Condor, and Escape
 precharged air rifles. Today, he writes about airguns and firearms for various publications and websites. He also makes videos, and you'll find short clips embedded in some of his artices on Pyramyd Air's website. Tom is a consultant to Pyramyd Air and writes under the name of B.B. Pelletier.