by Tom Gaylord
Writing as B.B. Pelletier
This report covers:
Pump incompatibility
Maximus barrel
Sight-in
The test
Baracuda Match 4.53mm head
Falcon pellets
Premier 7.9-grain pellets
Premier Copper Magnum pellets
What have we learned?
Today's test has a lot of surprises. It should be good.
Some reports are more important than others and this one ranks near the top. Dozens of readers are waiting to hear about the accuracy. Today I shoot the rifle indoors at 25 yards.
Pump incompatibility
You may remember that I reported that my Air Venturi G6 hand pump is incompatible with the Benjamin Maximus rifle. I used the Benjamin hand pump instead, and it worked fine. I did some checking with both Pyramyd Air and Crosman and learned that both of them were aware of some problems. Pyramyd air has made some changes to their male Foster fill nipples, and Crosman just ordered a G6 pump so they can examine it. I think it's helpful for all of us to know that these companies are working behind the scenes to make their products as universal as possible. That was the first surprise.
Maximus barrel
The second surprise came from Crosman. They told me that they are very proud of the barrel they're putting on the Maximus. It has some proprietary technology they will not reveal and they claim it makes the barrel very accurate. I guess today's test will show that, so let's get started.
Sight-in
I mounted a UTG Accushot 3-9X32 scope on BKL 301MB mounts. These mounts are perfect for this rifle because they elevate the scope above the rear sight. Also, the double straps on each of the 2-piece mounts are individual, which means you don't have to worry about the pattern of tightening the cap screws. There can be no uneven flex, though each cap screw should be tightened to the same tension. On a PCP like the Maximus, the torque needed is very low. The scope I used is older than the one I linked to, but has the same set of features.
I was not concerned today with hitting what I aim at. I'm just looking for some accurate pellets to take to the 50-yard range. So the concern today is group size. Two shots at 12 feet told me the scope would be on paper at 25 yards. A third and fourth shot at 25 yards allowed me to refine the sight picture, and I was ready to start the test.
The test
I'm shooting the Maximus rested at 25 yards. I will shoot 15 shots per fill and each group will be 5 shots. I'm just looking to evaluate pellets — not to determine the ultimate accuracy of this rifle — yet! But something happened today that has not happened to me in several years, and should illustrate why today's test makes a lot of sense.
Baracuda Match 4.53mm head
The Baracuda Match with the 4.53mm head was the most accurate pellet at 10 meters, so I sighted-in with them and shot them first. The first group of 5 went into 0.323-inches at 25 yards. That's a pretty good start! It's also the smallest group of the day.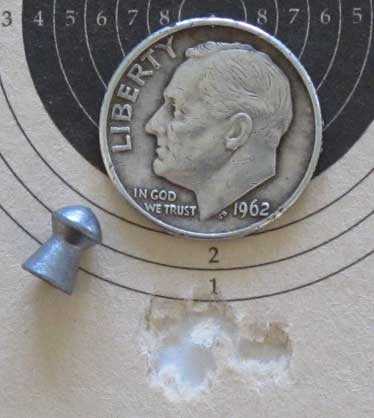 Five Baracuda Match pellets with 4.53mm heads went into 0.323-inches at 25 yards.
I was so impressed with the first group that I shot a second group with the same pellets. These made a 0.395-inch group. That's larger, but not by much.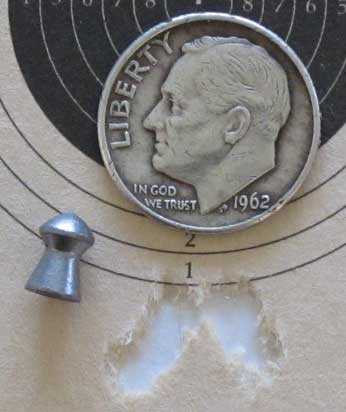 A second group of 5 Baracuda Match pellets with 4.53mm heads went into 0.395-inches at 25 yards. This is a consistent pellet in the rifle.
Falcon pellets
Next up were the Falcon pellets that also did well at 10 meters. Get ready for surprise number 3. At 25 yards Falcons blew up! Five of them grouped 0.992-inches between centers! I have seen this before, but it has been a couple of years since I last saw it. A pellet that does well at 10 meters, yet does poorly at greater distances is not common but does happen. This is why we test at distance.

Five Falcon pellets went into 0.922-inches at 25 yards. This pellet will not be tried at 50 yards!
Premier 7.9-grain pellets
The next pellets I tried were the 7.9-grain Crosman Premiers. At 25 yards 5 Premier lite pellets went into 0.353-inches. That was the second best group of the test. This pellet will definitely go to 50 yards!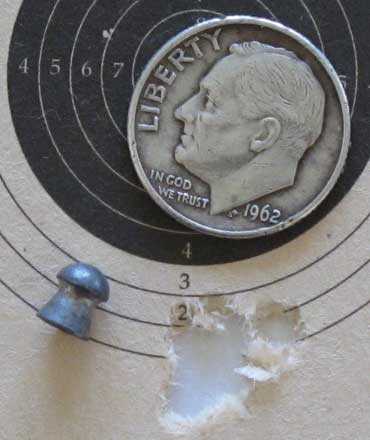 Five Premier lite pellets went into 0.353-inches at 25 yards. This is the second-smallest group of the test!
Premier Copper Magnum pellets
The last pellet I tried was the 10.6-grain Premier Copper Magnum. Not only am I testing the new Maximus rifle, I'm also testing this pellet for the first time. Crosman advertises it as 20 percent more accurate than the Premier 7.9-grain pellet at 50 yards, which is where we are going next. I will be shooting 10-shot groups at 50 yards, to remove all doubt. What I get from 10 shots is a result with a very high level of confidence.
At 25 yards, 5 Copper Magnums went into 0.405-inches between centers. That's only slightly bigger than the group made by the Premier lites. Maybe at 50 yards the results will turn around. We will see.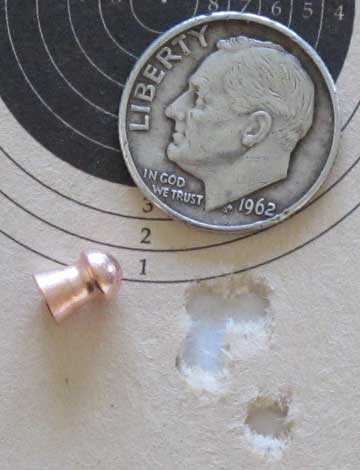 Five Premier Copper Magnum pellets went into 0.405-inches at 25 yards.
What have we learned?
I can't swear all Maximus rifles will be as accurate as the one I'm testing, but Crosman thought enough of their new barrel to tell me about it. At this point in the testing I am declaring this rifle to be a best buy. Even if it can't shoot well at 50 yards, it would still be a best buy. For the money you can't buy another reliable precharged air rifle that's this accurate. And the Maximus has a classic stock that feels great in the hands.
We have also learned that 10 meters is not the best distance at which to test accuracy. I haven't seen an outcome as dramatic as the Falcon pellets for a long time, but it illustrates why we test at longer distances.
Finally, I want to impress all you readers who are sitting on the PCP fence that I'm shooting with a maximum fill of 2000 psi. That is so low that using a hand pump is a cinch for most adults.
And finally, I am shooting this well with an eye that had a detached retina that was surgically reattached. The reticle lines still look squiggly to me. I'm a 68 years old and have astigmatism, cataracts and a repaired retina. Imagine what someone with younger eyes might do! If you are waiting to pull the trigger on PCPs, I think the Maximus might be perfect for you.