by Tom Gaylord
Writing as B.B. Pelletier


The Orion PCP repeater from AirForce International.
This report covers:
Where to start
Magazine height
Load the mag
JSB Exact RS
Firing behavior and sound
We learn more
JSB Exact Jumbo Heavy
Crosman Premiers
Loading
Trigger pull
Power adjustability
Discussion
Where to start
Today we test the velocity of the AirForce International Orion. Many of you are new to precharged pneumatics (PCP), so let me show you how I select which pellets to test when I don't know the airgun. I start by looking at the advertised velocity, which for this rifle in .22 caliber is said to be around 800 f.p.s. Knowing how AirForce states things like this, that number is obtained with a reasonable lead pellet, so I will guess it was a Hobby, though they might have shot something heavier. Still my velocities are going to be between 700 and 800 f.p.s. and that tells me I should start with medium weight lead pellets — something in the 13 to 16-grain range. Once we know more we can go from there.
Magazine height
Before I continue, a reader asked about the height of the mag above the top of the receiver, because that will affect the scope ring height. The owner's manual I am reading suggests a ring height of at least 21mm, which is a high ring. I hope that answers your question.
Load the mag
The Orion mag is spring-loaded, but its loaded from the bottom and not the top. The pellets are loaded skirt-first as the spring-loaded clear top is advanced. Because this isn't the norm, I will comment on the ease of loading for each pellet. Let's get started!
JSB Exact RS
The first pellet that falls in my arbitrary weight range is the JSB Exact RS that weighs 13.43 grains. RS pellets are pretty accurate in most air rifles, too, which is a bonus. This pellet fell into the mag easily.
I loaded the magazine with all 13 rounds, which is what the .22 magazine holds. In a moment you will see why that was a good thing. The average velocity for all 13 rounds was 999 f.p.s.. But let me show you the string and you will see something interesting.
Shot………..Velocity
1……………..981
2……………..991
3……………..976
4……………..991
5……………1005
6……………1008
7……………1000
8……………1000
9……………1009
10…………..1011
11…………..1004
12…………….999
13…………..1011
What you are seeing from the string shown above is the fill was a trifle high. High enough to slow the initial shots just a smidgeon. Don't fixate on that, though, because the differences are too small to matter that much. Fill the rifle to the 200 bar (the manual says that's 3000 psi, but it's really 2900 psi) the manual calls for. Just be aware this may happen.
The spread for this 13-shot string was 35 f.p.s. If you look, the spread is the same over the first 10 shots. That's high for a PCP, but until we get to the 50-yard range, we will reserve judgement.
At the average velocity this pellet is generating 29.77 foot-pounds of energy at the muzzle. That's pretty good for such a light pellet.
One final comment — this rifle is much faster than the description says. This is easily a 1000 f.p.s. air rifle in .22 caliber.
Firing behavior and sound
The rifle recoils noticeably when it fires. That's because of the power it is producing. It is also remarkably quiet for that much power. It sounds about like a powerful breakbarrel, but certainly not a mega-magnum springer.
Punky, my tuxedo cat, slept in my office through most of the testing. And Dale Evans, my female calico who is very sensitive to sounds, never raised a peep. She was asleep in the room across the hall. She is usually parked outside my office, wailing her head off until I stop.
We learn more
One of AirForce's dealers emailed them some test targets with results from 30 yards. They were 5-shot groups and they were shot with the JSB Exact Jumbo Heavy that weighs 18.1-grains. Although the groups are only 5 shots and therefore not conclusive, they do show remarkable potential for accuracy, so I tested that pellet next. It also fell into the mag easily.
JSB Exact Jumbo Heavy
Eight pellets averaged 899 f.p.s. Why only 8? Because I had a double feed, which seems easy to do with the Orion if you do not cock the bolt deliberately. Here is the string.
Shot………..Velocity
1……………..897
2…………….. —
3…………….. — double feed registered as 633 f.p.s. but not included in the average.
4……………..890
5……………..907
6……………..900
7……………..901
8……………..900
9……………..899
10………..…..900
This heavier pellet produced 32.54 foot-pounds of energy at the muzzle. That's what we would expect from a heavier pellet in a PCP. Incidentally, my velocities match those the AirForce dealer got with a different .22 caliber Orion.
The spread for this string was 17 f.p.s. The rifle seems to still be on the power curve, because the velocities rose within the string. To check that I fired 2 more RS pellets.
Shot………..Velocity
1…………….1010
2…………….1009
That's conclusive proof the rifle is still on the power curve. To this point, 25 pellets have been fired on one fill.
Crosman Premiers
Next up were Crosman Premiers — another good .22 caliber pellet, and they are back in my arbitrary weight range. These weigh in-between the first two pellets. I would expect velocities in the mid to high-900s. And this pellet fell into the mag easily, too.
Premiers averaged 968 f.p.s., but the string of 10 is revealing.
Shot………..Velocity
1……………..985
2……………..978
3……………..976
4……………..968
5……………..969
6……………..972
7……………..966
8……………..956
9……………..953
10……………955
Even if you don't own a chronograph, this string should tell you the rifle began to fall off the power curve almost immediately. Perhaps the first 3 shots were still on the curve, then the slow decline began. This is why a chronograph is such an important piece of equipment for the airgunner.
At the average velocity of the string shown above, Crosman Premiers generated 29.76 foot-pounds at the muzzle, but since the rifle is falling off the curve, let's take 980 f.p.s. as a more realistic average. At that speed the rifle generates 30.5 foot-pounds. I think that's about right.
Just to see whether I'm right, let's look at the velocity of two RS pellets, now that 35 shots have been fired on this fill.
Shot………..Velocity
1……………..972
2……………..975
Yes, it has dropped off the curve, but the decline is slow! I fired 37 shots through this rifle and they all did well. Therefore in my opinion, there are easily 2 good 13-shot magazines per fill, which is 26 shots total. That gives a large safety buffer for hunters. if you're a plinker, 3 magazines are possible.
Loading
Speaking of the magazine, I would want a second magazine with this rifle. Loading pellets backwards (skirt first) is not a natural act, and having a second mag at the ready seems like a good plan.
Also, I know some of you will want to know how long a pellet this mag will accept, so I loaded an H&N Baracuda Match, to find out. This pellet fell into the mag easily.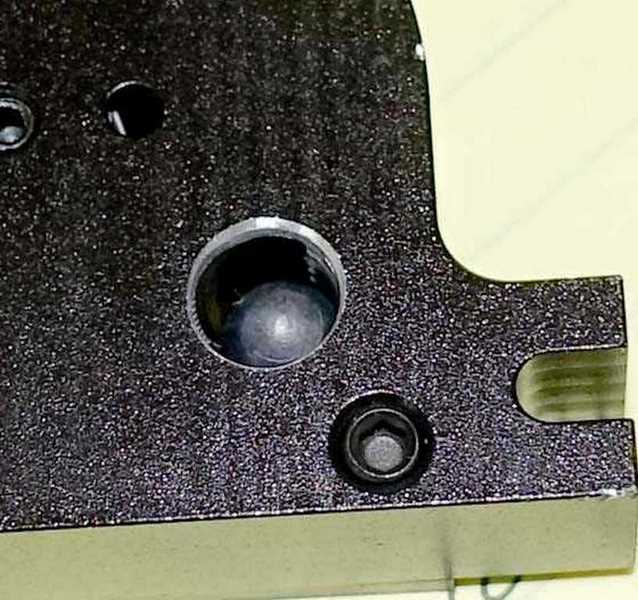 Look at all the room in front of this H&N Baracuda Match.
Trigger pull
The trigger is very light, breaking at 1 lb. 1 oz. It is 2-stage but stage 1 is heavy enough to mask stage 2, so it might feel like a single-stage pull until you get used to it. I think it will be very easy to shoot with.
Power adjustability
I told you the Orion's power is adjustable, and it is. But I think I want to test accuracy before messing with that, because I don't know where this rifle is, in terms of accuracy. As I told you, the Orion's power adjustment is meant to tune the rifle to a specific pellet, so let's find that pellet before we charge in and mess things up.
Discussion
The Orion has good and bad points. The power, nice  trigger, stock adjustability, shot count per fill, slender stock profile, adjustable comb and low discharge sound are all plusses. How you load the magazine and the possibility of a double feed are things you have to watch out for.
Will the Orion give the Benjamin Marauder a run for the money? If the accuracy I see in the dealer test proves out, I think it will.