by Tom Gaylord
Writing as B.B. Pelletier


Umarex Throttle offers a lot for a little money.
This report covers:
StopShox
Mount the scope
Accuracy
RWS Superdomes
Crosman Premiers again
JSB RS
Some other pellets
What next?
Today we look at the accuracy of the new Umarex Throttle air rifle. You may remember that I was very pleased with the performance of this new air rifle, up to this point. If it is also accurate, we have a winner.
StopShox
This rifle contains the StopShox mechanism that takes the sting out of shooting a gas spring. That unit works, because the Throttle definitely does not sting.
Mount the scope
The Throttle came with a 3-9X32 scope and 2-piece scope rings. The Throttle has a Picatinny rail they call the LockDown mounting system. It's mounted to the top of the spring tube, and the rings are Weaver, so mounting the scope was fast and easy. The optics are clear and this scope has AO (adjustable parallax) that adjusts down to 10 yards.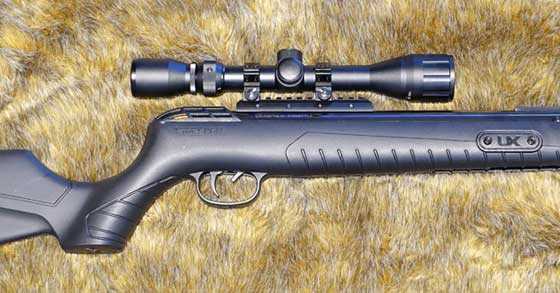 I mounted the scope that came with the Throttle. The LockDown base and rings made this easy.
Accuracy
Let's get right to the accuracy because I have a lot to tell you. I had no idea of which pellet to start with, so I chose .22 caliber Crosman Premiers for no particular reason. I shot one shot at 12 feet and it landed where I expected, which was 3 inches below the aim point — about the same as the height of the scope line of sight above the bore line. I was satisfied that the rifle would be on paper at 10 meters, so I backed up to the shooting bench.I shot with my off hand rested on a sandbag and the rifle rested on the flat of my open palm — the artillery hold.
I could not get Premiers to group while using the conventional artillery hold, with the rifle balanced just ahead of the triggerguard. So I switched pellets to RWS Superdome. They didn't want to group, either, so I slid my off hand forward, from just in front of the triggerguard to the rear of the cocking slot. That tightened things up immediately, and I started shooting the first 10-shot group.
RWS Superdomes
This first group was doing okay until the last shot that landed very low. That opened the group up to 1.783-inches. Actually there were three shots that went somewhat wide of the main group. Seven landed in 0.472-inches. That suggested the rifle wants to shoot, but something wasn't quite right yet.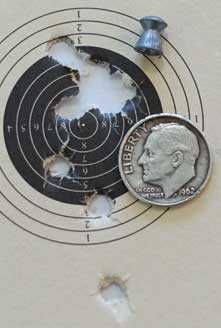 Seven RWS Superdomes went into 0.472-inches at 10 meters. Unfortunately the other 3 pellets opened the group to 1.783-inches
Crosman Premiers again
I tried Crosman Premiers with the new artillery hold, but again there was no luck. When three pellets land in 2 inches, it was time to move on. The Superdome's performance, however, gave me hope.
JSB RS
Given that the Throttle is reasonably powered and not over-powered, I thought JSB Exact RS pellets might be good. And they were — sort of. Ten of them gave me a group that was
1.783-inches between centers, which sounds terrible, but the group is also only 0.248-inches wide. Thats different than the first group, but it is also a tantalizing clue that this Throttle is capable of shooting better than it is at present.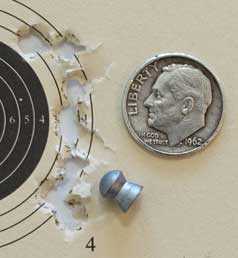 What a group! 1.783-inches tall and 0.248-inches wide. Clearly something is up and I haven't got a clue what it might be.
Some other pellets
I then tried three other pellets that did not do well at all. First was an RWS Meisterkugeln that I hoped might surprise me. It shot a 2-inch group with three pellets, so I quit trying.
Next I tried a JSB Exact Jumbo 15.89-grain dome. I figured if the RS pellet worked, the heavier pellet might do better. But that was wrong, too. They were all over the place.
The last pellet I tried that didn't work was the heavier 18.1-grain JSB Exact Jumbo Heavy. They were also all over the place.
What next?
Well, I changed the artillery hold and got an improvement, would the same be true of another pellet? What is the whackiest pellet I could think of to try? In recent months I have tried RWS Superpoints when all else has failed and they have surprised me. So I gave them a chance in the Throttle…
RWS Superpoints
…and they turned in the best group of this test! Ten Superpoints went into 0.987-inches at 10 meters. Okay, so that isn't tight. It's still the best group of this test and there are no strange anomalies.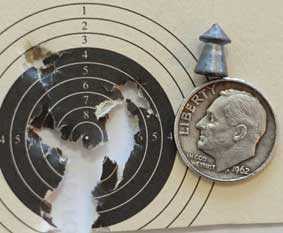 Ten RWS Superpoints made this 0.987-inch group at 10 meters. Okay — it isn't that tight, but it's the best group of this test.
What's the verdict?
The verdict is, we don't have one — yet. This Throttle has so much going for it that I don't want to leave it at this point. I have learned a lot about it, but you can see that there are still things to be learned.
My plan is to back up to 25 yards and try again. At that distance the groups will be much larger, so I'm hoping I can make some sense of this test and apply it. If not, that's as far as I will go.
I do like the Throttle, especially the LockDown scope rail and the StopShox anti-vibration device. I like the easy cocking, which for a gas spring comes as a surprise.
I don't like the very hollow-sounding and flexible Throttle stock. However this rifle comes in at such a fantastic low price point that I think it deserves the extra attention.