by Tom Gaylord
Writing as B.B. Pelletier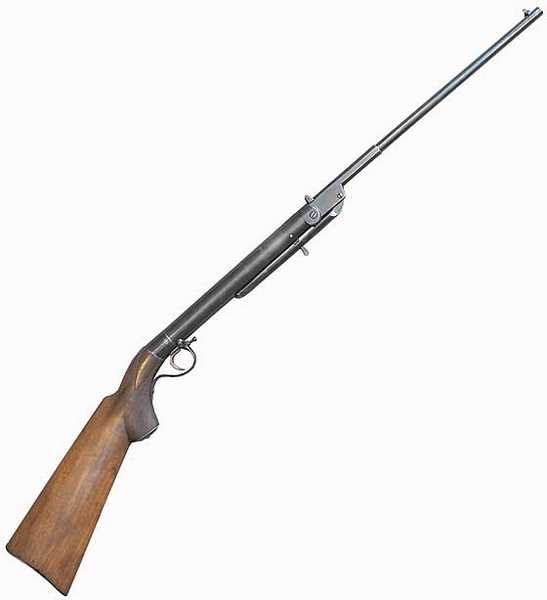 Millita air rifle.
This report covers:
An important lesson
RWS Hobby
JSB Exact RS
Air Arms Falcons
Cocking effort
It's been lubricated
What have we learned?
Today we look at the power of the Millita rifle I bought at Findlay. The numbers will sound slow, but please remember this rifle is from the 1930s. It's not a youth rifle, despite the velocity.
An important lesson
We will also learn something important from today's test. I will show it to you in a little bit. Let's get started.
RWS Hobby
The first pellet I tried was the venerable RWS Hobby. At 7 grains the Hobby is the quintessential high-speed pellet that gives the top velocity numbers that can be believed. Yes, there are lighter lead-free pellets that get thrown into the mix, but everyone knows they do not represent an airgun very well. Many manufacturers have taken to quoting two top velocity figures, one for lead pellets and the other for lead-free pellets.
I will show you the first string because it's part of that special thing I want you to see.
Shot………….Velocity
1………………..535
2………………..491
3………………..485
4………………..474
5………………..492
6………………..475
7………………..481
8………………..478
9………………..486
10………………475
The average velocity for this string is 487 f.p.s. That's 3.69 foot pounds. The spread ranges from a low of 474 to a high of 535 f.p.s. That's 61 f.p.s., a huge spread for a spring gun. But let's examine the string and see if we can learn anything.
Notice the first shot was 535 f.p.s. and it was also the only shot that went over 500 f.p.s. The next-fastest shot went out at 492 f.p.s. — 43 f.p.s. slower. Throw that first shot out and the spread ranges from 474 to 492, a difference of just 18 f.p.s.
If I was to shoot a second string with this same Hobby pellet what do you think would happen? Would the spread tighten up? Where would the average be? Let's try it and see.
Shot………….Velocity
1………………..481
2………………..486
3………………..471
4………………..499
5………………..476
6………………..493
7………………..510
8………………..466
9………………..476
10………………478
The average for this second string was 484 f.p.s. That works out to 3.64 foot pounds. The range went from 466 to 510 f.p.s. — a span of 44 f.p.s. The average dropped just a little and so did the spread, but what this what you expected? I didn't.
I expected an average about the same as what we actually got, but I expected a spread of perhaps 20 f.p.s. — based on those 9 shots from the first string. The low of 466 and the high of 510 were not expected.
JSB Exact RS
What does this tell you? It suggests to me that the RWS Hobby pellet may not be the best in this Millita rifle. I didn't tell you that Hobbys loaded hard into the breech, but they did. Are you ready to say that this air rifle is in need of an overhaul? Hold that thought and let me shoot a different lightweight pellet — the JSB Exact RS.
I'm going to show you the velocity for each of these pellets, as well, so you can see what I saw.
Shot………….Velocity
1………………..560
2………………..562
3………………..563
4………………..578
5………………..569
6………………..568
7………………..572
8………………..557
9………………..569
10………………570
Ahh! JSB Exact RS pellets that weigh an average 7.33 grains (that's heavier than the Hobby) went an average 567 f.p.s. The energy is 5.23 foot pounds. These pellets average 80 f.p.s. faster than the Hobbys at their fastest average. The spread ranged from a low of 557 to a high of 578 — just 21 f.p.s. What do you think? Are JSB RS pellets performing better in the Millita? This is why a chronograph is so handy! Incidentally, the pellet that produced the slowest velocity (shot 8) also loaded the hardest. I predicted it would be slow and it was.
Air Arms Falcons
The final pellet I tested was the Falcon from Air Arms. It is also a dome that weighs the same 7.33 grains as the JSB Exact RS. JSB produces this pellet for Air Arms on dies owned by Air Arms. It's similar to the RS pellet, but it's not the same.
Shot………….Velocity
1………………..563
2………………..558
3………………..539
4………………..553
5………………..558
6………………..558
7………………..555
8………………..562
9………………..544
10………………567
The average for the Falcon was 556 f.p.s. and the spread ranged from a low of 539 to a high of 567. That's 28 f.p.s. It produces 5.03 foot pounds at the muzzle. To me this pellet also seems a lot more uniform and efficient in this rifle than the Hobby.
Cocking effort
The Millita cocks with 28 pounds of force. While that isn't hard, it's considerably more effort than a youth rifle should require. As I said before — this one is for adults.
Trigger pull
The single-stage trigger breaks at 3 lbs. 11 oz. While that sounds heavy, the break is crisp and it doesn't feel that hard. Remember this trigger is adjustable, but since the adjustment changes the amount of sear contact, I'm not going to do it.
What have we learned?
To show you what we have learned today I will quote myself from Part 1, where I said, "After a day of [the oil] soaking-in, the rifle was shooting smartly which is not an exact velocity but I will guess it's somewhere in the 500s." My estimate was this rifle should shoot in the 500 f.p.s. range somewhere. I based that on years of experience with similar air rifles. With two of the pellets it averages 567 f.p.s. and 556 f.p.s., so I guess I hit the number on the head!
My point it, if you just looked at the first two shot strings with Hobbys you might be inclined to think this Millita was tired and needed an overhaul. But with two other pellets it performs exactly as expected. So, the lesson is twofold — first, get a chronograph and second, test more than one pellet, because, as you will soon discover, anomalies happen.
There may be faster examples of this Millita air rifle around, but I think this one is doing well. The lube tune I spotted in Part 1 was apparently done right!