by Tom Gaylord
Writing as B.B. Pelletier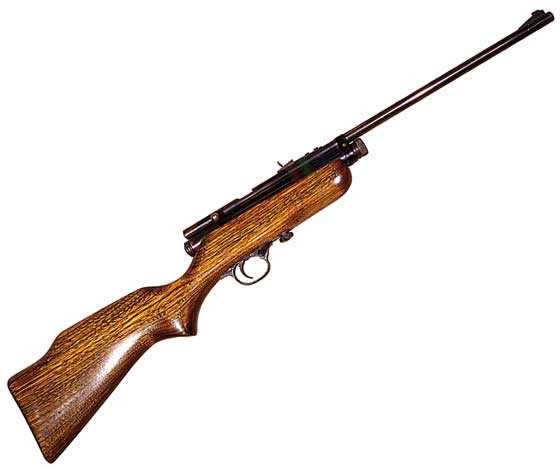 My .22 caliber Crosman 180 is the second variation.
This report covers:
Plywood
The test
Crosman Premier
JSB Exact Jumbo
RWS Superdome
Summary
Today I'll test the Crosman 180 for accuracy. I'll shoot it at 10 meters, rested. I don't expect great accuracy because this was always intended to be a plinking rifle, but it's probably not too shabby, either. There is no easy way to mount a peep sight or a scope. This is a, "Stand on your hind legs and shoot like a man!" airgun.
Plywood
I mentioned in Part 1 that the stock is made from a plywood product. Chris USA had a difficult time seeing that, so I promised to show him in Part 2. Well, I forgot. So, before I start today's test, I took a photo of the stock.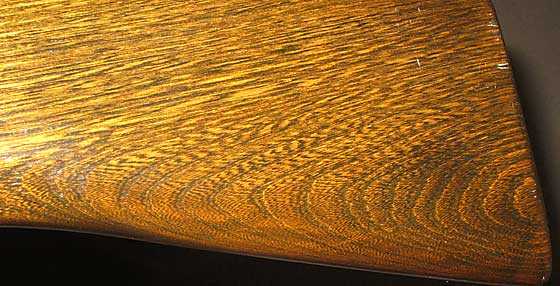 Here is the best photo of the plywood glue lines I can show. As you can see, the wood grain in the plies runs on an angle to the glue lines. Also — no tree I know of has rings that are spaced as regularly as those glue lines. The spacing only changes as the shape of the stock changes. Also, the glue lines are not level with the rest of the wood. They are open and porous, where the wood grain has been sealed by Tru Oil.
The test
I shot from 10 meters with the rifle rested. It was rested directly on the sandbag, since it doesn't recoil. This is where that great trigger really pays off. I am also using low magnification reading glasses (1.25 diopter) to help me see the front sight, and I used eyedrops just before the test.
Sight-in took 5 shots because the 180 rear sight adjusts for windage by loosening 2 screws and pushing it sideways. The first shot was off to the right and I had to fiddle a bit to get the shots in the bull. I got it to group with the first pellet and just left it where it was for the other two.
As I said in the last report I shot this entire test on the low power setting that is the second click out on the cocking knob. The first click just sets the trigger and 3 clicks get full power.
Crosman Premier
First up were .22 caliber Crosman Premiers. I didn't mention this before but when the Premier pellets came to market in the mid 1990s they changed the performance of many of these older Crosman airguns. They went from being mediocre to quite accurate — just by changing the pellet!
I said I would test the 180 with some old Crosman "ashcan" pellets, but when I checked all I could find is a stash of the .177s. The 180 rifle is a .22, so you will have to take my word that those pellets were not that accurate. You can read about them in the report titled, Crosman pellets — they weren't always Premiers!. I do have a 187 coming, so perhaps we will see them perform then.
Ten Premiers made a pleasing 0.424-inch group at 10 meters. It's reasonably round and smaller than I expected for 10 shots.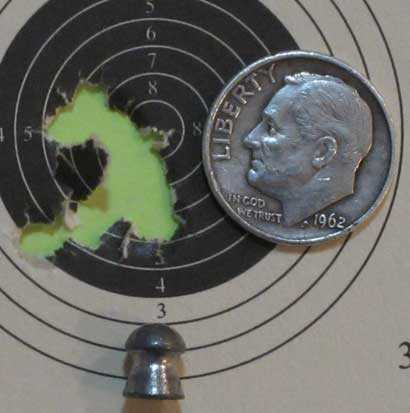 Ten .22 caliber Crosman Premiers went into 0.424-inches at 10 meters. This is pretty good for what is essentially a plinker!
JSB Exact Jumbo
The next pellet tested was the JSB Exact Jumbo. I had no idea what these would do, as they weren't around when I first acquired the rifle. Ten of them went into 0.741-inches at 10 meters. This group is a little vertical, which is why I'm glad the Premier group was more rounded.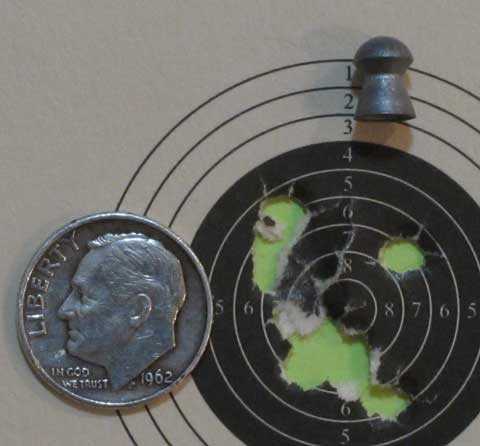 Ten JSB Exact Jumbo pellets went into this somewhat vertical 0.741-inch group at 10 meters.
RWS Superdome
The last pellet I tried was the 14.5-grain RWS Superdome. I don't think I have ever tried these pellets in my 180, so this is as new to me as it is to you. Ten Superdomes made a 0.686-inch group that was very horizontal. If this was the only group I might suspect something was wrong with the rifle, but that first group of Premiers disproved that.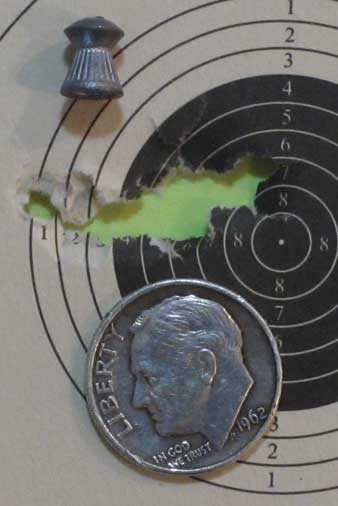 Ten RWS Superdomes went into 0.686-inches at 10 meters.
Summary
There you have it. I have now tested for the first time an air rifle I have owned for over 30 years. Took me long enough to get to it, I suppose.
I like the small size and light weight of the rifle. I like the materials it's made from. The trigger is wonderful and the power is stable, once I played with the adjuster.
As we have seen today, my old 180 is also pretty accurate. All in all, it's a wonderful heirloom that continues to provide enjoyment.